The entire state of Colorado is now in drought, according to the National Drought Monitor Center and the U.S. Drought Monitor.
But it's not quite as bad as 2012, which has been viewed as the most recent high watermark for drought, nor as bad as 2002, when Colorado experienced its worst-ever drought since monitoring began.
The state also hasn't yet experienced the most severe drought, referred to by the drought monitor as D4. When that happens, the drought monitor predicts that economic losses for agricultural and recreation become extensive.
In 2012, at its peak during the week of Sept. 25, 2012, almost 17% of the state was in the worst drought conditions. By early July 2002, more than 34% of the state was in the worst drought conditions and 100% of the state was in severe drought. The state remained in serious drought, with more than half the state at the D2 and D3 levels, until June 2004.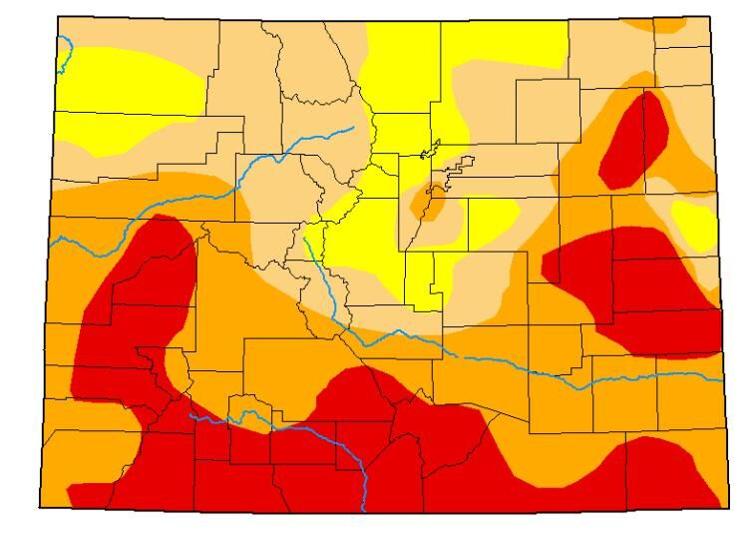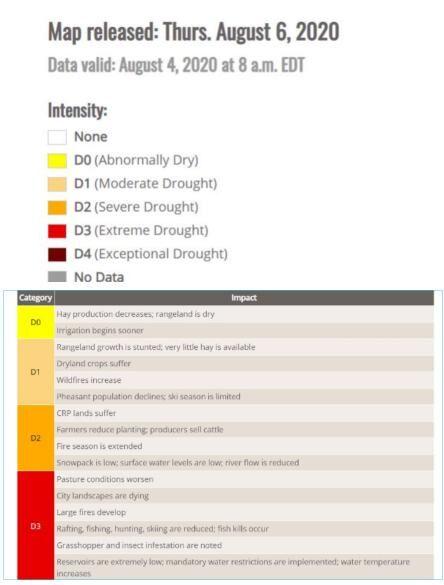 Colorado's 2020 drought has been steadily growing in severity the last two months. More than half the state was in drought by last September, but since June half the state has entered into severe drought. 
The 2020 drought has a mitigating factor that the previous droughts didn't: COVID-19 and the severe economic downturn that has resulted from it.
In a year with drought, cash flow from farming and ranching operations are reduced, and that affects the ability of a farmer or rancher to pay for debt, according to James Pritchett, the executive associate dean of the College of Agricultural Sciences at Colorado State University.
"Sometimes the weather makes choices for you," Pritchett explained, such as whether to sell off more cattle and how far you have to go to find feed. The immediate impact is a reduction in cash flow, which impacts long-term debt — such as the cost of the farm mortgage — or what the farmer or rancher can spend in the coming year.
But the economic downturn is impacting the supply side as well. Pritchett said when a farmer experiences difficulties, they often turn to bankers for help, but according to a recent survey from the Federal Reserve, bankers are starting to see difficulties in repayment of debt and more refinancing. 
COVID-19 makes all of these problems just that much worse. Pritchett said it causes disruptions in the supply chains, when farmers and ranchers go to market. That's resulted in even lower commodity prices, which also reduces cash flow.
And many farm and ranch families also rely on second jobs — referred to as "town jobs" — to help with the cash flow and in some instances to help pay for health insurance. Higher unemployment from COVID-19 means those farm and ranch families have lost the town jobs.
COVID-19 also presents another challenge: how to manage farm operations in a pandemic, which means paying for personal protective equipment for employees on the farm or ranch and ensuring social distancing. 
According to a statement Tuesday by the Colorado Fruit and Vegetable Growers Association, the "ability of farmers to hire qualified workers has been challenging and is being made even more difficult with the COVID-19 pandemic. Farmers are incurring additional costs for housing to be able to socially distance workers and to provide quarantine housing, as well as to daily provide workers with personal protective equipment."
The growers are looking for help from Congress on H2A visas, including calculations of "adverse effect wage rates." That's the minimum wage paid by agricultural employers to U.S. and immigrant agricultural workers who hold an H2A visa.
Dave Petrocco of Petrocco Farms said lawmakers should consider the additional and unreimbursed costs due to the pandemic when they approve changes in the agricultural minimum wage.
Colorado's agricultural minimum wage is $14.26 per hour.