John Hofmeister is a genial, burly man with a mane of silvering hair and superbly tailored suits. The former president of Shell Oil's American operations, he retired in 2008 following a career that included stops at General Electric, NORTEL and Allied Signal, among others. Somewhere during this journey he became a human resources specialist, joining the Shell Group in 1997 as its international Director for Human Resources. His is not a tale of hardscrabble success as a wildcat petroleum driller, which may explain his decision to launch the non-profit Citizens for Affordable Energy. In what is obviously a very busy retirement, Hofmeister serves on the U.S. Department of Energy's Hydrogen and Fuel Cell Technical Advisory Committee, the board of the Foreign Policy Association and holds down the chairmanship of the National Urban League. In recent years he has become something of a hero to many environmentalists as well as the increasingly influential sustainable economy lobby.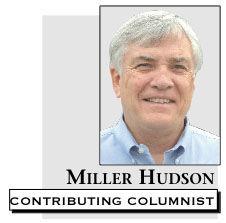 While at Shell, Hofmeister launched a national dialogue regarding critical global energy challenges, meeting with more than 15,000 business, community, civic and academic leaders across the country, which, in turn, informed his decision to advocate for affordable national energy policies. World Denver brought him to town last week and his vision of our future was simultaneously surprising and encouraging. He commenced with an admonition that members of his audience should stretch themselves by adopting a "mental elasticity" that would permit a greater "cognitive capacity." In other words, he intended to challenge a lot of preconceptions. He did not disappoint. He started with a warning that Western economies are living on the edge of a ruinous inflation in energy prices. He didn't use the term "peak oil," but he pointed out that demand is currently running at 90 million barrels/day and expected to grow to 120 million by 2030.
He observed that the best national energy strategy is to recognize that "it is time for us to take care of ourselves." Since Americans enjoy a number of advantages that could actually lead to energy independence (despite the failed protestations of every president since Richard Nixon that his administration would engineer such independence), Hofmeister emphasized time was now of the essence. He recommended we immediately move our transportation system off petroleum fuels, which consumes 8 of our 20-million-barrel-a- day petroleum habit. He speculated that this alone might break the back of OPEC. He advanced the notion of converting abundant American natural gas supplies into methanol as a liquid fuel that could be swiftly marketed for $2 a gallon. A little research shows that methanol only provides half the BTU content of gasoline, but even $4 for an equivalent gallon isn't far off what we are now paying for imported fuels.
He offered other proposals for "disintermediating" our reliance on fossil fuels by introducing more biomass, renewable and distributed electric generation technologies. He pointed out that nearly 60 percent of Americans lack ready access to our current natural gas bonanza because of insufficient pipelines — a problem that will take some years to remedy. This is not the usual policy agenda one expects to hear from an oil and gas executive. Hofmeister specifically admonished that Americans need to move away from our pattern of management by crisis. "We must inform ourselves and hold our elected officials accountable," he advised. This is likely to prove a more difficult task than he anticipates. One of the acknowledged obstacles to methanol production is a well-muscled and entrenched ethanol industry that opposes any competition. Archer Daniels Midland and 900,000 corn farmers are enjoying their federal subsidies, thank you very much!
Hofmeister closed with a seemingly misguided attack on our two major political parties as the real malefactors blocking significant progress on a national energy strategy. He specifically called out the energy efficiency proposal of U.S. Sens. Jeanne Shaheen, D-N.H. and Rob Portman, R-Ohio, which enjoys co-sponsorship from a majority of senators, but which has never been brought to the floor for a vote due to procedural bickering. When asked whether it were possible this failure might not be so much a matter of partisan manipulation as a product of malign influence from campaign contributors, he conceded money might be part of the problem. What could be wrong with a Supreme Court decision that determined both the rich and the poor are equally entitled to donate as much as they wish to election campaigns? Perhaps a continued dependence on imported oil, for one? Nonetheless, it was worthwhile to stretch my cognitive capacity sufficiently to feel grateful for a solon of industry who not only thinks we have to alter our habits, but who believes we can accomplish this change with a minimum of discomfort. I'm all for that!
Miller Hudson is a public affairs consultant in Denver. He served two terms in the Colorado House.