Presidential candidate John Hickenlooper took to ABC's "This Week" Sunday to blast President Trump for "fueling this national crisis of division."
And his Colorado rival, Michael Bennet, talked about a need for a public option on health care in a commentary posted Saturday by Fortune magazine.
On "This Week," Hickenlooper also sounded a favorite theme, saying that he's the one out of close to two dozen Democrats running for president who has "spent my whole life bringing people together and getting big progressive things done."
> RELATED: Will both of Colorado's 2020 candidates make it on stage in Miami? It's debatable
"I'm running for president because Donald Trump has been fueling this national crisis of division, of taking our country backwards. And the answer is not socialism," the former Colorado governor and Denver mayor told host George Stephanopolous.
He cited his record in the Colorado statehouse of achieving "almost universal health care coverage. And we beat the NRA with tough, tough gun laws. I think the real challenge here is how do we get that nonsense that's taken over Washington and replace it with common sense?"
• Hickenlooper was slated to deliver a keynote address Monday to the Chicago Council on Global Affairs, laying out his first major set of foreign policy proposals.
> RELATED: How far left are Colorado's presidential candidates? Survey says ...
"The plan will focus on securing the nation's cyber firewalls, expanding the country's 'open and fair trade' rules, strengthening global alliances like NATO, and supporting human rights abroad," CBS News says.
"Hickenlooper [also] will call out fellow Democrats for 'recoiling from past American foreign policy mistakes by looking to withdraw from our global leadership role,'  although he didn't make it clear which Democrats he is referring to," CBS says, citing a campaign spokesperson.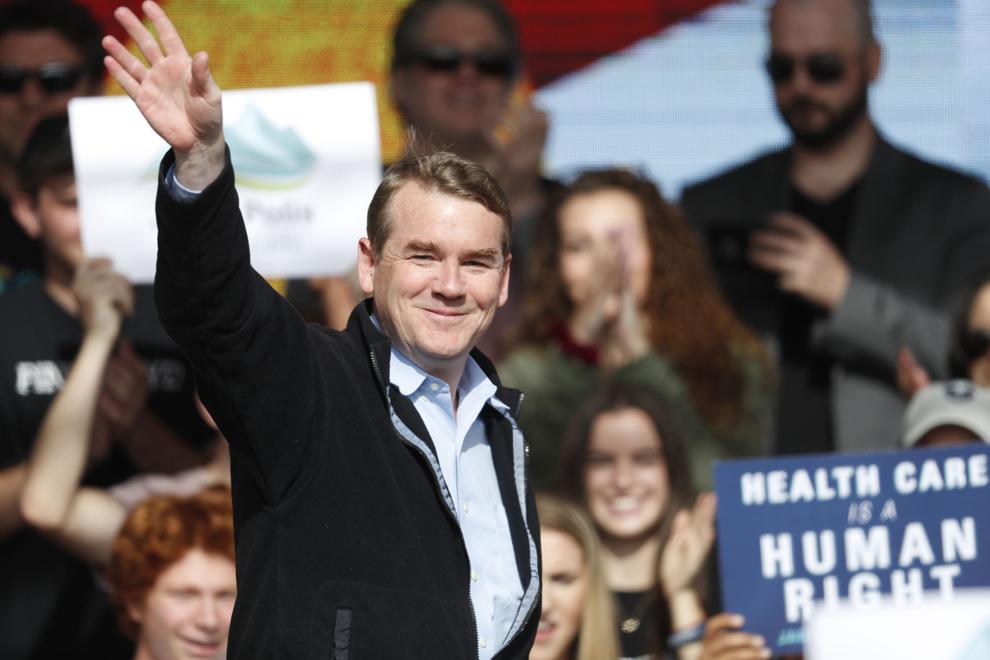 Meanwhile, Bennet — a U.S. senator and the other Colorado Democrat in the 2020 presidential race —said in his Fortune commentary that his recent successful treatment for prostate cancer could have bankrupted many Americans.
> RELATED: Hickenlooper on Bennet: We're friends, but ...
"It's pitiful that we are the only industrialized country in the world that has not figured out how to fix that," he wrote. "We need to cover everyone, lower costs, and improve the quality of insurance and care in our country. My plan to create a public option, called Medicare-X, is the most effective way to achieve these goals."
• Bennet stopped in Sioux City, Iowa, on Saturday, talking about Trump's aggressive tariff policies.
"The trade policy has resulted in attacks being levied on our farmers at a time when commodity prices are very low, at a time you are dealing with flooding, and in Colorado, we are dealing with drought," Bennet said during his stop at Morningside College, per TV station KMEG.
"The last thing we need is a president who picks these trade wars that are used as an excuse for other countries to attack our farmers, for other countries to then go around us and supply China with soy beans."
Bennet also talked about "40 years of lack of economic mobility, which means that 90% of Americans haven't seen a pay increase in that period of time."
• CNN announced Monday that it will present a live town hall event with Bennet on May 30 at 8 p.m. MT, moderated by Dana Bash. The town hall will originate at CNN Center in Atlanta.
• Bennet got a shout-out last Friday from Michael Tomasky in Daily Beast. "However you feel about his proposals, his analysis of America's fundamental challenge now is exactly correct, and he's saying it better and more clearly than anyone else running," Tomasky wrote in an opinion piece.
• Meanwhile, the New York Daily News says Bennet plans to return a $1,000 donation to his 2022 Senate re-election campaign (assuming he doesn't make it to the White House) from meatpacker JBS USA, the Greeley-based U.S. division of Brazilian agribusiness giant JBS, following reports (including this one in the Greeley Tribune) that JBS USA will receive "$40 million in federal subsidies through the U.S. Department of Agriculture's bailout program meant to help U.S. farmers negatively impacted by the international trade war" on top of $22.3 million previously awarded.
JBS previously defended itself in connection with the federal contracts, saying that "all eligible JBS USA pork products come from American livestock raised on American farms by U.S. family farmers, and are processed in American facilities in rural American towns."
=
=
=