There's an old gate at the intersection that marks the entrance to Fort Lyon, once a Veterans Administration Hospital, then a prison, and now what's become known as the Fort Lyon Supportive Residential Community. 
One early evening last summer, a family was walking their dogs near the gate as a car pulled up with two occupants. Both appeared high or drunk, according to the family. A man got out of the car and walked into the Fort Lyon facility. The driver, a woman, got out of the car near the gate, and in full view of the family, including children, pulled her pants down and relieved herself. 
When the family called out, she just shrugged and said, "Sorry," got back into the car and left.
It's not an isolated incident, according to residents of Bent County, those who live next to Fort Lyon and those who live in the nearby town of Las Animas, some six miles away.
When then-Gov. John Hickenlooper announced in 2011 that the state would close the prison, it sent shock waves through Bent County. The facility had been the largest employer in the county for decades, with at least 700 employees while it was a hospital and about 200 when it converted to a prison.
Residents of the Lower Arkansas Valley cheered when the state converted the prison into a facility to help the chronically homeless with substance abuse problems. But many are frustrated by the problems those newcomers might bring with them: drugs, alcohol, homeless encampments in the Las Animas town park and other places, and earlier this year, a murder.
And residents are speaking out, especially those who believe the Colorado Department of Local Affairs, which oversees the program, and the nonprofit Colorado Coalition for the Homeless,  which operates the facility, have turned a blind eye to the problems Fort Lyon has inflicted on the community. 
Officials with DOLA and CCH say they have plans, and more funding, on tap to ensure that Fort Lyon is a good neighbor. Residents and law enforcement, while calling for more transparency into how the facility is run, also question how effective the program has been at solving a statewide problem.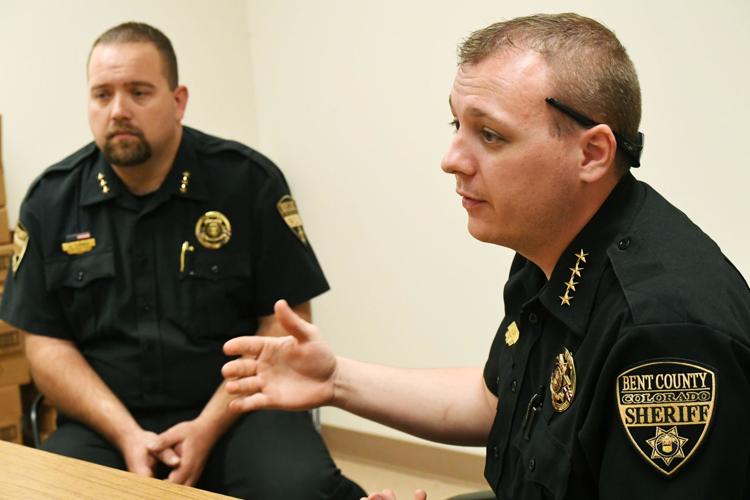 A host of problems
A year ago, Jake Six, formerly the undersheriff of nearby Kiowa County, was elected Bent County sheriff. By January, he'd seen enough and started talking about the problems he sees as tied to Fort Lyon. The region has a drug problem, he said, but it's exacerbated by Fort Lyon.
"They're bringing the people from Denver to here to get them away from a drug problem, and it's brought us a large, large drug problem," Six told KOAA in January.
Earlier that month, Donald Jerome Busto, 56, of Las Animas, was arrested for the second-degree murder of his roommate, Scott O'Grady, 52. Both were former residents of Fort Lyon; Busto had successfully completed the program, according to several county officials. DOLA and the Coalition declined to comment on Busto's history with Fort Lyon.
According to the Bent County Democrat, Busto told officers he "smoked some meth, drank some whiskey and destroyed another quantity of meth before summoning the police. He also allegedly said he contemplated how best to get rid of O'Grady's body."
During a search of the home the two rented in Las Animas, authorities found an ounce of meth, butane torches and glass pipes, a .22 rifle and ammunition.
Busto was convicted of O'Grady's murder on Aug. 30 and was sentenced to 26 years in prison on Nov. 8. It was the first murder in the county since 2018 and only the second one in a decade.
In July, Six and undersheriff Wick Turner told Colorado Politics that things have improved somewhat since January. It's not the facility itself, Six said. "It's when they're released or fail the program. They don't go back" to where they came from.
Shortly after taking office, Six started tracking where those arrested were coming from, to find out who was coming from Fort Lyon, if they were currently enrolled in the program, kicked out or left on their own. In June, Six said that 14 out of the 35 people in custody were from the Fort.
"It's taxing our jails, roads, staff, and we're getting a lot of complaints from the public about vagrancy," Six said.
A sign of the change is evident at the Las Animas post office.
Post offices are part of the fabric of rural communities. You can post notices or meet neighbors and for rural agricultural communities like Las Animas, pick up mail anytime of the day or night, especially useful for those whose work hours extend beyond normal business hours.
But the lobby in the Las Animas post office is no longer open after business hours. When the post office employees go home, the building is locked up tight. The reason? Post office employees told Colorado Politics people urinated on the floor or in trash containers, and slept in the lobby. Local residents point to those who come from Fort Lyon -- either current and former clients -- as being at least partially responsible.
It's also driving higher workload for the sheriff's office, Six said. County commissioners have added more funding to address "the problem we caused" by agreeing to the facility.
When asked if the commissioners have blinders on about the program, Six said "only the good has been shown. Not everything is being shared about the problems."
Turner added that most people in the county don't know what's going on at the facility. "It's very clandestine in nature," he said.
The problems, and not just for Bent County, prompted a meeting in February between DOLA's Cassy Westmoreland, the program manager, and the sheriffs of Bent, Prowers, Otero and Crowley counties, the police chief of La Junta and Bent County Commissioner Kim McDonnell.
Six said that DOLA appeared to be unaware of the issues raised by the sheriffs.
John Spano runs the ambulance service in Bent County. In an email to Colorado Politics, Spano said the service tracks the calls to the institutions in the area, including on-campus calls to Fort Lyon and off-campus calls for those who once lived at the facility.
In 2018, out of 915 calls county-wide, the service recorded 28 on-campus calls at Fort Lyon and 18 off-campus, mostly for drug or alcohol abuse. That was a significant decrease from 2017, he said.
But it's gotten worse in 2019. As of July, they had already made more trips to Fort Lyon than they had for all of 2018, Spano said. Of the 489 calls in the first six months, 37 were on-campus and 17 off-campus, representing 11% of the ambulance service's total call volume.
The neighbor who witnessed the gate incident and who asked not to be identified by name, said Fort Lyon has changed Las Animas dramatically. She no longer goes to the Family Dollar store in town after dark, and she's had problems with Fort Lyon residents showing up at her house, knocking on the door and frightening her and her children. She bought dogs and obtained a concealed weapons permit after someone repeatedly came to her house.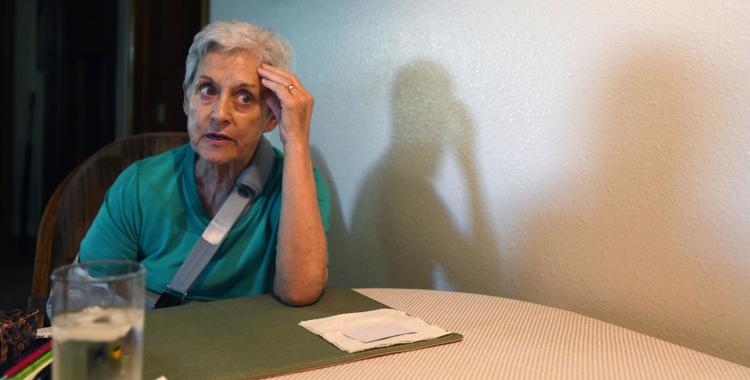 Jim and Lorraine Rich have a front-row seat to what goes on at Fort Lyon. Jim Rich retired after 35 years at the VA. The couple lives less than 100 yards down from the main gate. Both are livid about the problems they say they see on an almost daily basis at the facility. They've emailed and called to complain, they said, and no one ever calls back. "If they're trying to do community relations, it's a damn poor way of doing it," he said.
In February, Lorraine Rich wrote to the Bent County Democrat newspaper that while she wishes Fort Lyon residents the best in dealing with their drug and alcohol problems, she no longer hikes in the area after she stumbled onto an "encampment" on federal land (it's owned by the Army Corps of Engineers) near the facility. The residents, and Westmoreland, claim it's a meditation center, but Lorraine Rich and Six think otherwise.
"We're just fed up with it," Lorraine Rich told Colorado Politics. "These are our retirement years…. You feel sorry" for the Fort Lyon residents, she said, "but we're the ones paying the price."
As of mid-November, Lorraine Rich says she has yet to get a response to her calls and emails regarding the problems she and others still see on a sometimes-daily basis.
Mixed success in treatment
Fort Lyon sits among the fields of eastern Bent County, a 517-acre campus that includes a still-operating VA cemetery. 
Since 2013, its primary function has been as a drug-rehab facility for those who are substance abusers and chronically homeless and who mostly come from Denver, Colorado Springs and Pueblo. Fort Lyon serves between 200 and 250 people at any given time.
A 2017 program evaluation conducted by Illuminate Evaluation Services, hired by the state auditor, said that economic activity tied to Fort Lyon generated 119 jobs and about $10.3 million of financial activity in Bent County in 2015 and 2016. Bent County maintains the campus, including work for plumbers, electricians and general maintenance people. 
"The location for the Program was chosen with the thought that the rural location might benefit participants by providing a geographical buffer between the participants and the communities they come from, therefore limiting contact with the people and places that support continued substance use," the evaluation said. 
Former state Rep. Claire Levy, D-Boulder, toured the facility prior to its opening and was concerned about the campus' condition — including a lot of asbestos — and how much it would cost to make it habitable and in a very short period of time. "I couldn't imagine people living there that quickly," she said.
And then there was the cost. The program cited a cost to taxpayers of about $29,000 per year in services for a homeless person, a number that assumed every homeless person utilizes an emergency room and spends a certain number of nights in jail, Levy said. 
The Hickenlooper administration estimated the first two years cost to the state at about $3.5 million per year, or about $16,813 per person (for a total of 208 people). The state's costs for Fort Lyon are now $5.1 million per year, according to recent budget figures. Based on the same average number of clients, that's $24,519 per person.
Former Democratic state Sen. Pat Steadman of Denver, who also sat on the JBC when the program was first envisioned, told Colorado Public Radio in 2017 that there was "this perception that this was really kind of a half-baked idea that was really about mollifying the people in the community.
"There were a lot of unanswered questions," he said.
The program has zero-tolerance substance abuse and violent behavior policies: if participants fail a random breathalyzer or urine analysis or exhibit violent behavior, they're out, according DOLA's Westmoreland, the program manager.
The program is voluntary, not court-ordered, and has a strict admissions policy: No drugs. No sex offenders. Nobody with active warrants, although they're "flexible" with felony convictions, said Westmoreland. People just can't walk into the facility: they have to be referred by one of many third-party partner organizations that work with the homeless and who have done the legwork to ensure the person is ready to give up substance abuse and turn their lives around. 
"They're not coming for three hots and a cot," she said.
The Colorado Coalition for the Homeless runs the program at Fort Lyon. Spokeswoman Cathy Alderman said that the Fort Lyon residents demanded a completely sober environment, with a "one-strike and you're out" rule.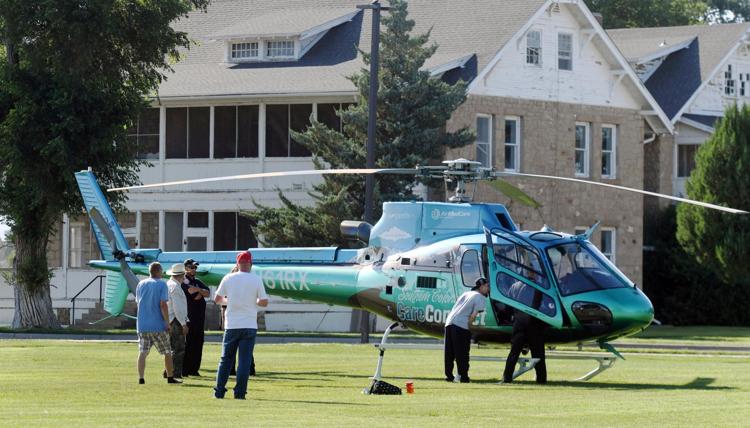 For the first 30 days, residents are not allowed to leave the campus. They're encouraged to rest, regain their physical health and obtain deferred medical treatment. A resident can stay for up to 36 months, although two years is the recommended length. Most drug rehab programs last 30 to 90 days, and that's not enough for these clients,  Westmoreland said.
There isn't a manual or guide to how the program runs, Alderman said. That's because employee roles vary, including caseworkers, administrators, licensed social workers or addiction counselors. 
Westmoreland believes that the model works, citing figures that showed about 78% of the population being homeless for at least a year prior to entering the program, and 60% who had three or more chronic medical or mental health conditions in addition to the substance abuse.
"I believe this project has the way to revolutionize how we deal with these issues," she said. 
But whether the program is successful depends on your definition.
Out of 968 clients, 777 had exited the Fort Lyon program, according to the 2017 program evaluation that reviewed clients from the start of 2013 through June 30, 2017.
Of the 766 who were evaluated, 38%, or 289, had met their goals. Less than half exited to permanent housing; another 29% exited to transitional housing, the report said. Those who went to temporary housing stayed on average 11 months; those who did not complete the program stayed on average 3.5 months.
The evaluation says participants "self-determine" when they have completed the program, using a goals and outcomes plan as a guide. They can make that call with support from their peers as well as a case manager.
But that evaluation never looked at those who went through the gates of Fort Lyon and failed the program. In a 2017 interview with Colorado Public Radio, then-program manager James Ginsburg of CCH said half had flunked out. 
Data from that report shows that out of 615 "graduates," 134 were still living on the streets or in emergency shelters.
A second evaluation by Illuminate Evaluation Services, released in August 2018, complimented the program for its use of best practices in dealing with homelessness and substance abuse. But it also suggested more data should be coordinated in order to drive decisions and provide services.
And a review of literature on programs related to homelessness "suggests no single program can adequately address the combined challenges of homelessness and substance use," given that the population is not monolithic, so some programs will work well for some and not so well for others. "The Fort Lyon program may best be conceptualized as one element of a service array dealing with homelessness, and ideally, not in isolation."
Legislative audit manager Michelle Colin told Colorado Politics earlier this year that the evaluation was only intended to look at program costs and outcomes from a health perspective.
"It was very narrowly focused" and did not look at the impact of the program on the community. They also didn't ask what happened to those who failed, and why, in part because it was very difficult to find these people, she said. "I don't remember that they talked to anyone who was no longer in the program," Colin said.
The 2017 evaluation was ordered by the General Assembly. One of its sponsors, Sen. Bob Rankin, R-Carbondale, was not happy with the review nor with lawmakers' reaction to it. He told Colorado Politics that he tried to get a discussion going over Fort Lyon but it failed to materialize. He's now interested in taking another look.
Westmoreland insists that referral organizations understand that Fort Lyon is not a dumping ground, that those organizations have to agree to help those who don't succeed reintegrate back into their communities.
CCH's Alderman said there's little they can do when someone just decides to quit or walk out. "When people exit the program, we're not always informed until we find an empty room," she said. Sometimes people come for a couple of months and leave, and "then come back three or four times before they really commit to long-term recovery."
One of the opportunities provided to Fort Lyon residents is to attend one of the two local community colleges. The official partner is Otero Junior College in LaJunta. 
A source told Colorado Politics that Fort Lyon students enrolled in some of the health education programs at Otero but didn't always actually go to class. 
An open records request to Otero revealed that 247 students have enrolled at OJC since the program started in 2013. They took 3,858 credit hours, although the college said it did not track how many students began classes and did not finish them. However, the Colorado Department of Higher Education does track student progress toward degrees and certificates, including at the community colleges. 
OJC reported that 205 of the 247 students received financial aid, at a cost of $1.45 million.
Mending fences
Commissioner McDonnell is a supporter of the Fort Lyon facility, but she said she's aware of the problems it has caused for the county. Some of it are consequences the county didn't anticipate and didn't show up until time had passed, she said.
McDonnell said she believes DOLA has been "really responsive, recently," and is working hard to bring resources to the area. 
"I am a supporter, not a Pollyanna who says everything's wonderful and there's no challenges," McDonnell said. "We've worked hard with DOLA to talk to people who are impacted the most," including emergency responders, sheriff and the ambulance.
"I've seen the good outcomes from this work, and I don't come from a background of working with the homeless," McDonnell said. "My observation has been that people who have succeeded have come out strong and in some ways more giving and compassionate than the average man on the street." 
She acknowledges the gaps in services that probably existed before Fort Lyon. Everyone is doing the best they can with what they have, she added, but Fort Lyon has exposed some of those gaps. 
"I don't know what the future of Fort Lyon will be," McDonnell said. "I hope it will continue and bring resources to the Lower Arkansas Valley, that people will be willing to come to the table and address the things that are inherent to the program." 
One of the benefits the county realized from Fort Lyon is a transportation network. What began as only support for Fort Lyon has expanded to a transit system that is open to the public and provides bus service in Prowers, Bent and Otero counties. "This is the first inter-city service" of its kind in southeastern Colorado, McDonnell said. 
The federal government covers half of the $240,000 annual cost. DOLA and the counties split the rest.
DOLA has lofty plans for Fort Lyon to integrate it more into the local community, Westmoreland said. In the next three years, DOLA's Division of Housing budget (which covers Fort Lyon) is going to triple, and they're looking for ways to focus on the local community. "It's not fair for us to focus just on the Fort Lyon residents," she said.  
Westmoreland said plans for a phase two of Fort Lyon includes bringing local residents onto the campus, such as for public health needs, or integrating college-age students from the nearby community colleges in Lamar and LaJunta with the Fort Lyon population.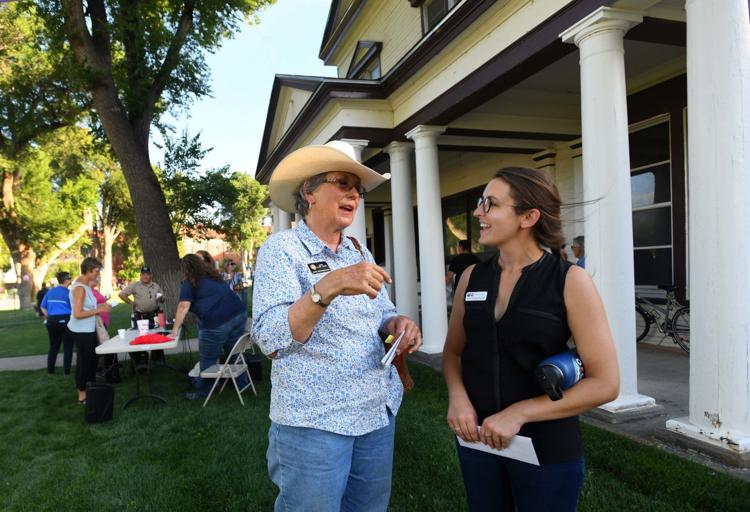 Westmoreland said DOLA is also looking for ways to bring more economic activity to the area, such as through vocational opportunities for the residents. The longer someone stays in the program, the more successful they are at staying sober, she said. As to jobs, they're trying to create a sort of temporary employment agency to give residents job opportunities such as painting houses or mowing lawns. More training in areas such as plumbing and electrical work is also being looked at, she said, because it's hard to find plumbers or electricians in the valley who aren't already overloaded with work. 
As to those who are complaining, "come talk to me," she said. But Westmoreland admitted she's never once knocked on the doors or talked to the 20 or so families who live just a few feet from the Fort Lyon entrance. 
Communication isn't rocket science, she said. "You just have to do it and implement solutions. I like listening to people's frustrations" including from those who feel like they haven't been heard for the past five years.
When told people have tried for several years to contact the facility about some of the problems, Westmoreland said that was "tricky. The Coalition for the Homeless is contracted to run the program and they aren't contracted to do community development" or respond to complaints. 
"We're trying to repair that relationship," Westmoreland said. "I think there's value in listening to people's frustrations." Once they get past the frustration and feel they've been heard, "we can get to the heart of the issue."
CCH's Alderman, on the other hand, pointed to the state as the responsible party. "I'm not sure we have the community relationships solidified in a way we'd like." But she also admitted they could be dealing better with the local residents.
One of those community-building efforts took place the same night as the incident outside the gate: a community gathering, featuring games for kids and opportunities to talk with Fort Lyon clients and learn their stories.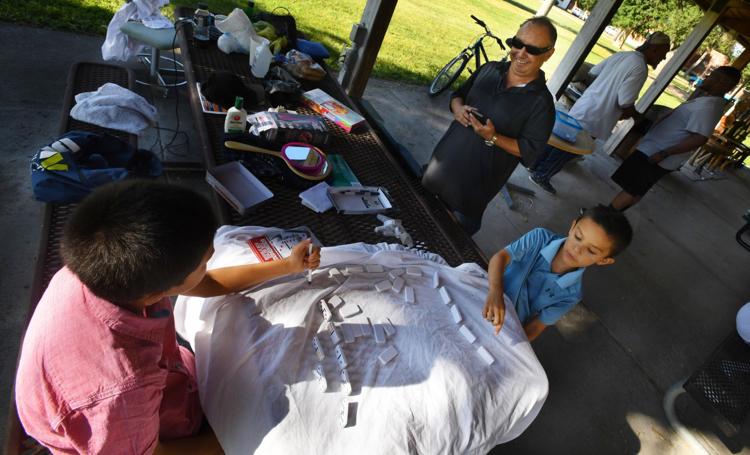 One of the graduates who attended is Don Castro, formerly of Denver, who now lives in Las Animas. He worked in the oil and gas industry for 10 years, and then later with highway maintenance. But everything fell apart after his wife started drinking, and he did, too. 
Castro finally lost everything, including custody of his children, and spent five years homeless. He has now been clean and sober for five years, after spending nine months in the Fort Lyon program. He has taken classes from Otero Junior College, and gained custody of two grandsons, who were with him that day. "I'd be dead" if not for Fort Lyon, Castro said. He now works in a local church as a custodian but largely keeps to himself and doesn't talk about his Fort Lyon experience, he said.
Among the 75 or so who showed up to the gathering: Republican state Rep. Kimmi Lewis of Kim, who lives in the area and who uses the Las Animas post office for her legislative mail. She told Colorado Politics the only complaints she's heard are that too many people from Fort Lyon are becoming permanent residents but without jobs.
Fort Lyon is "trying very hard to make something work here, I support it wholeheartedly," she said.
But "we want to make it safe, and don't want it to be a burden on the community. That's not its purpose. We have to do better, to make sure the community is safe and to have a welcoming facility  that isn't a burden to taxpayers."
Republican state Sen. Larry Crowder of Alamosa also visited the community in August. He told Colorado Politics in an email that he met with Westmoreland and some of the county commissioners. He also visited with local residents in Las Animas. The complaints he heard had almost nothing to do with Fort Lyon, such as a complaint from one person about not getting a job. Others had no problems with the facility, he said, and yet others had hired Fort Lyon graduates for work and were satisfied with the results. 
In short, Crowder wrote, "Of all the people I spoke with in the immediate area of Ft. Lyon, I could not find anyone who would indicate a serious issue. Now there are people who are dismissed from Fort Lyon due to infractions and they are staying in the community of Las Animas and I do not and cannot verify that this should be the responsibility of Ft Lyon. To say they voluntarily applied for the program and cannot complete the course and stayed in the area is their choice and the community would have to deal with the same homeless problems we have throughout the state."
CCH's Alderman said that now that the program is more mature, they are ready to do a better job of engaging with the community. "Yes, we're bringing people to area ready to address their addictions. When they stay with us they have good success rates. When they don't we don't have a lot of options," she said. 
"Our job to make sure the skepticism doesn't turn into stereotyping or assumptions that everything that's a problem in Bent County is due to Fort Lyon."