Denver Mayor Michael Hancock won a third term Tuesday night by a 12.6 percentage point margin in his hard-fought runoff contest against challenger Jamie Giellis.
In unofficial returns as of midday Wednesday, Hancock had 56.3% of the vote to Giellis' 43.8%
Hancock's lead grew gradually through the evening; at 7 p.m. Tuesday he had 55.5% of the vote.
The mayor took the stage at his victory party and claimed the win about 8:48 p.m.
"This is the people's victory," Hancock told his cheering supporters at the EXDO Event Center. "Tonight, this victory is for everyone in Denver, Colorado."
He asked his supporters to give Giellis a round of applause for having run "a spirited campaign."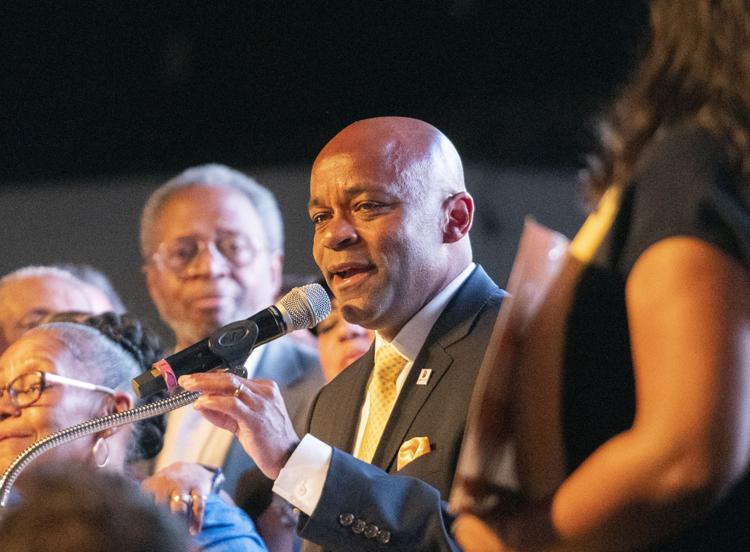 Then, after thanking his family, his campaign staff, his supporters and God, Hancock turned his remarks to a future in which he will serve a third four-year term in a job he has aspired to since he was a 13-year-old student at Cole Middle School.
He was flanked on stage by his large extended family and former Denver Mayor John Hickenlooper, former Mayor Wellington Webb and former Denver first lady Wilma Webb, all of whom campaigned for him.
"In a city of so many possibilities, I want every child to achieve their dream, the way that I did," Hancock told the crowd.
"I heard the expectations of a great city," he said. "I heard you. You said serve with distinction. Make us proud. Be present. Be aware. And leave no one behind."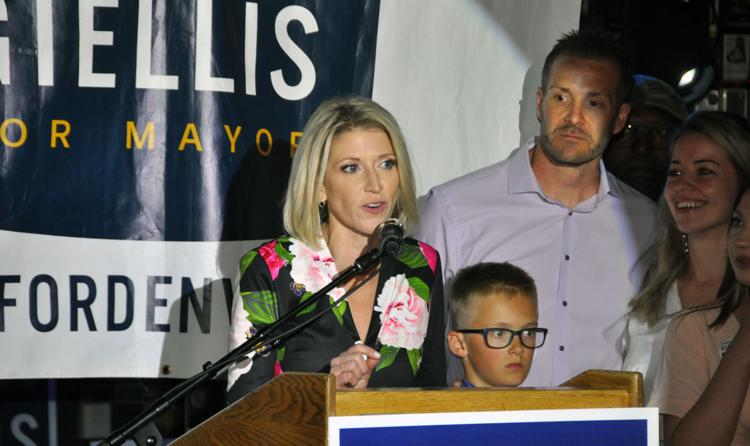 Giellis later called to congratulate Hancock and offered a concession speech. "I will continue to fight for this great city," she told a cheering crowd of her supporters at Ophelia's Electric Soapbox, a colorful LoDo nightclub.
Giellis took the stage flanked by family members, supporters and campaign staffers.
"This is not the speech I wanted to give or the outcome that we want, but we must move forward as a city in unity," she said before telling the hushed crowd that she had just called Hancock to congratulate him on winning a third term.
"I hope the mayor and his team will thoughtfully consider the many issues raised during this campaign," Giellis said, quieting the expressions of disappointment.
"The most important thing," she said, "is that we changed the conversation in Denver. ... We gave the people that are left out of the conversation a voice, and I will try to find a way to give them a voice."
She said the city's residents still "have a fight to fight against runaway development, against pollution, against traffic," adding that she intends to stick with the fight in her adopted home.
Giellis concluded: "To every woman, every young woman, every girl, I ran for many reasons, but I ran especially for you."
"For every woman in the city who has been told no, it's not your turn; for every woman who has been told no, you don't have enough experience, or you're not smart enough; for every woman who has experience harassment or discrimination or a hostile workplace, I ran for you, too."
'Great numbers'
Earlier, at Hancock's EXDO event, an ecstatic, spontaneous whoop went up from the crowd of several hundred supporters around 7 p.m. as the first unofficial results showing the mayor leading.
Jose Castorena was among the people doing the whooping. An Arvada resident and an immigrant from Mexico, Castorena had volunteered to work on the Hancock campaign. And by shortly after 7 p.m. he reported being very happy.
"He's a great leader. He's humble man. He works for all people. He is inclusive and he works with minorities, like me a Mexican, and I love that," Castorena said of Hancock.
He confessed to feeling nervous until the first results were posted.
"Great numbers. I love to be here today," he added. "This is a great moment for Denver. For all people."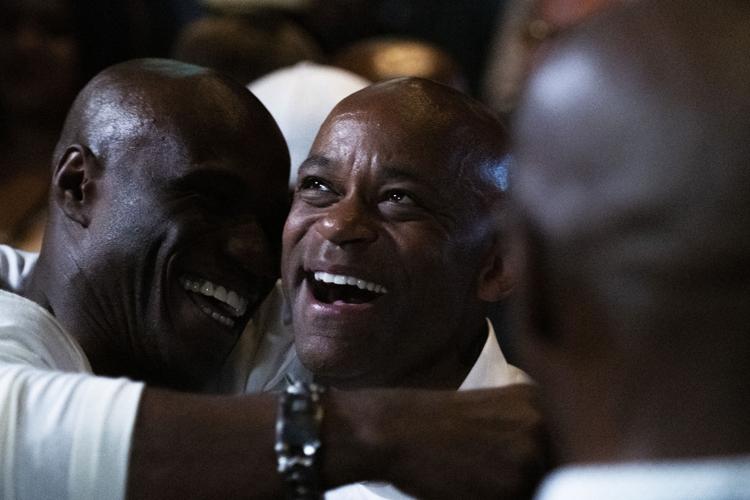 Hancock campaign spokeswoman April Valdez Villa said she had been confident her candidate would pull ahead early in his bid for a third four-year term. She said that was not just based upon her habit of being optimistic.
"I've felt confident all day," Valdez Villa said. "We hit the ground hard. We were knocking on doors. We were making calls. Sending text messages. We were doing what campaigns need to do on the ground to talk to voters directly."
She said Hancock supporters didn't feel the pressure from Giellis' get-out-the-vote ground team that they felt from other candidates in the general election race when they were also running against former state legislator Penfield Tate III and Regis University criminal justice professor Lisa Calderón.
They finished behind Giellis in the May 7 general election and threw their support to her in the runoff campaign.
'Ready for a change'
Just after the polls closed, the mood remained buoyant at the Giellis campaign's election watch party even after the first round of results showed Hancock with the lead.
"My hope is there's still those late voters that just dropped off their ballots today. That is our hope. We need to wait and see what those numbers are," said Christine Alonzo, the Giellis campaign's volunteer coordinator, before the outcome became clear.
Alonzo, who ran unsuccessfully for the District 11 city council seat in the May general election, said she joined the Giellis campaign two days after that election.
"I had a strong belief in Jamie getting this city in the right direction," she said.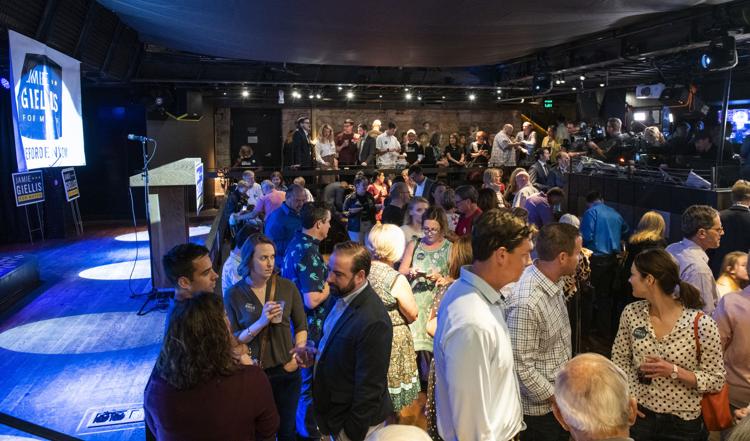 Campaign volunteers spent runoff election day knocking on doors and staffing phone banks to encourage last-minute voters, Alonzo  said. "And we made sure they had pizza and signs to wave," she added.
"I've worked on a lot of campaigns," Alonzo said. "We had volunteers who were there two and three times a week, who really believed in Jamie's vision for the city. I believe that people are ready for a change."
Giellis' father, James Ambroson, who served as mayor of the small town of Leland, Iowa, for 13 years, said none of his races for mayor were close. "There were only 30 or so votes," he said with a smile, "and generally I got 95% of the vote."
He said he understood what his daughter was going through in anticipating the results.
"This isn't over," he said shortly after the polls closed, recalling one election when he rolled past the supporters of then-Iowa Gov. Terry Branstad, a Leland resident who was in a dispute with the town at the time. "He was the governor, and I beat them. We can still beat Hancock tonight."
Then the jovial smile vanished from Ambroson's face as Hancock's lead stood up as each set of new results was issued into the night.
"The people that have tried to paint my daughter or my family as racist — I'd like to talk to them face-to-face, just like this," Ambroson said, leaning in close. "There is nothing, nothing that got me more than that. It's absolutely false."
A gloves-off slog
Through six often intense debates that were held after the two candidates qualified in May for the runoff, Hancock and Giellis outlined starkly different visions of the city.
Hancock boasted that Denver is one of the most desirable places to live in the nation — with low unemployment, a vibrant economy and a quality of life that has attracted more than 110,000 new residents and 8,100 new companies over the last decade.
Giellis, an urban-planning expert and former president of the River North Arts District, tapped into anxiety and concern over that phenomenal growth, arguing that the Hancock administration's failure to manage it has resulted in traffic congestion, increased homelessness, ugly new buildings and the displacement of traditional neighborhoods.
The race was a gloves-off slog to the finish line for both candidates.
Just days after the May election, Giellis couldn't identify what the initials NAACP stand for during an online interview at an African-American cultural center.
She also scrubbed her social media accounts when critics raised questions about a fundraiser at a Mexican restaurant featuring a "nacho/taco bar" and "lowriders," and a 2009 tweet that asked ""Why do so many cities feel it necessary to have a 'Chinatown'?"
Hancock argued Giellis was displaying a pattern of cultural insensitivity and charged she was unprepared to lead a city as diverse as Denver.
But the Giellis campaign swung back hard, accusing Hancock of fostering a "climate of sexual harassment" at city hall during his eight years in office.
Giellis pointed to a series of sexually suggestive text messages the mayor has admitted sending to a female Denver police detective in 2012, when she was part of his security detail.
She also slammed Hancock for some $1.5 million in settlements and legal costs associated with lawsuits and complaints filed against other city employees alleging sexual harassment, misconduct and discrimination.
Hancock has repeatedly taken responsibility for the text messages, which became public a year ago, noting that he has apologized to the detective, to his family and to the community.
But in the face of Giellis' fresh attacks, he also pointed out that none of the sums trumpeted by Giellis stemmed from any of his actions and that he has not been sued for sexual harassment.
That last point, however, led to a stumble by Hancock in the closing minutes of the candidates' final debate when he was asked to explain the why the text messages didn't amount to sexual harassment.
He replied that they were part of a "back-and-forth" exchange with the detective. That sparked a sensational press conference at Giellis headquarters the next day when the detective, Leslie Branch-Wise, called Hancock a liar and endorsed Giellis.
Hancock acknowledged that his reply was "a boneheaded mistake" but stopped short of acknowledging he sexually harassed Branch-Wise, saying only that her perceptions of what happened were all that mattered.
Debates over policy
In between all the personal jabs, the candidates aired some major policy differences during the campaign.
One of the sharpest differences emerged over the city's urban camping ban. Passed in 2012 in response to the Occupy Denver movement's encampment in Civic Center, the ban drew opposition from four of the candidates in the general election campaign, including Giellis, who initially said she would repeal the ban if elected.
But in the May 7 general election, Denver voters overwhelmingly rejected Amendment 300, which sought to overturn the camping ban and to assert the right of homeless people to live on public places.
Giellis opposed Amendment 300, noting that it went far beyond repealing the camping ban.
But immediately after the mayoral field narrowed to Hancock and Giellis for the runoff, the mayor began hammering her on her call for repealing the camping ban.
Giellis responded by modifying her position, first saying that as mayor she would lack the power to repeal the ban outright, something only the city council could do so.
She later released a video saying she would not repeal the ban and instead would work with the council to replace it with a "smart" policy — drawing criticism from the Hancock campaign for flip-flopping on the issue even as Giellis maintained she was simply fleshing out a "nuanced" position.
Hancock has consistently supported the ban, saying it gives police a tool to keep homeless people from camping out on the streets and move them into shelters and services.
In the weeks leading up to the general election, Hancock unveiled several policy initiatives aimed at addressing growth and development. He proposed two city charter changes that would create a municipal Department of Transportation and Infrastructure and another that would create a Department of Housing and Homelessness.
Giellis criticized both measures as late responses to criticism that she and the other mayoral challengers have been raising for months over traffic congestion and homelessness.
Hancock countered that both proposals have been in the works for almost two years.
The runoff became necessary after Hancock failed to get more that 50% of the vote in the general election. He finished with 39% of the vote, and Giellis came in second with about 25%.
Giellis has frequently pointed out that more than 60% of the voters wanted someone other than Hancock, while he has shot back that 75% of the voters picked someone other than Giellis.
She convinced the two top vote-getters among the former mayor rivals – Tate and Calderón — to endorse her as part of a "unity" ticket.
Hancock responded by reminding voters he'd been endorsed by former Denver mayors Webb and Hickenlooper.
=
=
=