Lisa Calderón and Penfield Tate III – Denver mayoral candidates who were eliminated in the May 7 election – have endorsed challenger Jamie Giellis in her runoff campaign against Mayor Michael Hancock.
Tate, a former state lawmaker, and Calderón, a criminal justice professor at Regis University – are expected to formally support Giellis, an urban planner and former president of the River North Arts District – during a rally Tuesday on the steps of the Denver City and County Building, according to the Giellis campaign.
"I am excited about this development. Together, we unify Denver," Giellis said in a statement. "Our perspectives are unique and our concerns about the issues are much aligned."
"I believe that this team of former rivals can lead Denver together to overcome the extraordinary challenges our city is facing, and do so in a creative, equitable way," she added.
Hancock – at a rally of his own Monday with 25 civic and faith leaders who already have endorsed him for re-election – said he was not surprised by the move given Tate and Calderón's criticism of his administration during the campaign.
"I'm not surprised at all," Hancock said following his rally in Ferguson Park in the Park Hill neighborhood. "It's hard to walk back some of the stuff they said during the campaign."
He reminded reporters that during the 2011 election and his first mayoral campaign, candidate James Mejia finished third that year and endorsed former state lawmaker Chris Romer for mayor. Hancock defeated Romer by 16 percentage points in the runoff.
Hancock finished first in the May 7 general election with 38.7% of the vote, well short of the 50% plus one needed to avoid the June 4 runoff. Giellis finished second with 24.9%
Together Giellis, Tate and Calderón garnered just over 58% of the vote.
Two other candidates -- disability rights activist Kalyn Rose Heffernan and community activist Stephan "Seku" Evans -- drew 2.5% and 0.7% of the vote respectively.
"I do not make this decision lightly," said Calderón, who finished third with 18.5% of the vote.
"I believe our unified platform and leadership coalition will bring justice and equity to Public Safety, Housing and Homelessness, Human Services and Community Partnerships," she said in a statement released by the Giellis campaign
"Giving the incumbent four more years to groom a replacement essentially means 12 more years of Hancock through his successor," Calderón added.
Tate, who finished fourth with 14.7% of the vote, stated, "Endorsing Jamie Giellis was the most appropriate path for me.
"United, we can address the need for accessible, ethical and transparent leadership," he added. The time for change is now."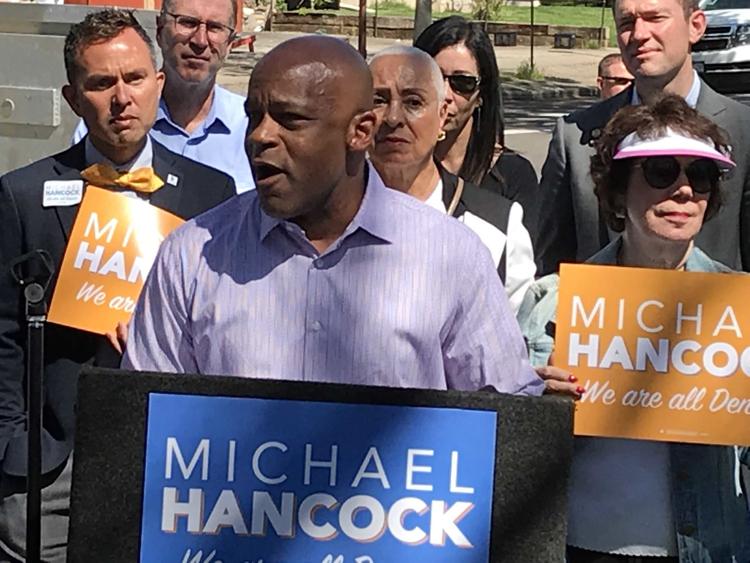 During the Hancock rally, several people spoke about why they are endorsing Hancock for a third and final four-year term as mayor.
Former U.S. Attorney John Walsh cited Hancock's work as mayor in protecting public safety and in defending residents' civil rights.
"I know that he is committed to ensure that we see criminal justice reform in this city because I saw him do it," said Walsh, one of several Democrats seeking to challenge Republican U.S. Sen. Cory Gardner in 2020.
"Mayor Hancock has worked tirelessly to ensure that Denver is a welcoming city," Walsh added. "One that protects the civil rights of immigrants and protects the rights of victims of crime regardless of their immigration status, their national origin or their race."
Hancock's campaign also released the names of several former Tate supporters who are now supporting him including former Denver City Attorney Dan Muse and former Boulder County commissioner Josie Heath and former Calderon supporter author Helen Thorpe.
Hancock thanked the audience for its support.
"I want you to – for just a moment – take a look at this crowd," he said, citing the ethic, geographic and economic diversity represented. "This is what Denver looks like … And this is our secret sauce for winning."
"I want to make this campaign about growth and about development," Hancock continued. "But I want to be very clear with you. I'd much rather live in a desirable city and address the challenges of growth than to address the challenges of dying city any day."
Growth and development have been the predominant issue in the campaign. That will likely continue Tuesday when the candidates square off at their first one-on-one debates of the runoff campaign.
They will be debating first in the studio of Colorado Public Television Channel 12 for a program to be aired on a later date.
There also will be at a debate sponsored by the Denver Republican Party starting at 7 p.m. at Denver's South High School at 1700 E. Louisiana Avenue.