Often, when she speaks to groups, says U.S. Rep. Diana DeGette, a Denver Democrat, she'll ask how many people there have thought about running for office. Nearly all the men will raise their hands and almost none of the women do, she says, and that's a problem.
That disparity, she said on Tuesday at a panel discussion on women's professional advancement in Denver, has identifiable causes and requires a determined approach to ensure more women not only hold office but start political careers early enough to accumulate the seniority it takes to wield significant power.
Men and women launch political careers for different reasons, she told an audience of about 200 who gathered to hear the panel at RedLine, a nonprofit arts and education center.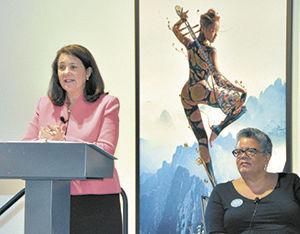 Joining DeGette for the discussion were Colorado Women's College Dean Lynn M. Gangone; software pioneer Desi McAdams, managing director of thoughtbot and co-founder of a worldwide organization of women software developers; Electing Women co-founder Judi Wagner; and Tina Walls, president of the Denver chapter of The Links, Inc.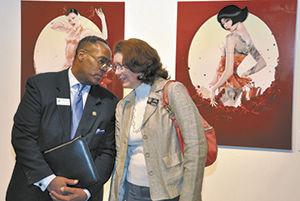 A colleague, DeGette noted, got into politics because her children and their classmates were injuring themselves when they fell on the hard surfaces in the schoolyard, which prompted her to run for the school board in order to get that remedied. That led to runs for other local offices and she eventually won a seat in Congress.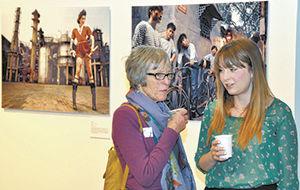 "All because she wanted to fix the playground at her kids' school," said DeGette with a grin.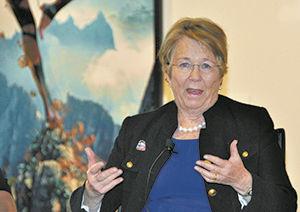 Women who get into politics, she said, tend to want to accomplish things, while men are as interested in what office they can hold, how high they can climb.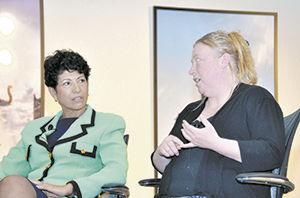 "We always joke," DeGette said, "all the male members of Congress wake up every morning, and what do they see in the mirror? The next president of the United States. The women get up and look in the mirror and go — after they say, 'My goodness, those bags under my eyes …' — the next thing they say is, 'OK, I need to go down, pass this legislation.' Women," she added, "are more task-oriented."
Colorado's General Assembly has the second-highest proportion of women of any legislature the country — behind only New Hampshire — and the state was one of the first where women had the right to vote, DeGette noted. "We pride ourselves on the western values of independence and equality for all," she said.
Still, she pointed out, "Despite that, we have never had a woman governor. We have never had a woman U.S. senator in Colorado. We have never had a woman mayor of Denver." In addition, DeGette herself is the only woman in the state's nine-member congressional delegation. (When she was elected in 1996, following the retirement of 12-term U.S. Rep. Pat Schroeder, DeGette was only the second woman from Colorado to win election to Congress. Since then, two other women — Marilyn Musgrave and Betsy Markey — both won election to represent the 4th Congressional District.) What's more, she noted, not a single woman is currently holding a statewide constitutional office.
The time has come, DeGette said, for that to change.
"I'm on the warpath now," she smiled. "Our next governor is going to be a woman. And when one of our fabulous senators decide to step down, the next one is going to be a woman. And our next mayor is going to be a woman. Why not?"
The solution, DeGette said, is simple.
"In the political context, I think we need to 'lean in,'" she said, citing the title of a recent book by Facebook executive Sheryl Sandberg. "We need to say there are plenty of qualified women. The question is, who wants to do it and who would be best for the job."
DeGette later added that she's been talking a lot lately about making sure the next governor, senator and Denver mayor — after the Democratic men who hold those offices aren't seeking additional terms — and "it's started making people really nervous."
Wagner urged women to "just be courageous," and said that was key to promoting women for office.
"The challenges are being courageous, being willing to speak up for what we believe in," she said, emphasizing that women need to communicate about the potential candidates that are out there.
Wagner told the audience that she would be more than happy to give them the names of the "people who could run for those offices," although when asked by The Colorado Statesman after the discussion, she declined to float names without asking permission of the women who might be considering runs.
Pressed further, she said that former State Treasurer Cary Kennedy, currently serving as deputy mayor of Denver, would be a solid candidate for governor.
"She is qualified for mayor, she's also qualified to be senator," Wagner said. "She has fabulous background, fabulous experience. She would be a real asset to this state if she would run. We'll keep our fingers crossed."
DeGette likewise declined to toss out names of potential senators, governors or mayors.
"There's lots of qualified people, and I think we need to have a woman as our next governor, our next senator and as our next mayor," she told The Statesman. "There's lots of qualified people."
Westminster Mayor Pro-Tem Faith Winter, executive director of Emerge Colorado — an organization that encourages women to run for office — and the Democratic nominee for the open House District 35 seat, wasn't reticent about listing potential women candidates for higher office when contacted by The Statesman.
Markey and DeGette herself — "she doesn't get a lot of credit for being the state's senior member of Congress," Winter noted — could both be strong candidates for top statewide offices, she said, whether or not Markey wins her race for state treasurer this year.
Winter said Senate President Morgan Carroll, D-Aurora, state Reps. Brittany Pettersen, D-Lakewood, and Rhonda Fields, D-Aurora, and state Sen. Linda Newell, D-Littleton, were all potential candidates down the road, as was former state Rep. Rosemary Marshall, D-Denver.
Denver Councilwoman At-large Robin Kneich, Winter noted, was making all the right moves working with both labor and business interests in order to position herself as Denver's next mayor. Denver Public Schools Board of Education member Allegra "Happy" Haynes, Winter added, would be a powerful mayoral candidate.
And Gangone, one of the RedLine panelists, "would be a phenomenal candidate," Winter said, adding that she didn't know if that was part of her plan but that she hopes it is.
There are strong potential statewide candidates across the aisle, too, she added, including state Rep. Clarice Navarro-Ratzlaff, R-Pueblo, and Jefferson County Clerk and Recorder Pam Anderson. "I think she's smart and brilliant and very good at governing and there's definitely statewide office in her future," Winter said of Anderson, who passed on a run for secretary of state this year.
— Ernest@coloradostatesman.com
See the April 25 print edition for full photo coverage.