WASHINGTON — U.S. Rep. Diana DeGette of Colorado joined former Environmental Protection Agency heads from Republican and Democratic administrations Tuesday in criticizing Trump administration cutbacks in environmental protections.
"Communities across the country are facing grave environmental threats," DeGette, a Denver Democrat, said during a congressional hearing.
They include rising coastal waters from global warming, declining biodiversity as more wildlife faces extinction, drought, and "deadly heat waves," she said.
"In my home state of Colorado, we have seen once-year-round glaciers retreat while wildfire season only seems to grow in length," said DeGette, who chairs the House Energy and Commerce's Oversight & Investigations subcommittee that held the hearing.
> RELATED: EPA will drill into Colorado mine for cleanup investigation
The hearing was partly prompted by a recent letter to congressional leaders from seven of the 10 surviving former EPA administrators who served presidents of both major parties urging Congress to intervene to ensure the EPA more aggressively protects public health and the environment.
"The EPA, on the track it's on, ... is endangering public health," Christine Todd Whitman, EPA administrator under President George W. Bush, told the subcommittee.
Whitman said she was "deeply concerned that five decades of environmental progress are at risk because of the attitudes and approach of this administration."
Contributing issues mentioned during the hearing included Trump administration plans to reduce the upcoming annual budget for the EPA, as well as scientific studies showing carbon dioxide levels in Earth's atmosphere at record levels. Carbon dioxide is a gas commonly produced by automobile and industrial emissions that contribute to global warming.
> RELATED: EPA awards grant to assess contamination along Colorado waterways
One of the scientific reports was announced last week by the National Oceanic and Atmospheric Administration (NOAA). The record carbon dioxide concentrations for May represented the seventh consecutive year the concentrations rose in the same month, NOAA reported.
President Donald Trump has defended his environmental record by downplaying the risks while saying he is trying to spur economic growth.
EPA regulatory rollbacks under his administration have granted more rights to businesses to extract oil and gas from public lands and freezing auto emission standards. He also withdrew the United States from the Paris climate agreement for reducing global warming.
Former EPA administrator Gina McCarthy said, "I'm here to remind the political leadership at EPA that what they do matters." She served under President Barack Obama.
"In my opinion, our beloved EPA is in serious trouble, and if I am right, it means that American families are facing increasing risks to their health and well-being, especially the very young, the elderly and those living in poverty [who] are most vulnerable to the impacts of pollution," McCarthy told lawmakers.
> RELATED: Trump's EPA shifts more environmental enforcement to states
Former EPA chiefs Lee Thomas and William K. Reilly, who served under presidents Ronald Reagan and George H.W. Bush, respectively, also warned against the EPA's trend toward more lax environmental regulation.
During the regulation-cutting Reagan administration, Thomas told lawmakers, congressional oversight and unending press coverage of EPA changes would be enough to get Reagan himself to step in and make sure the agency was still following its mission of protecting public health and the environment.
There was sometimes the perception that when it came to the EPA, it was "jobs vs. the environment," Thomas said after the hearing. "There's been 50 years of history that says that's not the tradeoff."
"I've never seen a situation where three Republicans and one Democrat come in and sound the alarm the way they have today," DeGette said after the hearing.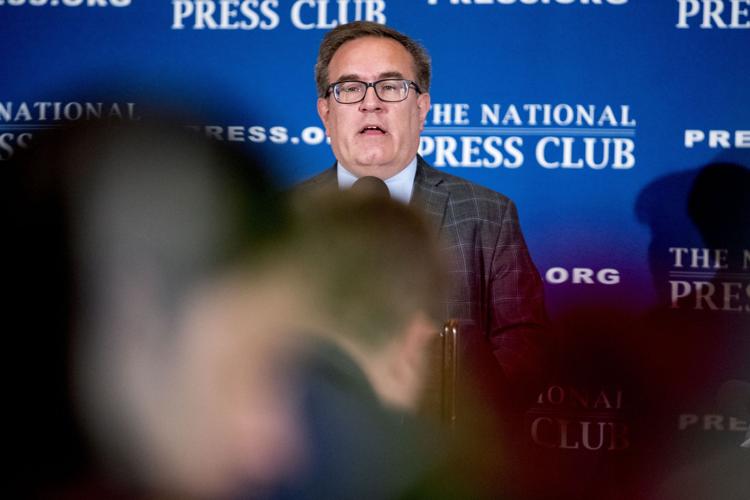 Much of the criticism from the former EPA heads focused on perceptions that the Trump administration was focusing on economic and financial interests, sidelining or rejecting science and minimizing environmental and health effects in moving to ease dozens of environmental regulations.
Asked for reaction, EPA spokesman Michael Abboud said current EPA administrator Andrew Wheeler was working to engage the agency's Science Advisory Board, or SAB.
"Administrator Wheeler will continue to work with the SAB and try to improve relations that the previous administration took for granted," Abboud said.
Abboud did not immediately comment on the broader criticisms. While his predecessors were testifying, however, Wheeler tweeted that the agency was balancing "our regulations to ensure a healthy and safe environment while also saving the taxpayer $3.6 billion. And we're just getting started."
> RELATED: Former Colorado PUC Chairman Greg Sopkin appointed EPA regional administrator
With his comment, Wheeler tweeted a Washington Examiner article that quoted him as saying he had saved taxpayers that amount by rolling back 40 "major regulations, and plans to axe another 49."
Republican lawmakers on the subcommittee downplayed allegations the Trump administration was ignoring the science of climate change and warnings of disaster.
They directed some of their criticism at Obama administration policies they said aggressively defended the environment but overlooked taxpayers and businesses.
Rep. David McKinley, a West Virginia Republican, told Obama administration EPA chief McCarthy, "Under your leadership, I think the EPA went rogue."
Other Republican lawmakers, such as Rep. Greg Walden of Oregon, agreed the EPA needed to update its strategy for enforcing environmental regulations to comply with congressional programs.
The Associated Press contributed.
=
=
=