March is Women's History Month, but the women who inspire Colorado aren't just in the history books. They walk among us every day.
Colorado Politics asked some of the state's best-known history makers who inspired them. If they stand on the shoulders of giants, who are those giants?
We found an international leader, moms and a grandmother, a first lady, civic do-gooders, a widow, a beloved teacher, a captain of industry and a jailhouse cook who shaped the hearts and minds of those shaping public policy in Colorado.
All Coloradans owe these inspiring women a debt of appreciation.
Heidi Ganahl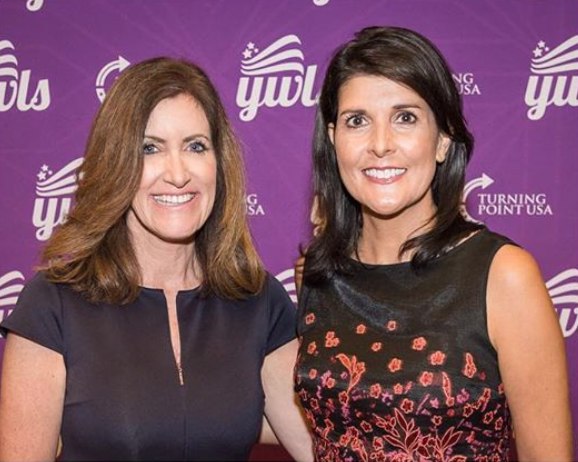 Heidi Ganahl and Nikki Haley have a big thing in common: They're both sized up as the future of the Republican Party, Ganahl for Colorado and Haley for the nation.
When U.S. Sen. Cory Gardner brought the former U.N. ambassador to Colorado for a town hall last August, Ganahl introduced them to the audience at The Dome at AMG Bank in Greenwood Village.
As the University of Colorado's regent at large, she is the only Republican elected statewide currently in office, and she's expected to be a candidate for higher office in the near future, possibly the state's first woman governor or U.S. senator.
She and Haley first met at a women's conference a few years ago, and Ganahl said she counts it as a blessing she's had chances to spend time with the former South Carolina governor several times since.
"She's gracious, warm and so smart," Ganahl said. "Every time we chat, she inspires me to stay strong in what I believe and to continue to fight to keep the American dream alive. We both share a passion for free enterprise and inspiring young people to follow their dreams."
Haley encourages her Colorado counterpart to "help build a bench of strong women to run for office and lead in society," and Ganahl sees Haley's work on the national and international stages as templates on how women should shatter the glass ceiling and keep going.
"It's important for women to 'be the change' we want to see in politics, in society," Ganahl said. "It takes raising your hand, feeling the fear and jumping in any way to make the world a better place for our children. Nikki Haley has done that time and time again in her career."
Kristin Strohm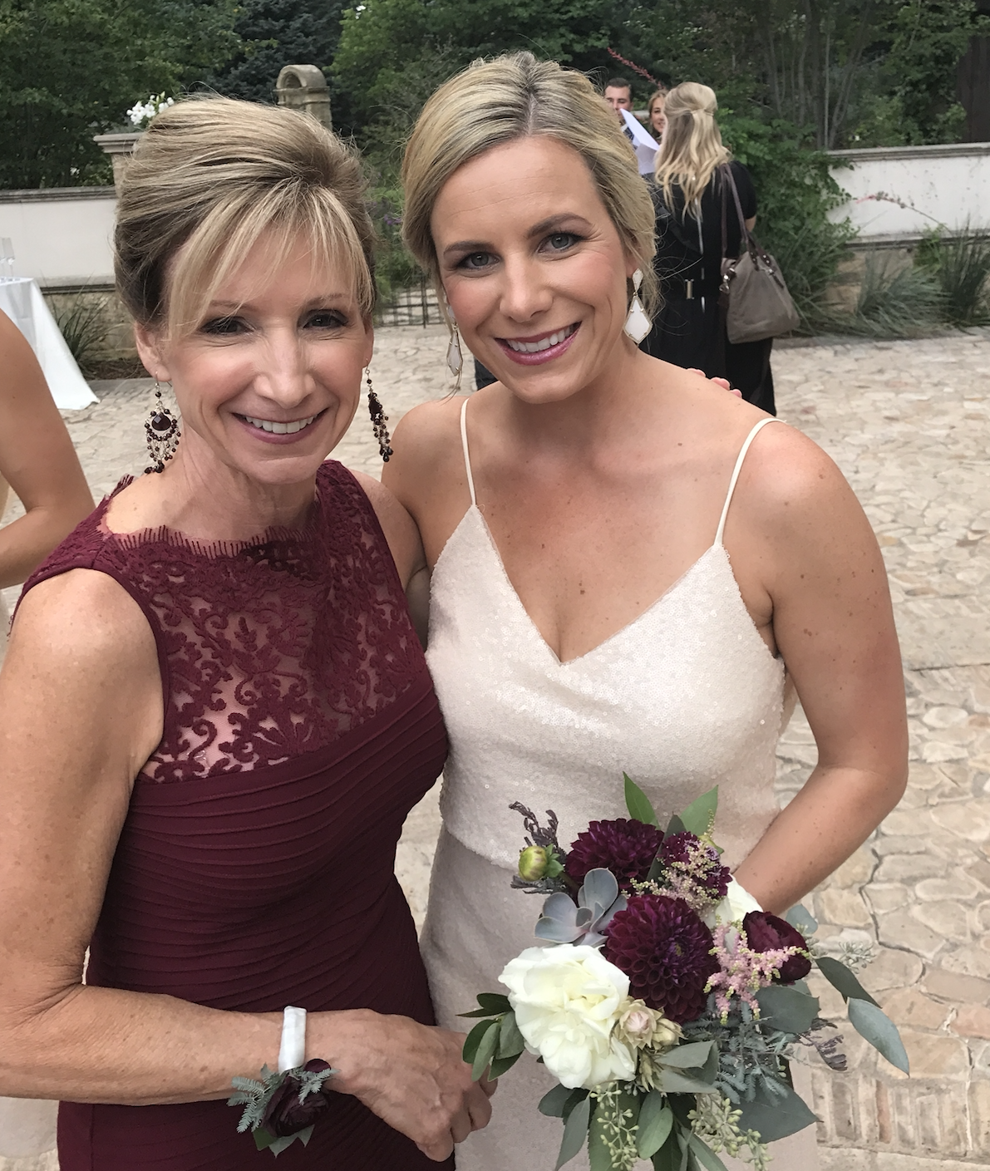 Kristin Strohm, the president and CEO of the business think tank the Common Sense Policy Roundtable, is one of Colorado's most skilled purveyors of politics and public policy.
She learned from the best, her mom, Mary Pat Link, one of 11 kids from a middle-class family who built a business empire, her well-known daughter said.
"She was one of the first women to graduate from her college with a degree in information technology — a true pioneer," Strohm said proudly of her mom. "She built and sold a great tech company, won entrepreneur of the year for the state of Colorado, a champion of nonprofit causes in her community — and doing this she was an amazing mother, raising four kids."
Link sold her company, Interlink Group, in the early 2000s after it rose to No. 51 on the Inc. 500 list. She was the board chair for the Denver Museum of Nature & Science, helping lead the board to bring on George Sparks as CEO, Strohm said.
"She balanced work, community give-back and being Mom."
Strohm, the co-founder and board chair of The Starboard Group consulting firm, said her mom inspires her daily to believe she can have anything she wants, if she's willing to work hard enough to get it. The lessons grew roots that permeate her daughter's soul. "Start a business, active in my community, willing to raise my voice to make a difference on key issues, all while being a great mom and raising four kids just like her," Strohm explained.
"In this day and age, it is so easy to get spread thin — especially for women trying to advance their career and put their family first. And so the thing I've learned and I think do pretty well is focus. I'm not a mile wide and an inch deep. I'm really focused on trying to do what I do well and what matters most, just like my mom."
The best advice her mom ever gave her? Remember the Irish blessing:
"May there always be work for your hands to do.
"May your purse always hold a coin or two.
"May the sun always shine on your window pane.
"May a rainbow be certain to follow each rain.
"May the hand of a friend always be near you.
"May God fill your heart with gladness to cheer you."
Perry Buck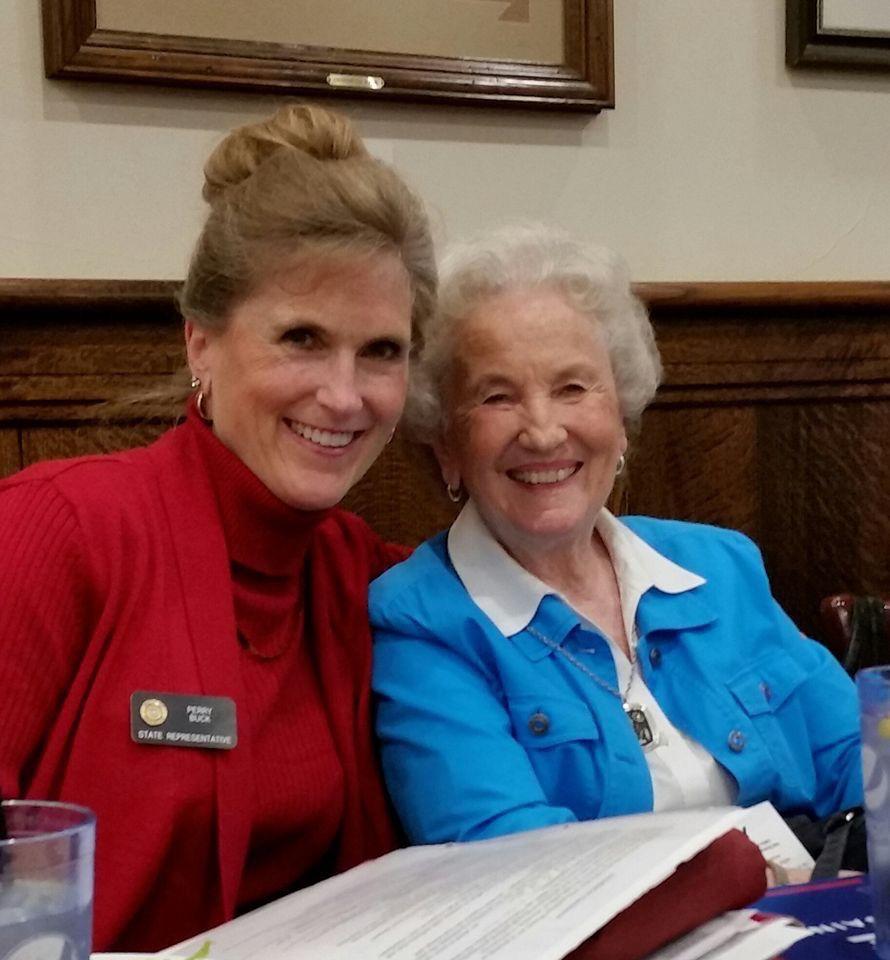 Rep. Perry Buck, a Republican from Greeley, draws inspiration from her mother, the late Sylvia Webster, who died on Jan. 20.
Buck said her mother was someone who believed in education and that "you can accomplish a lot."
As a result, Buck grew up in a family where everyone was treated equally, she said. For Buck, that meant going out to the feedlot and checking the pens for the horses, or playing in the grain bins. Webster and her husband ran the largest family-owned feedlot in Colorado, Webster Feedlots.
Buck said her mom was the first in her family to get into politics, serving two terms on the Weld County Board of Education. "She did a yeoman's job" in helping provide a good education for kids, Buck said. But that's not surprising, given Webster's lifelong passion for education, including a degree in physical education from Colorado State University and a degree in history and minor in business from the University of Northern Colorado. 
That was just the start for the Webster family's leap into politics. Sylvia's husband, Bill Holcomb Webster, who survives her, served in the Colorado House of Representatives, representing Weld County's House District 48 from 1999 to 2002. Buck followed not long after, representing House District 49 since 2013.  
Her obituary said that Sylvia Webster's "endearing legacy was the example of love and marriage. As she said, 'Problems will come about. Just make sure they are solved before bedtime.' " She and Bill were married for 67 years.
Debbie Ortega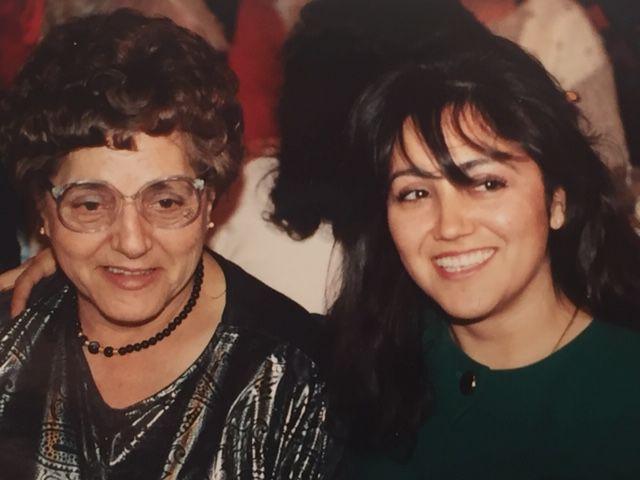 Denver City Councilwoman Debbie Ortega knows the halls of the Denver City and County Building better than most of her colleagues.
First elected to serve on the council in 1987, she served for more than 15 years until 2003, when term limits required that she leave office. Before becoming an elected leader, Ortega worked for former Lt. Gov. George Brown and U.S. Sen. Floyd Haskell, after which she accepted a position in 1979 under Denver City Councilman Sal Carpio, whom she succeeded.
Ortega was elected as an at-large member in 2011 and was re-elected in 2015 and again last year.
Ortega says her mother, Rosemary Riali Ortega, has been her guiding light throughout her life of public service.
When Ortega's father died in a coal mine accident, her mother "had to be strong for her five children," all of whom were under the age of 10 at the time.
"She had to learn to drive, get a job, adapt without him, kept us in Catholic school, and held it together for all of us, while grieving his loss," Ortega told Colorado Politics. "Her strength continues to inspire me to this day."
The councilwoman lost her mother to Alzheimer's disease three years ago. Never a day goes by that she doesn't feel her absence, she said.
Ortega, a believer in socioeconomic diversity strengthening Denver's backbone, also looks to her "dear friend" Angie Rivera-Malpiede, the first Latina to chair the Regional Transportation District's Board of Directors.
She and Rivera-Malpiede first became acquainted when both of their daughters attended Catholic school together.
"We became good friends over the years and worked closely on various community issues, all while being a single parent to her two daughters, Karly and Jennifer," she said.
"She is moving the agency in a new direction of openness and transparency in addressing staffing and service challenges," Ortega said. "I couldn't be more proud of her."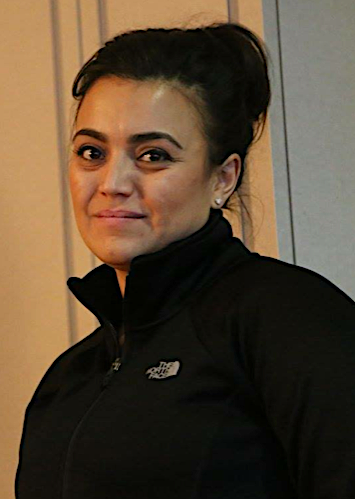 Finally, Ortega says, she looks up to her own daughter, Janelle, who is the only female captain in the Denver Sheriff Department and is "such an inspiration … because of her dedication to her work, her family and our city.
"She persevered in being a young mother to five of the most amazing children, three of whom are serving our country in the U.S. Navy and U.S. Air Force," she said.
Rep. Lois Landgraf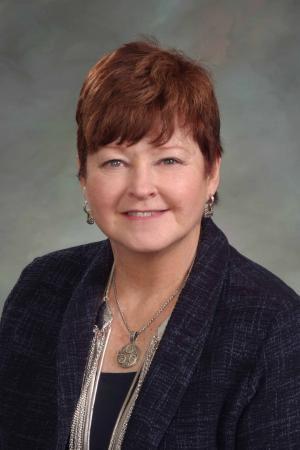 A mother's legacy was also on the mind of state Rep. Lois Landgraf, a Republican from Colorado Springs, who reflected on her mother, born Cazmiera Wroblewski, in New York. Wroblewski's parents came from Poland, and she later Americanized her name, becoming Catherine Argabright when she married Landgraf's father. 
Argabright died from breast cancer and was buried on Landgraf's 19th birthday, but Catherine gave her daughter life lessons that have stayed with her to this day. That includes teaching her that girls can do anything boys can do, but better.
Landgraf said it wasn't a happy marriage, with several marriages and divorces, and that resulted in Landgraf at times becoming her mom's protector. "She was everything to me."
Landgraf took those lessons to heart. With her dad, a jack of all trades, she poured concrete, plumbed houses and ran electrical lines. "I was never put into a typical female role back then," she said.
Landgraf never expected any difference between men and women, whether in salary or opportunity. "I was supposed to be a doctor," rather than working in some of the more traditional roles of the day for women, such as a nurse or secretary. 
While she didn't become a doctor, Landgraf played a major role in Washington state's health community.
After earning her degrees in science from the University of Maryland and an MBA from the University of Washington, she went to work at the University of Washington's School of Medicine. She played an integral role in starting the university's cardiovascular health research unit. Landgraf said the physician at the School of Medicine wanted to start an off-site medical group, and hired her to do the build-out and to write grants for the program. Landgraf also wrote the largest National Institute of Health grant ever awarded to the university, a $10 billion grant looking at women's cardiovascular health.
After moving to Colorado in 2002, Landgraf got into politics, first holding offices within the El Paso County GOP, later serving on the City of Fountain's economic development committee and on the Fountain City Council. "I don't want to be recognized as a woman legislator; I want to be recognized as a legislator. I want to earn respect by doing my job correctly," Landgraf told Women in Government.
All because of a mom who said girls can do anything boys can do, but better.
Elbra Wedgeworth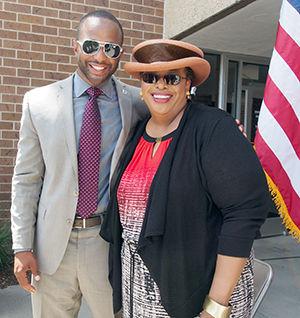 Elbra Wedgeworth, who's served the city of Denver since 1989, is a pioneer in many ways, just like the woman she looks up to most: former U.S. Texas Congresswoman Barbara Jordan.
Wedgeworth is the only person, and woman of color, in the city's recent history to hold substantial positions in all three branches of city government.
From successfully reopening Union Station in 2014 to serving as the first African Woman to chair the Downtown Denver Partnership, the political powerhouse has done it all.
But only because she's stood on the shoulders of giants, she admits.
Jordan is one of them.
Wedgeworth looks up to her not only because she was a lawyer, but also because she was a "trailblazer," as the first African American to be elected to the Texas State Senate since reconstruction and the first black woman elected to the U.S. Congress from a southern state.
"As the first African American to give a keynote speech at a Democratic National Convention, she simply was my hero," Wedgeworth told Colorado Politics.
"She was my guiding light with bringing the 2008 Democratic National Convention to Denver," she said.
Jordan spent her life breaking down barriers for black women as a leader in the Civil Rights Movement. Of her many accomplishments, she received the Presidential Medal of Freedom and was the first African American woman to be buried in the Texas State Cemetery when she died in 1996.
Like Jordan, who devoted her life to being a public servant, Wedgeworth finds joy in building up others.
"Being a public servant has been the most rewarding thing I've ever done," she told Colorado Politics in an earlier interview.
Micki Hackenberger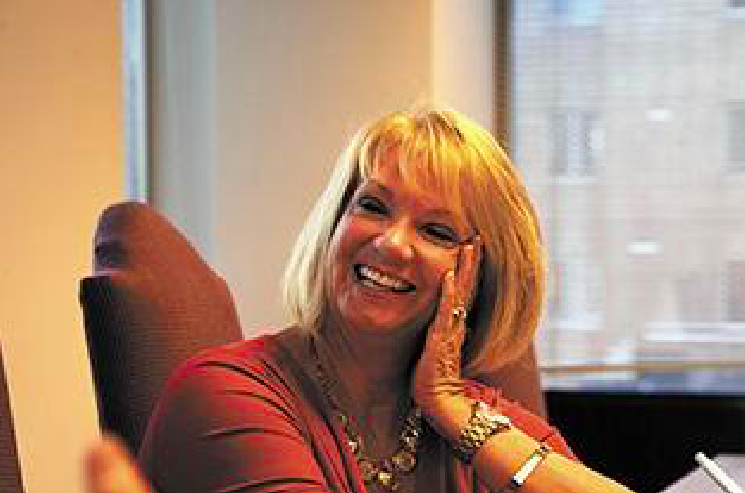 Micki Hackenberger is the president of Axiom Strategies, Denver, and cites as her inspiration the late Karen Reinertson, whom she called an inspiration to many.
"I often reflect on how Karen was not only my mentor, guiding and advising me and helping me grow into the professional I am today, but she was a leader and inspired so many of today's lobbyists," Hackenberger recalled. "Karen knew the political process better than most. She was my first boss in Colorado," starting in January 1989.
At that time Reinertson had just left a lucrative lobbying career with Maria Garcia Berry to work as the lobbyist for Colorado Counties Inc.
"There was no better training than to spend my first year being her shadow," Hackenberger said of Reinertson. "She literally took me to every meeting, introduced me to so many influential people, Democrats and Republicans and it was the best political education anyone could ask for. I remember lunch one day with then-powerful Democrat Sen. Jim Rizzuto and the next day it was Republican Senate President Ray Powers or Sen. Tom Norton.
"She knew how to get things done."
Reinertson's political connections ran deep. Under Democratic Gov. Roy Romer, she was the director for the Office of Energy Conservation and, later, the Office of State Planning and Budgeting. Under Republican Gov. Bill Owens, she was executive director of the Department of Health Care Policy and Financing.
She retired in 2008 after serving as president of Front Range Community College.
"I will forever remember her," Hackenberger said.
Jena Griswold
Jena Griswold, Colorado's secretary of state, holds a few distinctions. At 35, she's the youngest secretary of state in the country, and she's the first Democrat elected to the office in nearly 60 years. She's also the first Democratic woman ever to hold the office.
Griswold, an attorney, said she credits many women for guiding and encouraging her.
"I've been inspired by a number of incredible women throughout my life and career," she said.
"My mom is at the top of my list. When I was younger, she worked two jobs to provide for us, and taught me the value of hard work and persistence," said Griswold, who didn't have it easy growing up in Estes Park. In addition to her mother working two jobs, their family relied at times on food stamps, and as a young teen Griswold took part-time jobs around town.
Shortly before she was sworn in, Griswold told her hometown newspaper that she owes a debt of gratitude to Estes Park civic leader Paula Steige. The owner of the resort town's legendary MacDonald Bookshop, along with the local Rotary Club, broadened Griswold's horizons by helping her study as an exchange student in Argentina, where she learned Spanish.
The experience boosted her ability to become the first one in her family to attend a four-year college and then go to law school, Griswold said.
As far political inspirations, Griswold looks to another pioneering Colorado woman — former Lt. Gov. Gail Schoettler, who was the state's first woman gubernatorial nominee from a major party.
Schoettler, Griswold said, "has also been a tremendous influence. She is a true trailblazer in Colorado politics and for women, and I am so lucky to consider her a mentor and friend."
Christian Reece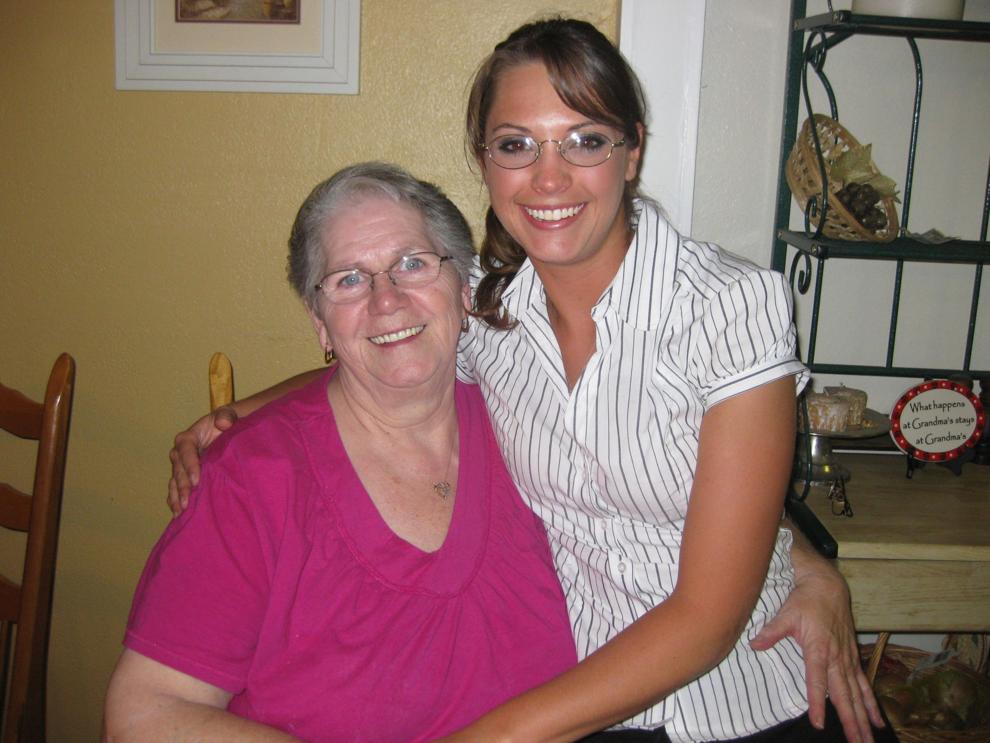 When it comes to Western Slope movers and shakers, few engage better or more often than Christian Reece, the executive director of Club 20, the venerable coalition of Western Slope civic and business leaders.
"I have been extremely fortunate to have been surrounded by strong women throughout all stages of my life," she said. "From my high school counselor, who was the first openly gay woman I had ever known, to the professional women in my life today who have inspired me to do more. Grand Junction currently has a number of extremely strong up and coming women in leadership positions, and it makes me proud to be a part of it."
She especially draws inspiration from her family circle.
"My grandmother completed eighth grade before going to work full time to help support her family and spent her career as the cook for the Garfield County Jail," she said. "Spending 12 hours each day standing on hard tiled floor keeping all of the inmates in her kitchen in line was a feat in itself and would have been completely exhausting to me, but she managed to come home, make dinner for her family, and still have the energy to play board games each night with her grandchildren."
Sandra Gomez, who lives in Grand Junction, is a "no-nonsense, straight-talking woman who told you what you didn't necessarily want to hear, but needed to hear, all while demanding respect." She refers to herself as "a tough old bird," her famous granddaughter said.
A lung cancer survivor, Gomez still tries to take care of everyone, "making sure we all get our favorite pies for Christmas and our favorite meals made for birthdays," Reece said. "Her strength, perseverance, tenacity and softness inspire me to embody those traits both personally and professionally."
Reece wants to be a good example for her nieces, Loralai and Hayden Willey, 17 and 13, respectively.
"They inspire me every day to push harder, be a better person, and to make a difference in our community," Reece said. "I want them to see that women can have it all but that it takes hard work and tireless effort and sometimes sacrifices. I want them to know in their soul that they are capable of doing anything they set their mind to and the only limit on what they can achieve is the one they set for themselves. I do what I do every day to try to make a better world for them and the thousands of little girls just like them who are our future."
Kristi Burton Brown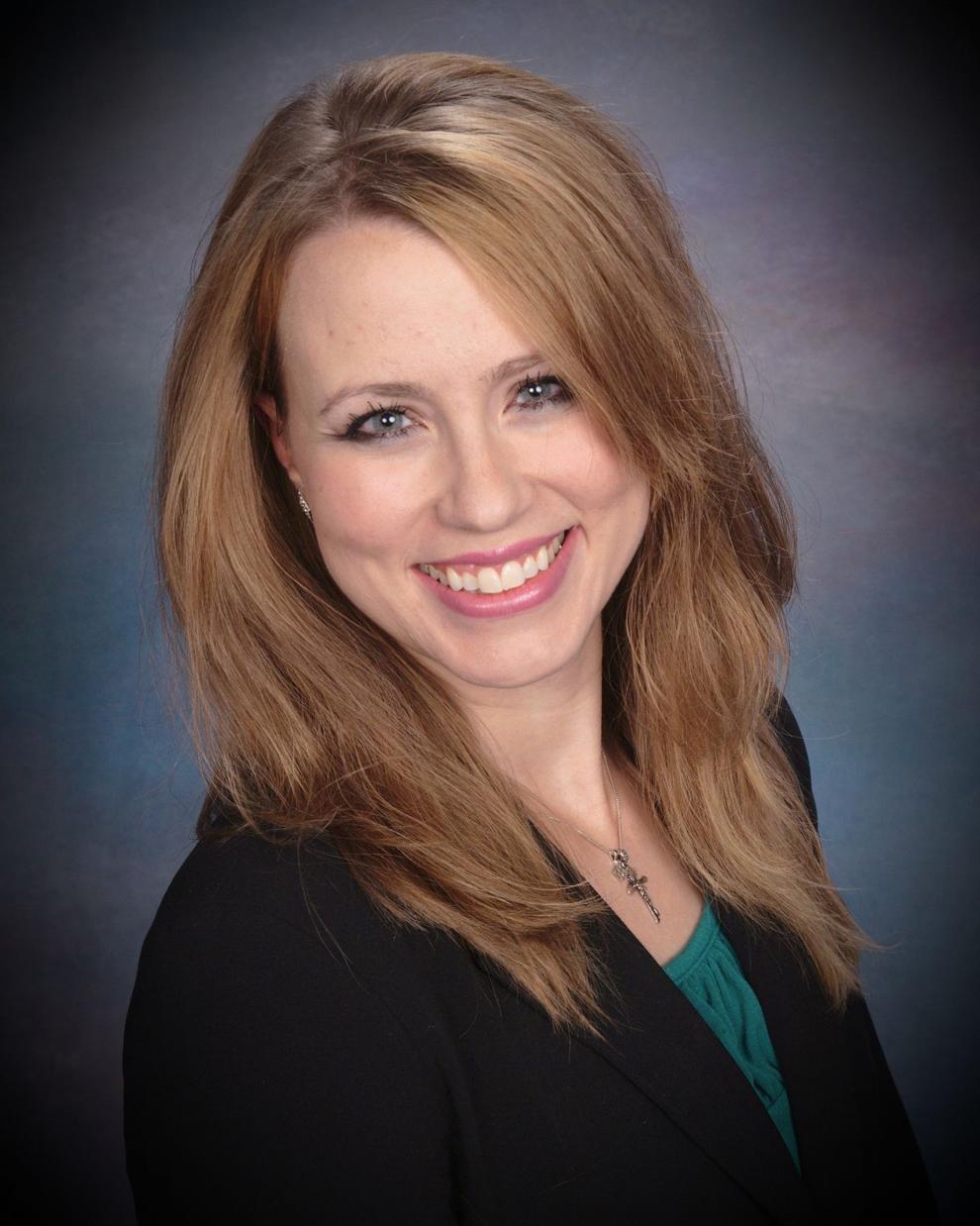 The constitutional law attorney who co-sponsored Colorado's first personhood amendment when she was a teenager and these days serves as vice chair of the state Republican Party said it was easy to point to the person who has most inspired her.
"There's no question that my mom tops the list of my personal inspirations," Kristi Burton Brown said.
"When I was in junior high," she said, "my mom was homeschooling me, but she was offered a full ride to go to law school. She had dreamed of becoming a prosecutor, but she decided that, right then, her kids needed her more than the justice system did."
Brown, an associate scholar and policy analyst at the Charlotte Lozier Institute, part of the anti-abortion Susan B. Anthony List, said she can see the effect of her mother's decision every day.
"That choice shaped my own worldview and has enabled me to find a way to pursue justice and rights for children in the political arena without leaving my own two kiddos behind," Burton Brown said.
When she was 19 and in law school, Burton Brown launched the 2008 campaign to urge Colorado voters to adopt Amendment 48, a ballot initiative known as the personhood amendment, which would have defined a person in the state constitution as "any human being from the moment of fertilization."
The measure, which opponents said would have given legal rights to embryos and banned most forms of contraception, was defeated by a 3 to 1 margin, but Burton Brown said she considers it a winning campaign because it put the spotlight on a pro-life message.
"My mother may not have gone to law school, but I did," she said.
"She ended up becoming a life coach who continues to mold and shape countless lives, just like she did mine. I draw strength from the knowledge that she prays for me every day, and I hold her words close to my heart: 'Your power is in your prayer.' "
Carol Hedges
Growing up in Topeka, Kansas, the young Carol Hedges — who proudly calls herself a nerd — would ride the bus downtown to visit the state Capitol as a youngster, and when she grew up had the chance to work in the building for Gov. John Carlin. After a stint at the National Governors Association, in the mid 1990s Hedges and her family moved to Denver, but she stayed in the governors' corner, taking a job with Gov. Roy Romer, eventually serving as the Democrat's policy director.
After stints at several nonprofits — the Piton Foundation, the Bell Policy Center and the Colorado Fiscal Policy Institute — Hedges co-founded the Colorado Fiscal Institute to encourage more equitable state fiscal policies.
Through it all, Hedges said, a beloved elementary school teacher has loomed large.
"Shirley Johannsen opened my eyes to the possibilities and benefits of trying," Hedges said.
"She was my fourth- and fifth-grade teacher at State Street Elementary School in Topeka, Kansas, where she taught for 50 years. Shirley inspired curiosity and exploration by providing an example of how a single woman could lead a life of self-determination and joy. Not only did she teach, she devoted her spare time to enriching lives through sports," she said.
Johannsen was sometimes known as "the Kid Whisperer," her principal, Sarah Sharp, said in 2013, when the school surprised the veteran educator at an assembly to celebrate naming the school's auditorium after Johannsen in recognition of her decades of dedication.
At the assembly, Sharp was presented with letters from President Barack Obama, Vice President Joe Biden, Education Secretary Arne Duncan and Gov. Sam Brownback, as well as a letter from Bill Self, the University of Kansas basketball coach, honoring the longtime KU hoops fan.
"She was and is smart, beautiful, strong and loving, a combination of traits that seemed impossibly rare to me in the late 60s," Hedges said. "Shirley's commitment to helping me understand all the options that were open to me fundamentally changed the trajectory of my life. Her spirit and commitment to helping kids be their best selves continues to inspire me."
Dorothy Gotlieb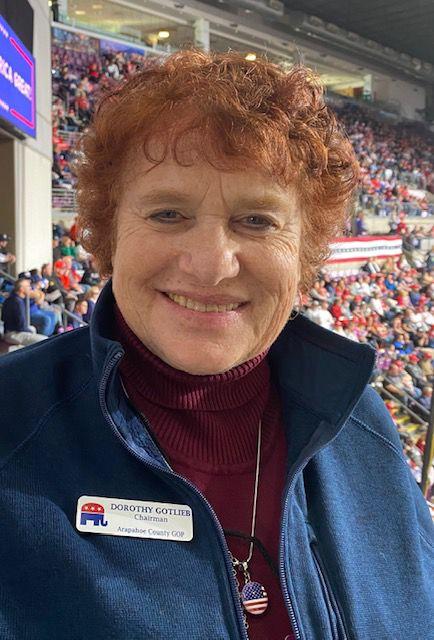 Just as former First Lady Abigail Adams beseeched her husband to "remember the ladies," so, too does Arapahoe County GOP Chair Dorothy Gotlieb remember the influence that Adams had on her.
"Through letters she wrote and exchanged with her husband, John, she had a great influence on the establishment of the United States of America," said Gotlieb.
She first learned about Adams in elementary school, which, as she cheekily notes, was sometime in the "last century." While the similarities between Adams's strong-government Federalist Party and the modern Republican Party may have diminished over time, what inspired Gotlieb was how empowered Adams was, considering the social context in which she lived.
"At a time when women were in the background, she not only maintained her family (raising a president!)," she said, referring to John Quincy Adams, the sixth U.S. president, but Abigail Adams was also "outspoken on issues of the day — women's rights, anti-slavery."
Writing to her husband ahead of the Continental Congress's Declaration of Independence, Adams warned that the women of the new country would have a hard time abiding by laws over which they had no say.
"Do not put such unlimited power into the hands of the husbands," she wrote. "Remember, all men would be tyrants if they could."
Adams was an adviser and ally to her husband through his ambassadorships in Europe, his vice presidency and his presidency. One of her contemporaries, a feminist writer, observed that if John Adams were indisposed, those with matters before the government should "rather see Mrs. Adams in the Presidential chair than any other character now existing in America."
Adams, said Gotlieb "was self-educated, loyal, spoke her mind, cared deeply about fairness for all — and stood up to her critics."
Cheri Jahn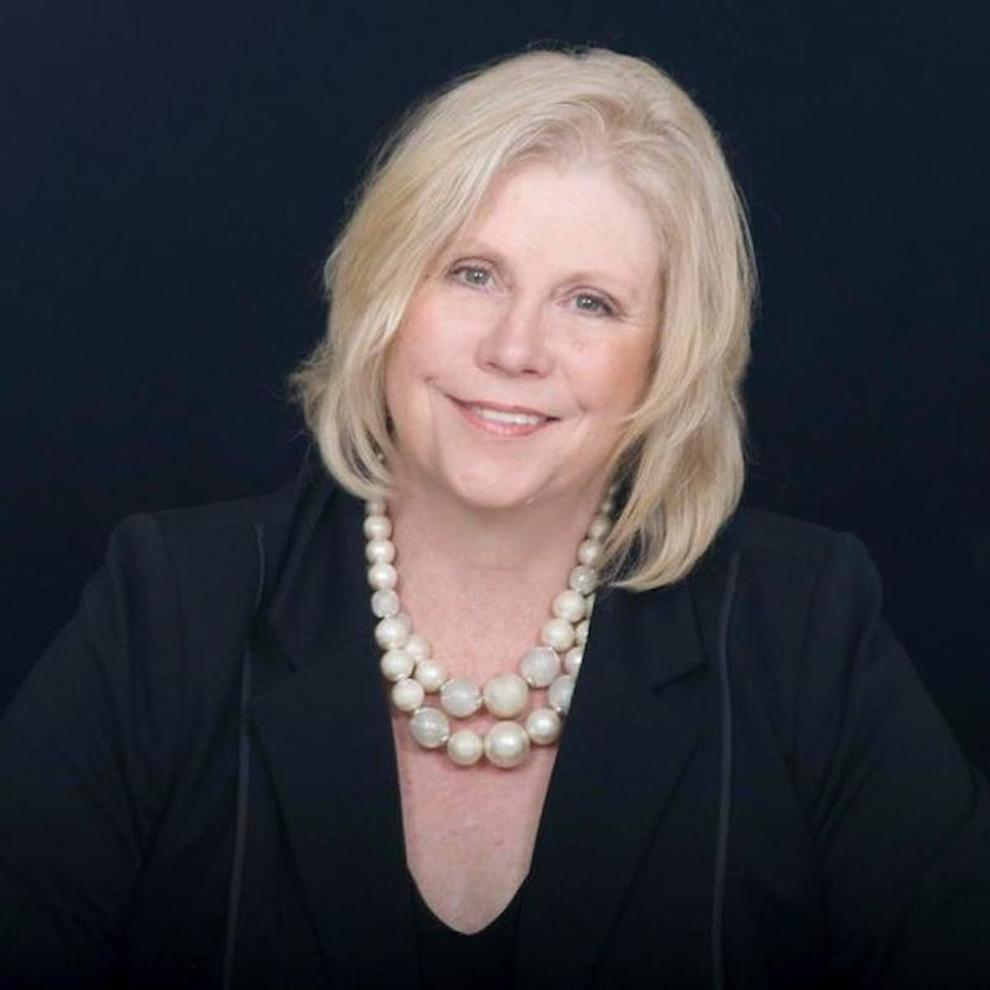 Shortly after Cheri Jahn won election to the Colorado House of Representatives in 2000, she made a phone call to Sen. Norma Anderson.
"I needed someone that knew the process inside and out, had a great reputation and could show me how to get the job done," said Jahn, who would go on to serve eight years in the House and eight in the Senate, first as a Democrat and then as an unaffiliated member.
Anderson, a moderate Republican from Lakewood, was the person from the other party whom Jahn thought could help her learn how things worked under the Gold Dome. Jahn had seen her at community meetings prior to her own election, and became impressed at how deeply Anderson knew about policy issues and at her confidence.
Anderson agreed to talk with her, and the two met for an hour and a half, with the senator dishing out a steady flow of useful information.
"The greatest thing she taught me and the most important aspect of success in the process was building relationships," said Jahn. Active listening was key, as was the knowledge that "the only thing you will leave with at the end of every day and your term was your word."
Anderson and Jahn became friends; the two still have lunch together and swap stories about their time in the General Assembly. Jahn remembers the two always showed complete respect for each other and had a true friendship.
"I could always go to her on tough issues and during tough votes and we would talk through them," she said.