Take a walk along any street in downtown Denver, and chances are good that on any given day you'll come face to face in vivid and sometimes tragic detail with the extent of the city's grinding and intractable homelessness problem.
A man sprawls unconscious on a sidewalk outside the Denver Performing Arts Complex.
Another man reaches into a trash bin on 17th Street, pulls out a container and begins eating the leftover sandwich.
A woman sleeps beneath a teal-colored blanket on a cold spring day in Civic Center Park. Later she rises and heads over to the bus station, her blanket trailing behind her like a tattered robe. On the 16th Street shuttle bus, she coughs a hacking cough.
This is the reality of homelessness in Denver in 2019.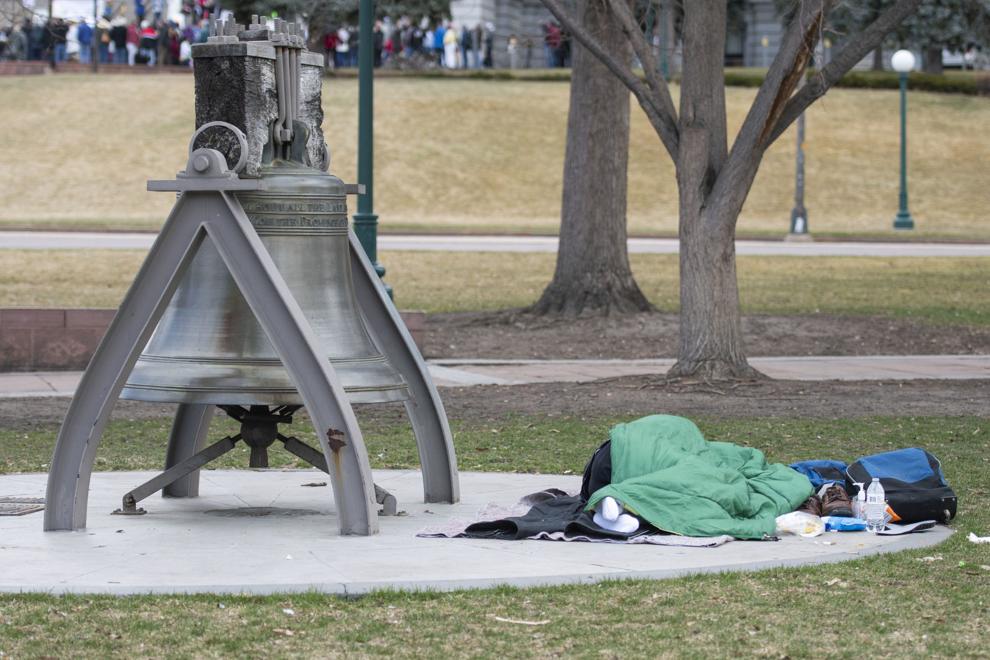 Against this sad urban backdrop, Denver voters are set to decide a groundbreaking referendum that would repeal the city's ban on homeless camping and allow people to live on the street.
It's called Initiated Ordinance 300, one of several measures on the city's May 7 ballot. Backers refer to it as the "right to survive initiative."
"We are facing reality and the reality is that people are homeless and are living on our streets and criminalization does not work," said Terese Howard, a spokeswoman for the pro-Initiative 300 group Denver Homeless Out Loud. "It does not help people. It does not get people into housing. It makes life worse and harder. It's cruel and unusual. And it's immoral. It needs to stop."
Opponents warn the measure could turn Denver's parks, sidewalks and other public spaces into a permanent encampment for squatters, spreading trash and endangering the public.
"We don't want to become the next Los Angeles, which probably has a multi-million cleanup," Denver Mayor Michael Hancock told Colorado Politics. "This answer, this solution is not the right solution for Denver or any urban space for our homeless."
That debate has exploded into an expensive ballot battle, with 300's main opposition group having outraised supporters by better than 10 to one at last count.
Together Denver, a group urging a "no" vote on the referendum, has raised $558,784 compared with $53,946  gathered by the pro-300 campaign, finance reports as of mid-March show.
Several prominent businesses groups have contributed to the Together Denver fund, including the Downtown Denver Partnership, a group of about 700 downtown businesses, which donated $100,000.
What it says
On May 7, Denver voters will see this on their ballot:
"Shall the voters of the City and County of Denver adopt a measure that secures and enforces basic rights for all people within the jurisdiction of the City and County of Denver, including the right to rest and shelter oneself from the elements in a non-obstructive manner in outdoor public spaces; to eat, share accept or give free food in any public space where food is not prohibited; to occupy one's own legally parked motor vehicle, or occupy a legally parked motor vehicle belonging to another, with the owner's permission; and to have a right and expectation of privacy and safety of or in one's person and property?"
If enacted, 300 would add a new section to Denver's municipal code, "Article IX - Right to Survive in Public Spaces."
Under Article IX, Denver authorities could not "enforce any ordinance ...  that limits, prohibits or penalizes the rights secured by this ordinance," including the city's camping ban on public property.
It also says police could not "harass" or request ID from anyone camping under the ordinance "unless supported by reasonable suspicion of a crime."
How the measure would play out on the streets of Denver is fiercely debated.
Pro-300 advocates say on their website that the measure, by "decriminalizing homelessness," would "make it easier for homeless people to hold down jobs, which makes it more likely that they will be able to find homes."
They insist that 300 would not allow let people litter, block roads or commit crimes.
But anti-300 Together Denver warns in a position paper that the measure could lead to "large encampments" in city parks and around public facilities such as stadiums, Denver Zoo and museums. They also say cars and RVs could be parked outside homes and that people could camp on city sidewalks in residential areas.
"The measure ... would potentially create new civil and criminal liability and legal causes of action against private individuals, homeowners, businesses, city employees and city government," a city memo on 300's potential impact says. "This likely would create a chilling effect for police officers, park rangers, health inspectors and others to enforce laws and may make them reluctant to assist those in need."
For example, the memo warns, "park curfews ... would no longer be enforceable. Nor would ordinances that prohibit overnight camping or setting up of tents and structures in parks." Backers of 300 dispute that conclusion.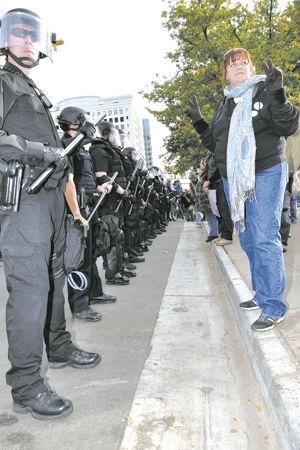 Shelter space an issue
The measure has its roots in the city's response to the Occupy Denver movement several years ago.
Like many U.S. cities, Denver in 2011 was dealing at that time with an encampment set up in Civic Center Park by demonstrators who were taking their protests of economic inequality to the streets.
The following year, in response, the Denver City Council passed an ordinance outlawing unauthorized camping on public property. It allows police to cite or arrest an illegal camper, but only after orally asking the person to move on first, then issuing a written warning.
In practice, police almost never cite anyone under the urban camping ban, let alone make an arrest. Instead, campers often move from one place to the next.
Initiative 300 seeks to overturn the campaign ban, as well as a separate ordinance known as "sit and lie," which bars people from sitting or lying down within the boundaries of the Downtown Denver Business Improvement District between 7 a.m. and 9 p.m.
In 2012, homeless people living on the streets was hardly a new thing in Denver. During the 1980s, homeless people would camp out along the South Platte River, under bridges, on steam grates and along the south side of Denver's City and County Building.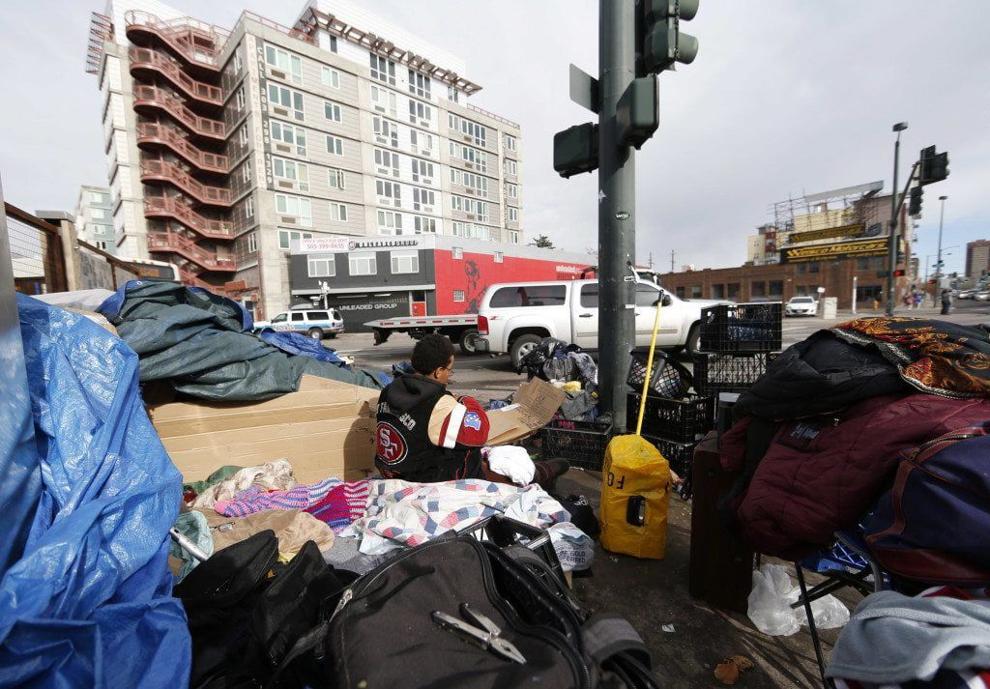 Police would disperse them, and advocates would try to talk them into the shelters on cold nights, but the problem persisted.
Denver got a head start on building its shelter system thanks to one dramatic event 36 years ago.
During a bitterly cold winter in 1983, Rev. C.B. Woodrich -- better known as "Father Woody" -- opened the doors of Denver's Roman Catholic Holy Ghost Church to the homeless.
It was a controversial move, even among the parishioners. But according to a story in the National Catholic Register, Woodrich responded:
"Listen, Jesus Christ told us to take care of the least of our brothers and sisters. That means even if you have to hold your breath," he told his congregation. "And we're going to do that here at Holy Ghost Church. If you don't like it, find another church."
"My dear people," he added, "we cannot pray to the Lord and reject the ones he loves most."
Three years later, the Archdiocese of Denver opened Samaritan House, the first shelter of its kind in the city and the start of the shelter movement in Denver.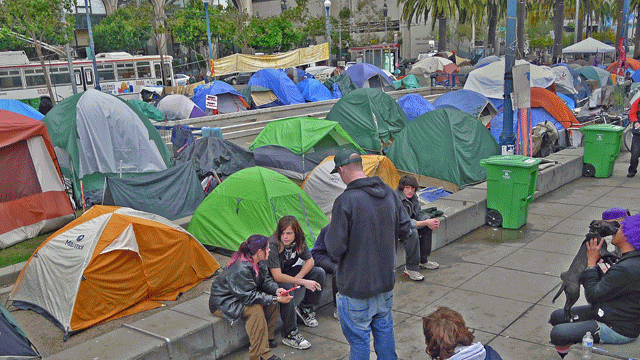 That early head start proved significant, because other cities that did not have enough shelter space for their homeless, such as Los Angeles, San Francisco and Seattle, have seen their urban camping bans nullified by court rulings. Those rulings were based on a lack of adequate shelter space for the homeless.
But opponents of Initiative 300 contend Denver has enough space for the 3,445 homeless identified in the 2018 Point in Time survey, a 24-hour head count of the homeless conducted in the city.
They cite a report done in February by the REMI Partnership -- a policy group that includes business groups such as the Colorado Association of Realtors, the Colorado Bankers Association and Colorado Concern -- that calculates there are 1.2 shelter beds for every homeless person.
Advocates of Initiative 300 dispute that figure. They contend that shelters often are not a viable option for families that don't want to be separated and for people with pets or disabilities.
They claim there simply is not adequate shelter space to house all of Denver's homeless.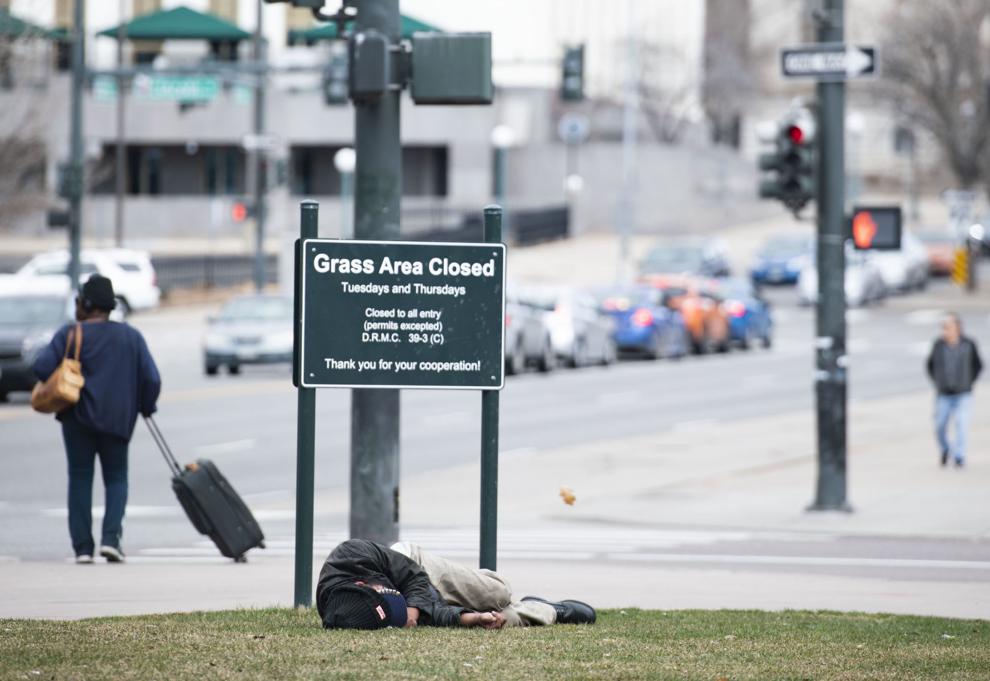 Taking it to the people
Fast forward to 2019. After several years in which the city's economy and population boomed and housing values have soared, affordable housing has grown scarcer while the ranks of the homeless have increased.
Meanwhile, advocates tried for several years to overturn Denver's camping ban through state legislation called "the right to rest."
But after four years of seeing those state bills die in committee, they decided to take a different approach.
"After it being killed [in the legislature] year after year, we said, let's take it to the people," said Howard, the pro-300 spokeswoman.
Organizers gathered nearly 10,000 signatures and the issue went onto the ballot.
Howard argued that the current police policy of shuffling the homeless along through the camping ban does not work.
"We call it homeless whack-a-mole," she said, referring to the carnival game when people hit the mole puppet only to see it pop up elsewhere.
"People don't just evaporate. They don't disappear when you tell them to move along," she said. "They get moved to another place and then moved to another place and then moved to another place."
But opponents of Initiative 300 respond that it is cruel and unusual to have people living out on the streets.
 "We recognize something needs to be done and the homeless community needs better access to affordable housing," said Alvina Vasquez, a spokeswoman for Together Denver, the main group behind the no-on-300 effort.
"This doesn't provide any financial support for brand new services, mental health services, affordable housing," she added. "This does not help the key issues that cause homelessness."
The Downtown Denver Partnership -- among several business-oriented groups opposed to 300 -- says in a position paper that the initiative "undermines public safety and the well-being of all Denver residents, including those experiencing homelessness, by preventing the enforcement of essential public safety laws."
Kate Barton, vice president for special projects at the partnership, said her group wants to be part of the long-term solution to homelessness.
"It's no surprise that we are opposed to Initiative 300 because we believe it is not a solution to the issues around homelessness in our community," she said. "Ultimately we know we need good solutions and we're at the table to work on those solutions. But we do not believe Initiative 300 gets to the root of the issue or does anything to help solve the problem."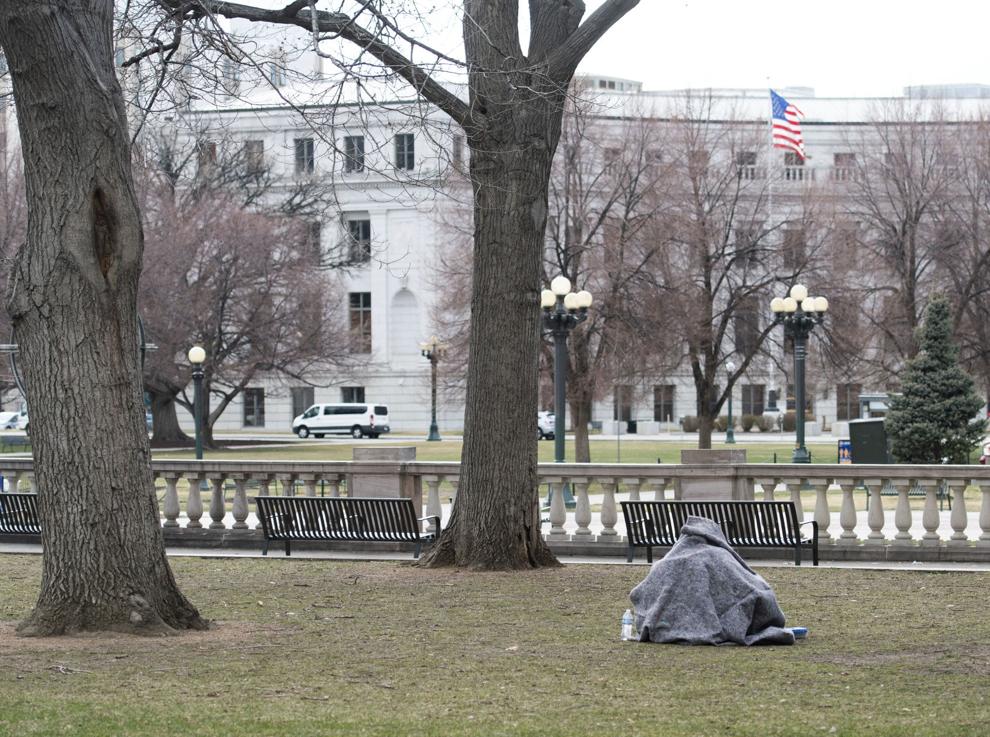 Not the next Los Angeles
Hancock, in an interview, said that having people living on the streets is not the solution to the homelessness problem.
"If I was homeless, I find no compassion in your answer telling me to go sleep in the park or go sleep on that concrete. Nothing's healthy about it. Nothing's safe about it," he said.
The mayor said that where the camping occurs now, police have handled felony assaults. Last summer, three people were killed trying to sleep outside, he said.
Howard, the pro-300 advocate, acknowledged that the "right to survive" initiative is just that -- a right, and not a solution to homelessness.
"Everybody knows that the solution to homelessness is housing," she responded. "That's something that we have been fighting for that for years. ... That is what we need in the end is basic attainable housing for lower income people."
But Howard said the city's attempt to create affordable housing in recent years has fallen way short of the need.
"We're realists," she added. "We know that that housing is not around the corner and that people are going to be surviving on our streets today, tomorrow and for the foreseeable future."
At community forums, the two sides have sparred over what the wording of the measure would mean.
Advocates claim it would not result in doing away with park curfews -- refuting the city's view -- and would not allow the homeless to obstruct public sidewalks.
But opponents say the initiative is so vague and poorly defined that the result would open the gates for an incursion of the homeless in parks and other public spaces.
They also worry that a provision that bans "harassment" of the homeless would make it difficult for police and outreach workers from helping homeless people who are at risk.
In any event, city officials believe that the initiative could create legal conflicts as its provisions are untangled.
Meanwhile, organizations that provide shelter and services to the homeless have watched both sides of the debate warily without endorsing either.
Cathy Alderman, a spokeswoman for the Colorado Coalition for the Homeless, said neither side seems "solution oriented."
Alderman does not believe asserting the right of the homeless to live on the streets is going to do anything to help their lot.
But she also looks at the nearly $600,000 that opponents of the initiative have raised – and thinks about how that much money could have enabled her to hire six additional outreach workers to help get and keep the homeless off the streets.
"At the end of the day, we believe getting more resources into the system is the best way to make sure that people have alternative and safe places to go," Alderman said.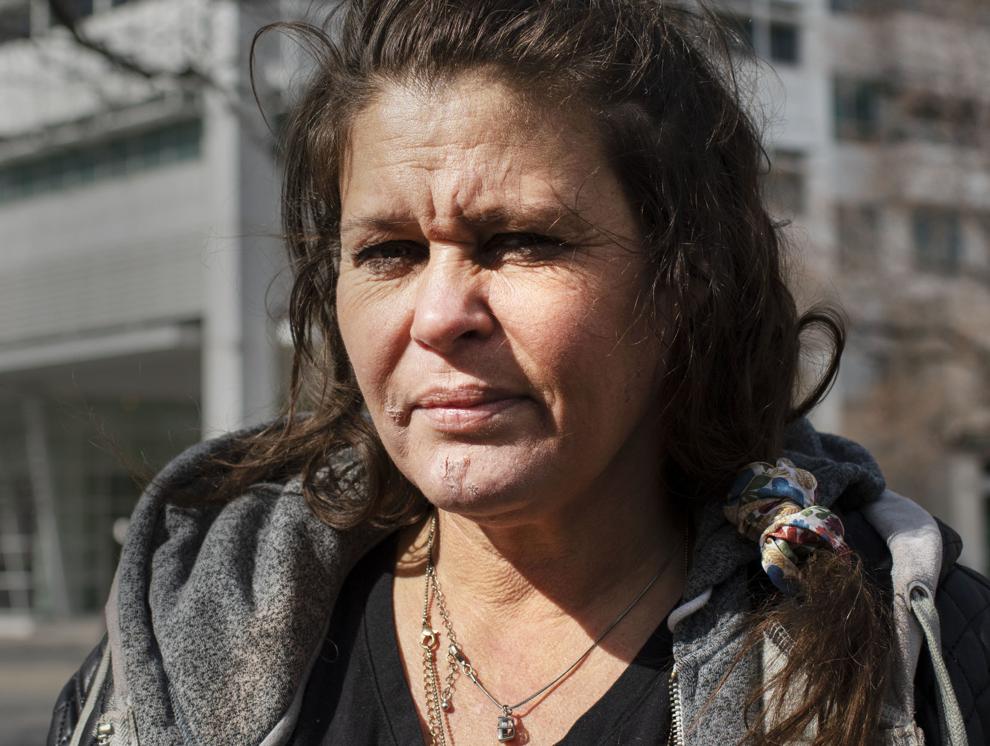 'Fix the homeless person'
On a noisy sidewalk lined with homeless people in Civic Center Park, Nikki Kershner said she can see both sides of the debate over Initiative 300.
That's because over the last three years, the 43-year-old mother of two boys has been homeless herself.
She has stayed in the shelters. She has camped on the street. And as of three weeks ago, she was able to secure an apartment in a transitional housing high rise building just south of the City and County Building.
Kershner votes. When she gets her mail ballot, she said she will vote for the initiative mostly to end the camping ban when she terms "a joke" because people are living on the streets ban or no ban.
But that said, she also sees the downside of allowing the homeless to camp on public property.
"It would be a good thing for the homeless if it passed," she said of 300, "but it might be a little bit of an eyesore for people driving by. It might be a deterrent to come in the park," she said.
"They [the homeless] don't clean up," she added. "It's a Catch-22. You want them to be comfortable. But they want to do it their own way and their own way is making a mess."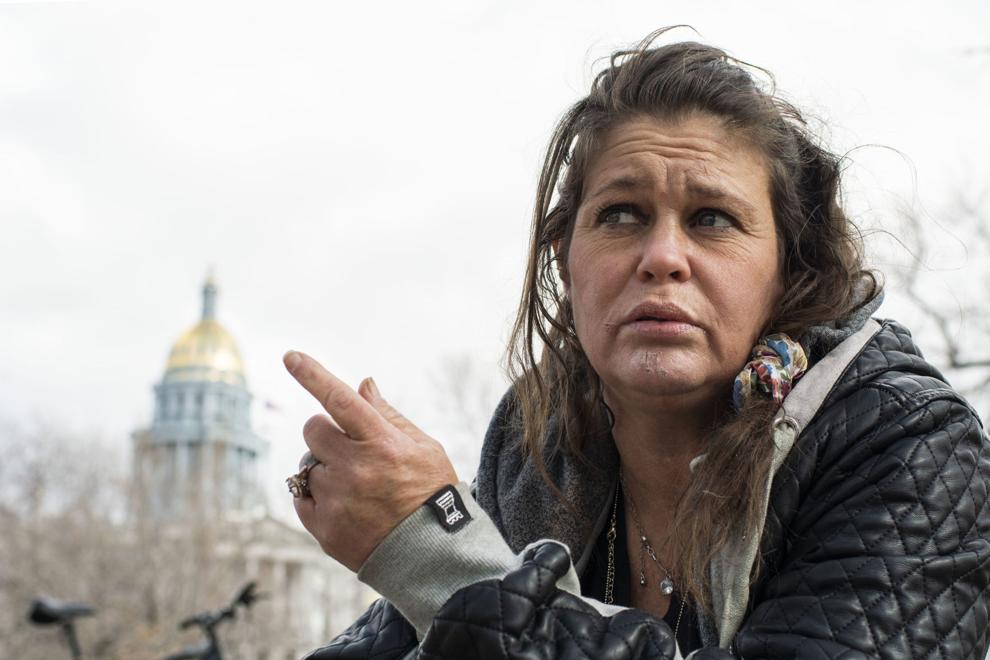 Kershner lived in the shelters for several months but said she preferred living on the streets.
Her life changed a few weeks ago. While applying for an identification card at the Colorado Coalition for the Homeless, Kershner learned that the transitional housing apartment she had applied for 3 years ago had become available.
She much prefers her apartment, which resembles a small hotel room.
But solving the homeless problem in Denver is complicated, she said. And no matter what voters decide, the solutions are not as simple as a ban or no ban.
"You can't fix the homeless problem unless you fix the homeless person," Kershner said.
"You can't just take these people and put them in an apartment; you've got to help them," she added.
"We're all broken. We're all damaged. We've all got something wrong with us. You got to fix that" she said.
"If you don't fix that you just put a drug addict behind doors. You put an alcoholic behind doors. That doesn't help the problem. You've got to help them first."
---
CORRECTION: In an earlier version of this story and in the Colorado Politics March 30 print edition, the name of Rev. C.B. Woodrich was misspelled.