Voices drive the conversation under the gold dome in Denver, where laws and policies are written and only the loudest get heard.
The more voices, the louder they are, and they're heard first.
This is where advocacy organizations come in, and there are dozens in Colorado. Some are large and funded with special interest dollars that get lost in a maze of pass-throughs, shell donors and super PACs. Others meet in living rooms and exist mostly (yet still potently) on a social media page.
And they tend to have a low opinion of one another. Such is the battle in the political arena. Most of the organizations we talked to, however, talked about leveraging other groups who share their goals — strength in numbers, they said.
Jesse Mallory had a life on the inside of politics and government, until he started working to shape it from the outside. He was a policy adviser at the Capitol before leaving as chief of staff to the Senate Republicans, when they held the majority. Since 2017 he's been the state director of one of the most effective and feared advocacy organizations in Colorado, Americans for Prosperity.
"I can say, as a person who's worked inside and outside the building, there's a lot that goes on there," he said of the Capitol. "You need organizations to go out there and tell their people, 'Hey, here's what's happening. This is what they're considering doing.' Sometimes it's a really good thing, but a lot of times it's not."
Ian Silverii was the chief of staff for the Colorado House Democrats before he took the driver's seat of the state's largest and most potent progressive political operation, ProgressNow Colorado in 2016.
Like Mallory, he's seen organizations come and go around a range of issues. They bridge the gap between "lawmakers and regular folks out in the world who have normal lives," Silverii said.
"The state Capitol is crawling with lobbyists, who are often mercenaries for special interests who pay them to advance their own economic or ideological goals, and can represent extremely narrow, and sometimes nonexistent constituencies," he said.  "ProgressNow, at least, regularly communicates with thousands of Coloradans and demystifies the goings on at the Capitol, lowering the barrier to entry for regular people to get involved and share their thoughts on policy with those who make the decisions in our legislature."
Banding advocates together, organizations can also beat the monied special interests. Silverii cited this legislative session's expected battle over the public option insurance program.
Highly profitable health care companies already are streaming out glossy fliers, an expanding ad campaign and an army of lobbyists to defeat it, Silverii noted.
"Groups like ours who have stood the test of time evolved with the electorate, and have authentic, multi-issue and non-transactional relationships with our members, so they see the value in signing up for our actions and rely on us to let them know when what we care about is at stake, so they can go on with their lives and at the same time stay informed and take action when they feel like they need to," he said.
There is the media and there are the elected officials, and in between there are advocacy groups, said Michael Fields, the executive director of one of the state's newer groups, Colorado Rising Action.
"I think advocacy, in general, is a good idea, because it helps educate people," Fields said. "The media can do a lot of that, but I think advocacy groups on both sides can home in on certain issues and talk directly to voters, to Coloradans. That's a good process to broaden the discussion more than just the people at the Capitol.
"Groups like ours give grassroots activists an avenue to get involved or get their message out, if they care about a particular issue."
Said Amie Baca-Oehlert, president of the mega-large Colorado Education Association for school workers: "It's easy to dismiss and not listen to one person, but when you have to listen to and dismiss the voices of 38,000 people that's harder to do." 
Colorado Politics, as we've done with influencers and think tanks, asked the people in the know at the state Capitol to help us identify the advocacy groups that spring first to mind. There are dozens on the left, right and proportionally down the middle, yet these are the groups that rose to the top: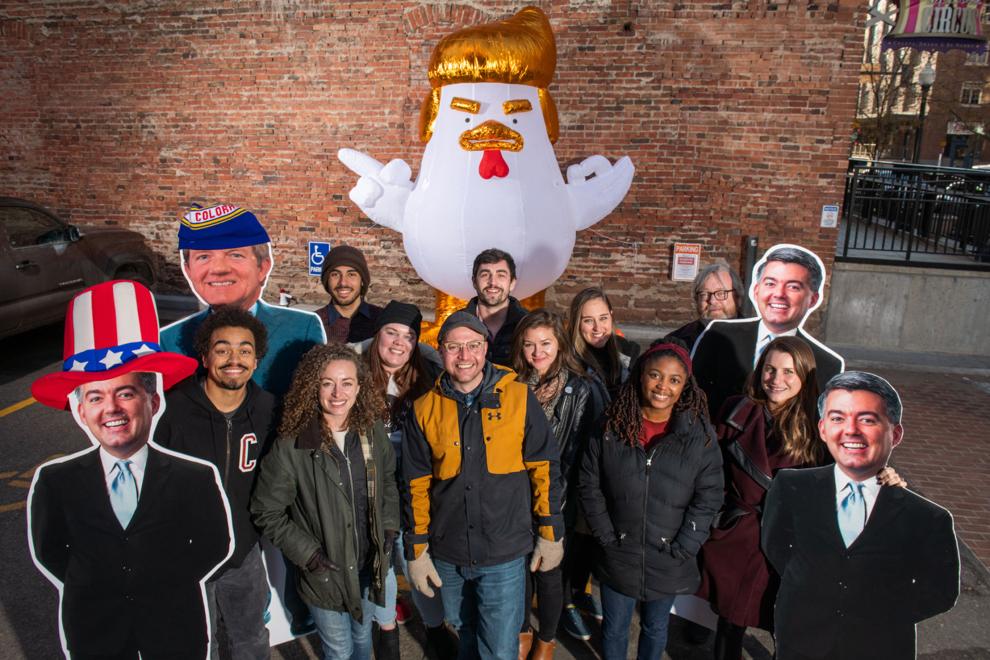 As high-powered, keen-minded warfare on the left goes, ProgressNow Colorado kind of started it all, back in 2003 when it was launched by the inimitable and indefatigable Michael Huttner as the Rocky Mountain Progressive Network, using a mailing list of about 600, plus money and momentum from then-young wealthy, progressive donors who wanted to flip Colorado from red to blue.
Check and mate. Today, the ProgressNow model has grown to more than 20 permanent state-based political communications infrastructure organizations, said Silverii, the current Colorado leader.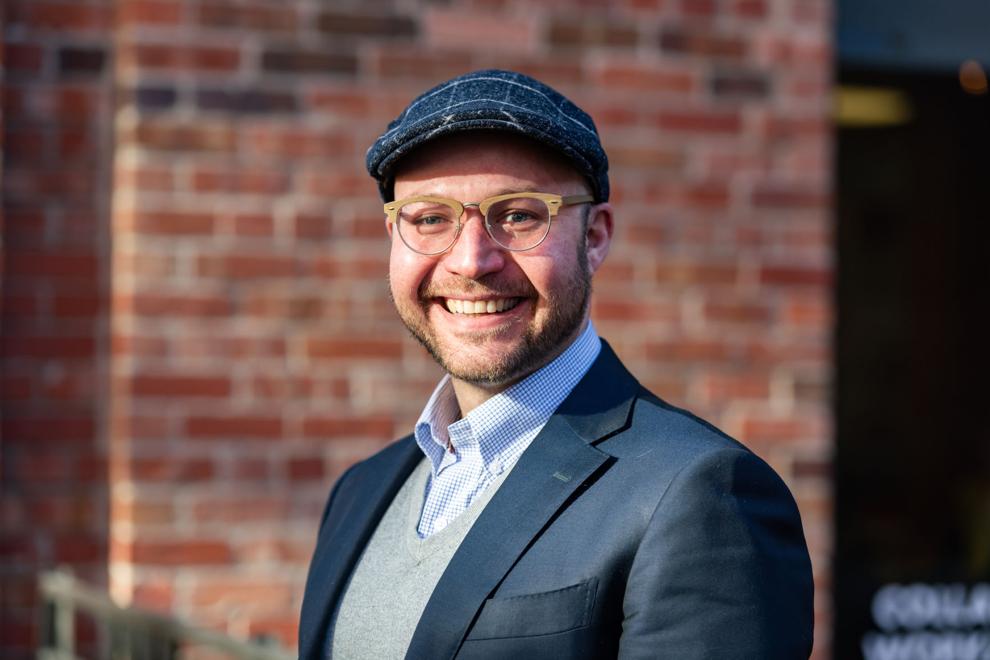 ProgressNow remains the progressive thorn in the Republicans' side and their Brand X of liberalism.
"For years before I took over as executive director in 2016, ProgressNow Colorado has played an outsize role in Colorado politics, from countering conservative misinformation and holding public officials in both parties accountable to assisting the broader network of progressive advocacy organizations in Colorado with their communications strategies and policy goals," Silverii said.
"Years before Facebook became the dominant social media destination, ProgressNow Colorado developed networking and online engagement tools to connect and empower progressive activists. Years before Youtube, ProgressNow Colorado produced award-winning video content that presaged the online video revolution."
Silverii has grown the staff from "three bearded white guys" three years ago to a staff of 15, mostly women.
Its footprint in Colorado politics is broader than its shoe.
"The work that we do sometimes has the PNC brand featured prominently; other times we're happy to play a supporting role, lending our skills, talents, and staff to other organizations to produce communications plans and programs of the highest quality," Silverii said. "We are nonpartisan but unapologetically progressive, and we work to unify progressives around the broadest possible common agenda rather than divide the left in Colorado into competing factions.
"The result is that every year, year after year, we make a quantifiable, positive difference in the direction of this state as it becomes inarguably more and more progressive. And though many conservative organizations come and go each year claiming to be our right-wing competitors, we're still here, stronger than ever."
Year founded: 2003 as the Rocky Mountain Progressive Network
Number of members: 118,002 as of Nov. 19, 2019, with a steadily growing membership.
Leadership: executive director Ian Silverii, managing director Keshia Allen Horner and development director Becca Moser lead a staff of 14 creative, digital-first content producers and political operatives.
Approximate annual budget: About $2 million in Colorado.
National affiliations: ProgressNow Colorado is the flagship affiliate of the ProgressNow Network, an alliance of state-based organizations that count over 20 affiliates and a combined list of more than 4 million members. 
What do you advocate? "ProgressNow is Colorado's largest and most effective multi-issue progressive advocacy organization. We communicate our ideals through high-quality video production, cutting-edge digital marketing campaigns, and the full scope of communications services for progressive values and issue-aligned organizations in Colorado. We meet Coloradans where they are, online, in the streets, and in the community so we can take action at the state capitol, at the ballot box, and in both traditional and digital media. Many organizations have come and gone claiming to be the "conservative version" of ProgressNow Colorado, but 16 years later, here we are, bigger and more influential than ever, and we're not slowing down any time soon."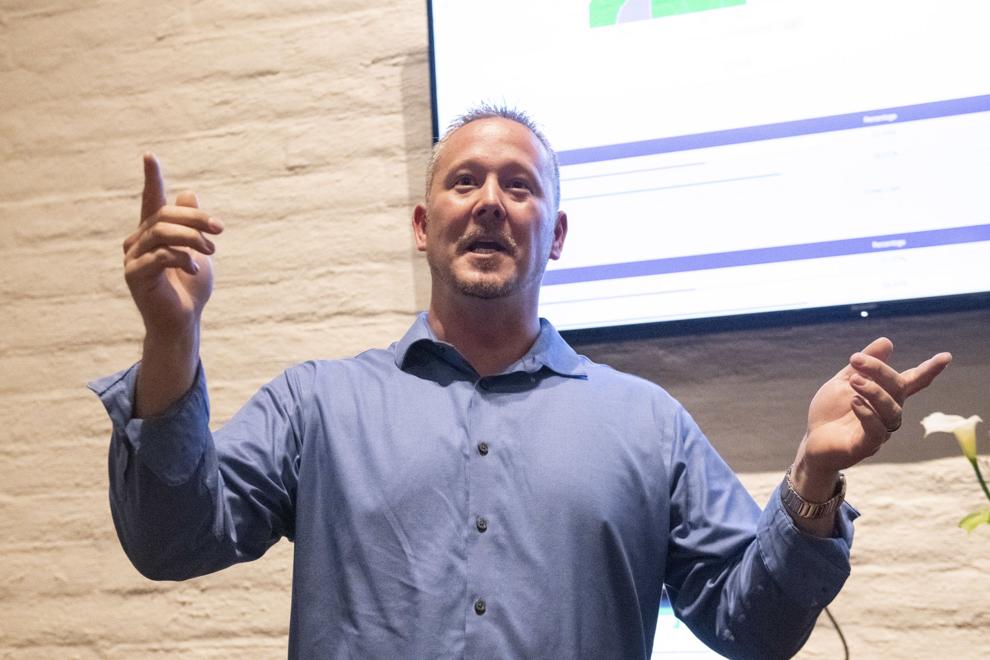 Americans for Prosperity Colorado
The media calls it a juggernaut from the right. Critics on the left call it the diabolical initiative of the Koch brothers to shape American politics, much like its critics on the left are trying to do.
Jesse Mallory, the organization's state director for Colorado, said the organization stands on principles and, despite all the hype, they're more about policy than partisan politics. They're also about organizing conservative volunteers. In fact, it's hard to imagine any organization, other than ProgressNow, who matches steps on the campaign trail more than AFP.
He's not surprised those on the left has his organization at the top of their hate list.
"There are those who want to expand the size and scope of government, and we're the ones standing in their way a lot of times, saying, 'No, this is the wrong page,'" Mallory said. "And that's the reason that happens. "
Under Americans for Prosperity's broad conservative tent, there's suborganizations: Libre, aimed at Latino voters, which had a six-figure ad buy against Proposition CC, and Concerned Veterans for America.
At the end of the day, the organization exists to help like-minded Americans break down barriers to understand complicated issues that affect their lives, he said. "Sometimes that barrier with be a certain policy, other times it might be an elected official," he said. "And our job is to go out there and educate those people so they understand what those barriers are."
Many organizations helped, but Americans for Prosperity carried the flag to defeat Proposition CC last year. The ballot measure would have let the state keep future rebates from the Taxpayer's Bill of Rights for education and transportation. AFP also is backing incumbent U.S. Sen. Cory Gardner, a Republican, in his re-election bid this year.
The organization made a point this summer of broadcasting that it's ready to back some Democrats, if those Democrats support the AFP agenda on taxes, spending and other conservative issues.
"We're willing to work with either side of any particular issue," Mallory said. "But we're also just as willing to hold either side accountable."
He added, "We tell people when they do something right, but we're the first to tell them when they do something wrong," he said. 
To him, that makes Americans for Prosperity unique among advocacy organizations.
Year founded: 2009, in Colorado
Number of members: 127,000 activists
Leadership: State director Jesse Mallory, deputy state director Kellin Herron
Approximate annual budget in Colorado: Varies. The Colorado chapter spent $1.4 million for the Proposition CC effort, and that doesn't include investments for chapter efforts prior to engaging with the ballot initiative.
National affiliations: Stand Together Community, Americans for Prosperity
What do you advocate? "Through broad-based grassroots outreach, Americans for Prosperity is driving long-term solutions to the country's biggest problems," said state director Jesse Mallory. "AFP activists engage friends and neighbors on key issues and encourage them to take an active role in building a culture of mutual benefit, where people succeed by helping one another. AFP recruits and unites Coloradans behind a common goal of advancing policies that will help people improve their lives."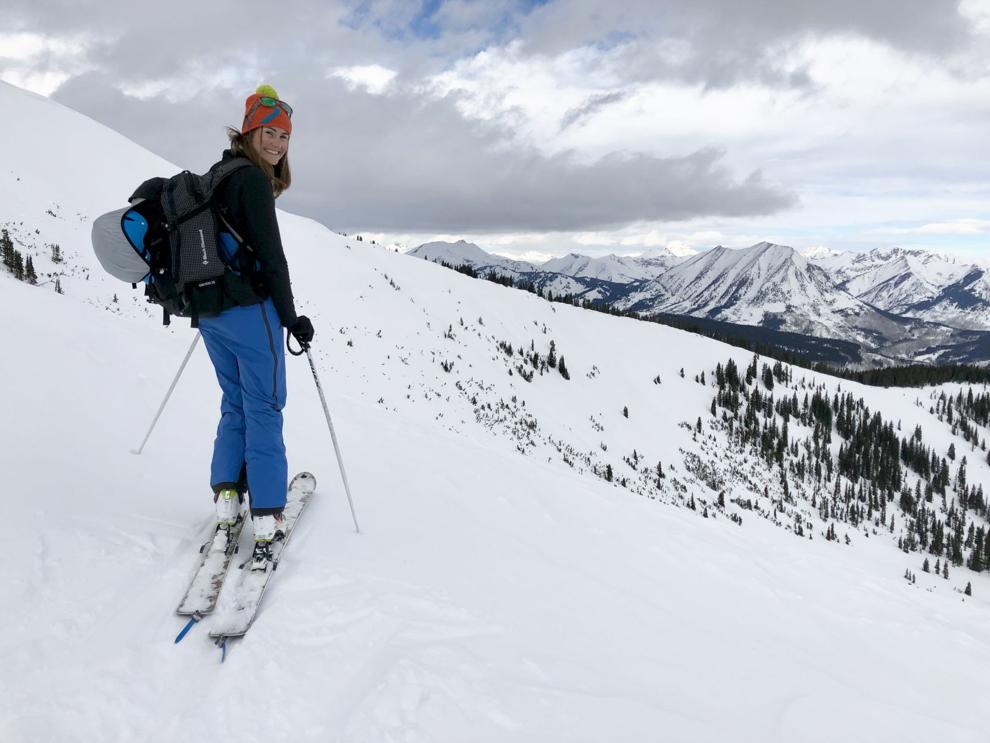 Conservation Colorado works at the intersection of policy, politics and people," said Jessica Goad, the large, venerable organization's deputy director.
With field offices today in five locations around the state to rally supporters and influence public policy on green fronts, Conservation Colorado's roots go back more than 50 years when it started as the Colorado Open Space Council, when the main issue was setting aside public lands and open space, "preserving the natural world," Goad said.
About seven years ago, Colorado Conservation Voters merged with the well-regarded Colorado Environmental Coalition to become Conservation Colorado, the state's largest and best-known environmental advocacy organization.
"We're a relatively new organization that commands the history of several other different organizations," she explained.
The organization's strength comes from the fact it delivers results on election day and then expects candidates to remember the voters who put them there.
"Our theory of change is very powerful," Goad said. "We believe in electing conservation-minded decision makers to represent us in the state legislature, so that connectivity we have with state lawmakers is really important. Our state lawmakers represent the will of the people who put them into office. We're able to turn environmental voters out to the polls, and we're able to get them to be connected to their candidates."
She said Conservation Colorado leads a broad and deep coalition of conservation interests and breaks down silos of selective causes to forge on political voice.
"We don't do this work alone," Goad said.
Year founded: 2013
Number of members: 63,000
Leadership: Kelly Nordini, executive director; Jessica Goad, deputy director.
Approximate annual budget in Colorado: $5.2 million.
National affiliations: League of Conservation Voters
What do you advocate? "Our mission is to protect Colorado's climate, air, land, water and communities through organizing, advocacy and elections."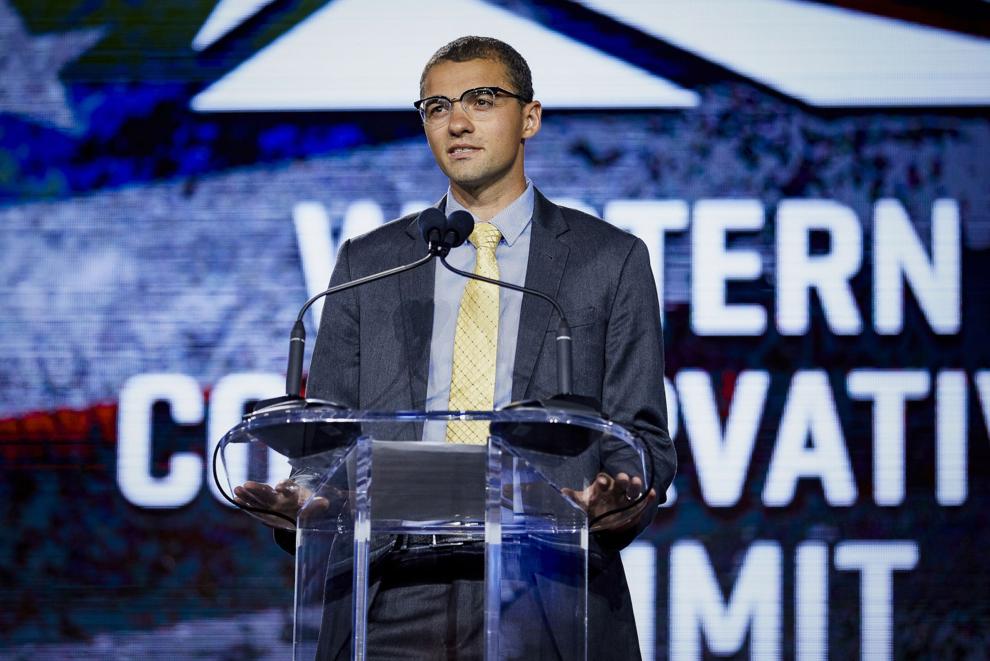 Michael Fields pushes the lettuce around his salad in a diner near Colfax Avenue and Speer Boulevard in Denver as he talks about taxes and policy, and it doesn't seem odd.
Colorado Rising Action is the new kid on the block, as political organizations go, but it has the gold gilding of its executive director, Fields, the former Americans for Prosperity dynamo who's a smooth, likable debater against liberal spending interests plus a reliable media presence, to boot.
The organization began ahead of the 2018 elections to push conservative thought. This year, the organization split. Colorado Rising Action will push federal issues. Colorado Rising State Action "will do all of our state stuff," Fields said working on that diner salad.
"For us, our niche is research, tracking and following around all these elected officials and making sure what they say in their town halls is what they're saying on the news," he said. "Research, really looking at people's history — how they voted on bills, what they said before — we have reporters coming in and out from other states, there's a lack of institutional knowledge in a lot of ways. What we do is we keep all that information we can help share."
Colorado Rising Action is not affiliated with Colorado Rising, the environmental group that opposes the oil and gas industry and also made this list.
Colorado Rising Action is spin off of America Rising, the national Republican-aligned opposition research group.
Colorado represents the organization's second foray into state politics, joining Missouri. Colorado, however, was the first state Rising chapter with an executive director and a press person, Lindsey Singer, the niece of billionaire investor Paul Singer, who is a major donor to America Rising. She grew up in Boulder and attended Fairview High School and the University of Colorado-Boulder.
Communications, in general, is about keeping conservatives on message, and that's where a level-headed smooth-talker like Fields is handy to have.
"How do we talk to everyday Coloradans in a way that can relate to them?" he asked, wielding a fork. "We work with different groups, like people who do think tank stuff, and look at how we can break it down for the average person or package it up for a radio interview that's seven minutes long or whatever. But the communications side to this is an important one."
They choose their battles carefully, landing on the ones that affect the most people: education, health care and other pocketbook issues, as well as the candidates working around those issues, most often.
'What we need to do on the right is different groups have different lanes that we're all really, really good at," Fields said. "How do we ensure there's enough resources for everything is we let people do what they do really, really well? I think our side is coming together to have those discussions more. For us, how do we get more stuff picked up by the media and how do we push the agenda and do it with a coalition of people."
Year founded: 2018
Number of members: About 10,000
Leadership: Executive director Michael Fields and communications director Lindsey Singer.
Approximate annual budget in Colorado: not provided
National affiliations: America Rising (founded in 2013)
What do you advocate? "We advocate for conservative principles and policies that help provide more opportunity for more Coloradans. The main issues we focus on are tax policy, energy, health care, and education. We hold liberal politicians accountable through a combination of tracking, research and rapid response communication."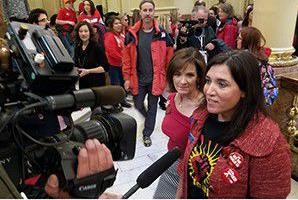 Colorado Education Association
Amie Baca-Oehlert is a high school counselor from Adams 12 Five Star Schools who became president of the state teachers union in 2018, after serving as CEA's vice president since 2012.
CEA advocates "for what I would call the most noble and greatest profession on earth, and those are the people who educate our students," she said. "It's anyone from the teacher to the school nurse to the school counselor to the bus driver to the food service worker to the bus mechanic. It takes many people to educate our students, and so we work on behalf of all of those people who serve in our public schools."
Baca-Oehlert said there's truly strength in numbers, and teachers, parents and their supporters have that.
"As one teacher in a classroom I can certainly do all I can to make a difference, to be that voice for our students and our profession, but when I join my voice with 38,000 other voices we have more of an impact," Baca-Oehlert said. 
"Nobody knows the profession better than the actual educators." 
In November the association completed its first "State of Education" report after holding member forums with educators across the state. The top concern was low pay and the high cost of living.
Educators said overwhelmingly they would be willing to walk out of class or strike over the issue.
Colorado has had a series of large and small teacher strikes in the last two years, including when an estimated 17,000 teachers marched on the state Capitol on three different days during the 2018 legislative session.
Baca-Oehlert said the CEA would be working on the pay issue yet again this session.
"I think you will continue to see educator activism, being present and being that collective voice to share the stories and say, 'This is what we need to ensure the schools our students deserve,' " she said.
Year founded: 1875
Number of members: About 38,000
Leadership: President Amie Baca-Oehlert, Vice President Kevin Vick, Secretary-Treasurer Amber Wilson. Members also elect a Board of Directors.
Approximate annual budget in Colorado: not disclosed.
National affiliations: National Education Association
What do you advocate? "The Colorado Education Association works collectively to provide the best public education for every student. We do this through student-centered learning, professional excellence, and economic investment."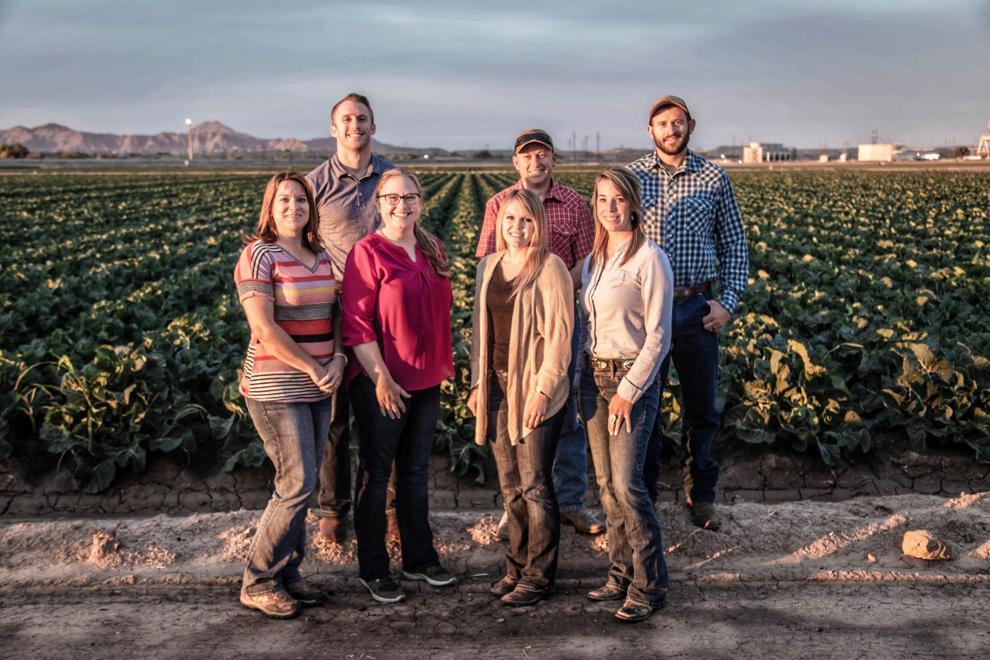 Remember the E.F. Hutton commercials in the 1970s? "When E.F. Hutton talks, people listen," as some big hall drops to silence on the living room TV screen and the people lean in to hear.
That's kind of how it is for the Colorado Farm Bureau at the state Capitol on issues of agriculture and natural resources, as well as rural broadband and highway dollars. A lot of other like-minded organizations ride on the strength of a Farm Bureau alliance and the skill of its lobbyists.
The Colorado Farm Bureau just celebrated its 100th year advocating on behalf of agriculture and rural Colorado. The bureau's people help out in ways you would expect, lobbying, tractor safety and monitoring hay prices, but they also are leading the way in ways you might not guess. They raise a ton of money to help out in farmland disasters. The Farm Bureau is a major player in Pedal the Plains, which promotes tourism with a late-summer bike rally. They also are a captain in the campaign to bring more mental health services to rural communities, hands-on and up-close. 
"An industry predominantly made up of individuals and families, as opposed to corporations, needs a strong advocate," said Shawn Martini, the vice president of advocacy. "Colorado Farm Bureau has been that advocate for over 100 years."
Colorado was one of several states to found farm bureaus in 1919 and then hitched up to form the American Farm Bureau Federation the same year. Nationally the bureau pushed the formation of the Farm Bloc in the U.S. House and Senate, too, propelled by the organization's deep grassroots with 6 million members, mostly in farming and ranching communities.
"Colorado Farm Bureau is here to make sure that the people of Colorado can benefit from the continued success of the agriculture industry and rural values," Martini added.
Year founded: 1919
Number of members: 23,000-plus
Leadership: A 14-member board of directors elected by member-delegates, President Don Shawcroft of Alamosa, Vice President Carlyle Currier of Molina, executive vice president Chad Vorthmann and vice president of advocacy Shawn Martini.
Approximate annual budget in Colorado: $2.3 million
National affiliations: The American Farm Bureau Federation
What do you advocate? "The Colorado Farm Bureau works to promote and protect the future of agriculture and rural values."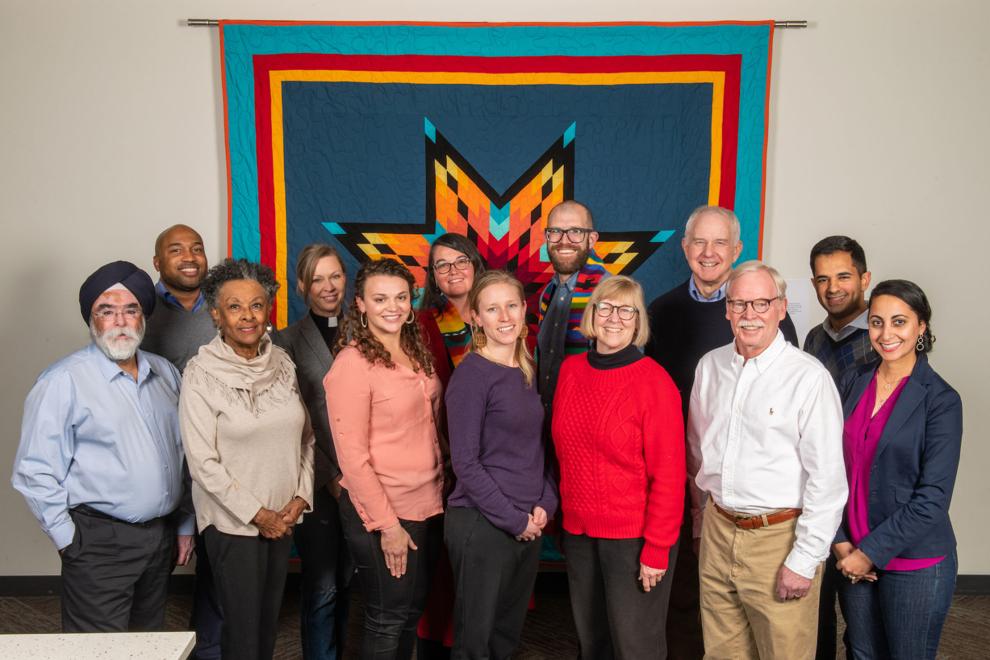 Interfaith Alliance of Colorado
For a long time whenever people of faith were in the political town square, they argued from one point of view: the right. Not all people of faith, however, adhere to a doctrine that sees being gay as a sin, abortion as murder and worshipping only Jesus as the lone route to the hereafter.
Enter the Interfaith Alliance of Colorado, formed by people from a lot of different religious backgrounds — Muslim, Christian, Jewish, Buddhist, Hindu, Sikh — who were frustrated that their voices weren't being heard in that public square.
Executive director Amanda Henderson is an ordained reverend in the Disciples of Christ church.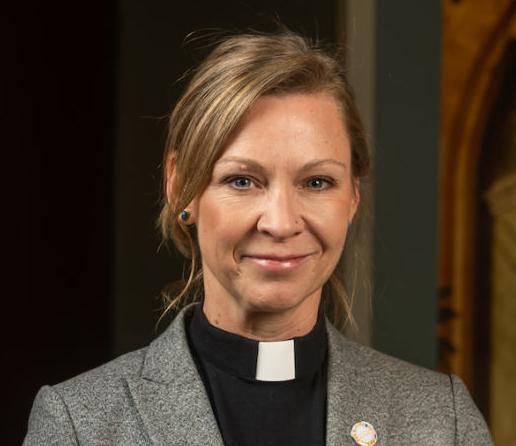 "I think that often times when people think of religion in the public and political spheres they think of one very narrow stream of Christianity," said Henderson.
People of faith, however, also are speaking out on behalf of LGBTQ people, reproductive rights, racial equality, economic justice, affordable housing and criminal justice reform.
They maintain a strong and effective presence with press conferences and rallies on the state Capitol steps and testimony before committees.
They reach out to congregations to do education on those issues and stir up support.
Alliance members typically believe that public issues are moral issues, Henderson said.
"I think everything is political; if we breathe or walk on a sidewalk, then we're participating in politics in some way," she said. "As people from different faith backgrounds, each of our religions tell us and guide us in how we live in the world and how we care for one another, And that enters us into the public realm.
"We can't avoid it, but we might as well have a say in it."
The alliance has a staff of seven to work with about 400 congregations across the state. The alliance talks about issues, "but also about how to make your voice heard," Henderson said.
"There's just such clear needs that aren't being met through other channels for people longing for a way to make a difference in their community and to speak out out of their values for rights and equality issues," Henderson said. "I think we're able to connect with those folks and give them an outlet.
"In this time, I think a lot of people are frustrated and they don't know how to impact what feels like a very broken system." Henderson said.
Year founded: 1998
Number of members: 2,000
Leadership: the Rev. Amanda Henderson, executive director; board chair Dilpreet Jammu; staff members the Rev. Brian Rossbert, Melanie Kesner, Rev. Tamara Boynton, Iman Judah, Jessica Dominguez and Alisa Axtell.
Approximate annual budget in Colorado: $800,000
National affiliations: Interfaith Alliance
What do you advocate? "As Christians, Jews, Muslims, Hindus, Buddhists and Sikhs, we are united in upholding fundamental rights and equity. We believe everyone should be able to live freely and with dignity, so we promote religious freedom, LGBTQ equality, reproductive justice, racial equity, criminal justice and housing for all."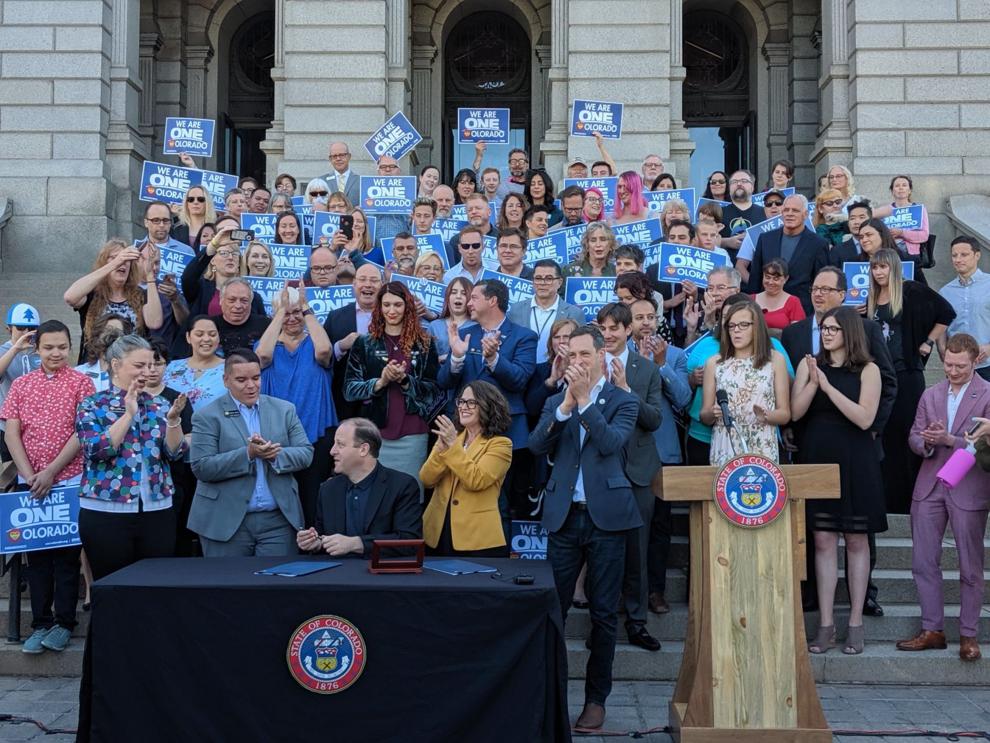 One Colorado can't possibly top the past few years. The state's largest advocacy group for lesbian, gay, bisexual, transgender and queer Coloradans has driven the bus, and sometimes the tank, on major reforms: banning conversion therapy for minors, making it easier for transgender people to amend their birth certificate, fighting back with mixed results on a wide variety of human rights issues from the state's tallest public platform.
The organization is preparing to celebrate its 10th anniversary. Executive director Daniel Ramos has risen through the ranks during nine of those years.
"To think of what we've been able to accomplish in a short amount of time is quite incredible," he said. "We've been able to bring the issues impacting LGBTQ folks to the forefront in Colorado, whether it's our work around the experience of LGBTQ youth in schools or the challenges for LGBTQ folks in accessing the healthcare they need, the unique barriers transgender folks experience in living their lives and, or course, the impacts of discrimination and harassment in all areas of public life."
The framework from which One Colorado isn't about sexual preference but fairness and equality based just as much on gender, race and class, Ramos said.
Those problems are often compounded for LGBTQ people, but certainly shared.
"One of the things I appreciate the most about what we do as a statewide organization: we also understand the challenges of rural LGBTQ Coloradanas," added Ramos, who grew up in Sterling.
Year founded: 2010
Number of members: 105,984
Leadership: Executive director Daniel Ramos; deputy director Sheena Kadi; policy director Michael Crews; health equity and training director Marv Allen.
Approximate annual budget in Colorado: $1 million. Total of two nonprofits
National affiliations: Equality Federation; Human Rights Campaign; Family Equality; National Center for Transgender Equality; National Council for Lesbian Rights; GLAAD (formerly the Gay & Lesbian Alliance Against Defamation); National LGBTQ Task Force; Parents, Families and Friends of Lesbians and Gays; National LGBT Bar Association; Victory Institute; Gay, Lesbian & Straight Education Network, Services and Advocacy for Gay, Lesbian, Bisexual & Transgender Elders, American Civil Liberties Union, Matthew Shepard Foundation, Movement Advancement Project, The Williams Institute, Modern Military Association of America.
What do you advocate? "One Colorado is the state's leading advocacy organization for lesbian, gay, bisexual, transgender, and queer Coloradans and their families. We focus on protecting victories and advancing opportunities, ensuring every student has a safe school environment, guaranteeing LGBTQ Coloradans have equal access to healthcare, protecting transgender Coloradans from discrimination, and ensuring equality voters participate in the democratic process."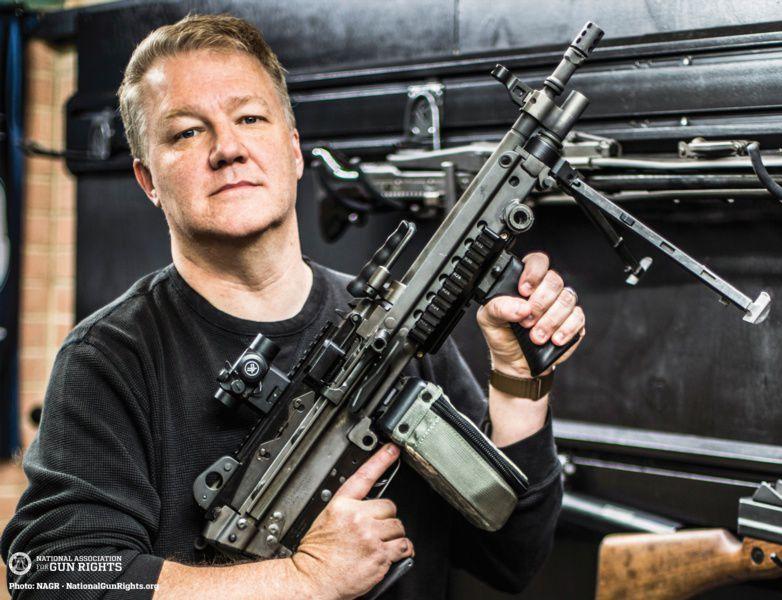 Love him or hate him, and there are plenty of people on both sides, Dudley Brown cannot be ignored.
He is the face and executive director of Rocky Mountain Gun Owners, an organization that has been as unkind to Republicans as it has been Democrats on the issues of Second Amendment Rights. Don't ever expect Dudley Brown to back down, even if he's losing the electoral fight.
Brown started lobbying for gun owners in late 1993. He started Rocky Mountain Gun Owners after the 1996 elections after he had been representing two gun groups, the Colorado State Shooting Association and the Firearms Coalition of Colorado. They formed a political action committee, raised money from members and won a bunch of races that year.
Through a myriad of political skirmishes, the high point for RMGO was 2014, after Democrats had held the House, Senate and governor's office for two years and passed new gun control laws in the process. Gun rights advocates in 2013 recalled two Democratic legislators, including the Senate president, and motivated another to resign. In 2014, RMGO helped Republicans win the Senate.
Of course, they lost the Senate in 2018, and now the Democrats are in charge of everything again.
He focused, instead, on the role RMGO plays in the keeping the gun debate on the forefront and not merely a footnote in progressive history. 
"Not the only role, no question," Brown said. "But a very big role in stopping that and curtailing Democrats' power in the state legislature."
He concluded, "Why does Colorado need RMGO? That's real simple: We are the only organization who is active both in the public policy arena and the election arena. And if you don't tie the two together, if you just run around and bitch and moan about what happened at the legislature and you don't do anything with elections, you might as well just go home." 
Year founded: 1996
Number of members: more than 200,000 members and supporters statewide.
Leadership: executive director Dudley Brown , operations director Seth Walters and state Capitol lobbyist Taylor Rhodes, as well as board chair Barry Walter Jr.
Annual budget: $455,000 (2018)
National affiliations: National Association for Gun Rights 
What do you advocate? "RMGO's purpose is to educate Colorado gun owners and gun rights supporters on firearms issues at the local, state and federal levels, and to equip them to provide pressure to elected officials to change those rights."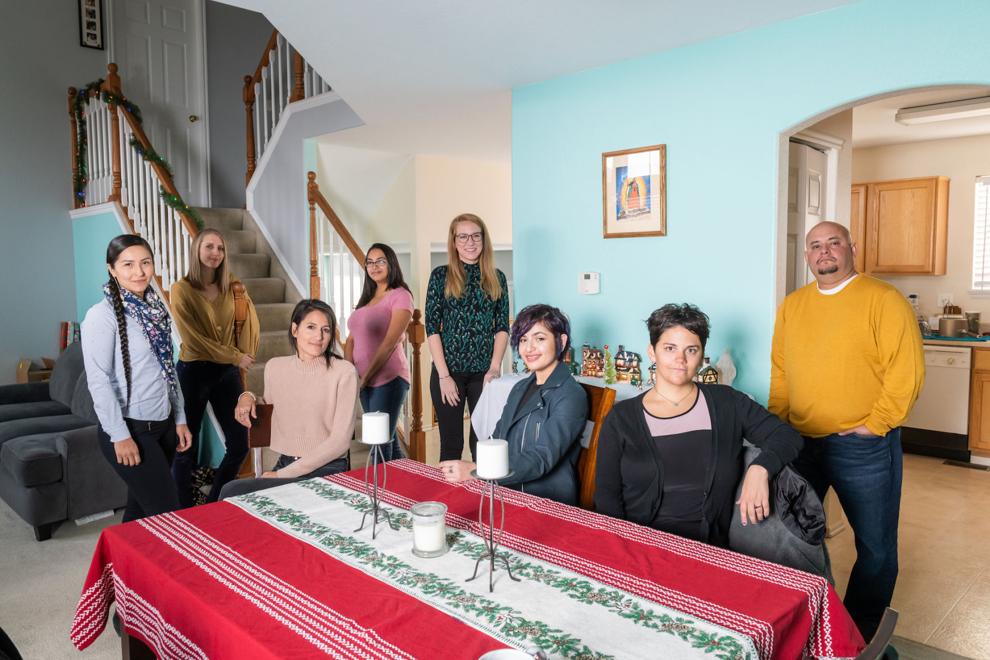 As a state lawmaker, Joe Salazar was a ball of energy and confrontation on the issues he believed in. Since he  left elected office last year, the civil rights attorney has led the environmental group that was chief among those fighting the oil and gas industry over Proposition 112.
Salazar narrowly lost the Democratic nomination for attorney general last year to Phil Weiser, who won the race last November. That was the same general election that saw Prop 112 go down.
Nonetheless, the cause of regulating oil and gas picked up allies in the legislature who passed Senate Bill 181 to give more local control to affected communities and dedicate more of regulators' attention toward public health and safety.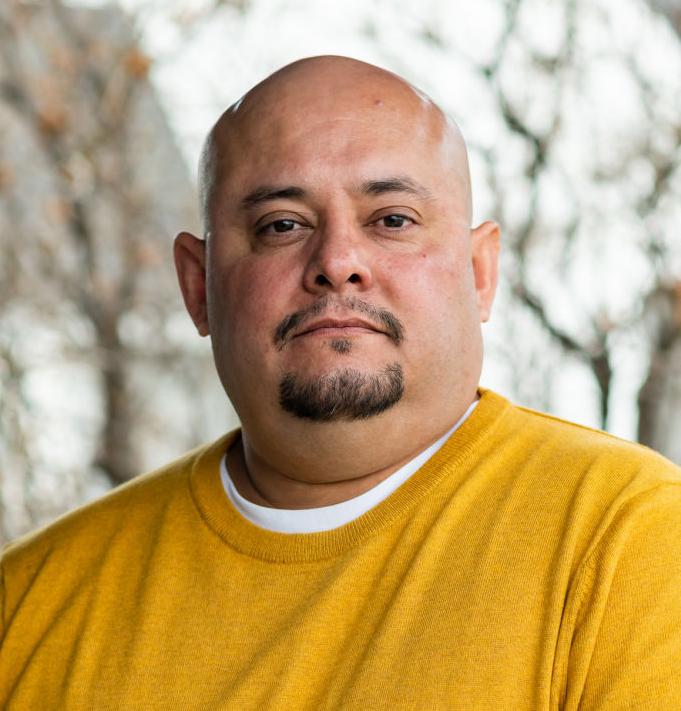 "Colorado Rising is operating in a space that was left blank by a lot of the organizations that are involved in environmental protection," Salazar said. "One of those spaces is litigating cases against the oil and gas industry and the state of Colorado for violation of state laws.
"We see organizations that litigate cases on issues of federal law, but we really haven't had anybody take state law and use it to its full force and effect."
But Colorado Rising is not just a law center. Salazar says it is foremost a community organizations and it is involved in "power building."
They also plan to be back on the ballot next November to try again to pass mandatory statewide setbacks to maintain space between oil and gas operations and homes, schools and businesses.
Salazar said Colorado Rising draws its power from a network of neighborhood organizations and other nonprofits and be a conduit to coalesce around important, common issues.
"We're being a pretty hardcore, hard-hitting organization to protect people and the environment," he said.
Year founded: 2016
Number of members: "We have thousands of volunteers and supports across the state but are not a 'membership' organization."
Leadership: Colorado Rising has a volunteer Board of Directors and Joe Salazar as its executive director.
Approximate annual budget in Colorado: $1.2 million in 2019
National affiliations: Working Families Party
What do you advocate? "Colorado Rising is a grassroots coalition that advocates on behalf of Coloradans being threatened by industrial fracking operations in their communities. We are fighting for the health and safety of all Coloradans, the environment, and the climate through litigation, ballot initiatives, lobbying and community engagement."