Colorado Democrats won the offices of governor, secretary of state, attorney general and the majority of the state Senate in 2018, giving them total dominance of state government for the first time since 1938 and cementing Colorado's 15-year shift from reliably purple to solidly blue.
That transformation, partially driven by changing demographics, also was spurred by a small group of wealthy Colorado liberals who have poured millions into local elections since 2004. The successful strategy became known as the "Colorado Model," and Democrats are working to export it to purple and red states. It's part of an ambitious plan to build permanent Democratic majorities across the country.
Republicans traditionally dominated the state politics game. But Democrats are catching up. Before last year, the GOP had complete control of 31 legislatures. That number is now 30.
Democrats, meanwhile, went from full control of 14 legislatures to 18.
Democrats also have started investing heavily in state-level infrastructure and directing national donor money to local races. A network of wealthy liberal donors plans to pour $200 million into local elections over the next 1 ½ years. That's more than double what the official Republican and Democratic Party committees spent on legislative races during the 2018 cycle. American Bridge, the top Democratic opposition research firm, recently launched a new war room focused exclusively on state races.
Outside groups are organizing an army of liberal activists around the country to campaign for local races in states where they don't live. Organizers said the spending is strategic, honing in on states and specific seats where they can have the most significant effect. Top targets include Florida, Michigan, Pennsylvania and North Carolina.
"We look at states that have the potential to flip, and you go do a deep-dive, and you say, 'Which races are going to be most strategic to support in this state?'" said Rita Bosworth, executive director of the Sister District Project, one of the outside groups.
"Sometimes by supporting between one and four state legislative races, you can flip an entire chamber, or bust up a Republican super-majority, or create a Democratic trifecta (controlling the Senate, House and governor's office). ... You can have a larger strategic impact if you really go deep and find out where is the lever of power," Bosworth said.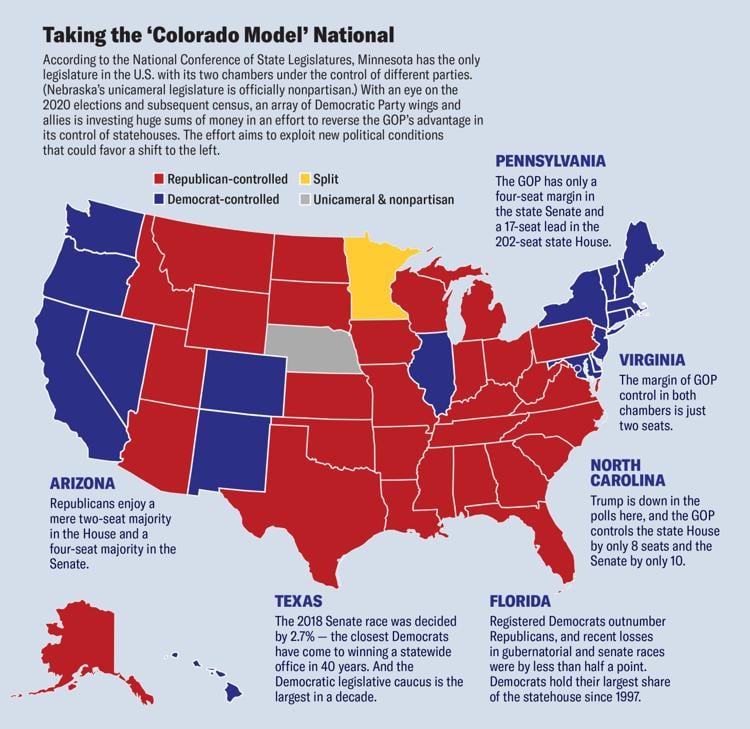 To Coloradans, the strategy looks familiar. Republican legislators almost entirely controlled the state power structure until 2004. That's when four wealthy Colorado Democrats — Tim Gill, Rutt Bridges, now Gov. Jared Polis and Pat Stryker — teamed with political strategist Al Yates to transform local politics.
The group targeted vulnerable Republican incumbents, creating pop-up activist groups drawing on support from labor unions and national Democratic organizations, the Washington Examiner reported in 2008. The project was a success. That cycle, Democrats won control of both chambers of the General Assembly for the first time in more than four decades. Two years later, they upped their spending and won the governor's office. The tab for securing state control was reportedly $9.5 million, less than the average expenditure on a successful U.S. Senate campaign but an enormous amount for state elections.
"It took (Democrats) 12, 15 years, and they now have complete control of the state. They invested more money, but they invested it much more wisely. Instead of just chasing candidates, they built infrastructure," said Jon Caldara, president of the Independence Institute, a Denver-based conservative think tank.
"Republicans in Colorado continued to put their money on racehorses, while the left just bought the racetrack."
Meanwhile, the newly elected Colorado leaders moved ahead on liberal policies such as legalizing same-sex marriage, instituting restrictions on the oil and gas industry, and passing a "red-flag" gun control measure.
"People said, 'This is Colorado, that can't happen here.' This is an individualistic state, this is a pro-gun, pro-individual, low-tax kind of state," Caldara said.
"Colorado's economy has been so strong, we've been able to absorb a lot of these bad policies, but they're coming home to roost. People have been losing their oil and gas jobs, rents are ridiculously high here because of growth controls, home prices are untouchable here . … We're putting money into transit instead of roads, Roads are being choked off, so quality of life is being diminished."
Democratic strategists noted the stunning political upheaval and the potential to replicate it elsewhere. Rob Stein, who founded the Democracy Alliance, a network of deep-pocketed liberal donors who coordinate their political contributions, raised the possibility of exporting the Colorado Model in 2008, according to "The Blueprint: How the Democrats Won Colorado."
The Democracy Alliance recently increased its focus on state infrastructure and elections. The invite-only network has more than 100 members who each pledge to give at least $200,000 a year to organizations approved by the alliance. The network plans to raise $200 million for liberal groups working on state and local elections in 2019 and 2020, says a copy of its latest investment recommendation report published by the Washington Free Beacon.
The Democracy Alliance called the state campaign "central to progressive, long-term success." The goal of the project is to "build a permanent base of liberal power that reflects the New American Majority," according to the group.
Although the alliance does not collect or distribute funds, its members are directed to donate to a list of approved "partner" organizations. Many of these groups are building state-level infrastructure, including America Votes, which advocates for looser voting laws and has chapters in 22 states; State Voices, which supports nonprofit activist groups and has chapters in 23 states; and Progress Now, a public affairs group that has affiliates in 21 states. The Democracy Alliance also directs funds to organizations that specifically work on flipping legislatures blue, including the Sister District Project and Flippable.
The alliance works closely with Arabella Advisors, a high-powered consulting firm that sets up liberal "pop up" groups around the country, basically disposable groups that exist primarily as a website. Arabella runs four large nonprofit groups it uses to transfer money to these various pop-ups, said Hayden Ludwig, an investigator with the Capital Research Group, a conservative think tank that has published research into Arabella's funding network. The nonprofits brought in more than $600 million total in 2017, according to their public tax records.
"You've got to think of Arabella as a service. It's not a foundation where the money originates," said Ludwig, who also wrote a recent CRC report on Arabella. "It's just a real convenient way of moving money, and you wash the name of the original donor by moving it through the (nonprofits), and ultimately to the activists in any particular state."
According to Ludwig, the structure makes it difficult to know how much money is sent to each pop-up and impossible to determine who is funding each program. Arabella Advisors set up state-focused groups such as Floridians for a Fair Shake and North Carolinians for a Fair Economy, which reportedly spent millions on ads supporting progressive health care and economic policies last year. But there is no way to identify every pop-up group that Arabella runs.
The Sister District Project, for example, was founded in 2016 and is focused on winning Democratic control of the Virginia statehouse this fall. It is supporting 12 candidates in Virginia, which has been trending blue over the past decade but still has a Republican-majority legislature. Democrats need only two seats in each chamber to win control.
Similarly, in Arizona, Republicans have a mere two-seat majority in the House and a four-seat majority in the Senate. In North Carolina, the GOP has an eight-person advantage in the House and 10 in the Senate. Even in the Texas Senate, Republicans hold the majority by only seven seats. Next year, the Sister District Project said it will target races in Florida, Texas, North Carolina, Georgia, Pennsylvania, Michigan and Minnesota.
"Pennsylvania is a huge one. … We just need to flip three seats to flip the Senate blue," said Bosworth, the group's director.
The Sister District Project and Flippable have contributed to some victories. The New Hampshire Senate flipped blue in the last election cycle, as did the Minnesota House. Democrats regained control of the Washington Senate last year, making the entire West Coast blue in every branch of state government. With a Democratic trifecta, Washington state passed a law creating a public health care option. Texas has the largest Democratic caucus it has had in nearly a decade.
Bosworth, who lives in California, said her group organizes activists from around the country to volunteer for Democratic campaigns in targeted states, including phone-banking, canvassing and sending direct mail to voters. Through this method, a progressive activist in San Francisco can have an effect on a statehouse race in New Orleans.
"We organize volunteers largely in very blue parts of the country where your time and energy would be better spent in another part of the country with a competitive race happening, rather than your very, very blue backyard," Bosworth said. She said the group's 100 teams of activists across the country meet monthly or weekly.
"They're having fundraisers, they're having postcard writing parties, they're having phone bank parties," she said. "There are so many people like me who live in a blue area. We feel like things are under control where we live, but we want to help somewhere else."
Scott Walter, president of the Capital Research Center, said the left is "investing ever-more heavily in this infrastructure. Money is not all-powerful. But it's not nothing, either. Any Republican politician running for state offices ought to be very scared, even though they're not necessarily doomed. Because the left is very serious."
While demographic changes aided the Colorado Model, Republican and Democratic operatives said the blueprint could be useful in high-growth states such as Arizona and Montana. In Virginia, the state has seen an influx of people from northern states and Washington, D.C., contributing to political changes over the past decade.
"Does outside spending make a difference? Of course," said Jesse Ferguson, a Democratic strategist in Virginia. "That's a truism anywhere. But there's no amount of spending to buy yourself a semicompetitive state. The state has to be trending competitive because of their demographics and their opinions, and then you can certainly advance the infrastructure to support that."
Ferguson said the GOP neglected its political infrastructure in Virginia in recent years while Democrats were building theirs. "I think that last probably ... 10 years, Republicans in Virginia have relied on their infrastructure advantage, but those advantages have atrophied, and Democrats have built those grassroots infrastructures and organizations in order to compete," he said.
Party control of legislatures will also have national implications after the next election cycle. Redistricting, by which states redraw the boundaries of their congressional districts every 10 years after the Census, will take place in 2021. In most states, this is overseen by the legislature, and the majority party tends to redraw the map in ways that will help their party gain U.S. House seats.
For years, Republicans had an advantage at the state level, allowing them to redraw districts in a way that has benefited them in the U.S. House.
"The next election is 2020. Now people are obsessed with Trump and who's going to be against him, but honestly, more important in the long run is the state legislatures," Walter said. "Because the state legislatures are the ones that will redraw the districts, not only for the state legislatures but also the House of Representatives."
Bosworth said she believes significant investment in individual state races would be more beneficial for the Democratic Party than pouring it into expensive congressional seats. She noted that Democrats spent more than $30 million on Jon Ossoff's losing campaign for the special election House race in Georgia in 2017.
"I wouldn't have put a penny into that seat because it doesn't matter even if we won it," Bosworth said. "But if you took that $32 million and put it into state races in North Carolina, for example, you could win North Carolina and Democrats would get another three to four congressional seats (during redistricting)."