Colorado Secretary of State Jena Griswold called Thursday for a boycott of Alabama and said she won't be sending her staff there for election training in the wake of the state's adoption of a strict anti-abortion law.
"This restrictive law, which does not even allow exceptions for incest and rape, is appalling," Griswold said in a statement. "We should not spend Colorado state resources in a state that restricts women's basic rights to health care. I call on other state and local leaders in Colorado and across the country to join me in this boycott."
The announcement only directly affects Griswold's own staff, not state employees in general.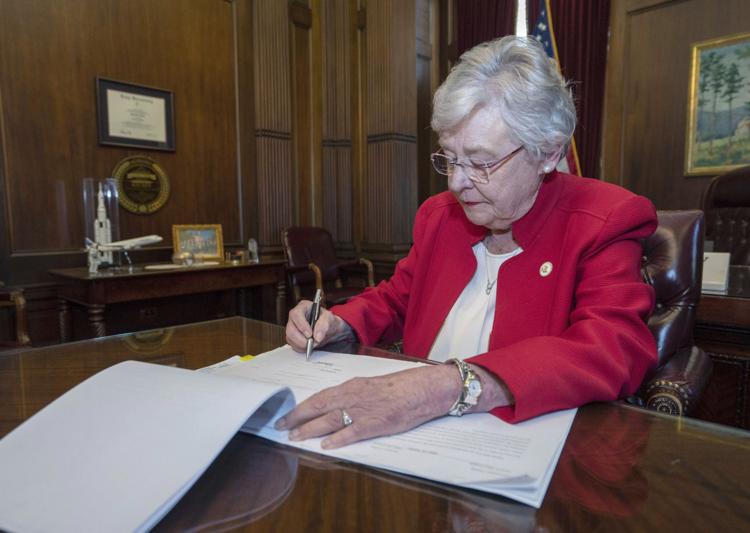 On Wednesday, Alabama Gov. Kay Ivey, a Republican, signed the nation's strictest abortion law, which makes performing an abortion a felony in nearly all cases, punishable by up to life in prison, and with no exceptions for rape and incest, The Associated Press reports.
The law is likely to eventually make its way to the U.S. Supreme Court, where abortion opponents hope the Roe v. Wade ruling establishing abortion rights nationwide will be overturned following the appointment of two conservative justices nominated by President Donald Trump.
Griswold's staffers didn't have any plans to travel to Alabama this year, including to a training session for election administrators taking place this week at Auburn University, said Serena Woods, communications director for the Secretary of State's Office.
"Colorado's secretary of state staff goes every year, but it so happens that a lot of people will be able to get certification at other training events, including one scheduled next month in Denver," Woods told Colorado Politics.
"The secretary is concerned about these restrictive laws popping up as it relates to the work we do here. It's a step we can take at the Colorado Department of State," she added.
In its statement, Griswold's office said that "Colorado Department of State employees regularly travel to Auburn, Alabama to attend the Certified Election Registration Administrator (CERA) training and certification. This training is hosted by the Election Center (also known as the National Association of Election Officials), a non-profit organization aligned with Colorado's values of fair, accessible, and equitable elections."
Griswold, in the statement, said that "until the laws of Alabama allow for safe and legal access to health care for women, we call on the Election Center to move the location of its trainings from Alabama. I will not authorize the spending of state resources on travel to Alabama for this training or any other purpose. This is one action that I can take in response to this egregious law against women."
Other Colorado Democrats joined Griswold denouncing the Alabama law.
"I am supportive of the Secretary of State's decision to stop staff travel to Alabama," State Treasurer Dave Young said in a statement to Colorado Politics.
"The law passed this week in Alabama is a blatant attack on women's rights. At this time the Treasury does not have any ties in Alabama or any staff travel planned to the state. If Treasury staff is presented with the opportunity to travel to Alabama we will certainly consider a boycott as an option."
A spokesman for Colorado Attorney General Phil Weiser told Colorado Politics that the Department of Law he oversees doesn't have any state business in Alabama.
"The Department is not considering a policy to restrict travel to Alabama," added Lawrence Pacheco, director of communications for the Colorado Attorney General's Office.
A spokeswoman for Gov. Jared Polis called the Alabama law "an existential threat to our personal freedom" and said the governor would veto similar legislation if it were passed in Colorado, but stopped short of embracing the boycott urged by Griswold.
"Alabama's rolling back of a woman's right to choose is an existential threat to our personal freedom," Polis press secretary Shelby Wieman said in a statement to Colorado Politics. "The Governor will always defend a woman's right to make her own health care decisions. If at anytime during his governorship a bill like this came to his desk, he would veto it."
"Yesterday, Alabama. Today, Missouri!" tweeted U.S. Rep. Diana DeGette, referring to a similar bill making its way through the Missouri legislature.
Added DeGette, a co-chair of the Congressional Pro-Choice Caucus: "The fight to protect women's rights has just taken on an even greater sense of urgency. Women have a constitutional right to make choices over their own bodies, & we're going to fight relentlessly to protect that right."
Former Republican Secretary of State Wayne Williams, however, questioned whether his successor's boycott amounted to much more than bluster.
"There's very little need for anyone at the present time to go to Auburn, because we're doing a lot of election training here in the state, which minimizes the need for travel," he said in an interview.
"The fact that no one was scheduled to go to Alabama tells me this is more a political statement than it is an office-related issue. The office should be concentrating on issues connected to Colorado elections and business filings," he said.
Williams, who was elected last month to the Colorado Springs City Council, said it never occurred to him to impose travel boycotts when he was secretary of state.
"We never did anything like that — we'd travel some places that were left of center, some places that were right of center. Similarly, I wouldn't want someone to say they wouldn't come to Colorado because we have legalized recreational marijuana."
Colorado was on the receiving end of widespread travel boycotts in 1993 after state voters passed Amendment 2, which banned laws protecting gay and lesbian residents based on their sexual orientation.
"I would argue that we very much disagree with the amendment that was passed by the voters of Colorado. As do other mayors. As do other Americans," a spokesman for then-New York Mayor David Dinkins said at the time after the U.S. Conference of Mayors voted to move its annual conference from Colorado Springs to New York to protest the amendment.
The amendment was overturned by the U.S. Supreme Court in a landmark 1996 case.