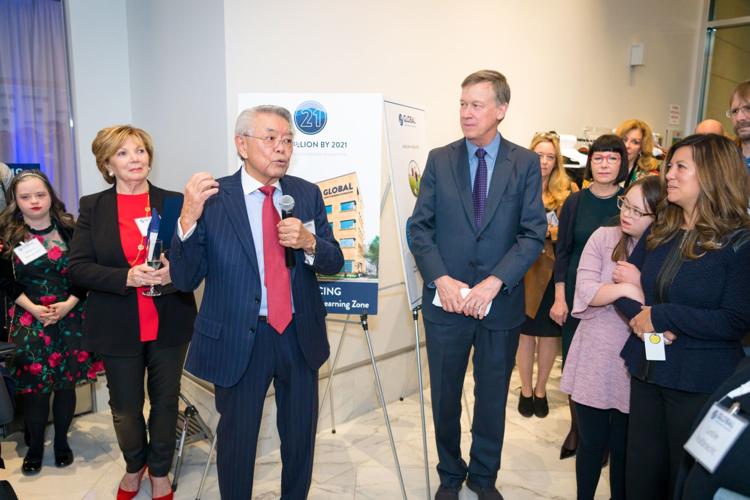 Colorado Gov. John Hickenlooper and a list of bold-faced names in Colorado policy, philanthropy and medical research were on hand for the official opening of the Global Down Syndrome Foundation headquarters in Cherry Creek North.
The 54,000-square-foot building stands as a legacy to cable TV pioneers, philanthropists and Coloradans Anna and John J. Sie.
Their daughter, Michelle Sie Whitten, co-founded the advocacy, service and research organization after her daughter, Sophia, was born with Down syndrome.
"It's hard to over-emphasize or exaggerate what Anna and John Sie have meant to Denver and Colorado and the United States," Hickenlooper said at Wednesday night's event, standing among the crowd in the building's trim. white lobby. "They look at issues not just as what they are with observations, but they put a lot of effort into what those things could become.
The governor called the Global Down Syndrome headquarters "a powerful consummation of the work they have done," including ensuring that government is involved in research and services for people with Down syndrome.
"That's really one of the brilliant things about the Global Down Syndrome Foundation," Hickenlooper said. "They look at that from a global perspective."
John Sie said he was grateful for the progress since the foundation started a decade ago, partnering up more than 40 labs now researching Down syndrome.
"I think Sophia gave us the impetus to start all of this, what I call therapeutic leverage, that is in solving and eradicating the ill effects with Down syndrome with breakthrough science," he said. "We can also help people with heart tumor cancer, Parkinson's Disease and Alzheimer's, because they all have particular signatures that by having the scientific breakthrough that solves the ill effects of Down syndrome, we can actually help so many other spectrums of diseases.
"I feel very comfortable that in short order, that Global's [work] on Down syndrome can be replaced by other conditions we can continue to improve."  
That night, the foundation heralded others, presenting awards to the Salah, Vollbracht and Winfield families.
Noreen Salah Burpee, executive director of The Salah Foundation, accepted the Global's 21X21 Campaign Leadership Award, with family and board members Fred Churbuck and Megan Fearnow in attendance. The Salah Foundation provided $1 million for the 2,500-foot education center.
"Noreen and her amazing family have been our champions for many years giving us guidance and helping us to grow," Michelle Sie Whitten, who serves as president and CEO of the Global Down Syndrome Foundation, said in a statement.
Burpee called it a team effort.
"This building is a tribute to the generosity and the goals of Anna and John J. Sie," she said. "It is through their vision and dedication and the tireless efforts of their daughter Michelle Sie Whitten that this is all possible."
Leslie and Bill Vollbracht,  founders of Denver-based Land Title Guarantee Co., shared the Community Leadership Award with their daughter and son-in-law, Alison and Kirby Winfield. The Winfields' daughter, Katherine (Kate), who has Down syndrome, is a foundation ambassador.
"The Vollbrachts and Winfields have always been there for us from the beginning and understood the importance of the research and medical care on our children's health outcomes," Whitten stated.
Allison Whitfield said in a statement, "We have seen firsthand the incredible impact Global has on the lives of people with Down syndrome. In a world where public resources and awareness are scarce, all of us include and support people with Down syndrome."
The foundation provided a list of other dignitaries on hand:
Actor John C. McGinley; Megan Bomgaars from the A&E Network reality show "Born this Way";  Peter Kudla; Mike Fries; Don Elliman; Ellen Bruss and Mark Falcone; Laura Barton and Willy Matthews; Charlie Gallagher; Sunny Brownstein; Susan Karsh; Casey and Brett Perry; Greg Karsh; Nancy Sevo; Don and Susan Sturm; Edie Marks; Chris and Lu Law; Joy Dinsdale; Jay Mills and Kiana Akina; Michele and Michael Ritter; Mac and Rebecca Macsovits; Bob and Liane Clasen; Dick and Marcia Robinson; Arlene and Barry Hirschfeld; Kalleen Malone; Allison and Brian Levin; Brian and Shelley Hart; Brook Griese; Andy Irvine; Katy Call; Rebecca Chopp; Christoph Heinrich; John Reilly; Stephen and Dee Daniels; Jennifer Darling; and Miguel Lovato.