Bear encounters with people were down in 2020, with trash being left in unsecured containers blamed for the bulk of them, Colorado Parks and Wildlife said.
Nearly 4,943 reports about bears were filed in 2020 compared to 5,369 in 2019. Of the 4,943 encounters, a third were trash-related. While the number of encounters dropped, bears' habituation to humans is a major concern for Colorado Parks and Wildlife because encounters can lead to more bears being euthanized.
"The goal of every wildlife officer in Colorado is to perpetuate the wildlife resource, not eliminate it," Matt Yamashita, area wildlife manager for Glenwood Springs, Aspen and Vail area, said in a Colorado Parks and Wildlife Q&A.
During 2020, 120 bears were euthanized — a significant increase from 92 in 2019 and 63 in 2018.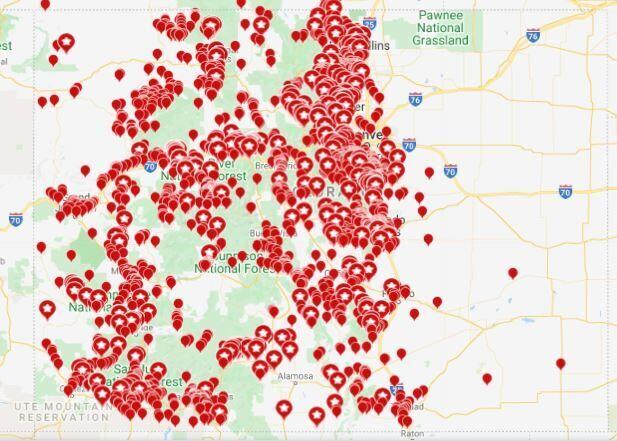 Any time a bear poses a threat to human health and safety they must be put down, said Bill Vogrin, spokesman for Colorado Parks and Wildlife's southeast region.
Orphaned bear cubs placed in artificial dens on Pikes Peak
"If a bear enters a house or lays a paw on a human, we have no choice," Vogrin said.
Teaching bears to fear humans instead of viewing them as a source of food is imperative and it's up to people to do, Vogrin said. Securing trash, locking windows and doors and cleaning grills are all ways people can help prevent attracting bears.
Any bear that Colorado Parks and Wildlife has to handle receives a "strike" and is tagged. If a bear gets two strikes, the agency's policy is to euthanize that bear. Often the agency tries to use techniques like hazing to save giving bears strikes. Hazing involves using loud noises to a create negative association for bears seeking food from humans to reinstill their fear of humans.
CPW places tracking collar on wolf in northern Colorado
The Pikes Peak region had upward of 600 bear encounters in 2020, including two cubs captured in Acacia Park in downtown Colorado Springs.
When cubs are separated from their mother, they are placed in rehabilitation programs such as Wet Mountain Wildlife Rehabilitation, an animal center in southern Colorado so they can be reintroduced into the wild.
But the challenges of human encounters with bears is not likely to disappear anytime soon. Wildfires and periods of drought can drive bears to rely on humans in an unhealthy way.
"In areas where human-bear conflict already exists, loss of natural food sources often lures bears into seeking human-related food sources (trash, bird feeders, fruit trees), which can offset food shortages and mitigate the natural biological checks that control bear populations," Yamashita said. "With a finite amount of room and increasing numbers of both humans and bears it is inevitable that there will be more conflicts."