"We all are tired of the virus but the virus is not tired of us."
That was the message that Gov. Jared Polis had for the press Tuesday when he warned that the Labor Day weekend and reopening of college campuses has led to a "concerning trend" of increased cases of COVID-19 in the past two weeks.
Tuesday's 400 new cases are an early warning sign, and one with ties to college reopenings, including large off-campus parties.
"College transmission leads to community transmission," the governor said in a Tuesday news conference.
The governor said Coloradans need to rededicate themselves to the best-known prevention methods: washing hands, wearing masks, social distancing and congregating in small groups, not large ones.
Colorado saw 400 new cases of COVID-19 on Tuesday, and the state is now above 62,000 total cases. 
Still, the new cases have not pushed hospitals past their capacity to deal with the virus, Polis said.
Polis, along with state epidemiologist Dr. Rachel Herlihy, gave an update on the state's response to the virus. Herlihy said much of the increased case count is attributable to CU-Boulder as well in the same age group in the Denver metro area.
"It's the places with large universities. It's not unexpected," and is occurring around the country, she said. The greatest risk of transmission is in households, whether on-campus and dorm settings, or Greek life and off-campus apartments. "We've seen examples of transmission in all those settings," she said. 
Among the concerning trends: an uptick in the state's "R naught" value, which shows how many people are infected by one person. A R value of 1 or less means that one infected person will infect only one other, or even less than one other, person. In late July and early August, the state's R value had stayed below one. It's now heading in the wrong direction, Herlihy explained. It's now above one, and there could be more growth in the next few weeks, she said.
Outbreaks tied to college and university campuses are expected to double within the next week, from six to 12 or more, Herlihy said.
She attributed some of the disturbing trends to people letting down their guard on social distancing. It's dropped to around 65%, meaning people are having 65% fewer close interactions, and that could mean more stress on the healthcare system, she said.
A healthy goal is around 75% to 80%, which is where Colorado was in July and August.
Herlihy also talked about just who's showing the biggest increases: those in age groups 10-19 and 20-29. The growth, especially in college students aged 18-22 is "very substantial" and also responsible for the uptick in outbreaks, Herlihy said, and it's biggest in the younger college-age students, those 18 and 19 years old. 
But the second largest uptick in cases, according to a chart Herlihy presented, is among school-age kids, though she said the growth was "relatively stable."
The governor unveiled a new tool on the state's COVID-19 website: a county-by-county "dial" that shows where each county is on the range between "stay at home" and "protect our neighbors" phases. How that's determined is based on the percentage of positive tests, hospitalizations and number of new cases, It's entirely data-driven based on those three criteria, Polis said. 
The Protect Our Neighbors phase is the highest level of reopening, with the least stringent restrictions. Under this phase, communities can allow activities at 50% of pre-pandemic capacity, with no more than 500 people in one setting. Those counties should also be able to demonstrate strong public health and health care systems.
As of Tuesday, five out of 64 counties have reached that phase: Gilpin, Gunnison, Mesa, Moffat and Rio Blanco.
However, Kiowa County, on Colorado's Eastern Plains, has never had even one person test positive for COVID-19 throughout the entire pandemic, yet is listed in the what's known as "safer level 1," which includes counties with small case counts. Herlihy explained that counties "enter" the dial for a two-week period, and that the there could be some movement of counties after that two-week period.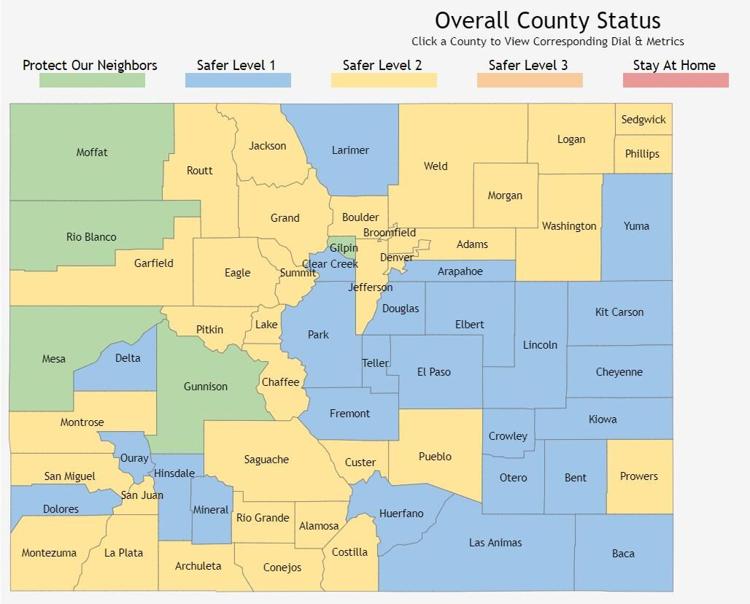 The governor also reacted to the news that another recall has been launched against him, this time targeting some of the executive orders he's issued to deal with the pandemic. 
No election, petition or recall will "distract us from growing Colorado's economy, from moving fast with reopening" and waiving restrictions, Polis said.
He cited a number of the decisions made recently to lift restrictions and red tape, such as an executive order allowing take out liquor at restaurants that has now become state law, adopted by the General Assembly. He reiterated a call to change the 2 a.m. closing time for bars and restaurants to 4 a.m., which he has said he will ask the General Assembly to look at in its next session.
"I'm going to focus on my job every day, which is keeping Colorado healthy, safe and growing economically and faster than many other states."