The lighter side of the General Assembly, usually.
BABEEEZZZZ! Round two
Back in March, Capitol M noted the population explosion going on around the statehouse in the past year and in the year to come. At a time when the U.S. population is growing at a much slower rate than is perhaps desirable, Colorado lawmakers, lobbyists and other Capitol regulars are doing more than their fair share these days. 
That actually started, more or less, last week, in the middle of the marathon House debate over the public option bill on May 6 that went into May 7.
Before the House adjourned, sometime after 2 a.m. on Friday, Rep. Rod Bockenfeld of Broomfield noted that "while you politicians were all horsing around this evening, my daughter-in-law was in labor. I'm a grandfather again," he announced. And as a nod to the population boom, he said "the Bockenfeld boys have been busy!" a reference to the second grandchild born to his sons this session. Welcome to Wyatt James Bockenfeld, who was born at 9:37 p.m., on Thursday.
BABEEZ round three
Sen. Jerry Sonnenberg of Sterling announced his daughter, his oldest child, gave birth to his NINTH grandchild, a daughter, on Thursday. He recounted that for a spell of time, his daughter was the only one of his children who was bringing new lives into the world. Sonnenberg joked that he reminded his other children that his will divide up his estate based on the number of grandchildren, and all of a sudden, he's got nine!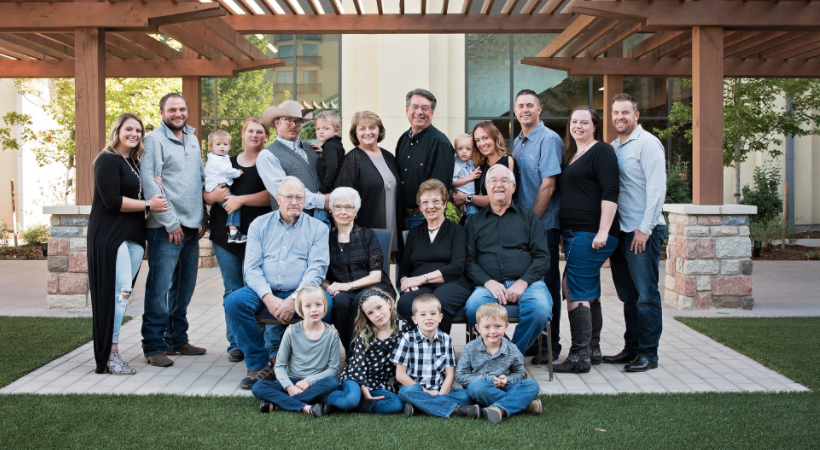 BABEEZ round four
Former House Speaker Crisanta Duran is expecting her first, which she announced on May 7. She's now working for Democrats for Education Reform in New York.
BABEEZ round five
The months of June and July are going to be VERY busy for the birthing hospitals. Around July 15 or so, both House Speaker Alec Garnett's bride, Emily, is expecting her third; House Majority Leader Daneya Esgar is expecting her first.
The baby bumps are becoming very noticeable around here.
Add to that: Alice Cosgrove, the legislative liaison for the Department of Natural Resources, and Lisa Labriola, former spox for Senate Dems and now with Axiom, are due in the coming weeks. Cosgrove is due July 1, Labriola is technically due around June 15, but since this isn't her first it's a race to see which comes first: the end of the session or her new baby girl. She's making Capitol M VERY nervous these days.
Speaking of which:
The 2021 legislative season started on Wednesday, Jan. 13. Had the lege gone straight through its 120-day calendar without the monthlong break, sine die would have been this past Wednesday. That led to a fair amount of sighing and grumbling around the Gold Dome.
An opportunity missed
Gov. Jared Polis signed into law this week Senate Bill 6, the law that allows your favorite uncle to become fertilizer for your rose beds. Unfortunately, the bill signing was virtual, despite pleas from Reps. Brianna Titone of Arvada and Matt Soper of Delta for an in-person signing. Capitol M suspects they had a full complement of puns ready for the occasion, and it would have been fun to see if the governor has a sense of humor on the subject.
Old home week
When you've been down here for a long time, it's fun to see the return of people who have made working at the Capitol a lot easier to bear.
This week: Chris Treese, formerly with the Colorado River District, showed up at the Capitol just fer the heck of it.
Treese was a regular at the Capitol prior to his 2019 retirement. He has enjoyed a life devoted to travel and cycling, very worthwhile pursuits. But he got talked into helping the Southwestern Water Conservancy District find a new manager, and after some back and forth was persuaded to take on the interim manager job while that search continues.
So he decided this week to grace the Capitol with his presence, given that part of that job also means advocating (lobbying) for the district. Call it a vacation from his retirement, maybe…
Old home week, part two
Anna Hanel, formerly with Colorado Public Radio and wife to Joe Hanel, formerly of the Durango Herald (he's now with the Colorado Health Institute) also showed up at the Capitol on Wednesday. Anna's now raising kids and kids (goats). She came in because she hasn't had any time around adults in a year and thought she'd find some under the Gold Dome. (Really? This is the state Capitol you're talking about.) 
Actually, she was here to testify against House Bill 1191, as she is passionate about vaccinations and the bill would have more or less prohibited employers from making COVID vaccines a condition of employment.
Old home week, part three
A VERY casual former Sen. Jack Tate of Centennial paid a visit on Thursday. No coat, no tie. He was immediately fined $3 by Senate President Leroy Garcia of Pueblo, despite the fact that there is no coat rule in the Senate rulez. Sen. Jerry Sonnenberg of Sterling paid the fine, and Tate pointed out he wouldn't have paid it since THERE IS NO COAT RULE IN THE SENATE RULEZ. (Emphasis courtesy of Cap M.)
Old home week, part four
This one is bittersweet. Former state Rep. Polly Lawrence of Roxborough Park was at the Capitol on Tuesday, and while it's always good to see her here (and she's now lobbying for the law firm Dentons) the visit was for a special occasion: a tribute to her late husband, RJ, the founder of Lawrence Construction, who died March 1, 2020. The multi-generation company built what's informally known as the Bronco Bridge on 17th Avenue over Interstate 25 as well as pioneering something called "U-tub girders," which form the underpinning of the flyover from C-470 to E-470. Lawrence Construction also had a hand in a lot of other innovative infrastructure projects around the state.
RJ was famous for his expression, "You can't hardly." The tribute included formally naming the I-25/17th Avenue bridge after RJ.
And as noted by the ever-quotable Rep. Matt Gray of Broomfield, with all the work about to be done on roads and bridges in Colorado, the state needs RJ now more than ever.
Finally ...
Rep. Dave Williams of Colorado Springs earned the first veto of the year from Gov. Jared Polis, for a bill that would have allowed a lieutenant governor's candidate to simultaneously run for another office. 
Williams had a good sense of humor about the veto, especially on how the governor handled it. 
Polis has some pretty nice pens that he uses to sign bills into law. These fancy implements have his name engraved along the side and the state seal on the top, suitable as momentos for giving away to lawmakers and advocates who have helped get a bill to the finish line.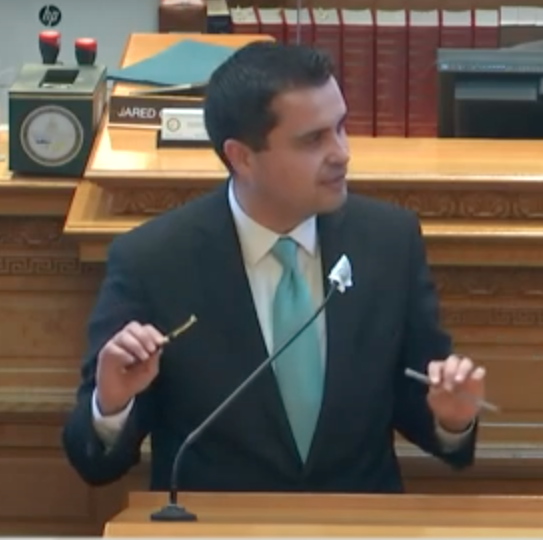 The veto on Williams' bill, however, apparently needed something special. Williams displayed it during his announcement of the veto on May 7: a Bic with the letter "V" written on it with a Sharpie, he said. 
And while Williams is usually no fan of growing government and, in particular, the governor's budget, he felt this was something that needed to be addressed. He suggested the governor's budget should be increased to cover the costs of a pen that would "soften the blow" of a veto.
No word on what Williams intends to do with this particular momento.