The lighter side, usually, of what goes on under the Gold Dome. Dogs always welcome.
What Capitol M is watching for in the 2020 session: A lack of money for lawmakers to spend on pet projects this year could make for an interesting scramble among lawmakers, even in the sometimes-cohesive Democratic caucus.
We already know that reinsurance could carry a much bigger bite — estimated by JBC analysts at around $165 million — than was forecasted when the law passed last spring. 
The solution? Lawmakers have a way to try to pay for programs when they don't have money. They think you'll do it, through "gifts, grants and donations." 
That's Latin for "ain't gonna happen."
Capitol M has been at this joint (the state Capitol) for more years than I care to count. Gifts, grants and donations became a sort of go-to in the recession days around 2003, when lawmakers ran bills for programs they wanted but had no money to fund them. For your own amusement, Google "Colorado, law" and "gifts, grants and donations." (Include the quotes.)
Up pops a long list of statutes for programs that are still funded that way, assuming someone was willing to put up the cash.
Most of the time, it's for social matters: councils dealing with those with disabilities; the deaf or blind, workforce development, substance abuse services for Native Americans; and for services dealing with education.
Take, for example, last year's bill to fund the Office of Public Guardianship. The office has existed on paper since 2017, but never had a single employee or acted on behalf of someone in need of a public guardian. The reason? At the time the 2017 bill passed, its sponsor, Rep. (now-State Treasurer) Dave Young didn't want to unduly influence the Joint Budget Committee, of which he was a member, to fund it. 
The bill's fiscal note said that once the office got $1.7 million in gifts, grants and donations, it could start offering services.
Tick, tock, tick tock.
Somewhere along the line there was a hope that hospitals would cough up the cash. Hospitals had become dumping grounds for people, mostly elderly and/or mentally infirmed, who were in need of guardians. However, the hospitals denied that was ever their intent.
The office raised somewhere between $1,750 and $1,900 out of that $1.75 million. So lawmakers stepped in last year and found a way for taxpayers to fund it. 
Now cometh another money issue that could throw a monkey wrench into the upcoming budget: the pending closure of the private Cheyenne Mountain Re-entry Center in Colorado Springs.
Capitol M, who broke the story about the closure this week, is intrigued by the various problems this could raise.
First: Cheyenne Mountain is a medium-security facility that currently houses 650 male inmates. Those inmates are nearing the time that they will be released back into society; the center offers job training, education, substance abuse treatment and the like in preparation for that transition.
In November, the governor, through his budget request, sought to close Cheyenne Mountain and asked for funds to reopen a 23-hour-per-day solitary confinement prison that has been shuttered since 2012, because the state doesn't do solitary confinement for large prison populations anymore. (That's the legacy of the late Tom Clements, the former head of DOC who was assassinated in 2013 and who sought to make solitary confinement part of a bygone era for DOC.)
The GEO Group, which operates Cheyenne Mountain, wasn't real pleased with Polis' announcement, based on their reaction this week. And neither were their employees, who started job hunting and have started leaving the facility (GEO won't say how many, but the facility has employed around 260 in the past; it's at 180 now).
When someone disses your employer, a tight labor market makes it possible for employees to walk. That's especially true if that someone is the governor, who wants to close the facility, or the head of corrections, who brought up criticisms with how the prison is operated.  (However, Sen. Pete Lee, D-Colorado Springs, who has some first-hand experience with Cheyenne Mountain claims these criticisms are over-blown.)
So where do you move 650 inmates, just shy of 5% of the state prison bed capacity of 14,000, in 60 days? Centennial South, the solitary confinement facility in Fremont County, is maximum security. That means it lacks common areas, such as recreation yards, TV rooms or even a cafeteria. And then there's the inmate cells, which may also require some updating. Can you retrofit and staff a prison in 60 days? Tall order.
Second: The humane issue. These are prisoners who are less than a year away from being released from state custody. Does the state have 650 medium-security beds available? While every state prison supposedly has beds at every security level, 650 medium-security beds is also a bit of a tall order. Reportedly, there might be around 500 beds or so scattered throughout the DOC's entire system of 20 state-run prisons. 
Even if you could house them at Centennial South, shoving them into a maximum security prison sounds a bit like a punishment they haven't earned. DOC's Dean Williams has reportedly said inmates will be double-bunked, sleep on gymnasium floors and at least some could end up at Centennial South, assuming the DOC is able to hire enough staff in 60 days to make that happen. Capitol M has some experience with the state hiring process, and 60 days would be considered quick.
In 2018, in an FAQ on Indeed, DOC estimated the amount of time to be hired for a corrections officer was four to six weeks, although that was before the job market started squeaking from being so tight. DOC acknowledged in their JBC presentation last month that some state prisons are already understaffed. 
Finally, there's the cost. Polis asked for $9 million to start the process of reopening Centennial South, long before GEO dropped the bomb on closing the private prison. JBC staff estimated that's a lowball figure that could easily be twice the amount. And that was before they knew they had to somehow find a way to move 650 prisoners into the state prison system that doesn't have the beds or the staff to handle them, at least not in 60 days
That 60-day window closes on March 7, the last day Cheyenne Mountain is slated to operate.
Back to where we started: a tighter budget in 2020 means lawmakers might go begging for dollars from whomever is feeling generous to fund the programs they want to put into law this year. Can you say, "gifts, grants and donations?" We'll probably see a lot more of that in 2020.
Once upon a time, author Robert Fulghum said, "It will be a great day when our schools have all the money they need, and our air force has to have a bake-sale to buy a bomber."
How would he feel about a bake sale to open a prison?
And it wouldn't be a true Capitol M without a dog...meet Toby, who was out for a Friday morning walk with his friend, Cary Kennedy, senior policy adviser for fiscal policy to Gov. Jared Polis.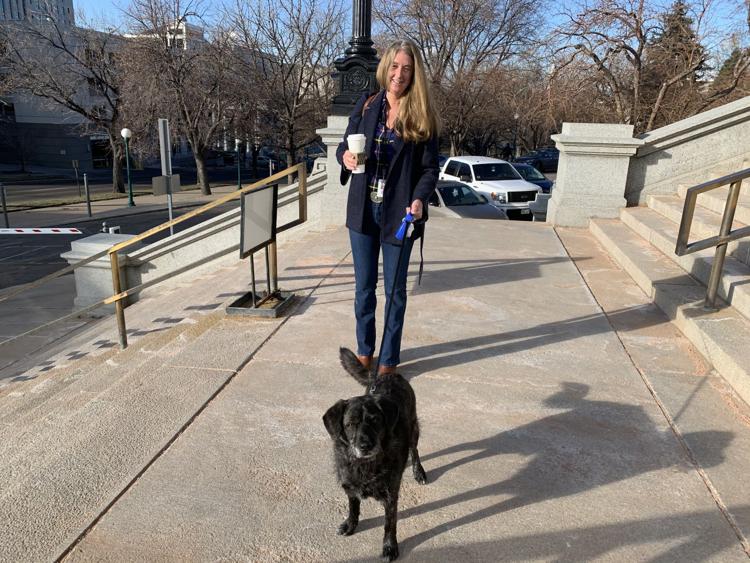 Toby came to the Kennedy household last year by her daughter, who volunteers at the Denver Dumb Friends League. Age and breed unknown. He's a sweetheart, friendly as can be, and Capitol M got to start her Friday with a puppy kiss, which makes any day better.