There was an outbreak of Shakespeare recently: Sage Naumann, the Senate GOP spox, has become the go-to on a lot of funny stuff this session (bumper stickers, for example).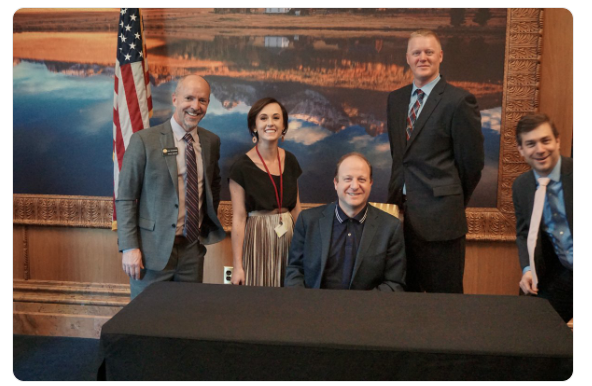 He recently tweeted his alleged dismay over the photo-bombing behavior of one Sen. Jeff "The Dude" Bridges, D-Greenwood Village. 
"Democrats talk a big game about obstruction, but I have the photo evidence of @JeffBridges clearly obstructing an otherwise PLEASANT and NICE memory. Purposefully! SAD! #COpolitics #COleg #ItsAJokeTakeAChillPill"
The Dude was not about to take that lying down.
"To be, or not to be, that is the question," Bridges tweeted back in response. "Whether 'tis nobler in the mind to suffer the slings and arrows of the #coleg, or to speak endlessly against a sea of late bills, and by opposing end them. To work through the weekend, to sleep, no more."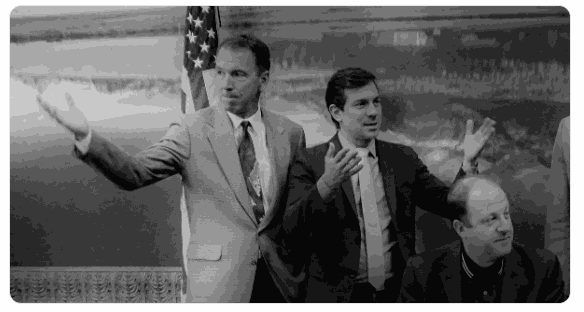 Naumann responded with the photo at right. Apparently everyone is a comedian these days.
Secretary of State Dave Williams? Rep. Lori Saine, R-Firestone, decided to scare Democrats during debate Wednesday on Senate Bill 232, a bill that puts into place some of the rules on campaign finance enforcement adopted last year by then-Secretary of State Wayne Williams.
During the debate she asked Democrats, whom she was trying to persuade to vote against the bill, to "please close your eyes and imagine [Rep.] Dave Williams [of Colorado Springs] as secretary of state."
Williams has been one of the House Republicans go-tos on asking for bills to be read at length and is also known for controversial comments.
It didn't work. The bill passed.
Bruce is back ... in conversation: Lawmakers were wrapping up work on a bill that lays out responsibilities of landlords and tenants regarding bedbugs. The name of Colorado Springs landlord and TABOR author Douglas Bruce, was brought up Thursday by Sen. Bob Gardner, R-Colorado Springs, though he didn't bring up Bruce's oft-reported reputation for ignoring his properties.
Gardner wanted to change the bill's safety clause, which would allow the bill to become law on the governor's signature, to a petition clause. Bruce's biggest issue in his brief sojourn in the House was over how often lawmakers put safety clauses on their bills.
In which Capitol M gets schooled: Gwendolyn Singer, the 3 1/2-year-old daughter of Rep. Jonathan Singer of Longmont, is the perfect politician-in-waiting.
Monday evening, as Capitol M was reviewing a list of bills at the House press table, a little voice piped up: "Are you working here?"
Said Capitol M: "Not as hard as you!"
Apparently Little Miss Singer was jealous because her younger brother got to go to the Capitol with Daddy on Saturday, so she had to have her day.
Daddy later showed off her smarts: "What do we watch out for?"
Said Gwendolyn without missing a beat: "The Senate!"
She's got the House superiority complex down pat. 
Really, Rep. Soper? Rep. Matt Soper of Delta recently led the House in the Pledge of Allegiance, and he was quite honored to do so. Until he found out that some people get certificates for doing that and he ... didn't ... get ... one. 
Speaker of the House KC Becker went to work to correct this grievous slight. She not only made him the certificate but framed it and decorated with a bunch of stickers, including "a rainbow unicorn, lots of puppies, a peace sign and a gumball machine," which drew howls of laughter.
She then proceeded to read the commendation to the entire House. Soper, who looked a tad sheepish, accepted the certificate in good humor. He said later he's going to hang it in between his law degree and his certification as a state lawmaker.
One more round of dogs: Visiting the Senate majority office this week were these two best buds, who belong to aide Michael Templeton. Sven is the golden retriever. He's a little over three years old and has a talent for photo-bombing.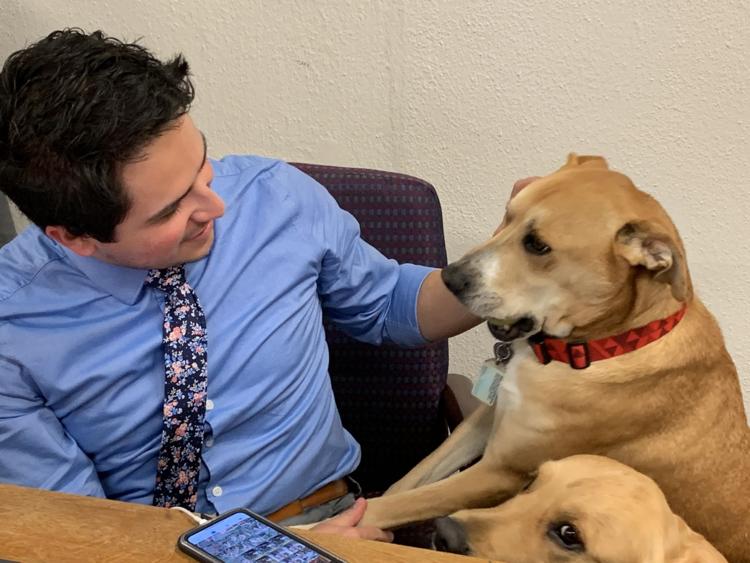 Sven joined the household as a buddy to Annabelle, who's about 6 months older. Annabelle's favorite thing is to run around with a ball in her mouth.
And just in case you're wondering: Sine Die is the day everybody at the Capitol looks forward to, because it means going home, vacations, more family time — the good stuff. The Latin term translates into "without a day," but Merriam-Webster's common definition is "without any future date being designated," such as for resumption. It's typically pronounced SEE-nay DEE-ay, but around the Capitol, it's SIGN-eee DIE. 
That's a wrap for this legislative session ... we hope!
Editor's note: We would be remiss without noting Capitol M's harp performance Friday on the House floor. As of Saturday morning, this video, by freelance writer Darren Thornberry, of her performance had received more than 600 views.
What can we say? She's a Renaissance woman (and an excellent baker, for the record).