They came by bike. They came by scooter. They came on foot, walking or even jogging. And they came by cars, some parked legally but a lot more not so legal.
It takes a bit of bravery to illegally abandon your car in the middle of Bannock Street in front of the Denver Elections Division and voting service center on 14th Avenue.
Alton Dillard, Denver's election spox, explained that in the past, there'd be a dropbox in the middle of Bannock Street right in front of the voting center and people could easily drop off ballots. But with the construction at the Denver Art Museum across the street, the dropbox was temporarily removed. A permanent one can still be found in front of the Elections Division office. 
They came with kids and they came with dogs.
Rylan, who didn't want to give his last name, came with Eli and Zoe, two energetic Labrador mixes. 
The dogs played a role in his voting decisions, Rylan said. "They had me read up on the propositions" so he could make an informed decision, he said.
Samantha Walsh of Tetra Public Affairs and a cannabis lobbyist, took Slye, her boxer mix, along to drop off her ballot Tuesday. "Slye voted 'Yes on CC' because C is for canine," Walsh tweeted.
Then there were those who came in by foot or by bike.
Rebecca Boremann of Denver dropped her ballot off at the 14th Avenue dropbox because it gave her an excuse to take a walk. "I just always vote," she said.
Lani Pierce, on a bike, said, "Every vote counts!" 
"I like things to change. If you don't vote, don't complain," said Louise Rodarte. "Voting makes a difference."
On a 60 degree Election Day, biking was clearly a fan favorite for getting to and from the 14th Avenue dropbox. Angelina Denson lives on Capital Hill, and rode in on her bike to drop off her ballot. "It's important to be educated on what you're voting for," she said as she slid her ballot into the box.
Nick Koesters is new to Colorado. He moved here five months ago from Indianapolis, but he's already got the bike buzz, and rode in as well. He said he got interested in voting in the 2019 election based on Proposition DD, the sports betting measure. Indiana legalized sports betting earlier this year, he said, and the Indianapolis Star reported $35.2 million in sports bets in September, the first month sports betting was allowed.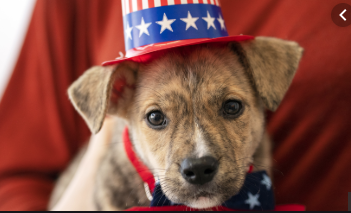 No word on how this little cutie voted Tuesday...