Yes, we're at the halfway mark. Officially, day 60 of the 120-day session is Monday, March 4. Wasn't that quick? Or, THAT WAS TOO QUICK!
Under "things you did not know"... Rep. Matt Soper of Delta has in his family history a lunch, hosted by his ancestors in the early 20th century, with the guest of honor Chipeta, the wife of Chief Ouray. That tidbit came out during his amendment to House Bill 1185, which seeks to change Columbus Day to Colorado Day as an official state holiday.
Soper offered an amendment to change the name to Native Americans Day, which has actually been favored by a small group of Democratic lawmakers over the years. But the bill's sponsor. Rep Adrienne Benavidez of Adams County, frowned on it and it died by an unusually large vote of 5 to 57.
That was followed by an amendment from Rep. Shane Sandridge of Colorado Springs, who wanted to name the day "Taxpayer Appreciation Day." That didn't fly, either.
Rep. Lori Saine, who came up with the "I really, really, really, really, really, really don't like Donald Trump" amendment on last week's final vote on National Popular Vote, advocated for "TABOR Appreciation Day." Humor is sometimes the best approach, she said later.
All rise ... A recent hearing in the Senate Local Government Committee found the ever-amusing Sen. Don Coram of Montrose walking into the committee room and finding just one person in the audience.
"All rise!" thundered Coram, catching our own Conrad Swanson quite by surprise.
Swanson used to report on court cases for the Lawrence (Kansas) Journal-World, and that "all rise!" took him back to those days, and actually got him halfway to his feet. "Enough to be embarrassed about it," he told Capitol M.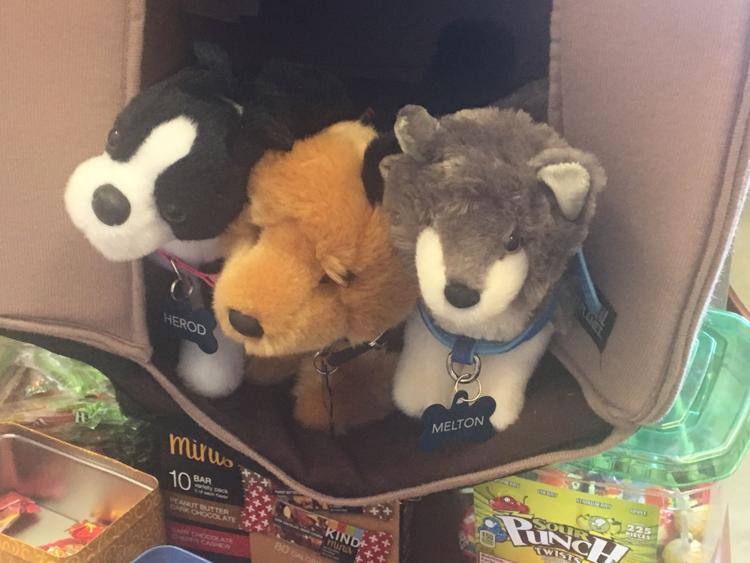 Dog House Dems have added to their numbers ... Although it hasn't been officially announced, Rep. James Coleman of Denver has been named to the Dog House Dems (he shares an office with Rep. Jovan Melton of Aurora, one of its early members).
So what's a Dog House Dem? It's a Dem who gets called on the carpet, usually by the Speaker of the House, on a more or less regular basis.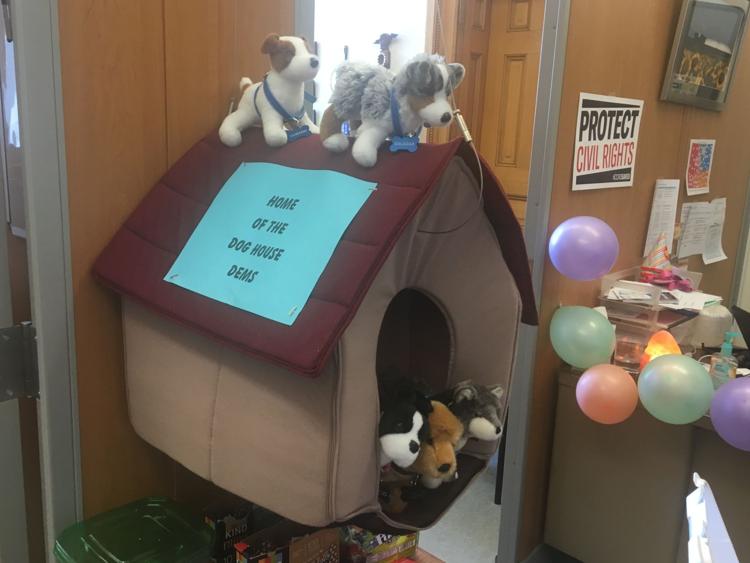 In what's becoming obligatory dog pictures: the five past and current dogs aligned with the Dog House Dems. On top, alumni and former Rep Joe Salazar and former state Sen. Jessie Ulibarri. The three at the bottom, left to right, are dogs for Rep. Leslie Herod, Coleman and Melton.
Note to Republicans at the lege: where's your dogs???? 
According to staffers in the Senate Minority Office, they're at home, and that's because they don't want to have the same problems faced by other dog owners at the Capitol on, ahem, droppings. There was even an email sent out earlier in the session to advise people that the Capitol's janitorial staff are NOT responsible for cleaning up after the four-legged friends.
Quote of the week... Sen. Lois Court of Denver, during Thursday's Senate Finance Committee hearing on expanding the state's driver's license program for undocumented immigrants. 
Coram, the bill's sponsor, responded to a concern raised by fellow Republican Sen. Paul Lundeen of Monument that passing Senate Bill 139 would "relieve pressure" on Congress to act on the immigration issue.
Responded Coram: "I'm not comfortable waiting on Congress to do anything. It will happen when there is peace in the Middle East and mattresses are not on sale."
Court, the finance chair, had a ready rebuttal. "You're out of order," she said. "And I know you wanted to take a nap."