The lighter side of the Colorado General Assembly, usually. Dogs always welcome. 
Washington, D.C., is often criticized for its hyper-partisan goings-on. Democrats and Republicans never seem to see eye to eye on much of anything.
Colorado? That's another story. Lawmakers — except perhaps during the heat of the primary season — are proud of being bipartisan.
Capitol M found this out the hard way, in a column from Jan. 5 that identified the most (and least) bipartisan lawmakers.
Several people fussed that they were left off the most bipartisan list, and rightfully so, as it turns out.
In writing the original column, Capitol M struggled a bit to figure out what to do with the Joint Budget Committee. By rule, a JBC bill has to be bipartisan; all six members have to sign onto it for it to be considered a JBC bill. That seemed like it would somewhat unfairly jack up the numbers.
But Sen. Bob Rankin, R-Carbondale, also sponsored 14 bills that had nothing to do with the JBC, and every last one of 'em had a Democrat on it, whether it was a Senate or House bill. (If you'll recall, the process I used was that a bill had to be bipartisan upon introduction, and it would include bills that a senator signed onto that originated in the House and vice versa. And this only applies to prime sponsorship.)
So mea culpa, Sen. Rankin. Your bipartisanship puts you into the rarefied group of lawmakers — all Republicans — who in 2019 had a 100% perfect bipartisan score. What you do with it is up to you. 
The great mystery has been solved!
Two years ago, Capitol M hoped to help shine a light on a great mystery. A portrait of a woman was found amid a pile of paintings of some of the state's first governors (including territorial governors) at state archives. But no one knew who she was. A couple of readers had some ideas about who it could be, but none of that panned out.
Leave it to a historian to figure it out, and 5280 recently got the scoop.
The mystery woman is Katherine L. Craig, and she was notable because she was a five-time Colorado superintendent of public instruction, an elected office, between 1905 and 1931. She was also one of the first women to be elected to statewide office, at a time when women didn't even have the legal right to vote (that changed in 1920).
Derek Everett, who teaches Colorado and American history at Colorado State University and Metropolitan State University of Denver, was the sleuth who figured it out. He told 5280 that he started looking through newspaper clippings from the 1930s, which eventually led him to a 1934 Denver Post obituary that included a photo that looked like the woman in the painting, complete with the pendant she wore.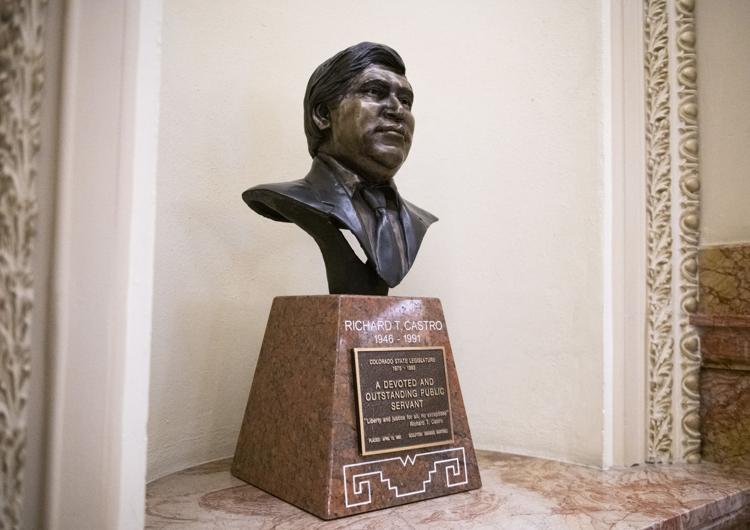 And a hearty "welcome back" to...
The bust of the late Rep. Rich Castro. The base was badly damaged by a vandal who broke into the state Capitol last spring. It's now back, with a very snazzy new base.