The man accused of gunning down 10 people at a Boulder King Soopers on Monday purchased a Ruger AR-556 firearm just days before the shooting, according to an arrest affidavit released Tuesday.
Ahmad Al Aliwi Alissa, 21, of Arvada, was arrested about 3:30 p.m. Monday at the King Soopers on Table Mesa Drive. He faces 10 counts of first-degree murder, which includes victim Boulder Ofc. Eric Talley, 51.
Aliwi's sister-in-law told the Arvada Police Department she saw him playing with a firearm that she said looked like a machine gun at the Arvada home they share a few days before the shooting, according to the affidavit.
The woman who identified herself as married to Alissa's oldest brother said Alissa had talked about a bullet stuck in the gun. She also told police that family members were upset with Alissa for playing with a gun in the house and took it from him.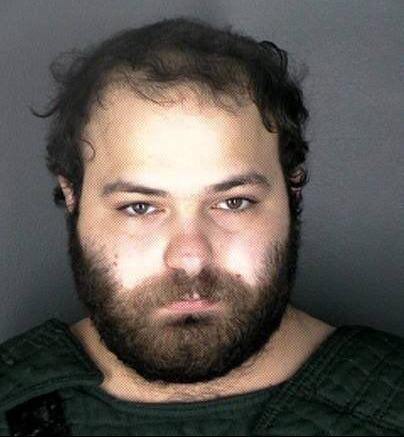 Alissa was pictured in a live-steaming video Monday being led from the store in handcuffs and wearing only underwear. His right leg appeared to be covered in blood.
Boulder Police Chief Maris Herold said at a news conference early Tuesday that Alissa suffered a through-and-through gunshot wound and was treated at a hospital until early Tuesday.
20th Judicial District Attorney Michael Dougherty's office filed the  10 counts of murder after Alissa was transferred to the Boulder County Sheriff's Office jail.
He is scheduled for a first appearance at 8:15 a.m. Thursday in front of District Judge Ingrid Seftar Bakke. His public defenders, Kathryn Ann Herold and Samuel Robert Jae, did not return a call seeking comment.
According to a federal intelligence source, Alissa was not on a terrorist watch list.
The initial 911 call about the attack came in at 2:39 p.m. Monday. Details provided by the affidavit give a glimpse into how people in the store and areas around it tried to make sense of what they witnessed as the chaos unfolded.
One 911 caller reported seeing Alissa in the refrigerated section and saw him leave toward Broadway. Multiple witnesses said they saw he had an assault rifle. Descriptions of Alissa's appearance varied, according to the affidavit.
Another 911 caller described the shooter as white and middle-aged with dark hair and a beard wearing a black vest, and a short-sleeved shirt. A few witnesses said they saw him wearing an armored vest.
Boulder Ofc. Richard Steidell, who responded to the scene and helped search for the suspect, saw Talley down could see he was dead, with a gunshot wound to the head, according to the affidavit.
Alissa appeared to walk willingly, backwards, to a SWAT team for them to take him into custody. He had removed his clothing and body armour and wore only a pair of shorts. Items photographed that he removed on the scene include a green tactical vest, a rifle — possibly identified as an AR-15, according to the document — a semiautomatic handgun, a pair of jeans and a dark long-sleeved shirt.
Alissa's Facebook page, which was taken down by 10 a.m. Tuesday, showed his name as "Ahmad Al Issa." It showed his interests as "Metro university … computer engineering/computer science … kickboxing."
It showed his family came from Syria in 2002, when he was 3 years old. Some of his posts mentioned praising Allah, kickboxing and UFC fights and (in 2019 at least) wanting a girlfriend.
A spokesman from Metropolitan State University said Alissa is not, nor ever has been, a student there.
Court records show Alissa was charged with third-degree assault, knowingly/recklessly causing injury, November 2017 by the Arvada Police Department.
Court records show Alissa was arrested in 2017 after he "cold-cocked" a classmate in the head. Alissa reportedly punched the boy several times in the head after he "had made fun of him and called him racial names weeks earlier," court documents stated.
He pleaded guilty in 2018 and was sentenced to one year probation, 48 hours of community service and fees/court costs.
A spokesperson for Jefferson County Public Schools said Alissa attended Arvada West High School from March 2015 until May 2018, when he graduated. He was on the wrestling team during his junior and senior years.
A Facebook friend of Alissa named Bruce Niyonkuru texted via Facebook messenger that he was on the wrestling team with the alleged shooter in 2014-15 at Denver South High School, before he transferred to another high school. 
"He was normal. He just kept to himself and only spoke to those who he normally talked to," Niyonkuru wrote. "I don't remember him ever being in a fight or starting a problem with anyone."
Alissa's Arvada home had cameras and media representatives out front Tuesday afternoon. Neighbors and former Arvada neighbors were either not home, not answering the door or declined comment. 
Ali Aliwi Alissa, the suspect's 34-year-old brother, told The Daily Beast that authorities searched his house all night after the shooting.
Alissa said his brother was "very anti-social" and paranoid, adding that, in high school, he would describe "being chased, someone is behind him, someone is looking for him."
"When he was having lunch with my sister in a restaurant, he said, 'People are in the parking lot, they are looking for me.' She went out, and there was no one. We didn't know what was going on in his head," Alissa said, admitting that he believes his brother is mentally ill.
Dougherty said early Tuesday: "This killer's name will live in infamy, but today let us remember the victims and work tirelessly for them."