Tim Jackson, president and CEO of the Colorado Automobile Dealers Association, will be pushing lawmakers next year to simplify the patchwork tax regime in Colorado that he said places an enormous burden on businesses in the state.
"Colorado has the most complicated structure," he said Thursday at an event hosted by the free-enterprise and business-promotion group Opportunity Coalition. "There are 756 different sales and use taxing jurisdictions — cities, counties, special districts. We want to standardize processes within those jurisdictions, so that Aurora and Lakewood and Denver, for example, all act the same."
Jackson directed the roughly 40 audience members to visit the Simplify Colorado Sales Tax coalition website for more details and he told The Colorado Statesman that the sales tax issue would be the main issue the powerful auto dealers association would be pushing at the Legislature when the 2016 session opens in January.
The tax system is cumbersome in many ways, he said.
"You know, if you want to challenge one of these taxes, you have to pay them first. You have to pay the tax before you can challenge it," he said laughing. Sighs filled the room.
Jackson mentioned, too, that some lawmakers were talking about getting ahead of the advancing driverless car industry by setting up a regulatory regime before autonomous vehicles hit the road in any significant numbers.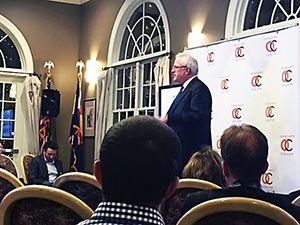 "I think it's too early, though," Jackson said. "The manufacturers of those cars are not even sure what laws they'll want to put in place."
In his remarks, Jackson hit on the driverless car phenomenon several times, circling back to it to underline the kind of change the industry is witnessing.
"Driverless vehicles are already a solved problem," he said, quoting billionaire tech-businessman and Tesla CEO Elon Musk. "We know exactly what to do and we'll be there soon. Human drivers could be outlawed in a few years," he said.
The audience of car lovers booed.
"Not my words. Elon Musk's words," he protested.
Musk is an innovator in the mold of Henry Ford, Jackson said. The audience was clearly ambivalent about Musk and his Tesla Motors, which has championed direct-to-customer sales that would bypass auto dealerships. Jackson said the industry has to embrace change.
"One-hundred-and-five years ago the first Model T rolled off the assembly line in Michigan. Henry Ford used the assembly line process at a time when the only other product that used it was guns," he said.
Jackson was in good spirits. He was celebrating the auto industry, and he had a lot of good news to share.
He said that Colorado leads the nation in new car sales, that Coloradans were spending more money on cars and spending that money on cars more frequently than ever before. He said it was the fifth-straight year of growth for car dealers in the state and that 2014 marked the best year for Colorado dealers in a decade.
He played down concerns that the Federal Reserve announced this week that it was raising short-term interest rates for the fist time since the financial crisis of 2008. Fed Chairwoman Janet Yellen said on Wednesday that rates would likely hit 0.25 percent and 0.50 percent. The hike will make auto loans more expensive.
"Look, the most important indicator for the auto industry is consumer confidence," Jackson said, adding that consumers are confident.
Over the last five years, new car sales have gone up 80.2 percent in Colorado and 57 percent across the nation.
And new Obama administration fuel standards, which mandate vehicle fleets, which will hit an average of 54.5 miles per gallon by the year 2025, will be met through innovations already on the drawing board, he said. Jackson mentioned technologies being developed around flex fuels, hybrid plugins, clean diesel, pure electric vehicles, hydrogen fuel cells and natural gas.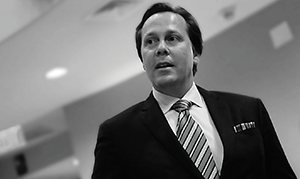 Jackson's organization will be busy this presidential election year.
"We'll host more than 200 events around the state," he said. He talked about attending caucus meetings and hosting fundraisers.
Brian Watson, founder of the nonprofit Opportunity Coalition, introduced Jackson with brief remarks that could have been read as a counter to the politics of Republican presidential primary election frontrunner Donald Trump. Watson founded real estate firm Northstar Commercial Partners, and he is involved in a long list of philanthropies. He is also a major player in conservative circles in the state and has served the Colorado Republican Party in various capacities, including as chairman of the finance committee. Watson talked about traveling, the international climate and about the kind of culture he believes produces growth.
"I would say go out and befriend a Muslim, a Jew, a Christian," he said. Then he talked about how his family recently hosted a family from Saudi Arabia.
"It was the first time this family had ever seen snow," he said. He added that he took his guests out shooting, too, and the room erupted in laughter.