Shortly after Colorado Sen. Michael Bennet dropped out of the presidential race, Denver attorney Tom Downey started making calls on behalf of another presidential contender, Minnesota Sen. Amy Klobuchar.
For months, Downey has quietly worked behind the scenes, contacting locals he knew were likely to support Bennet if the senator was still on the Democrat ballot when Colorado holds its presidential primary on March 3. But if Bennet weren't ...
Downey called it a "soft second-choice" approach for the candidate, who appears at the Stanley Marketplace on Thursday night. He touted Klobuchar, a former district attorney who impressed him in 2018 during Senate proceedings when she grilled Downey's high school classmate, U.S. Supreme Court nominee Brett Kavanaugh.
"She didn't grandstand. She was strategic. And she was the only senator to get an apology out of Brett," Downey said.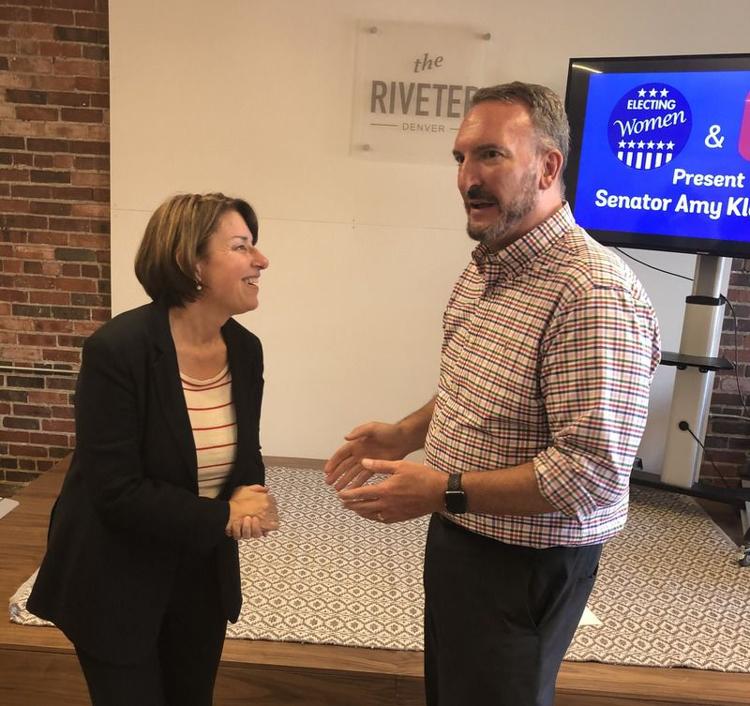 "I think Sen. Klobuchar is strong, smart and reasonable. And while I do think it's time for a woman to be president, she is the best candidate for president and just happens to be a woman."
Bennet leaving also helped my bank account: I donated more than $300 to his presidential campaign, usually in tiny amounts, because I couldn't resist his "We're almost there" pleas. And I truly believe Bennet was the best candidate in the race.
His departure has freed up high-profile Coloradans to make their endorsements, including former Denver Mayor Wellington Webb and his wife, former state Rep. Wilma Webb. Wellington Webb said they were Bennet backers "as long as he was in the race," but now they're with former New York Mayor Michael Bloomberg.
"I've never been this afraid about the future as I am with this man in the White House who wants to be a dictator," Webb said. "Michael Bloomberg is not perfect, but he has the capacity and the money to keep up with Donald Trump."
Former Lieutenant Governor Gail Schoettler is supporting Klobuchar.
"She's thorough and thoughtful," said Schoettler, who has helped raise money for other candidates because she wants to see a woman in the White House.
Vermont Sen. Bernie Sanders' popularity in Colorado is well documented; among his most visible supporters is former state Rep. Joe Salazar and more from the current crop of lawmakers.
Before Colorado decided to return to the presidential primary, it held caucuses. Sanders got more delegates than Hillary Clinton in 2016. And his campaign event in Colorado on Feb. 16 had to be moved to the Convention Center because so many people wanted to come.
Former Vice President Joe Biden's supporters include former U.S. Sen. Ken Salazar of Colorado and Federico Pena, former Denver mayor and a cabinet secretary under President Clinton.
Two Democratic state senators, Kerry Donovan of Vail and Julie Gonzales of Denver, are among those backing U.S. Sen. Elizabeth Warren of Massachusetts.
And former South Bend, Ind., Mayor Pete Buttigieg?
Last year I donated $25 to Buttigieg but I think he lured me in with pizza, not policy. His campaign kept announcing on Facebook a chance to "Win Pizza with Pete" and I couldn't resist. I love pizza -- and with a presidential candidate? Even better!
I wasn't sure of Buttigieg's backers so I asked former Colorado Democratic Party chair Rick Palacio, because he had gone to the candidate's Denver fundraiser. Palacio said he often goes where invited but that doesn't mean he has officially endorsed.
"I'm like many other people in our state, waiting for things to be clearer," Palacio said.
I totally understand. With Bennet out of the race, I'm looking for someone to support. I recently switched my voter registration from Republican to unaffiliated and I requested a Democrat ballot for the presidential primary.
But who knows who will be standing by March 3? It's all so fast-paced and surprising.
Look at Klobuchar. For months she didn't crack the top during polling, but she killed it in the two previous Democratic debates and unexpectedly came in third in the New Hampshire primary — the same contest that felled Bennet and sent Biden scrambling.
Downey, the state director for Vice President Al Gore's presidential campaign in 2000, is the "authorized representative" for Klobuchar's campaign. He's pumped that America is now seeing what sees in Klobuchar, especially after she questioned Judge Kavanaugh about his high school days.
Downey and Kavanaugh were among the 100 seniors who graduated in 1983 from Georgetown Preparatory School, a Jesuit boys college prep school.
Kavanaugh's activities in high school became an enormous part of his nomination hearings. A classmate accused him of being drunk and sexually assaulting her, which Kavanaugh denied.
Veteran political reporter Chris Cillizza of CNN offered this analysis of Klobuchar at the hearing:
"She certainly wasn't the loudest. (That was Lindsey Graham.) Or the most well-known name among Democrats eyeing 2020. (That was Kamala Harris and Cory Booker)," Cillizza wrote.
"But Amy Klobuchar, who, like Harris and Booker, is considering a run for the Democratic presidential nomination was, for my money, the single most effective Democratic senator in last week's confirmation hearings for Supreme Court nominee Brett Kavanaugh. And what's remarkable is that the Minnesota Democrat did it by being, well, not terribly partisan."
The senator mentioned her father was an alcoholic, and asked Kavanaugh if he had a drinking problem or ever blacked out when he drank. He answered her questions with his own questions about her drinking. When he returned after a break, he apologized.
Who knows how long some Democratic contenders will be in the race. The Nevada primary is Feb. 22. That could weed out some more candidates.
But Klobuchar has lasted longer than three fellow senators: Bennet, Kamala Harris of California and Cory Booker of New Jersey.
The math guy, Andrew Yang, dropped out after New Hampshire, saying the numbers don't add up.
And the Texans — former Senate candidate Beto O'Rourke and Julian Castro, the former mayor of San Antonio and the only Latino in the race — are gone.
Biden's counting on a good showing in South Carolina on Feb. 29 to stay in the race.
Who knows? Maybe one of these presidential hopefuls will make someone a fine running mate.
Correction: This piece previously stated that Former Lieutenant Governor Barbara O'Brien endorsed Klobuchar. She endorsed Bloomberg. It also stated that Pete Buttigieg was the mayor of Indianapolis.