Opening day remarks from House leaders sent a message to many in the chamber that another year of partisanship may be ahead. 
Speaker of the House KC Becker, D-Boulder, and Minority Leader Patrick Neville, R-Castle Rock, presented different ideas and solutions on how to accomplish them for the session ahead. 
Becker began her remarks welcoming two new members, Reps. Mary Young, D-Greeley, and Rep. Richard Holtorf, R-Akron, who was sworn into office Tuesday.
Becker's remarks were tinged with sadness, remembering several representatives who passed away off-session, including Rep. Kimmi Lewis, R-Kim, who passed away in December after a long battle with breast cancer, and former Speaker of the House Ruben Valdez, D-Denver, who died Oct. 1. "You have some big shoes to fill," she told Holtorf, who replaced Lewis. 
While Becker called 2019 "one of the most historic, productive sessions" in state history, that view didn't appear to be shared by the minority, who sat quietly while the Democrats applauded.
Becker also made a strong statement on repealing the death penalty, which earned her a standing ovation from the Democrats and stony silence from the Republicans. 
Becker struck back against the idea of legislation on permanent tax cuts, putting her on the opposite side of Gov. Jared Polis, who campaigned on tax cuts and who has continued to raise the issue since taking office last year.
She also advised Republicans, who have favored across-the-board cuts in state agency budgets or cuts to Medicaid funding, that such approaches are not realistic, and if they want transportation funding, they have to show exactly where those dollars will come from. 
Becker is serving her last year in the House and her final year as speaker. 
In his remarks, Neville first acknowledged Lewis' passing, and thanked members on both sides of the aisle for their support. 
Neville's speech included themes like protecting the unborn — an annual bill run by Republicans that has gone nowhere — and saluted President Trump's tax cuts, which he said boosted wages and the economy. He also saluted school choice, which he said will benefit students, as well as the business climate.
He also blasted the Democrats for overreach in the 2019 session on issues such as oil and gas reform, sex education, gun control, family leave, and vaccinations. "Do no harm," he pleaded several times. He pledged his caucus would fight against those issues in the 2020 session. 
"Money-hungry state governments take the shine off," he said. "We do not want to be like California."
But Republicans won't only be the party of "no" in 2020, he indicated. Neville said they want to work with the governor on transportation funding, although he didn't say where that would come from.
Democrats reacted to Neville's remarks in the same way Republicans reacted to Becker's, with silence. 
But shortly after end of his remarks, Neville walked away with a special gift — a pogo stick — from Rep. Susan Lontine, D-Denver. It's a nod to a comment Neville made during Tuesday's remarks at the legislative preview held by Denver Metro Chamber of Commerce. He said he wanted transportation dollars to go to extra lane miles, not "pogo stick lanes."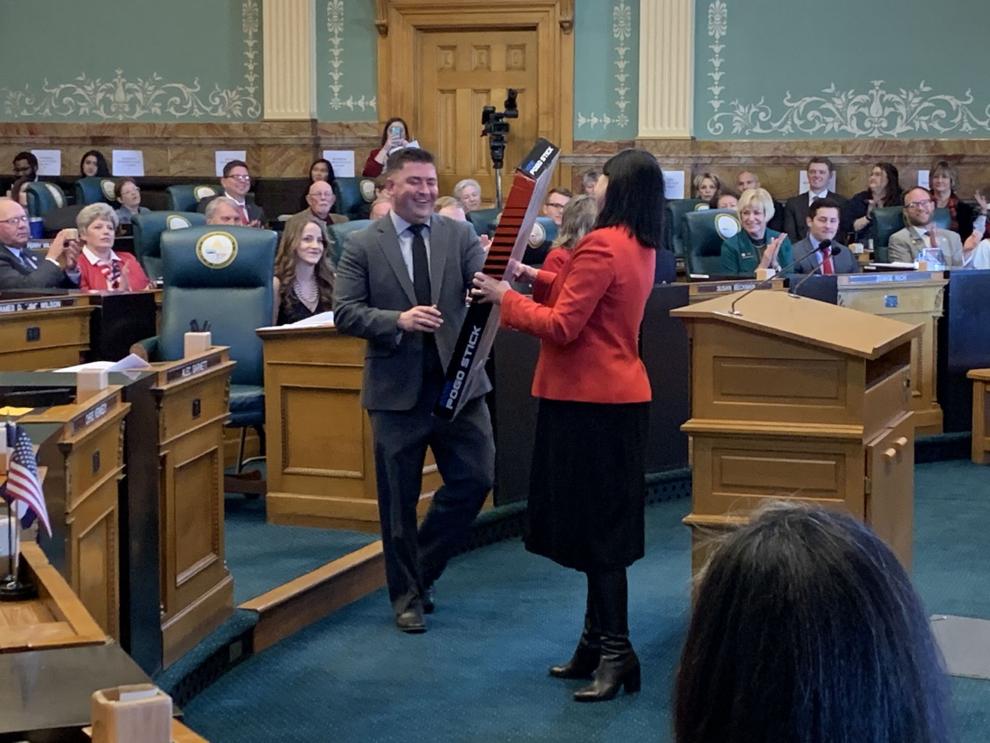 Rep. Marc Snyder, D-Colorado Springs, was ever the optimist in reaction to the opening day speeches. "I was impressed with both," he said. "It points out we have philosophical differences, but as an optimist, we have an opportunity to get some collaborative work done for the people of Colorado." 
"We both want the same things — we want to get along and we want what's best for Colorado. We just have different ways to do it," said Rep. Barbara McLachlan, D-Durango.
Rep. Brianna Titone, D-Arvada, noted she has bipartisan support for a lot of her bills in 2020. "There are always key issues on which we don't see eye to eye, so we work on the common ground whenever we can."
But others noted the partisan nature of the remarks from both speakers. Rep. Sonya Jaquez Lewis, D-Longmont, said Becker's speech was amazing, and she loved the theme of "coming to the table."
"I was a little taken back from the remarks from the other side," she said. "What I heard was 'we're going to fight it.'''
Jaquez Lewis said she agreed with Becker's call for working on issues together. "That's our philosophy as a Democratic caucus."
Rep. Dave Williams, R-Colorado Springs, had a similar reaction, in reverse. Becker wants to continue the progressive agenda they started on last year, and that's going to have a lot of challenges to it, he said.
"A lot of us are worried that agenda will ruin our prosperous state," he said. "Voters spoke loudly against tax increases and won't agree to repeal the death penalty or create a single payer option," which he said is the definition of overreach. "But I look forward to the debate of ideas and highlighting the Republican position" that he hopes will lead to a successful election in the fall.
There are things Williams said he can agree on with the other side. "We can say 'yes' to transportation, funding education, and getting more money into the classrooms, and providing more mental health assistance, especially in schools, so we don't have another tragedy or school shooting.
Holtorf, hearing the opening day remarks for the first time, heard partisanship too. Becker made points that were partisan on behalf of her party, as did Neville. "I'm concerned this session that we're still very much divided. There are a few legislators who appear to be ready to cross the aisle and work together, but I have a strong sense of partisanship" as well as a "large divide" that has to be crossed to move real legislation forward. He did like Neville's theme of "do no harm," noting that "when we promulgate laws, we oftentimes forget the second, third and fourth order effects."
Rep. Colin Larson, R-Littleton, was quite successful in his first legislation session in 2019, with 10 bipartisan bills signed into law. But he indicated he was concerned about the price tag coming due for some of the bills from the 2019 session, such as reinsurance and taxpayer-paid full-day kindergarten, both which have now shown to be more expensive than was projected last year.
Larson, however, is also optimistic, saying he hopes to do good work on education and on a bill on vaping. "We'll see. The beginnings of the session are always high-minded speaking, and then we'll see the reality set in on both sides of the aisle. I hope we both focus on the things we agree on," such as mental health and prioritizing education and transportation.
"I hope we work together earnestly."