Build it and people will use it. That's the argument of those who want the state legislature to invest in alternatives instead of asphalt and new lanes.
The Rocky Mountain Institute and transit advocates rolled out a calculator Wednesday adopted from California to measure the increased traffic from adding lanes to congested interstates. The metric is key, they contend, as the state legislature begins to weigh transportation investments with federal dollars.
The Rocky Mountain Institute says the solution is to reduce the vehicle miles to spend that money instead on mass transit, "fast, frequent and reliable" bus service, bike lanes, trails and electric vehicles to decarbonize transportation.
Vehicles are still the U.S.'s chief source of greenhouse gas emissions.
RELATED:
According to the calculations, using Colorado highway transportation numbers in the calculator, more asphalt means more cars on the road and a quick return to traffic jams.
"Expanding our state's highways, we believe, runs counter to our climate goals," said Ben Holland, a senior associate on RMI's Mobility team. "We need to go further and say that any state and city climate goal that does not account for the impacts of highway expansions is potentially overlooking a major contributor to carbon emissions that could prevent meaningful progress to our climate change."
Lainie  Rowland, one of the RMI researchers, said travel demand grows proportionally to added road capacity in as little as five years. Each lane mile added in Colorado's major roads leads to 2 to 8 million vehicle miles traveled annually, with urban areas, where traffic jams are daily now, on the higher end of that range.
Each lane mile added to a Colorado interstate adds, on average, 400 more vehicles using state stretch of road every year, burning about 200,000 more gallons of gasoline. In the immediate Denver area, the number is closer to 600 more cars and trucks.
The report identified potentially 176 more miles of new lanes that could be added across the state in the next 10 years. 
You can read the full report by clicking here.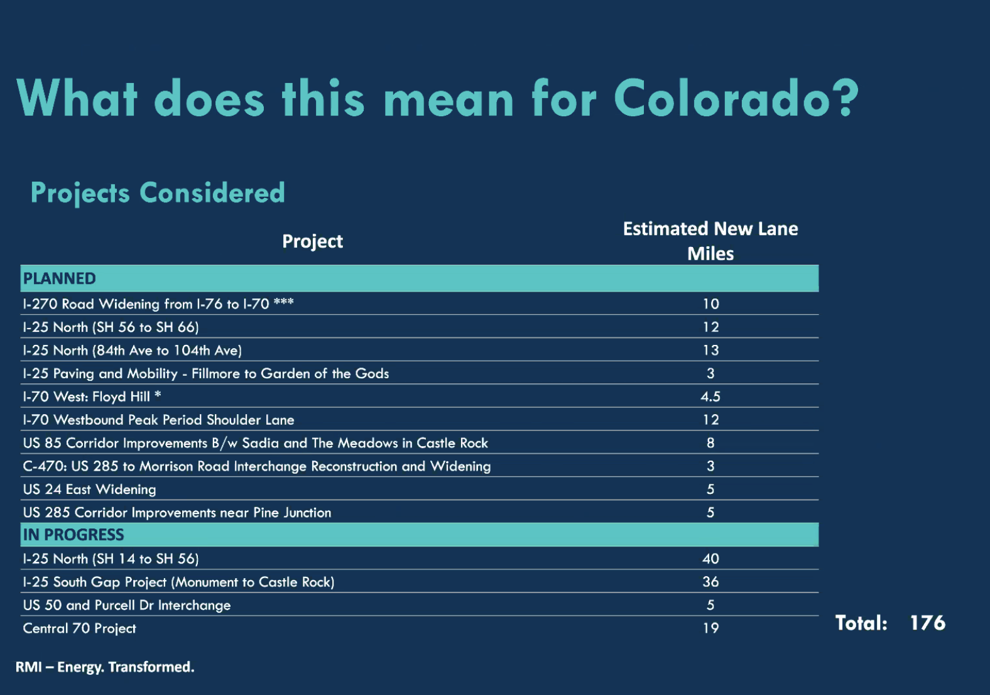 Danny Katz, the executive director of CoPIRG, a public interest group, said expanding highways and still trying to cut emissions is "headed down the wrong road."
"What we're building now, what we're investing in today, is what we'll have in 2030, so we don't have time to wait for solutions in 2028 and 2029. We need to be implementing those solutions in a big way now."
Advocates couldn't directly address the chicken-or-egg problem, where fewer people use transit because government's don't invest enough to make it work well, and government doesn't invest because not enough people use it.
Front Range commuter rail, under the best of predictions, is at least a decade away, experts said on a different transportation call last week. In handing out federal stimulus dollars, the Biden administration has put a premium on trains.
Katz said there are immediate, affordable solutions, including improving operations and expanding the use of buses. 
He characterized pent-up demand for quality service, a proposal that depends on faith beyond the report rolled out Wednesday morning.
"Because we don't have the kind of options that are fast, frequent, affordable and reliable they wind up getting in their car more and more," Katz said. "There's more we can do to maximize what we have. We have the foundations to build from."
The researchers think history is on the side of their hypothesis.
Traffic volume has doubled since 1990 in Colorado urban and suburban areas where 70% of the state's traffic occurs, as policymakers continue to try to catch up with tens of millions of taxpayer dollars.
"We all want Colorado to be a great place to live, work and raise a family," said Tony Milo, executive director of the Colorado Contractors Association. "Infrastructure is a key component to achieving that goal. Coloradans simply want and need to get from point A to point B in an efficient, cost-effective, safe way. Congested roads, highways and bottlenecks choke commuting and commerce and cost Colorado drivers $3.5 billion each year in the form of lost time and wasted fuel.
"That's neither efficient or cost-effective."
He said it it's also worth noting that investing in infrastructure is more than traffic and pavement, though.
"If history is any indication, building our infrastructure is one of the best ways to rebuild our economy," Milo said. "For every $1 billion added to Colorado's construction industry, $2.2 billion is produced in output in the form of jobs, household earnings, and value across all of Colorado's' industries."
The longer-distance transit solutions cited by advocates however, feed another woe environmentalists fretted over for two decades: urban sprawl, the spread of suburbs into previously undeveloped land. Transit benefits home developers.
"I think the underlying issue that they identify is that better highway systems make it easier to live farther away from an urban core and given housing and land prices are much cheaper there, more people are willing to move farther from work and then commute," said Chris Brown, the vice president of policy and research for the Common Sense Institute, a Denver-based business think tank.
He wondered about the effect of COVID, which might mean more people continue to do their jobs from home rather than trek to downtown Denver every work day.
As the transit advocates called for big picture thinking on unidentified demand, Brown saw the issue in an even bigger picture: existing land use.
"If local communities that are growing jobs would also build more homes, allowing for more people to live closer to work then we wouldn't have this 'leapfrog' effect that RMI is identifying," he said in an email. "But unless you solve that problem, then more people walking or biking is a fairytale/nightmare starring $1 million, 1,000-square-foot homes and 15% housing price spikes like we saw in Denver over last year. Simply put, I think there are many other considerations surrounding the current housing and general affordability crisis we face that limiting access to roads and highways could further provoke and I hope to see additional modeling and analysis as this debate continues."