There was a lot to say during Colorado's 2023 legislative session. From public testimonies to floor debates, the halls of the state Capitol were at times filled with arguments, laughter and tears as lawmakers worked to pass legislation over the last 120 days. 
Here are 10 of this year's top quotes from inside of the state Capitol. 
---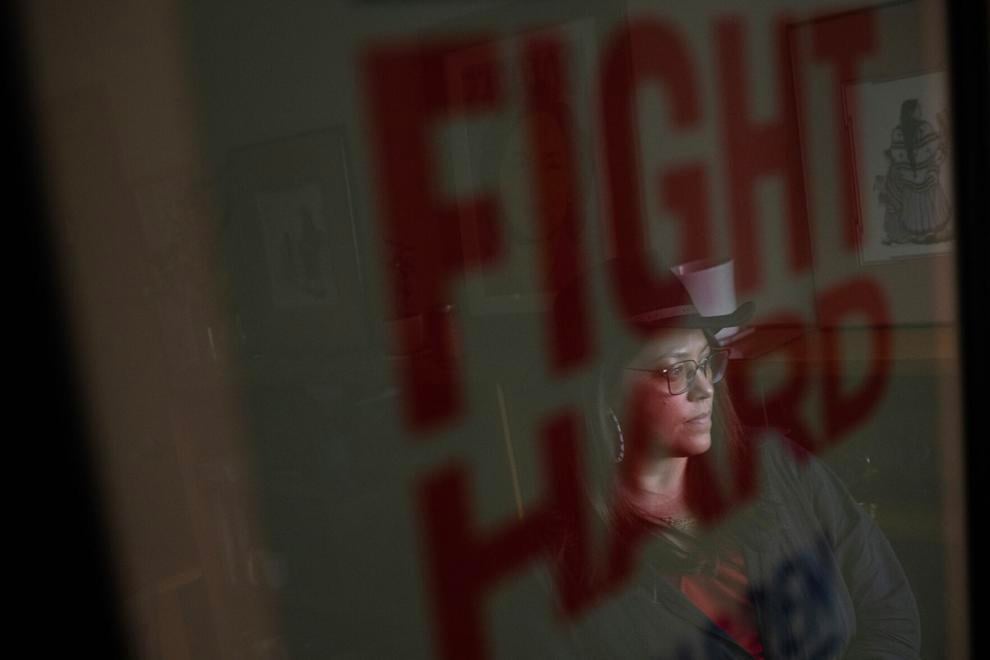 "The last time y'all heard from me on this issue I was seething with rage, because the last time that we had a conversation was in the immediate aftermath of the overturning of Roe v. Wade. Y'all felt the rage that so many of us experienced in our bodies, in our bones, that the Supreme Court of this nation would so coldly undermine our ability to make decisions about our own bodies. So, I spent a little bit of time this summer being mad. But then, the people you see standing along side me, we stopped being mad and we got to work. What a joy to now be able to present before you a package of three policies. … I don't care what other states are doing in their race to the bottom. In Colorado, we've got your back."
— Sen. Julie Gonzales on a package of bills to strengthen abortion protections
"I don't know why a resolution on the Equal Rights Amendment, which is a positive turning point in our country's history where we started to recognize women as equals, turned into demeaning, dismissive and derogatory remarks about me and people like me. Whether you like it or not, I am your colleague. Whether you believe me or people like me should exist, I do exist. And I am your equal in this chamber. … My existence is not up for debate. It's not something you can disagree away, and I will not let anyone in this chamber or outside this chamber bully or intimidate me out of my existence. Not today and not ever."
— Rep. Brianna Titone responding to anti-transgender comments made by Republican representatives during a resolution on the Equal Rights Amendment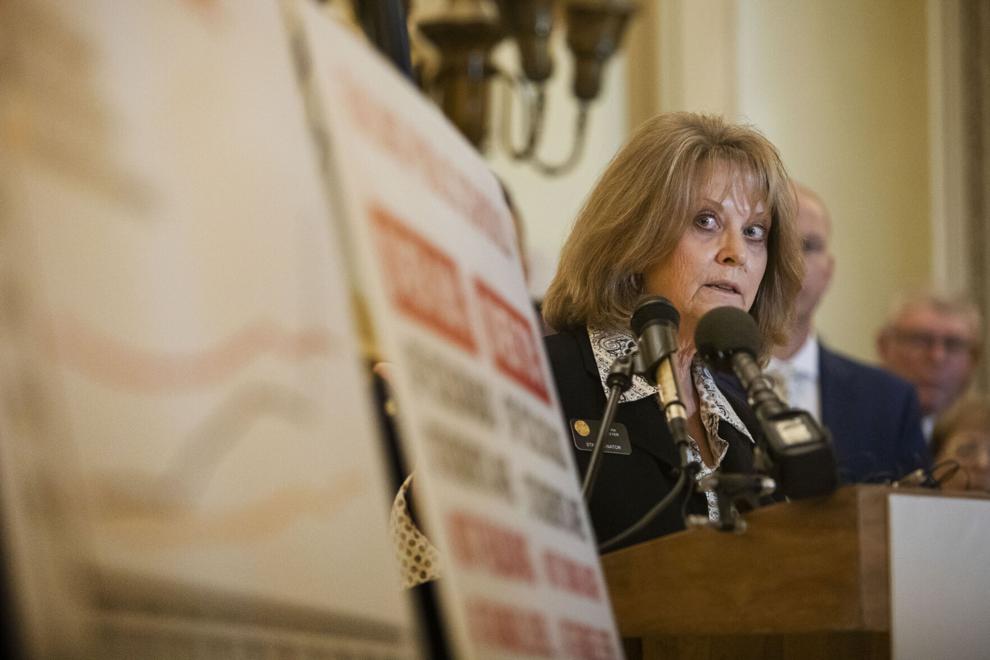 "As a woman, I should be able to be down here and stand with my fellow female colleagues to celebrate and work for equal pay. But no. No, because we can't agree on some language that I wasn't even asked about. ... Today, once again, I'm singled out and left out because I'm a Republican. That's disgraceful. I'm in a new fight now for equality because of my political affiliation. ... This resolution contains a politically progressive message and is a substitute for genuineness. Call me out all you want, that's how I believe. You did it on purpose and I'm still ticked off."
— Sen. Barbara Kirkmeyer on an Equal Pay Day resolution brought by Democrats that recognized the pay disparity between men and "people who identify as women, trans women, gender-expansive people"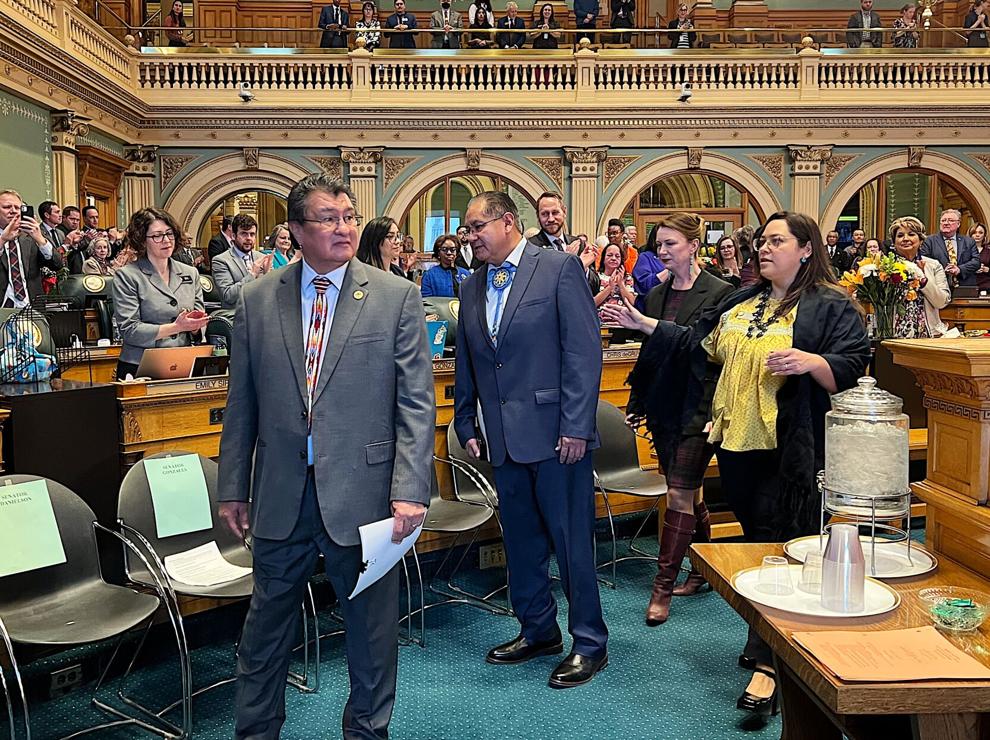 "We, as the Ute people, have lost a lot over time up to present day in 2023. Today, the areas that I speak of are about the future government to government relationship. We all claim these lands as our homeland, but let us look at the past history and what has been taken away. All those lost opportunities we shall address, and we shall address them today while looking toward future opportunities. ... Just as a blanket is made, our history of the Ute people should be woven into the history of Colorado." 
— Manuel Heart, chairman of the Ute Mountain Ute Tribe during the tribe's inaugural legislative address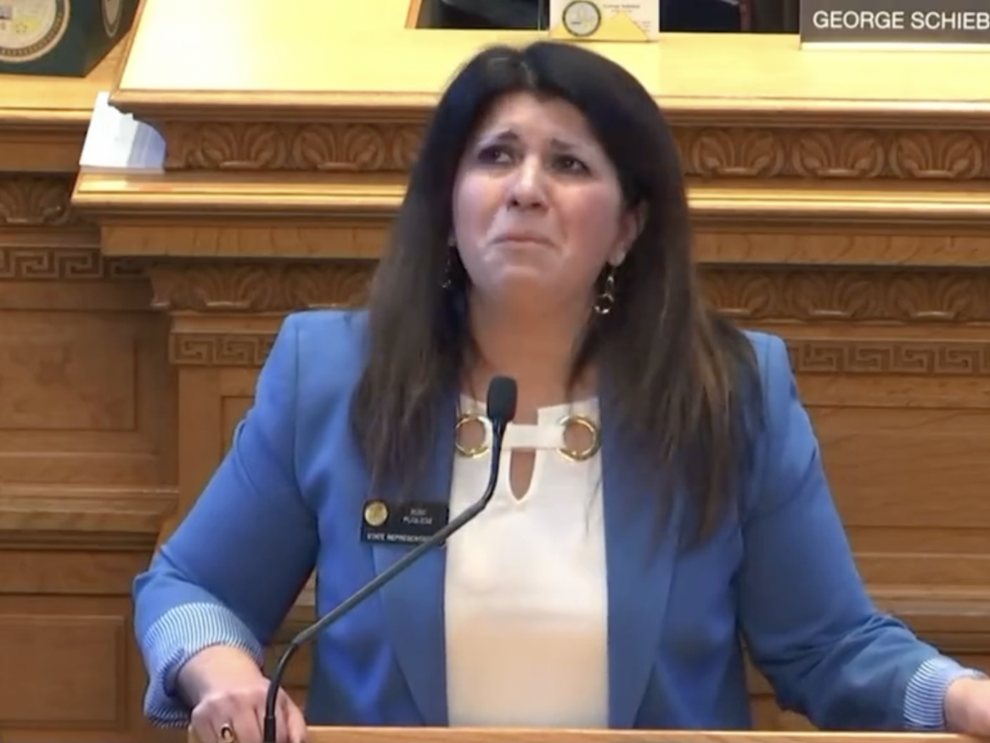 "I want to tell you a story about a woman I know very personally who was threatened in her home one morning and ran into the bathroom, because it was the only place she could get to safety. ... She locked that door and turned the shower on and just sat there and cried for an hour, praying that she would get out of the bathroom because her two babies were sleeping in their bed. All she could think about was, 'What happens to my babies if I don't get out of this bathroom?' She waited and it was quiet and so she finally thought this was her chance to get out and escape, and she did. … If she then chose to go to a gun store and get a gun to protect herself, she should have that right. There is nobody in this body who should take that right away. She should not have to wait three days and pray that he doesn't find her and kill her in the meantime. She should have the right to protect her family and her babies."
— Rep. Rose Pugliese on House Bill 1219 to implement a three-day waiting period for firearm purchases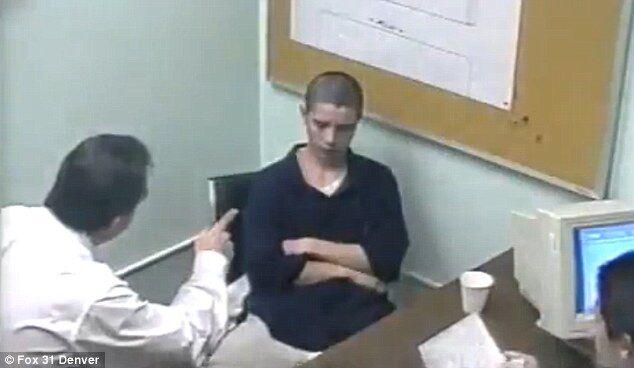 "I was wrongfully convicted and sentenced to life without parole at 14 years old. I was exonerated on June 16, 2014. My experience with being interrogated as a young child at the age of 14 years old was terrifying. ... It is an experience that I will never get over. It still haunts me to this very day and every day. In the interrogation room, I felt like I was on a sinking ship in the middle of the ocean with nowhere to go but down. I was lied to by the detectives about being involved in this horrible crime. I was told that I would be going to prison for life if I didn't tell them what they wanted to hear. ... I was tricked by all of their lies. I hope you can stop that from happening to others." 
— Lorenzo Montoya on House Bill 1042 to prevent law enforcement from deceiving minors during interrogations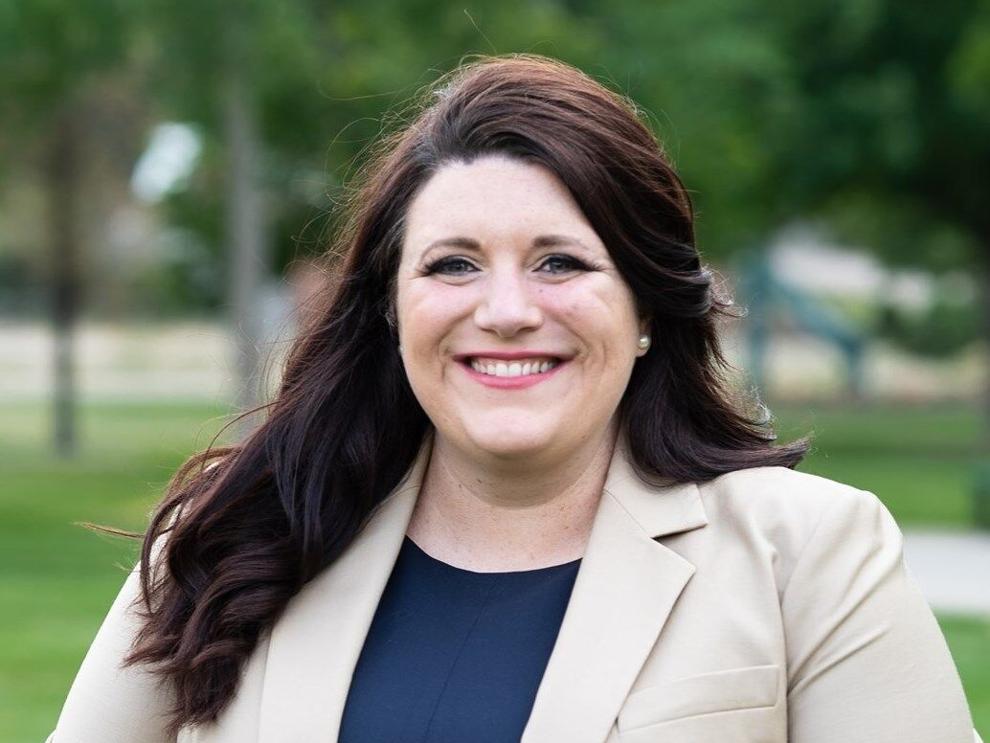 "I was 17 years old living in Laramie, Wyoming when I was sexually assaulted. ... I wasn't old enough at the time to buy Plan B and it wasn't available over the counter for me, either. I will tell you that I've never felt more relieved than when my period came and I knew I wasn't pregnant. But under an amendment like this, I would not be able to seek abortion care after being sexually assaulted and that is not okay in Colorado. In Colorado, we allow people and pregnant women to make their choices about their bodies in consultation with their doctors, their family members, their faith, whoever they want to consult with. ... We are not doing that here in Colorado today."
— Rep. Jenny Willford on a failed proposed amendment to Senate Bill 189 (to expand health insurance coverage for abortion) that would have only allowed coverage for "medically necessary" abortions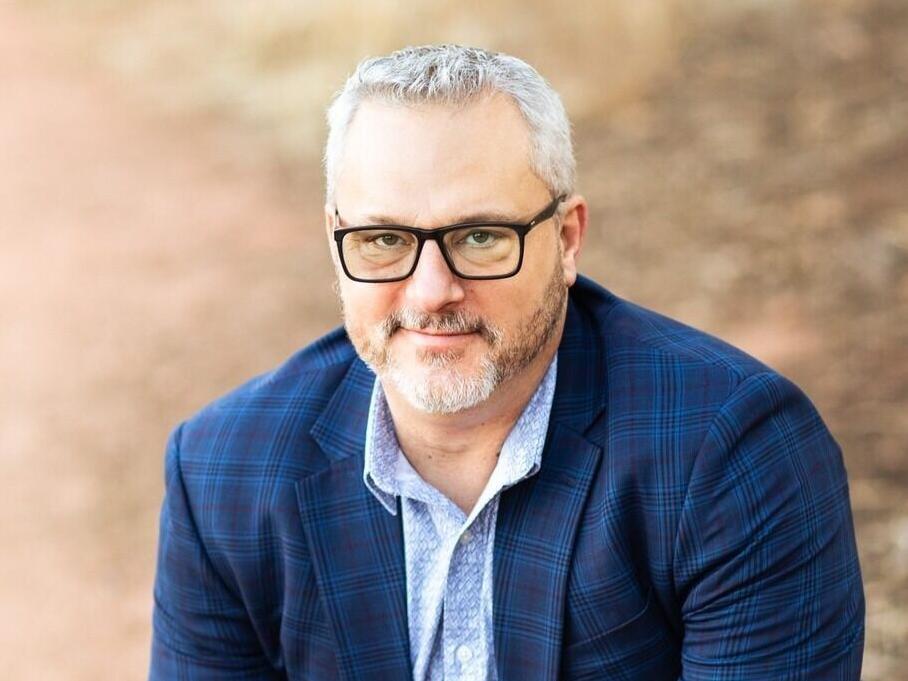 "This is an aggressive, immoral attack on the rights and freedoms of all citizens of Colorado. ... This is fascism in every sense of the word. You don't like what you hear so you shut down the debate and the discussion. ... All the majority party had to do was sit and listen until the minority party, a very small minority, ran out of steam. You're still going to get your bills, you're still going to get every single thing done that you want done because you're the supermajority. ... All you had to do was sit and listen, but you can't do that. Because listening to God, truth, righteousness and freedom actually hurts the souls of those who are not in favor of those mentalities. It doesn't hurt their ears, it hurts their souls." 
— Rep. Scott Bottoms on House Democrats limiting debate on gun control bills to one hour after two days of filibustering from Republicans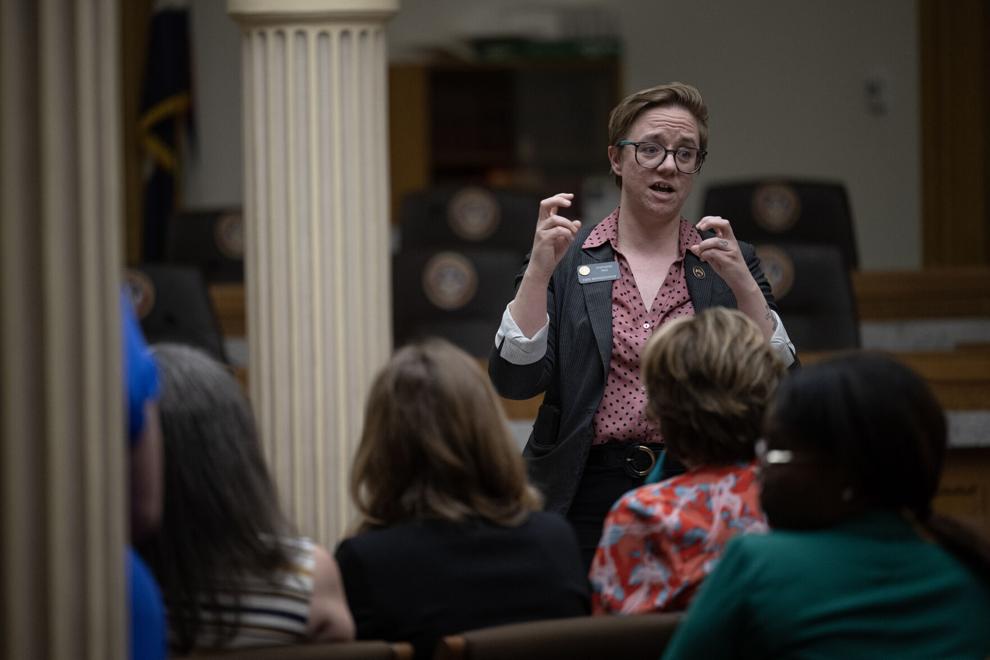 "On the night of Nov. 19, 2022, we lost five precious lives in my district. ... The suspect in this atrocity is very much being held accountable. He will likely never live again outside of state custody. But the lives of Ashley Paugh, Derrick Rump, Daniel Aston, Raymond Green Vance and Kelly Loving are gone forever. ... We have no problem bringing the law down very hard after the fact, after the carnage, after the massacre, after precious lives are gone and cannot be brought back. But to interrupt a major threat and prevent it from occurring at all, is somehow a much bigger lift. ... (The shooter) told us who he was, he said what he wanted to do, he threatened it multiple times. But this state only has an interest in doing something about it after lives are irretrievably lost. We can disarm hate." 
— Rep. Stephanie Vigil on Senate Bill 170 to expand who can seek a "red flag" petition to remove firearms from someone deemed a threat to themselves or to others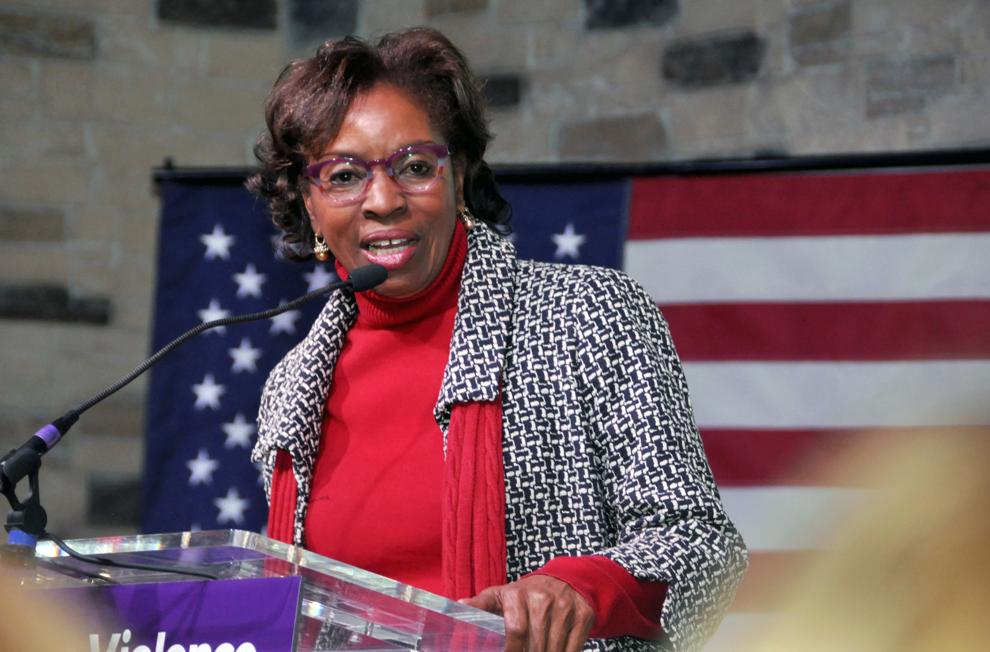 "Who are you protecting? Who are you fighting for? I know who I'm trying to protect. Our students, our teachers, our families and our community. ... These babies that were just murdered along with their teachers in Nashville, I don't know their party affiliation, but I know they had the right to live. They had a right to take their next breath. But we get so comfortable in our own little environment that we can't see the devastation that's happening in America, across this nation, and right here in Colorado. ... It's going to take the will of this Senate to do what's right for our babies. We need to protect their futures over guns. ... Take off your blinders and see the wreckage that I see." 
— Sen. Rhonda Fields on House Bill 1219 to establish a three-day waiting period for delivery of a firearm after purchase