With just two days to go before the end of the legislative session, Colorado's House Democrats are rushing to push through a last-minute proposal that seeks to equalize TABOR refunds to about $660 per person.
But there's a catch.
The new proposal, which Democrats introduced Saturday and immediately reviewed by the House Appropriations Committee before it was even available to the public, also ties its implementation to the passage of Gov. Jared Polis' plan that offers tax relief by using a portion of TABOR refunds to give to property tax owners. 
Voters must approve what would be known as Proposition HH, the ballot measure contained in Senate Bill 303 that would ask the public for permission to redirect TABOR refunds and use the money to provide property tax relief.  
The new TABOR proposal appears to be the Democrats' latest response to criticism that the governor's property tax proposal takes money away from Coloradans without real property, notably renters, and redirects it to homeowners facing skyrocketing valuation increases.       
Democrats face a sharp deadline: House Bill 1311, the proposal to flatten TABOR refunds regardless of people's income, must move through House debate by midnight Sunday. Failing to do so means it would die.
However, Democrats limited debate to one hour, and then approved the measure on a voice vote. The confirmation of that voice approval, on the Committee of the Whole report, is expected to mirror the final vote on HB 1311 on Sunday — a party-line 46 to 19 vote.
House Bill 1311, sponsored by Democratic Speaker Pro tem Chris deGruy Kennedy of Lakewood and Rep. Mike Weissman of Aurora, is tied to SB303, which the governor and Democratic lawmakers say will save homeowners and commercial property owners on property taxes for the next 10 years.
SB 303 has been widely criticized because those TABOR refunds would effectively be taken from renters, coupled with concerns that they would, at the same time, face higher rent because of higher property taxes.
Property taxes are expected to skyrocket this year and next due to rising home values and the voter repeal of the Gallagher Amendment in 2020, whose ramifications lawmakers did not address until this year.
Currently, TABOR refunds are issued in several different ways, including through cash to taxpayers that is based on a sliding scale, with lower income taxpayers getting smaller refunds and wealthier Coloradans getting bigger refunds.
HB 1311 would equalize those refunds so that every taxpayer's refund would be the same — $661 per person or $1,322 for joint filers. The measure would use $2.37 billion in TABOR refunds, according to the bill's fiscal analysis.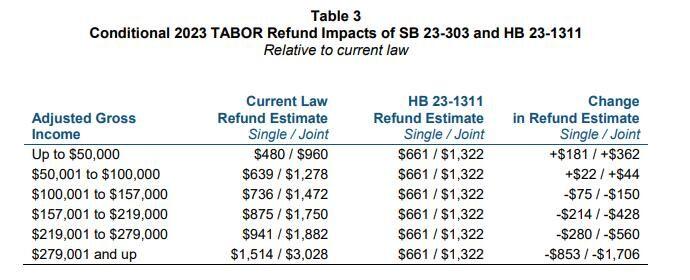 As noted above, the TABOR refunds contained in HB 1311 would not be issued to Coloradans unless Proposition HH is approved. 
If voters reject Proposition HH, the state would issue refunds based on the six-tier sales tax refund, with the money ranging at the low end at $454 for taxpayers with incomes $50,000 or less to the the high end at $1,434 for individuals earning more than $279,000 annually.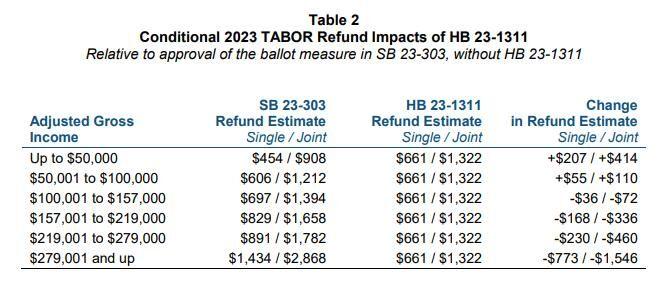 Whether Proposition HH passes or not, those TABOR refunds would be issued at the normal time, when tax returns are filed next April.
Tonight's debate on both SB 303 and HB 1311 is already limited by rules announced by Democratic leadership, with one hour allotted for debate on HB 1311 and three hours on SB 303. That does not include any time needed to read either bills at length. HB 1311 is just four pages, but SB 303 is 61 pages. Republicans immediately asked for HB 1311 to be read at length.
"This is a bill that is moving forward together with SB 303," Kennedy told the House. "If we were going to be using part of the TABOR surplus in order to fund some of the local government backfill for the property tax reduction, we'll have to grapple with the question of whose TABOR refunds are impacted most."
Kennedy said the concept has been in discussion for some time, and deals with the question on "(making) sure we are giving TABOR refunds to the people who need it most," he said. 
Under state law, a bill needs a minimum of three days to get all the way through the General Assembly. 
Saturday is the first of those three days: A bill would have to be introduced, moved through all committees in the first chamber, and then approved on second reading debate before midnight. It then can get its final vote from the first chamber on Day 2, which is Sunday, and then introduced in the second chamber, go through all committees and through the second reading debate — again before midnight. It can then receive its final vote in the second chamber on Day 3. 
Republicans were outraged by the fast-moving decision.
Rep. Anthony Hartsook, R-Parker, noted public comment in the House Appropriations Committee hearing was from one person who Hartsook said had advance knowledge of the bill, which at the time the committee hearing began wasn't even available to the public online.
The bill showed up 13 minutes after the hearing started. The entire hearing lasted only 26 minutes.
Only two people showed up to testify at the committee, and one declined because she hadn't had a chance to read the bill because it wasn't available online.
One witness, Natalie Menten, said she'd like to testify on the bill but it wasn't available online for her to read so that she could even tell what is in it. She then declined to testify.
The one person who testified in favor was Caroline Nutter of the Colorado Fiscal Institute. Nutter said the bill would direct TABOR refunds through a flat amount instead of through the state's six-tiered sales tax refund.
"In a period of economic recovery from the pandemic-induced economic downturn and inflation, TABOR refunds should be directed as progressively as possible," she said.
"I am 100% in favor of extending TABOR refunds to our citizens. It's their money," said Rep. Lisa Frizell, R-Castle Rock.
But she objected to the refund being attached to the passage of a ballot measure: "It's grossly unfair to the citizens of this state when you put qualifiers on accessing what is their money."
On the House floor, Rep. Javier Mabrey, D-Denver, noted last year's early TABOR refund, which the governor dubbed the Colorado Payback and didn't acknowledge the money came from the TABOR surplus.
"This provided direct relief to those who were struggling," he said, adding the refund is incredibly popular, especially for the working class and poor. 
"When we're talking about tax relief, we need to make sure the working class and the poor are part of this conversation," he added.
This story is developing and will be updated.