Sirens, shouting crowds inside the statehouse and a visit from Robert F. Kennedy Jr. were not enough of a distraction Sunday for the House Health and Insurance Committee to move forward a bill designed to increase vaccination rates for Colorado children. 
Lawmakers voted 7-4 to approve the legislation. 
Senate Bill 163, called the School Entry Immunization bill, is sponsored by Sen. Kevin Priola, R-Henderson, Sen. Julie Gonzales, D-Denver, and Rep. Kyle Mullica, D-Northglenn. Mullica is the only lawmaker who is a nurse. It now goes to the House Appropriations Committee to determine if its cost is something the budget can handle.
RELATED: In protest over vaccination bill, House Republicans stage delays
Sunday's testimony was emotional from parents and health care professionals on both sides. Waiting in the hallway were moms and dads rolling their children in strollers; other kids squirmed on their parents' laps. Some made the trip across the state to voice their opposition to a law that they see as unconstitutional. 
"I will never vaccinate my children," said Michelle Boleware, who with her husband, Denny, drove her three home-schooled kids from Rifle. Boleware says she has an auto-immune disease that she says was caused by receiving vaccines. "If this bill passes, I won't comply." 
If passed, SB 163 would require parents who want to claim religious or personal belief exemptions for their children to either provide a certificate for the exemption signed by a licensed physician or hand over a certificate of completion of an online course about vaccines.
"Who will design this re-education course? The same folks who told us that masks were useless over COVID-19 and then that masks were absolutely necessary?" testified conservative blogger and commentator Michelle Malkin, who lives in Colorado Springs. "Do not trust these experts on vaccines or data." 
The efficacy of science was often the battleground during Sunday's debate. Former Rep. Kevin Lundberg also testified, "In my 16 years I learned not to trust public health because they are not good sources of information….They are not the good guys. They are the bad guys."
Alicia Norris Heim, with Colorado Parents for Vaccinated Communities, countered: "(Opponents) co-opted the tagline 'Believe women' in light of the #MeToo movement with their misguided phrase 'Believe mothers.' How about we believe doctors and public health professionals?"
Senate Bill 163 would also standardize the exemption form, which supporters say would allow them to better collect and analyze data about why parents choose not to vaccinate, another sticking point for opponents, who liken the data collection to "big brother" tactics. 
Sunday's dissent at the statehouse, however, does not reflect recent polling conducted last month by Keating Research, a Democratic-aligned firm, which found that 88% of Coloradans believe all children should be vaccinated against contagious diseases like measles, mumps, and chickenpox before attending school or a childcare center. That's an increase of four percentage points since a similar poll was taken in November of 2019.
Dissatisfaction with the process
Some people who opposed the bill saw the fact that the statehouse limited the number of people who could enter the building due to social distancing as a way to silence them. Others were upset because they had to skip church to attend the hearing on the first Sunday that many churches re-opened since Gov. Jared Polis revised his Safer-at-Home order.
Each side was given 90 minutes of public testimony in a legislative session pressed for time. This is compared to the pre-pandemic Senate hearing last February, which lasted 15 hours. At times Sunday, chants of "We will vote you out" and "This is our house" outside the doors of the hearing threatened to drown out supporters' testimony.  
"They were crying out because they themselves could not speak," explained an angry Rep. Dave Williams, R-Colorado Springs, "The reason you saw the behavior is how this process was set up."
During an afternoon of emotional debate, listeners applauded, cheered and jeered from listening rooms when they agreed on a point made. When Williams was asked to tone down his comments, he responded, "I'll say whatever I damn well please."
Hearing a vaccine bill during a pandemic
Still, the fact that a bill to encourage parents to vaccinate their children was making its way through the House during a time when the world is in the middle of a public health crisis did not escape lawmakers.
"If we can't pass a vaccine bill during a pandemic, when can we?" said Rep. Sonya Jaquez-Lewis, D-Boulder, who is a pharmacist.
"We're last in the country. We must do more."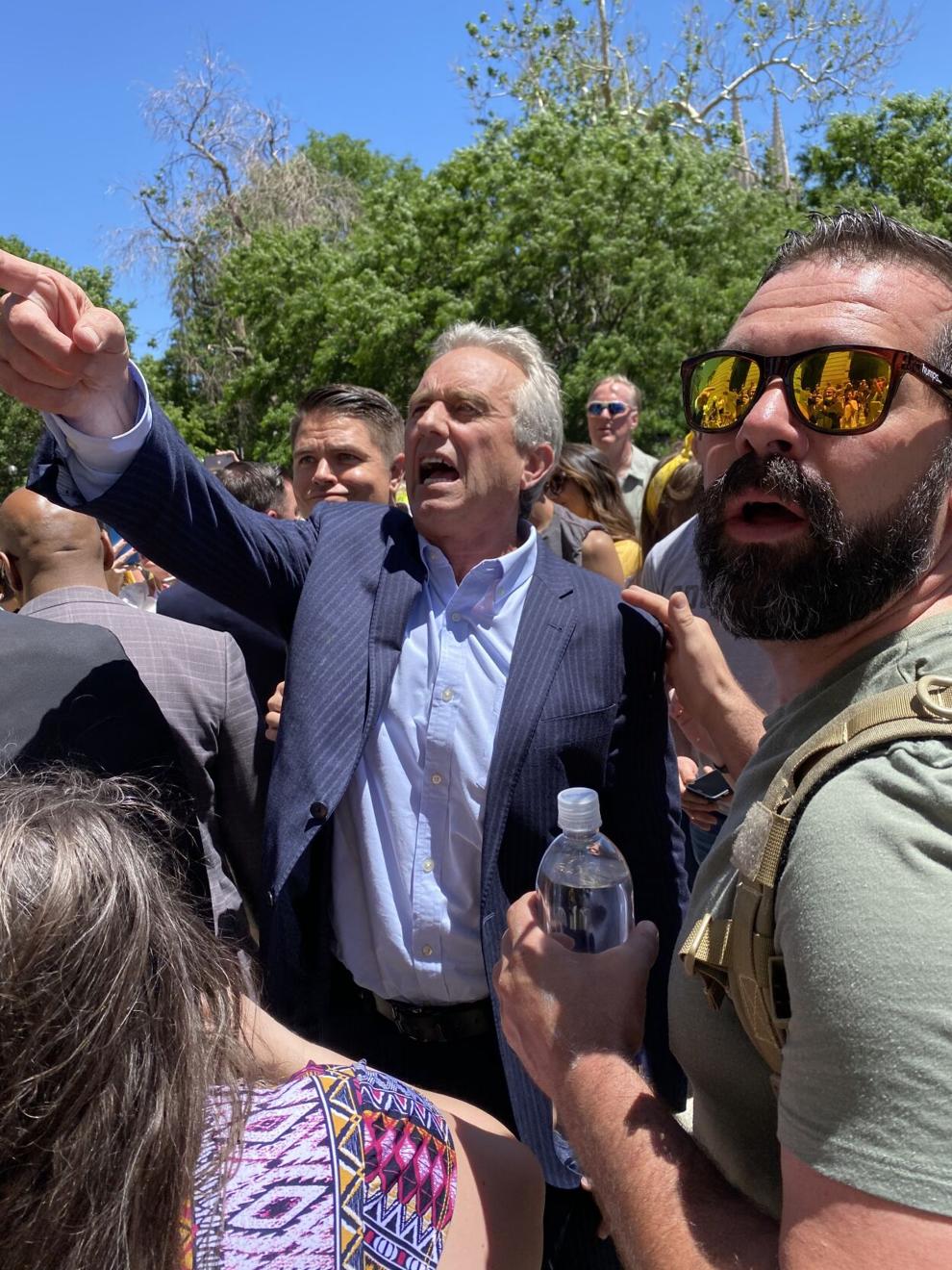 Outside the State Capitol, hundreds of maskless people attended a rally to hear Robert F. Kennedy Jr. speak out against the bill. When asked if this is a tough time to oppose a vaccination bill because of the fear over the COVID-19 pandemic, one dad, Julian Gross, responded, "People get the flu all of the time. They can worry about their kids. I'll worry about mine."