After heated debate Wednesday on a bill that would amend state law on sexual orientation discrimination, the measure passed the House Thursday on a 41-22 party-line vote. 
House Bill 1108, as introduced, amends the definition of sexual orientation to include gender expression and gender identity, along with definitions of those terms. The bill also adds those terms to statutes that prohibit discrimination in almost three dozen areas. 
House Republicans on Wednesday had launched a 3½-hour filibuster on a bill that would amend state law on sexual orientation discrimination. The day was also National Transgender Day of Visibility.
The latter part of the statute said the definitions would apply to the Colorado Civil Rights Commission, housing, employment, consumer credit; school enrollment, both for charter and public schools; employment in the state civil service, family planning services, and "places of public accommodation."
The last on the list is what prompted a 2018 lawsuit involving Masterpiece Cakeshop owner Jack Phillips and the civil rights commission, which found he had unlawfully discriminated in 2012 against a gay couple who sought a custom-made wedding cake. The lawsuit went all the way to the U.S. Supreme Court, where Justice Anthony Kennedy upbraided a member of the commission for anti-religious bias.
The Court, however, issued a narrow decision that reversed the civil rights commission ruling, and which did not apply to the overall issues of laws on free exercise of religion, freedom of speech or anti-discrimination. 
Under HB 1108, gender expression means "an individual's way of reflecting and expressing gender ... typically through appearance, dress and behavior." Gender identity is defined as "an individual's innate sense" of gender, which may or may not correspond with the individual's sex assigned at birth.
The bill is backed by Mental Health Colorado, the League of Women Voters, the Interfaith Alliance of Denver, Denver Health, the Colorado Nonprofit Association, several homeless advocacy organizations and employment lawyers. It is opposed by the Centennial Institute at Colorado Christian University, which has long backed Phillips; and the Colorado Catholic Conference. 
Anticipating the fight to come Wednesday, as well as celebrating Transgender Day of Visibility, many House Democrats wore a "trans ally" face mask in support of Rep. Brianna Titone, D-Arvada, the General Assembly's only transgender member. Titone served as chair of the debate on HB 1108. The ally masks were made by a Titone constituent.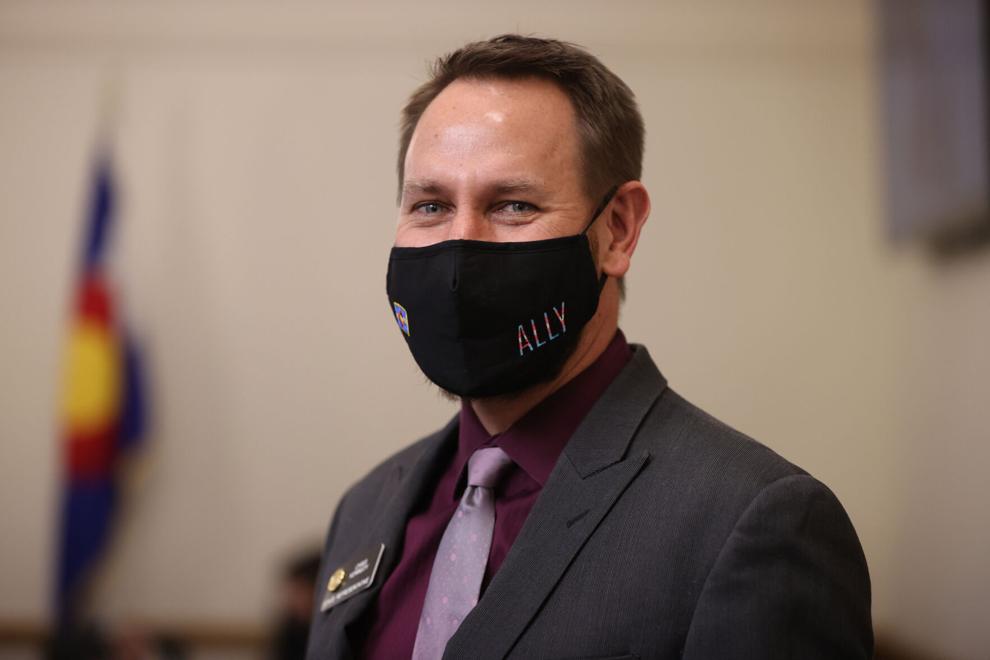 Bill sponsor and Majority Leader Rep. Daneya Esgar, D-Pueblo, said the bill merely codifies existing practice. "Sexual orientation, gender identity and gender expression are three very different things," although all are included under sexual orientation. HB 1108 recognizes current thinking and practice that they are different.
"We are just modernizing the law," Esgar said.
The bill also is in contrast with the definition in a 2020 law restricting the use of the "gay panic" defense as a legal defense, according to Rep. Matt Soper, R-Delta. But Rep. Mike Weissman, D-Aurora, pointed out that the definition in HB 1108 applies to appearance, dress and behavior, the kind of protections included in non-discrimination laws. 
Republicans attempted a half-dozen amendments during the debate. One from Rep. Stephanie Luck, R-Penrose, would exempt religion from the bill. Luck is a former Alliance Defending Freedom Blackstone Legal Fellow; Alliance attorneys represented Phillips in his Supreme Court lawsuit.
Another failed amendment came from Rep. Terri Carver, R-Colorado Springs, which sought to extend First Amendment protections to religious organizations that offer health care or employment.
The filibuster really began with readings, first from Rep. Tonya Van Beber, R-Eaton, who spent 50 minutes reading a recent appeals court case involving Shawnee State University of Ohio, which was sued (and lost) when it ordered a professor to address a transgender student by preferred pronouns.
"We need not be in fear for our speech, which is protected by the U.S. Constitution," added Rep. Mark Baisley, R-Roxborough Park.
Baisley took more than 30 minutes to read the Masterpiece Cakeshop ruling and related documents. That reading continued for another hour with Reps. Janice Rich, R-Grand Junction, and Mary Bradfield, R-Colorado Springs.
Rep. Andy Pico, R-Colorado Springs, read a letter from the Colorado Catholic Conference, which said that while each person should be treated with dignity, respect and compassion, the bill "codifies discrimination against anyone with a different belief about human sexuality and forces them to conform to government-mandated beliefs about sexual orientation, gender identity and gender expression under threat of criminal and financial penalties."
In a statement after the debate, Rep. Matt Soper, R-Delta, who offered several amendments rejected by Democrats, said those amendments would have made the definition of "gender identity" and "gender expression" consistent with existing Colorado law. "Under this bill, the definition of 'gender expression' includes a highly subjective element that fails to include elements of current case law and leaves the average Coloradan unable to determine what the definition is or is not...A core Republican principle is a consistency in law so that it can be easily understood - this bill injects inconsistency and ambiguity."
Titone, who had been chairing the debate, had the last word.
"No person in this chamber knows what it's like to be transgender or non-binary... . Some may be empathetic, and some may have an understanding, like the sponsor of the bill. But she doesn't know what it's like to be me. This bill puts into law what we already do. I stand before you today asking for respect. I've seen some respect in this chamber. I've been treated with respect from the majority of people. I want that to continue. We're talking about people like me with this bill. I'm your colleague. You're talking about me."
It was fitting that the bill discussion happened on Trans Day of Visibility, Titone said.
"It's time our laws recognize trans and non-binary people. It's time we respect our trans and non-binary citizens, by acknowledging we exist, by passing this law."
HB 1108 now heads to the state Senate, where it will be sponsored by Sen. Dominick Moreno, D-Commerce City.