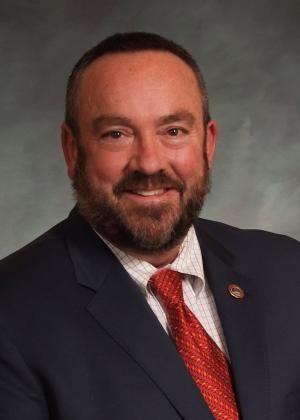 "Today officially marks our return to the 73rd General Assembly and the 147th year that we have come together to do the work of governing the State of Colorado.
As we commence it is fitting to think about the work ahead of us and the monstrous labor ahead for those who lost their homes and were affected by the Marshall Fire in Boulder County. I cannot imagine the shock and heartache of loss and how difficult it is to work through the maze of things to do in rebuilding a life. Many of us here have taken time to go and lend a hand and I know we are all here to help in any way we can.
On opening day last year, I talked about how much had changed over the last 146 years, from the gas lanterns that used to illuminate the halls to the spittoons that used to separate our desks, but I also talked about how many things remain the same, including some that even today might surprise you.
Remarkably, I'm still the Minority Leader. Go figure.
Fortunately, the state is not at the brink of disaster. The impact of COVID, while still large, is abating and we are moving into the endemic stage of this public health crisis. Months of drought have finally brought inches of snow to the Front Range and feet to the mountains, the Denver Broncos have fired their coach and we are anticipating the arrival of warm days and spring. It would seem that things are trotting right along but I really never imagined how much would change in just 11 short months since I gave that speech.
So much has changed in Coloradans' everyday existence, so much that we barely recognize big swaths of our lives. The ability to provide for one's family has changed dramatically. The everyday things that we have taken for granted are different or, often, gone. The nightly news is a far different set of stories and alerts, things we could never have imagined. For most of my young life I heard that it was "change for the better" but today, standing here in front of all of you, I cannot make that claim.
For many families across the state, inflation and the rapid increase in the cost of living have been extremely difficult. The goods that once were affordable and fit within families' budgets are no longer and with changing school schedules and a lack of child care, many families are having to do with less in a world where everything costs more.
Across the board, inflation is costing the average American family hundreds more dollars a month, consumer prices have increased 6.5 percent and producer prices by over 8 percent. This can be especially difficult in rural communities where families have further to drive and less access to goods and services.
Just this year, housing prices have increased 20 percent, a record high, and are expected to continue rising. The cost to fill up your car, up 7 percent, to heat your home up 112 percent and
the price of coal up 35 percent. Another essential for Colorado families, food, has increased in price at a faster rate this past year than it did during the last decade, nearly an additional $200 a month for the average family.
Goods across the country have increased in price at the fastest rate in over 30 years, creating real hardship for people everywhere. It costs them significantly more to feed their family every day, to drive to and from work, and to heat their homes. But, we have failed to truly make it better.
Instead, most of the last legislative session was spent passing bills that increased taxes and fees and made life more expensive for the very people we are trying to help. Families have long memories of hard times, most of our parents remember the toughness of the Depression, many of us remember the inflation of the 1970's and the race between the money and the bills, never knowing which would run out first.
But good times often make us forget and we have had a few years of a good economy and opportunities with jobs and housing. What we will not forget is the legislation that was passed just last year that went around the Taxpayer's Bill of Rights by swapping the word "tax" for "fee." We all know it is a gas tax, the Governor said so more than once this week. But now, ahead of the election, he has decided to delay the very fees that he told us were critical to pass, saying that delay is saving people money even though the fee is just another tax.
So instead of playing tricksy with words, let's actually make things more affordable here in Colorado by eliminating excessive taxes and fees.
If families are not sitting around the table worrying about how to make ends meet, they are worried about the safety of their community and their children. Today, communities like mine face organized car theft rings, early morning raids robbing families on their way to get to work. This is not some fantasy, the monthly crime rate in Colorado is up 15 percent.
Today we find ourselves in a position of weakness. Laws passed in the last few years have put our way of life at risk. The policies have hit urban neighborhoods especially hard and have forced families to choose between living where they want or moving to where they feel safe.
That's not fair.
Hearing the staggering statistics of crime in our state over the last year should not come as a surprise. In fact, Republicans in this very chamber fought for hours on end in committee rooms here in this building against the legislation that helped create the problems we see today.
As a result, Coloradans have had to deal with a 6.5 percent increase in violent crimes, the highest levels in 25 years. That included a substantial increase in homicides and aggravated assaults.
Additionally, we lead the country in the rate of auto theft. Over the last ten years Colorado's rate has increased by 135 percent while the national rate was only 3 percent, and we have seen the largest increase in property crimes of any state.
This needs to stop.
Over the vigorous opposition of members elected by a pretty large number of folks in our state this legislature has passed bills that have eviscerated policing in Colorado. Even while making claims to be getting tough on crime they have passed, and the Governor has signed, legislation making Colorado less safe. It is no wonder why criminals are able to get away with so much today.
Law enforcement leaders from across the state are speaking up about how this legislation has impacted their communities. In Denver, the County Court and District Attorney have been releasing a record number of individuals with either low or no bond. The Denver Police Chief has had to turn to federal agencies so that criminals could actually be held accountable for their crimes.
In Colorado Springs, Mayor John Suthers has blamed the legislation that has come out of this building in recent years for undermining public safety and soaring crime rates. He, along with law enforcement leaders from across the state, have expressed their concerns with shortening prison sentences and the reclassification of crimes.
In a time when retention is already hard enough as police officers have been criticized by political leaders and the media, police departments across the state are having a hard time keeping people around to patrol the streets. With increased regulations and demands from the legislature, officers' safety is at risk and Mayor Suthers, and many others, worry about how they will be able to rely on officers and find new ones for their understaffed departments.
Unfortunately, public safety will only get worse if we continue to let individuals who were arrested back out on the streets with either low or no bond. By condemning all law enforcement officers as bad cops, de-policing is rising and officers are pulling back from community patrols. A reduction in the number and activity of police officers results in more dangerous criminals on the streets who pose a dangerous threat to communities.
As a result of this shocking reality, Colorado - especially the Denver metro area - is in a very different place in 2022, and not for the better…
As state legislators, some of this is out of our control. But the policies that were enacted here during the last three years did not help. The current state of our state is not good. We are going to have to spend every day of the next 120 days of the legislative session fighting to make it better for the people of Colorado, they deserve our best effort at the very least.
The reality is that rising crime has a price tag and a high one at that. As of late, that cost is about
$27 billion, nearly 77 percent of the state budget, or $4,762 a year for every Coloradan. We can not afford to continue down this path. We have to return to the "broken window" theory of policing that puts an emphasis on all our laws and focus on training and rigorous reporting procedures for our law enforcement professionals.
While Colorado families have been at home dealing with these issues they have also had to pick up the pieces of their children's education. The move to remote learning was not only hard for teachers but also for many students, and we still do not know the true impact. While Colorado
students were already behind in reading comprehension and math and science skills, we lost even more ground.
We need better options when it comes to our kids' education. The future should not be a function of the past three decades of focusing on four-year degrees and professional career tracks. Instead, it should be a compilation of every educational choice available. Academic rigor, vocational training, and practical business skills are equal pathways to success for our kids. Parents must be empowered to make these decisions, to determine what is the best path for their children.
Across the country, people are speaking up about these very issues. They want inflation and rising costs to be addressed so that they can afford the life that they once enjoyed. They want crime in their cities under control so that they and their children can feel safe in their neighborhoods. Almost 80 percent of parents want more control over what their children are learning in school and the schools that they attend.
So what do we do, how do we move forward? As Republicans we will do everything in our power to actually help Coloradans be able to afford to fill up their car with gas or go to the grocery store, to be able to heat their house this winter, to feel safe in their neighborhood and not have to worry about their children's safety or their personal property. We will do everything we can to help bring the American Dream back, to help alleviate the pain that families are facing every day.
While our colleagues are saying they share these ideas, we have seen the reality of their policies after they have had complete control of this state for the last three years.
It seems like the focus of what it will take to make Colorado the place we all have loved living and where we continue to want to live and raise our kids are all connected. Coloradans, and Americans across the country, have come together in the frustration that it takes more to live than it did a couple of years ago. This year will require a focus on how we can lower the cost of living in this state through things we can control, in particular eliminating the endless list of taxes and fees, not just postponing them.
This will, indeed, be a year of showing our love for a state that is in trouble.
Our Commitment to Colorado will help improve the cost of living, offer solutions to make our communities safer, and give parents the tools to make decisions and improve the education of their children. We have a message and a direction to help heal and recover this state from all of the destruction of the last three years.
We will deliver a state where middle-class families can afford their homes, gas, and groceries. We will reverse the excessive fees, taxes, and regulations that threaten to put the American Dream out of reach for many Coloradans.
We will seek to provide better training for our law enforcement professionals, work to recruit and retain more officers, bring down the crime rate, and bring safety to our neighborhoods.
We will foster greater choice for all families and find innovative ways to ensure funding follows students rather than being bound to systems. We believe the one-size-fits-all system has failed our most vulnerable.
As I have said before and will say again, we Republicans will rise to this podium each and every day committed to ideals that have stood the test of time. We will continue to fight for a government that is accountable to its people so that we can all achieve our dreams by equalizing opportunity, not by attempting to equalize outcomes.
Not all change is bad. The technological advances and improvements to the state capitol have helped us all do our jobs better and we should all be grateful for changes that have improved our lives. Changes that have proven to help our citizens speak to their government, remote testimony in our committees, has been especially helpful in making our government accountable. But unfortunately, not all change is good. Not the change that we have seen over the last few years, change that was made right here in this building.
Coloradans need our help, they need our voices to bring the American Dream back. Just like last year, we have a long road to recovery ahead of us.
Over the next 120 days of this legislative session, you will hear every Republican repeating and reiterating many of the same statistics I've talked about today. Why? It is not just about messaging, it is because these numbers are real and they matter to the people of Colorado. These numbers represent a nurse whose car was stolen out of her driveway as she got ready to go to work, a high school student struggling in geometry, they represent a single Dad having to put some of the groceries back on the shelf. They represent people. That's who we need to fight for and Republicans are committed to doing so."