They came in dreadlocks. They came in braids. They came with natural hair, colored hair, straightened hair, short hair and very long hair.
But it isn't about braids and locks, said state Sen. Rhonda Fields, D-Aurora. "It's about what you want to do in your life."
The General Assembly's Black Legislative Caucus held its first community hearing Wednesday at the state Capitol in preparation for a hearing on House Bill 1048, which would ban discrimination on a person's traits that are associated with race. The House Business Affairs and Labor Committee approved the bill on a 6-4 party-line vote. It now goes to the full House.
The bill is referred to as the CROWN Act, which stands for Creating a Respectful and Open World for Natural Hair.
Discrimination based on how black women (and men, too) wear their hair is all too common, based on the stories many told during the community and bill hearings.
Simone Ross is an executive with The Riveter and her own consulting firm, but before those days faced workplace problems over her hair. She told the caucus that 80% of black women change their hair from its natural state to fit into the office. "It's an unhealthy practice that involves the use of unhealthy chemicals" and relaxers.
That 80% includes Ross. She once worked for a large company in Denver, and her manager, filled with curiosity, emailed friends throughout the company to look at Ross's then-braided hair. "Watching a woman with braids was like being a monkey in a zoo," she said. "Hair discrimination is racial discrimination."
Speaker Pro-tem Janet Buckner, D-Aurora, is a co-sponsor of HB 1048, and talked about how her granddaughters' hair have been treated as curiosities. People ask inappropriate questions about their hair or ask to touch it. One granddaughter, on a gymnastics team, has been told to wear her hair like her Caucasian teammates, Buckner said.
So what's the harm? Ross told Colorado Politics it keeps black women from being their authentic selves. Cleo Parker Robinson, owner of the 50-year-old Cleo Parker Robinson Dance Company, said how a black woman wears her hair is not only social but political. Young women, when they are rejected over their hair, don't feel the dignity they need to feel, she said.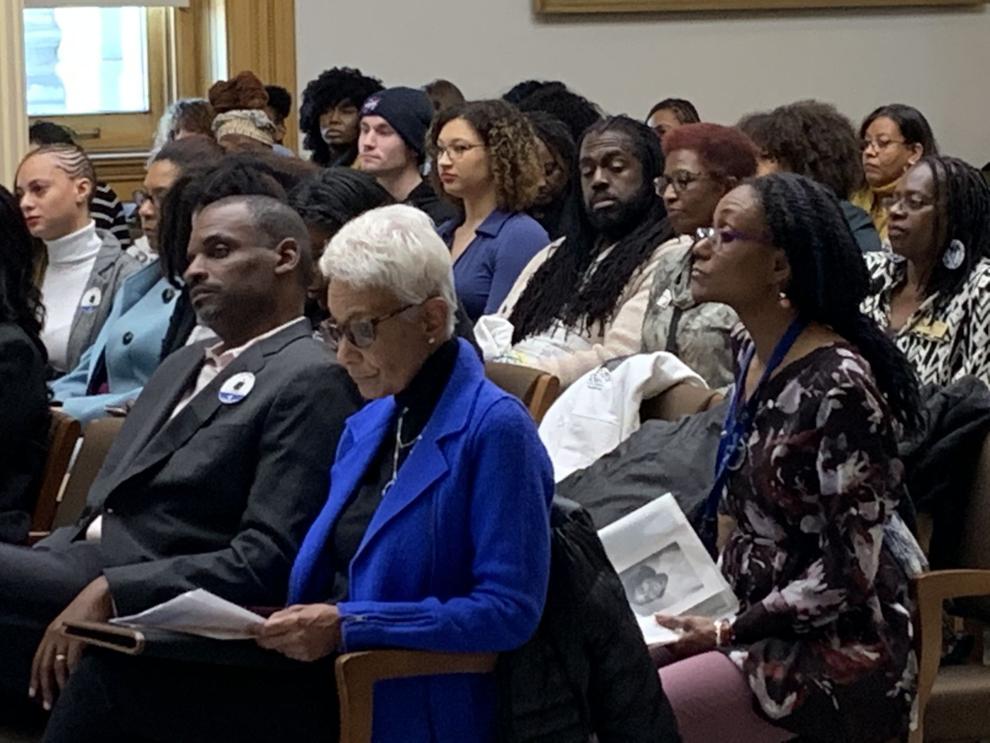 The CROWN Act and bills like it around the country are supported by the Joy Collective, the National Urban League, DOVE soap and more than 50 organizations around the nation. DOVE commissioned a study in 2019 that showed that workplace bias and corporate grooming policies unfairly impact black women.
And black women's hair, the study found, is 3.4 times more likely to be perceived as unprofessional.
Erica Cobb is the co-host of Daily Blast Live and went natural on the air one year ago Wednesday, in which she removed a wig she'd worn for years. She called it a "reflective and painful journey."
It isn't only black Americans who face discrimination based on hair. It applies to Sikhs as well. Nikhil Mankekar, chair of Boulder's Human Rights Commission, is Sikh and graduated at the top of his class at the Leeds School of Business at CU-Boulder. He told the committee he has a lot to offer in the global finance industry. But Sikhs practice "kesh," or uncut hair. But people told him he had to cut his hair or beard to "be anything" in that industry.
CROWN Act laws have been passed in three states (California, New York and New Jersey) and bills have been introduced in 22 state legislatures, including Colorado.
In December, U.S. Sen. Cory Booker, D-NJ, introduced federal legislation (S.3167) that would "ban discrimination based on hair textures and hairstyles that are commonly associated with a particular race or national origin." A related bill in the House (H.R. 5309), is sponsored by Rep. Cedric Richmond, D-LA. No member of Colorado's federal delegation has signed on as a co-sponsor of either measure.
Among the most notable examples of hair discrimination: actress Gabrielle Union was fired as a judge from the NBC TV show "America's Got Talent" in November because her hair style was considered "too black" for viewers. Union also had complained about a toxic environment on the show.
In Colorado, 11-year-old Niemah Young was kicked off a cheerleading squad because, according to her mother, Niemah wore her hair in its naturally curly state. The team's coach denies the allegation.
After the bill passed, co-sponsor Rep. Leslie Herod, D-Denver, said "the CROWN Act is an important step forward for racial equality and freedom of expression. It's time we state clearly that in Colorado, people who choose to express their culture and heritage through their hairstyle will be embraced, not subjected to discrimination."