During the month of February, there have been only two days in which all 65 members of the House have been present. Both have been this week, when the House has held hours upon hours of debate over whether to repeal the state's death penalty, contained in Senate Bill 100.
Monday, lawmakers spent nearly 12 hours arguing and offering amendments to the measure, in a debate that began just after 4 p.m. and concluded just after 4 a.m. on Tuesday.
Wednesday, 37 members — 23 of the chamber's 24 Republicans and 14 of its 41 Democrats — spent close to five hours offering their final thoughts on the issue, with Republicans calling for lawmakers to remember the victims, and most Democrats talking about how the death penalty is applied disproprotionately to black and brown defendants, or that too many innocent people have been executed.
The final vote — 38 to 27 — included three Democrats who voted "no." Gov. Jared Polis has said he will sign the measure into law, and that he will commute the sentences of the three black men who now sit on Colorado's death row.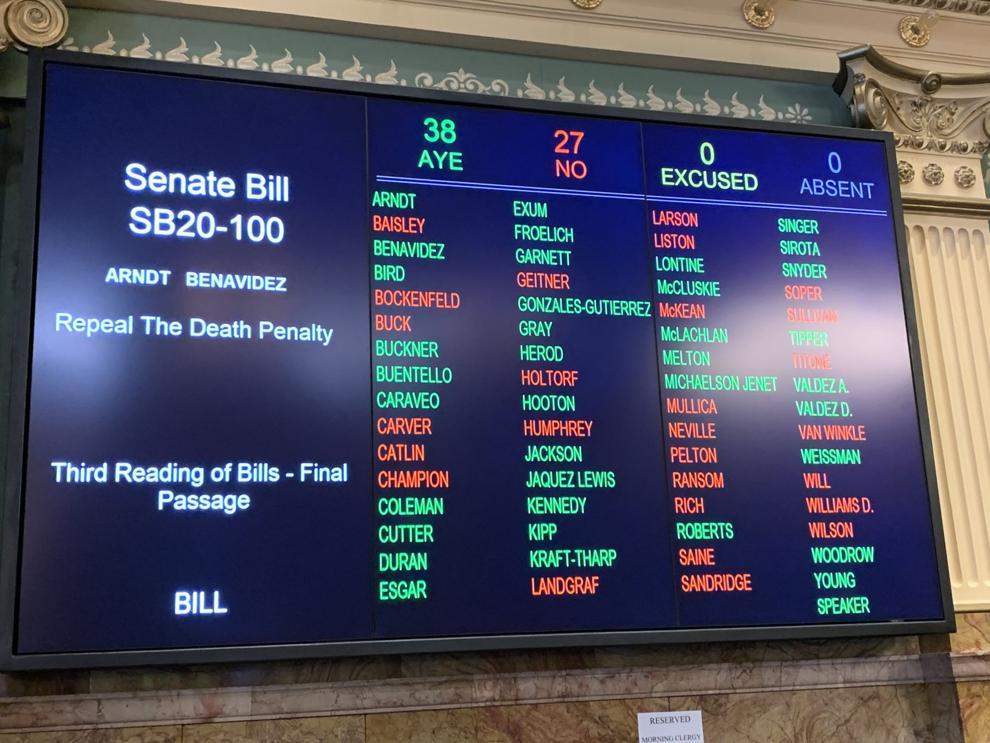 Slowly, one by one, Democrats coming from swing districts added their voices and how they would vote. Rep. Brianna Titone, D-Arvada, represents House District 27, which had previously been represented by a Republican. She won her seat, one of the closest House races in 2018, by just 439 votes.
Titone said the death penalty doesn't come up in her district and she didn't know how her constituents view it. She called the death penalty a personal rather than partisan issue. "We have a vigorous process" for ensuring the death penalty is used in a responsible way, and applying it only to those who deserve it, she said, in announcing her "no" vote.
In another swing district, that of House District 47, Rep. Bri Buentello, D-Pueblo, who won her seat by 321 votes, said she would vote in favor of repeal. She heard the arguments in favor of repeal, that it's expensive and takes money away from schools. Statistic after statistic said it unfairly targets minorities like her.
But what got to her, she said, were comments from someone who spoke in defense of the death penalty, stating that only a half percent of those executed are innocent and that "we should trust the system." As a Catholic, she said, even one life wrongly executed is too many, and that has happened in Colorado.
That execution, of a disabled man, Joe Arridy, haunted her. "Don't tell me to trust the system" that executed a disabled man, said Buentello, who has an autistic son.
Pueblo, which she represents, is overwhelmingly Catholic, she said. "I will vote to close this ugly chapter in Colorado history, so there will never be another Joe Arridy."
Rep. Dominique Jackson, D-Aurora, said Rep. Tom Sullivan, D-Centennial, whose son was murdered in the 2012 Aurora Theater shooting, lives near her. Sen. Rhonda Fields, D-Aurora, who has been among the strongest Democratic advocates against repeal and whose son and his fiance were murdered by two of the three men on death row, lives down the street and the three men on death row all come from her community.
Jackson sobbed as she explained the difficulty of her views. A former reporter at KRON-4 in San Francisco, Jackson has seen an execution, in 1999, as a media witness. She said she also has interviewed two people who came off death row, one who was granted a new trial and another who was exonerated by DNA evidence. Jackson said she sees both sides of the issue. The death penalty "doesn't work," she said.
Rep. Kyle Mullica, D-Northglenn, was the first Democrat to tell the House he would vote against the bill. "I can't look" Sullivan in the eye, he said.
Rep. Susan Lontine, D-Denver, said she grew up in Florida, where there are a lot of executions. She agrees those on death row in Colorado have acted with extreme indifference to human life, but lots of people, including white people, have committed murder and aren't on death row, she said. The law is unevenly applied, including in Colorado. People who commit the ultimate crime should be held accountable, but not by the death penalty. "There's too much at stake."
Speaker of the House KC Becker, D-Boulder, read a letter from Attorney Madeline Cohen, who represented Nathan Dunlap, one of the three on death row in Colorado. She wrote that she has represented defendants facing death sentences for 20 years and they all have experienced extreme trauma in their childhoods: poverty, neglect, mental illness. It has taught her "about the brokenness of the capital system...We do not single out the worst for the death penalty," Cohen wrote. "I hope the Colorado legislature puts me out of a job."
Republicans, as they did on Monday and Tuesday, read the details of the murders by the hands of Dunlap at the Aurora Chuck E. Cheese, and added on Wednesday the story of the murder of Ginny May, whose killer was the last man executed in Colorado in 1997.
Rep. Shane Sandridge, R-Colorado Springs, offered apologies to the victims, the families of the victims and the jurors, who will watch lawmakers "override your will ... we're reopening the wounds for these victims" in repealing the death penalty, he said.
"We had crying parents here until 4 a.m. [on Tuesday], and for what?" Sandridge said, referring to the parents of Kendrick Castillo, who oppose the repeal and who sat on benches on the side of the House floor for the entire debate.
Rep. Jeni Arndt, D-Fort Collins, one of the two sponsors of SB 100, said she can often see both sides of many issues, "I cannot see both sides of this issue." Co-sponsor Rep. Adrienne Benavidez, D-Denver, read off the names of friends and family members of murder victims who do not support the death penalty, as well as district attorneys and corrections officers. 
It's a hard decision, Benavidez said. "I respect any decision you make on this."