Gov. Jared Polis granted a mass pardon Thursday for 2,732 convictions for those who possessed an ounce or less of marijuana in their possession.
The pardons, granted through executive order, are the result of House Bill 1424, which authorizes the governor to grant pardons for those convicted of possessing up to two ounces of marijuana. However, Thursday's pardons are for lesser possession convictions. People convicted in municipal marijuana crimes or by summons are not included in Thursday's pardons.
Possession of one ounce or less of marijuana is no longer a criminal offense in Colorado, according to the executive order. Convictions forgiven through the pardon range from petty offenses to felonies.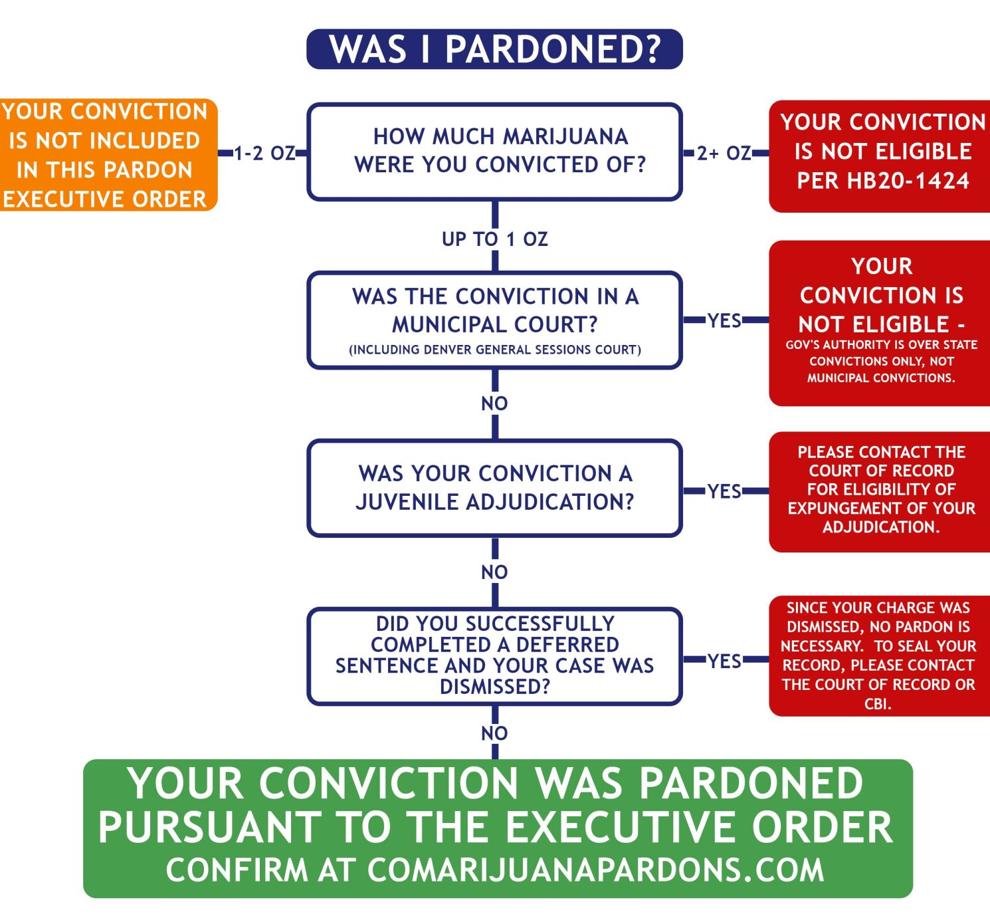 In a statement, Polis said, "We are finally cleaning up some of the inequities of the past by pardoning 2,732 convictions for Coloradans who simply had an ounce of marijuana or less. It's ridiculous how being written up for smoking a joint in the 1970's has followed some Coloradans throughout their lives and gotten in the way of their success.
"Too many Coloradans have been followed their entire lives by a conviction for something that is no longer a crime, and these convictions have impacted their job status, housing, and countless other areas of their lives," the governor explained. "Today we are taking this step toward creating a more just system and breaking down barriers to help transform people's lives as well as coming to terms with one aspect of the past, failed policy of marijuana prohibition."
The executive order does not identify those who are being granted of pardons. The bill, which Polis signed on June 29, went into effect on September 14. It was sponsored by Democratic Rep. James Coleman of Denver and by Democratic Sen. Julie Gonzales of Denver and Republican Sen. Vicki Marble of Fort Collins. Polis also thanked Democratic Reps. Leslie Herod of Denver and Jonathan Singer of Longmont for their work on the bill. 
People who want to see if their records have been expunged can go to the Colorado Bureau of Investigations' marijuana pardons website.
Coleman, Herod and Singer issued a statement Thursday, applauding the first pardons.
"Today, our state has taken a major step forward in securing justice for the thousands of Coloradans who have been living with a conviction on their record for a crime that no longer exists in our state," Coleman said. "For too long, these convictions continued the injustices perpetrated under the discriminatory policy of marijuana prohibition, making it harder for Coloradans with convictions to find housing, employment or access critical services. Governor Polis' decision to grant these pardons will finally bring justice to Coloradans who have been denied opportunity and have continued to be punished for possession of small amounts of marijuana long after the state rolled back its prohibition."
"This pardon is long overdue and will make a real difference in the lives of countless Coloradans," Herod added. "Far too many people in our state have continued to suffer the consequences of a small mistake made decades ago while others profit off of the booming and legitimized cannabis industry. I'm proud to have played a part in the justice being served today."
Singer, who advocated for creating the pardon authority in the bill, said "these convictions for marijuana possession, which disproportionately fell on people of color, have persisted on Coloradans' records despite being in opposition to our fundamental values of fairness, justice and opportunity for all. I'm proud our state is moving forward and righting this wrong."