Former Democrat Rep. Viola "Vi" June of Westminster died on Aug. 15. She was 88.
June served eight years in the House, from 1991 to 1998. She served as minority whip and on the local government committee throughout her service.
June, a former newspaper publisher, was Westminster's first woman mayor.  She was born Viola Helen Beste on July 20, 1932 in Sauk Centre, Minn. She attended St. Cloud State University for a year and then moved to Denver to take a job at Gates Rubber.  
In 1954, she married Bob June, who was stationed at the nearby Lowry Air Force Base. They had six children in eight years and celebrated 60 years together when he died in 2014.
In 1963, June began her journalism career as a part-time reporter for the Adams County Dispatch. From 1982 to 1988 June was publisher for the Sentinel newspapers in Arvada, Aurora, Brighton, Broomfield, Commerce City, Northlenn-Thornton and Westminster. During that time, she published more than 2,000 columns, and resumed writing those columns until 2016. 
June was described as fun-loving, which carried over into her newspaper career. Early on, according to an obituary published by Horan-McConaty, "her editor at the time was hungry for a good story for the next publication and was impatient with his staff about it, which included Vi. The next paper was due to print on April 1st so Vi and two other staff members thought they would simply concoct a big story since it was going to be an April Fool's Day publication. So they printed a story called 'The Spruce Goose Lands on Standley Lake.' The Howard Hughes designed all-wooden plane barely got airborne on its maiden flight and never flew again." After the story was published, the phone began to ring with people saying, "'Yep, I saw it land along with a Colonel from Buckley AFB saying he saw it take off.' Needless to say the paper was in a pickle and had to divulge that this story was simply an April Fools' story and that the Spruce Goose never landed at Standley Lake."
Her interest in politics began after advocating for a traffic light at a neighborhood crosswalk with the Westminster City Council. Stepping down from her reporter gig, June was elected to the council in 1965 and served until 1981, including as mayor from 1975 to 1981. She was elected to the Colorado House, representing House District 35, in 1990. June served as minority whip in 1994.
She also had a legendary fondness for tanning. Her children commented in the obituary that "we could always find her on the south side of the house in her bikini with her sun tan oil, towel and on her chaise lounge." 
Former Democratic state Rep. Carol Snyder, who represented neighboring House District 33, wrote that June was one of her best friends. "She was so much FUN and so sharp with a comeback or quip, especially at the microphone in the House Gallery. There are too many memories to go into, but suffice to say I will never forget her and the friendship we shared. She was one of a kind! My love and condolences to her family - she loved you all so much."
Former Colorado Municipal League president Sam Mamet added that "Vi was a terrific public servant...She was dedicated and even more so, she was a pistol. I always enjoyed being with her and always knew I would be in for some fun in the process. May Vi's memory be a blessing."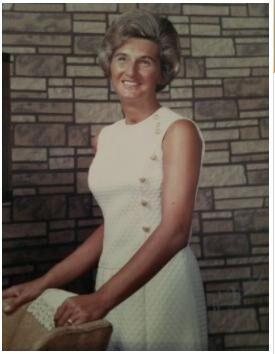 Among her legislative accomplishments, June sponsored bills that became law on motor vehicles and on elections to the the Regional Transportation District board. As a member of the Westminster City Council, she played a major role in negotiating an agreement to provide water from Standley Lake to the city, according to the Arvada Press. In a 2011 column for the Westminster Window, June wrote that the water agreement "is why Westminster could grow into the 25-square-mile city it has become."
She is survived by sisters Stella Carroll, Lois Johnson and Lillian Kettler; four daughters: Karen Pilgrim (Mark), Nancy White (Bill), Mary June (Bryan Belisle), and Katey Crowley (Jim); son Dan June (Susie); 10 grandchildren and six great grandchildren.
In addition to her husband, June was preceded in death by parents Bill and Lucy Beste; brothers Ray, Wilfred, and Clarence; sister Evelyn; son Davey June; and granddaughter Erin Crowley.
Visitations will be held on Thursday and Friday at the Horan & McConaty Family Chapel, 7577 W. 80th Ave., Arvada. On August 27, the visitation will be from 6 p.m. to 9 p.m.; on Friday, from 8:30 a.m. to 10:30 a.m.
The family has requested that in lieu of flowers, donations in June's honor should go to the Little Sisters of the Poor, 3629 W. 29th Ave., Denver, CO 80211; Westminster Legacy Foundation, 4800 W. 92nd Ave., Westminster, CO 80031 or the charity of your choice.