Democratic lawmakers Thursday announced they will introduce three bills in the coming days that they say will help address the epidemic of gun violence in Colorado.
Lawmakers spoke to reporters at a noon press conference, joined by gun control advocates such as Moms Demand Action, Giffords and Everytown for Gun Safety.
The first bill, to be sponsored by Senate Majority Leader Sen. Steve Fenberg, D-Boulder, will lift the state law that forbids local governments from enacting stricter gun laws than state law, known as pre-emption. His district includes the south Boulder King Soopers where 10 people were killed in a mass shooting in March.
Ten days before the shooting, a Boulder judge had dismissed a city ordinance that would have banned assault weapons in Boulder, although the shooter at the King Soopers reportedly used the pistol version of a Ruger AR-556 rifle, along with a high-capacity magazine that is already illegal to possess under Colorado law.
Fenberg noted that it's been barely a month since the murders. People are still suffering through that trauma, he said, and every report of yet another shooting reopens those wounds. 
"But we must also recognize that most gun deaths don't make the news," such as toxic family environments riddled with domestic violence, or related to street crime, or the dark road off a personal struggle with mental illness and substance abuse, he said.
"When looking at policy," Fenberg said, "we need to ask ourselves what can we do as policymakers that will save the most lives."
The bills introduced Thursday will be the most effective steps to save the most lives, Fenberg said, adding that Coloradans want change: they've wanted it since 1999 (Columbine) and 2012 (Aurora Theater).
"They've once again asked for change during the past month. We hear you, we're with you and continuing to take action," he said.
The lifting of the pre-emption law would not have single-handedly prevented the Boulder shooting, Fenberg acknowledged, "but this example speaks to a larger conversation: the tools we give local governments to craft community-based solutions to gun violence."
The second bill would establish the Office of Gun Violence and Prevention within the Colorado Department of Public Health and Environment. The office will be tasked with research and policy recommendations, according to Sen. Rhonda Fields, D-Aurora, whose son and his fiance both were murdered.
"It's hard to have peace of mind," Fields said. "Enough is enough. I'm sick and tired of seeing how gun violence affects our community" and will "use political will to make progress."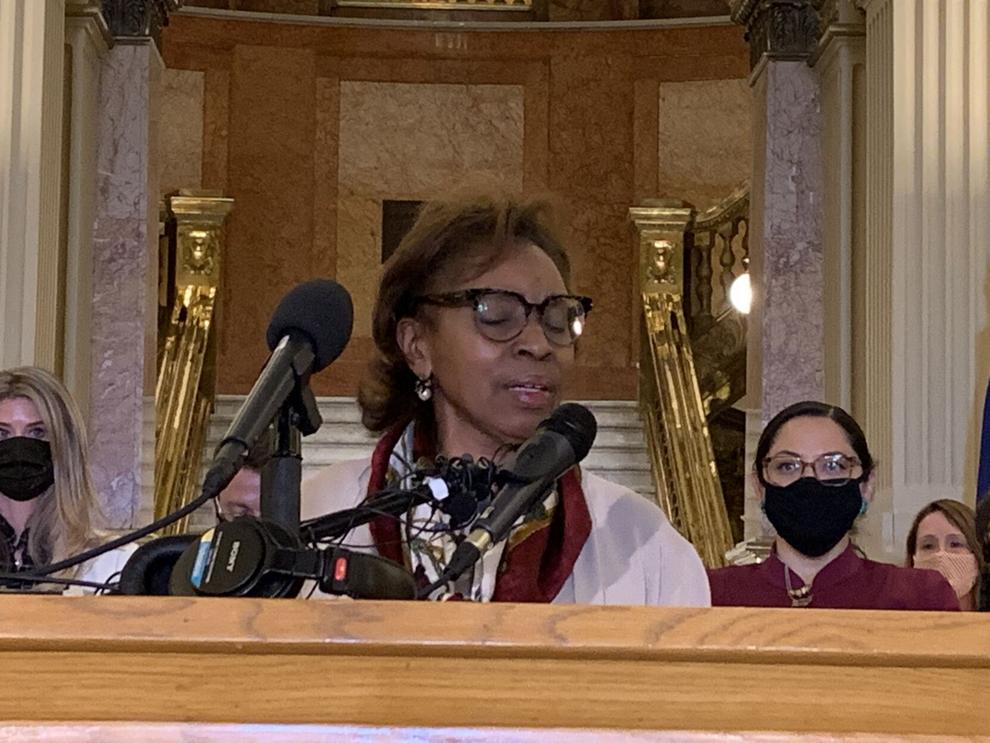 The office of gun violence prevention will develop data to drive decisions and strategies, especially for communities of color, Fields said. "If we have evidence-based data ... it will help us all have a community that will be safer," and she indicated the office will also be responsible for intervention and prevention.
The third bill, to be sponsored by Rep. Judy Amabile, D-Boulder, is a direct response to the King Soopers shooting, she said. The bill will strengthen the state's background check laws, to add violence misdemeanors to the crimes that could keep someone from purchasing or transferring a gun. Under the bill, a person with a conviction for a violent misdemeanor cannot buy a firearm for five years. 
"I'm tired of moments of silence," Amabile said. "I want moments of action."
The bill also closes what Sen. Brittany Pettersen, D-Lakewood, calls the Charleston loophole. It's a reference to the shooting in Charleston, South Carolina, from 2015, when a shooter was able to get a gun, despite a criminal record, because the background check was delayed beyond the three days allotted for it. He later killed nine African-Americans in a local church. In Colorado, if a background check doesn't come back in three days, the purchaser has to be allowed to purchase the firearm without it. 
The bill will also be co-sponsored by Rep. Tom Sullivan, D-Centennial.
Fenberg addressed questions on why they aren't pursuing an assault weapons ban, stating that they wanted to look at steps that would save the most lives.
"This isn't the end," he said. "We're not writing policies based on one incident."
House Speaker Alec Garnett, D-Denver, also addressed whether they would be concerned about a repeat of 2013, when three firearms-related bills were passed by General Assembly Democrats, and which led to recalls of two, including the Senate President; and the resignation of a third.
"We're less concerned on recalls," knowing that 75% of Coloradans support what they're planning to do, Garnett said. The question is whether Republicans will come along on those bills. "No one has reached out to my office and said 'do nothing.'"
He also noted that after the passage of the red flag law in 2019, Republicans launched a recall effort against Sullivan that failed in its first step.
"The naysayers were proven wrong," Garnett, who was a co-sponsor of that law, said. Sullivan ran on gun violence prevention and has done exactly what he said he would do, he said.
Fenberg added that the office of gun violence prevention will look at root causes of gun violence. As it turns out, that might be an area of common ground with their counterparts across the aisle.
In an interview with Colorado Politics, House Minority Leader Rep. Hugh McKean, R-Loveland, said a "big conversation needs to be had" on the issue of mental and behavioral health," maybe the biggest conversation of all. Much like 2013, when you set out to enact a lot of new regulations on people, it doesn't always have the exact intended consequence. The intent should be to address the root causes," he said.
McKean believes one of those root causes is mental health. 
"If we look at the root cause of some of these problems, we can do more with mental and behavioral health," McKean said. It's not just access, which he said is partly a function of reimbursement rates for providers. McKean noted that three amendments to the Long Appropriations Bill attempted to increase provider rates and access, yet all three offered by Sen. Jim Smallwood, R-Parker, failed.
"We've been bringing these issues up all along," including through the Colorado stimulus proposal, he said. But creating a new bureaucracy is a little crazy, he said, similar to the Office of Saving People Money on Healthcare, which he said doesn't seem to do much.
Creating bureaucracy is not success, McKean indicated.
As to more regulations on background checks, McKean said there were 8,000 denials of firearms purchases last year through background checks. "I would have to be shown why that hasn't worked and why it isn't an effective way of making sure that people who we all agree should not own a firearm don't have that means of access."
McKean said one challenge is to ensure that the right people are putting in the right information on those background checks.
On pre-emption, McKean said the first test of any law they pass is whether it applies equally to all Coloradans. At the city and county level, it should be similar. "Does it place an undue burden on certain people?" McKean also indicated that a patchwork of firearms laws that vary by community might create problems for someone who's traveling through a town with a gun that isn't allowed. How would they know? he asked. Would there be signage, with a detour route, so that he's not impinging on a law he doesn't know about?
"The heartsickness from these incidents are not owned by one party of the other. These incidents of violence are just a scourge, and in a way that hurts all of us. If there's an incidence at a school, it makes kids in Colorado feel like their school might be less safe than it was the day before. That's not okay," he added.
"We all feel this, this collective weight of the issue," and that makes him want to look at root causes rather than something that needs to happen today. "I don't think you ever get rid of a problem without finding the way to get the people who need help the help they need, and to get it in a robust way."