The lighter side of the state Capitol, mostly.
When last we spoke of the Great Rubber Band Ball, there was an impasse over the location of the Senate Republicans' entry into the annual ball drop, which is on the last day of session (Capitol M is assuming there will be a last day of session, someday). The GOP ball had been hijacked by someone, likely from the other side of the aisle, the following week.
By the time lawmakers returned after the Memorial Day break, negotiations were underway on a "prisoner exchange" between ball maker Sen. Jim Smallwood of Parker and Sen. Chris Hansen of Denver, who told Capitol M he had been "authorized" to negotiate a prisoner exchange between the two parties. That did not necessarily mean that Hansen was the one who made off with the ball, although he seems a likely suspect. He does hold a Ph.D in game theory, after all.
Capitol M would have loved to be a fly on the wall for those negotiations. If you've watched "Crazy Rich Asians," you get a taste of what game theory looks like in practice.
Welcome back, Sen. Lois Court!
Tuesday morning, Sen. Lois Court, who resigned in early 2020 after being diagnosed with Guillain-Barre syndrome, returned to the state Capitol.
"I have missed all of you horrifically," she told the state Senate. That was after she had asked for permission to address the Senate and thank everyone for their kindness. Rumor has it that she was initially denied, and her response can't be printed in a family newspaper. Just as a hint: Senate Majority Leader Steve Fenberg reminded everyone that there is no cursing in the well.
"I heard stories about how some of you behaved. It was mostly positive," she said, laughing, in her remarks to the Senate. That included "significant love and support" from the Republican side of the aisle, including making donations to the annual Stock Show auction in her honor. "I know — and you all know — how much we are family," even when fighting like [ahem]. To the newish senators, she said she hoped they learn that lesson, even when "fighting like [ahem]."
Post-pandemic baby boom now underway
It was always a big possibility that Lisa LaBriola, former Senate Dems spox who is now with Axiom Strategies, wouldn't make it to the end of the session. Her third was due on June 15, but anyone who's had more than one knows that the baby was likely to beat that date. The only question was whether Lisa would make it to the end of the session or if the baby came first.
Baby came first.
Capitol M is happy to report that everyone who was nervous watching her at the Capitol in the past month can take a sigh of relief and welcome new baby Bianca Isabella Welter, born at 8:19 p.m. Thursday. Congrats to Lisa and her family!
By the way, she's the first of at least five Capitol regulars with babies coming in the next six weeks.
There's no love for Pueblo or Denver, again
Despite the fact that lawmakers from Pueblo seem to think they run things in the General Assembly and that all things Pueblo rule, from time to time those lawmakers are at the receiving end of some trash talking.
As an example: debate Wednesday on House Bill 1262, which directs state stimulus money to the National Western Stock Show and the Colorado State Fair, housed in the districts of Sen. Julie Gonzales of Denver and Senate President Leroy Garcia of Pueblo, respectively.
There were suggestions Wednesday that both events would find happier homes in other parts of the state, such as moving the state fair to Greeley and the stock show to Castle Rock. That was an amendment backed by Sens. Chris Holbert of Douglas County and John Cooke of Greeley.
The duo began in all seriousness. It didn't last long.
The state fair should be moved to Greeley, where agriculture really means something, Cooke told the Senate. Predictably, that got lots of attention, some jeers and some cheers.
"Weld County is the number-one ag producing county in the state," and if moved to Greeley the state fair actually might make some money, Cooke asserted.
"I don't know if any other members should be recognized," Garcia grumbled.
Holbert continued. There's a beautiful rodeo complex in Castle Rock, he said. The state fair belongs in Greeley and the Stock Show in Castle Rock. "It's just beautiful there; weather's awesome." (Capitol M does not believe that is a convincing enough argument, by the way.)
That brought Sen. Don Coram to the podium. "I am so angry!" he thundered, that "these two 'sidewalk' senators want to talk about the state fair and National Western when the only 'BS' they understand comes out of their mouth!"
That amendment got half support from Gonzales, who said she had no problem with the state fair moving to Greeley so long as the Stock Show remained in Denver.
Cooke, sensing a potential win, threw Holbert and his idea of taking the Stock Show to Castle Rock under the bus, and asked to sever the amendment.
Sen. Barb Kirkmeyer of Brighton also spoke in favor of moving the State Fair to Greeley, noting Weld County is number one for exhibitors at the fair and that Weld County exhibitors know how to get the buyers to the sales.
As the senator who represents most of Weld County, said Sen. Jerry Sonnenberg of Sterling, there's one thing that Weld County doesn't have, it's Pueblo chiles. "If you can't raise Pueblo chiles you shouldn't have the state fair," he said, abandoning both his Minority Leader and Assistant Minority Leader.
That persuaded Gonzales to keep the state fair in Pueblo.
"But we have Sakata corn!" Kirkmeyer replied. "I'm not a sidewalk senator either." (Capitol M is still not sure what that means.)
"What about Arapahoe County?" asked Sen. Rhonda Fields, and "Yes, I walk on the sidewalks and use my bike path as well." (Thinking she may be missing the point, if there is one.)
"We need to transition the state fair to Arapahoe County. Have you been there lately? It's transformative!" It's urban, suburban, city, everything that Pueblo has and more, she said.
Sen. Faith Winter of Westminster and Sen. Rachel Zenzinger of Arvada came up with a relatively messy compromise. The state fair rodeo could rotate from one county to another.
Garcia then asked the sponsors to withdraw the amendment. "Before we do anything reasonable, thank you to my good friend from Sterling. Now we know it only takes a quarter of a billion dollars to get that attitude."
Cooke "begrudgingly" withdrew the amendment, to shouts of "NO!" in the chamber.
Capitol M later asked Coram why he didn't advocate for one event or the other to move to the Western Slope. "We don't want all those people," Coram said. "They might want to move here!"
Gov. Jared Polis is redecorating his office, apparently
In the past week, a roomful of somewhat dated-looking furniture was unceremoniously dumped on the first floor outside the governor's office, with a sign that said "property of the governor's office, do not take."
"As if!" to quote Cher Horowitz from "Clueless."
The haphazard dumping of furniture, however, offended the sensibilities (big assumption, I know) of the second floor.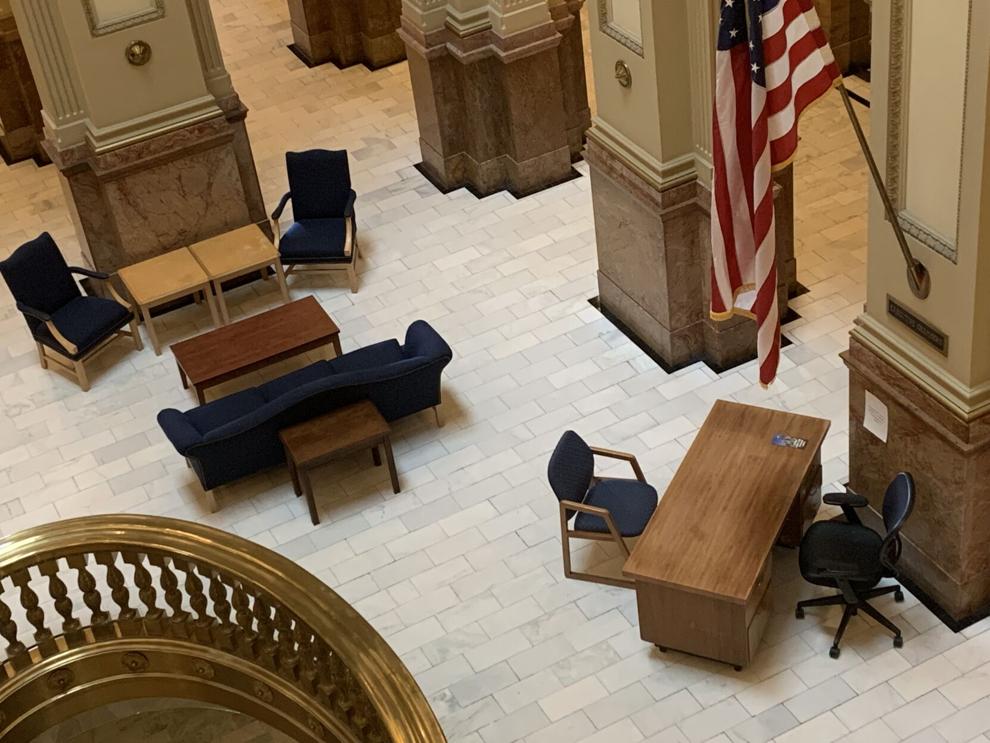 That led a group of Democratic women to (as much as possible) tastefully arrange it. Rumors indicate those involved included Reps. Cathy Kipp, Kerry Tipper, Brianna Titone and Lindsey Daugherty.
It now looks like a comfortable, if not elegant, way to relax, assuming any of that happens on the first floor.
Another rumor has it that Sen. Jeff Bridges and Rep. Matt Soper are preparing to institute afternoon teas.
Finally...
Friday, May 28, was a long day for the House. They quickly whipped through dozens of bills up for votes.
No one appeared to be more tired than House Speaker Alec Garnett. How tired was he?
The House's usual reading clerk, Jared Gregorio, was absent. Conor Randall, who did that duty until right about the beginning of this session, stepped in.
Unfortunately, Garnett could not remember who was in the reading clerk chair, and kept referring to Mr. Randall as Mr. Gregorio. He assessed himself a $5 fine. That might have been a mistake, because every time he did it again he was reminded by House members he had incurred another fine.
"That's all right. Just keep taking away the money I don't have," Garnett said.
After about the fourth or fifth time, it became apparent he was trying to be more careful, but by then he had help from the Democratic caucus.
Speaker @AlecGarnett didn't study his lines before today's performance. Don't worry, the @COHouseDem caucus brought cue cards. Much love for Mr. Randall and Mr. Gregorio, the stalwart House Reading Clerks being mixed up today. #COLeg #COPolitics pic.twitter.com/fi4OBeo50B

— Jerónimo Anaya Ortiz (@janayaortiz) May 28, 2021
On June 1, Garnett welcomed back Gregorio, and playfully referred to him as "Mr. Randall." No fine.