Did this session feel like a lot more than 84 days? It did to Capitol M.
Maybe it's because there were so many long days, late nights, and little in the way of weekends off in the session's final three weeks.
It's not unusual for things to move at a fast pace, but geez, this was one for the record books. In the session's final three weeks, lawmakers put off for another day more than 230 bills.
On their first two days back, committees axed more than 80 bills alone.
That made the last three weeks feel like 84 days all by themselves.
But what a different year it was.
There's an antechamber outside the House, and usually, it's packed wall to wall with lobbyists. But most stayed away at the request of legislative leaders, preferring to conduct business via text, email and phone calls.
Capitol M sat on the one of the benches in the antechamber one morning, and couldn't help but notice, for the first time, how cool that area is, with the breeze from the ceiling fans rather than the breeze from ahem, other sources.
Elevators: elevators can be a hassle in the Capitol. Sometimes they don't work; other times they're packed to the gills. During the three-week session, when you hit the button, the elevator showed up immediately.
And then there were the masks. Some wore them (Democrats), some didn't (Republicans). And some went back and forth, like Republican Rep. Matt Soper of Delta, who early on said he wasn't going to wear one because "that's not what we do in my district."
But on June 11, he also accepted the donation of 10,000 medical-grade masks from Taiwan, a return of a favor from Colorado in January. The masks were donated to the House for distribution in their districts.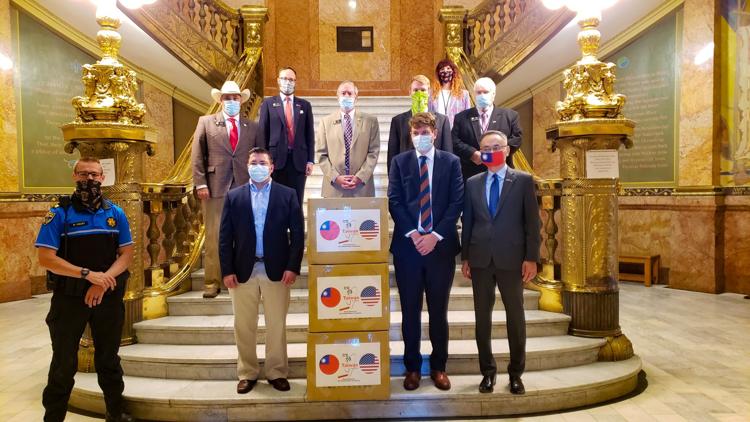 One thing (mostly) missing during the three-week session: dogs. Sen. Kerry Donovan's dog, Gary, who has grown up in the Gold Dome, showed up toward the end, a welcome sight. And the new puppy, Clinton, an 8-week old labradoodle that Rep. Leslie Herod of Denver recently adopted, was a very welcome, oh-my-I-died-from-cute sight. Herod said he loves Black Lives Matter.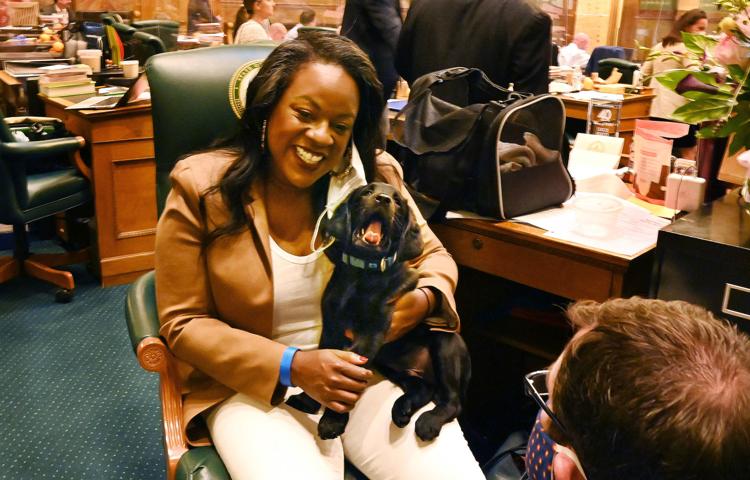 There are some sad farewells ahead. In addition to the nine members of the Senate and at least 13 in the House who are term-limited or running for other offices (or both), there's a notable departure of someone who everyone knows but is behind the scenes: Susan Liddle is retiring from the Legislative Council.
Liddle began her staff time in July 1989 as a support. If you've ever been helped by the lege council staff (and Capitol M would lose count on how much that's happened over the years), you have Susan to thank.
In a tribute to Liddle, offered by Rep. Marc Catlin of Delta on June 12, he noted Liddle led the Blue Book team for 14 years, worked on redistricting and reapportionment, and for the last 16 years led visitor services, the legislative library and constituent services. "Susan's empathy and concern for others made her a natural at supporting the members of the General Assembly and their constituents.
"She has mentored many junior staff and held fast to the high standards for accuracy, thoroughness and unbiased reporting that have become the hallmark for legislative council staff," Catlin said.
Catlin recalled when he first met Liddle. He went to the Legislative Council office and asked for her. She asked how she could help him, and he replied that "You're one of the answers to being a legislator in the state of Colorado... . I didn't have to know everything, I just needed to know the right person."
He nicknamed her "Maze Master."
Herod said when she was fresh out of college, she worked under Liddle as a member of the Legislative Council staff. "She taught me everything I know, she taught me the rules, and she left it up to me to decide which rules to break." Herod added she would not be the legislator she is today without Liddle.
And Liddle is a dog lover. She helps operate a foster program for miniature schnauzers, which will take up some of her retirement time, she told Colorado Politics.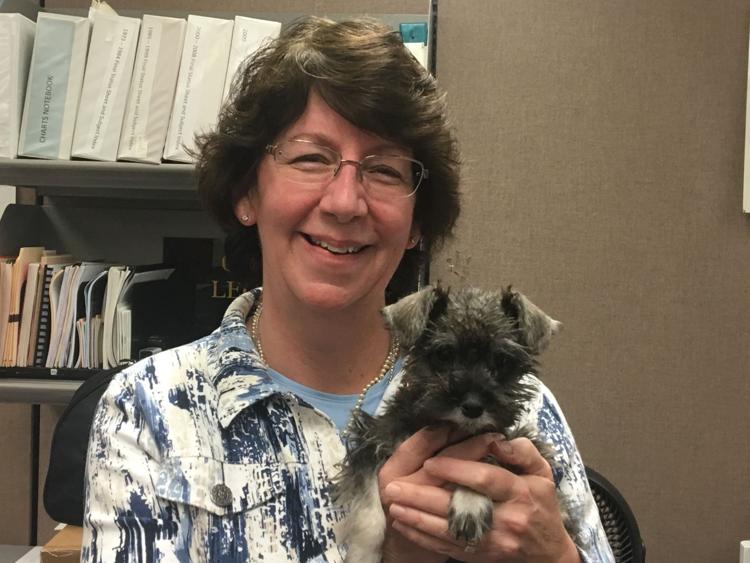 One closing comment: To the good folks at the Colorado Channel, who run a service that none of us can do without; no more so than during this pandemic. Given training as a classical musician, Capitol M loves classical music more than most, but could you please think about a new playlist? The 50th time I heard the 1812 Overture, or Waltz of the Flowers from the Nutcracker this year during one of the endless senatorial fives or House pauses, I was ready to go a little nuts.