The lighter side of the Capitol, usually.
Sovereign immunity?
Two days after Denver Mayor Michael Hancock vetoed a City Council bill intended to lift a 30-year ban on pit bull-related breeds, one found its way into the governor's mansion. Which is in Denver.
Freda, a pit bull rescue, belongs to an unnamed friend of Gov. Jared Polis, who posed with the dog for a picture, along with a "shhhh" (don't tell Hancock, I'm guessing)
Freda, a friend's new pit bull rescue pup, joined us at the governors mansion in Denver tonight (shhhh 🤫) pic.twitter.com/yQCjOYU2XJ

— Jared Polis (@jaredpolis) February 17, 2020
One could assume that the governor doesn't care for the breed-specific ban Denver has imposed on the American Pit Bull Terrier, American Staffordshire Terrier and Staffordshire Bull Terrier. 
One person on Twitter, apparently so outraged by the appearance of a pit bull at the governor's mansion (or isn't a fan of the governor, take your pick), sent a tweet to Denver Police, outing the governor's alleged violation of the law. DPD's response was that they don't take police reports via Twitter.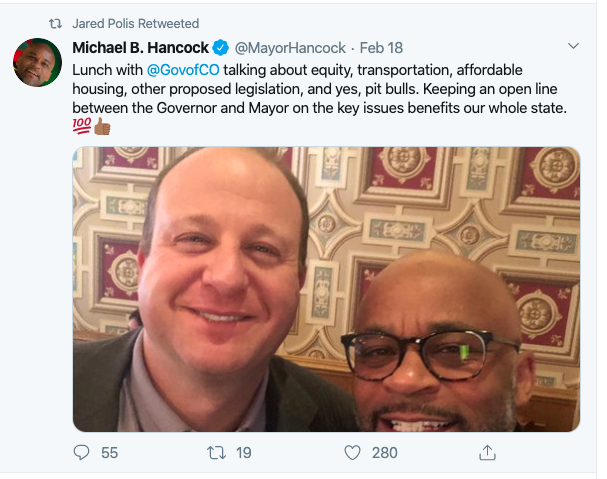 By Tuesday, however, apparently Polis and Hancock were attempting to keep the lines of communication open about a variety of topics, including pit bulls.
OOPS, Larry Liston edition
Some jokes (and people) are not as funny as some people think they are.
On Tuesday, Rep. Larry Liston, R-Colorado Springs, and who is running for the state Senate in the fall (hoping to replace Sen. Owen Hill, who is term-limited), announced he was resigning. Liston explained he had a family farm in Texas, and recently learned that all he had to do was to "throw a few seeds on the ground and kick a little dirt and stuff grows to the ceiling. I'm going to take advantage of the family farm and become a farmer," he said.
The announcement was greeted with stunned silence.
Liston made the announcement dead-pan enough that everyone thought he was serious, for about two minutes.
"Wow," said Speaker of the House KC Becker, D-Boulder. Rep. Jovan Melton, D-Aurora, who regularly spars with Liston over Liston's salute to President Trump's latest economic news, said he was sad to hear the news. "Rep. Liston, you're a respected member of the chamber, and I and my side of the aisle will miss your antics."
"We will be sorry to lose you, Rep. Liston," Becker added.
But moments later, Becker was heard asking if Liston's announcement was real, and she quickly called him back to the microphone to explain himself.
Liston then admitted he wasn't resigning and that it was meant as a joke. It was a poke at former New York mayor and now Democratic Presidential candidate Michael Bloomberg, who in 2016 had said farming didn't take any intelligence. Those remarks recently resurfaced.
In a forum at Oxford University in 2016 and as verified by Snopes.com, Bloomberg said "I could teach anybody, even people in this room, no offense intended, to be a farmer. It's a [process]; you dig a hole, you put a seed in, you put dirt on top, add water, up comes the corn." Bloomberg went on to say that that the information economy requires a different set of skills and more "gray matter." 
After Liston explained himself, Becker called his joke "very unusual," and her facial expression indicated she did not find it funny. Melton said he would retract every single nice word he had to say about the Colorado Springs lawmaker.
Even if life as a lawmaker isn't the path to riches, keep your day job, Rep. Liston. You'd do considerably worse as a comedian.
It's Brophy Time!
During discussion of a bill in the Senate State, Veterans and Military Affairs Committee on Feb. 19 to put Colorado on year-round Daylight Saving Time, Sen. Jerry Sonnenberg, R-Sterling, said he'd been "corrupted" into carrying previous versions by his predecessor, former state Sen. Greg Brophy, R-Wray. "I didn't realize it was called Daylight Saving Time. I thought it was called 'Brophy Time.' "
Committee Chair Sen. Mike Foote, D-Lafayette, suggested the bill could be named after Brophy, but then voted to kill the bill. Spoilsport.
Just who the heck is "Bull Burford" and why is he 17 feet tall? And second, why is there an outlet in one of the committee rooms that is 14 feet from the floor? "An official inquiry is in order."
Former Rep. Rob Witwer is a lot funnier than some folks I could name.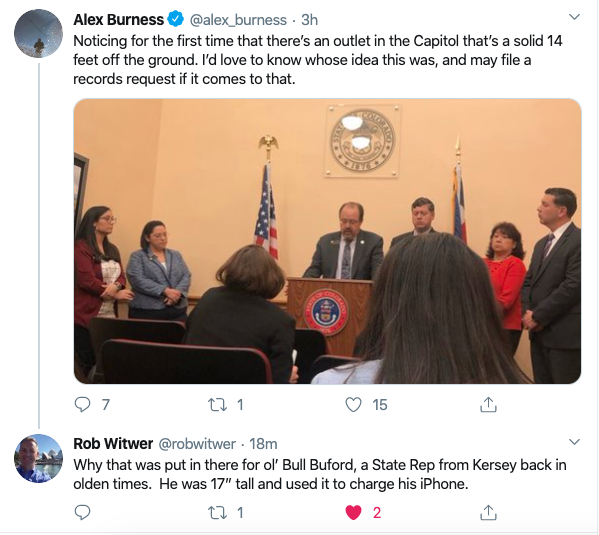 Witwer said later "Ol' Bull cut quite a figure. I once saw him eat 50 eggs."
(By the way, this is not a reference to former state Sen. Burford. Just in case you were wondering.)
The discussion on Twitter over the mysterious outlet went on for the better part of Thursday, late into the night. Rep. Matt Gray, D-Broomfield, jumped in, offering to conduct an "official inquiry" into the mystery outlet. He later suggested he would seek a late bill request "for a study committee to investigate the outlet placement and to recommend possible relocations within human reach."
Friday morning, the call for a late bill, investigation or otherwise came to an end, when the Legislative Council staff provided the answer to the burning question: it's for a future camera, either security or for remote testimony, or both.
It was fun while it lasted.