At 17 years old, Gemima Bisangamo of Aurora is already cooking up plans to open her own business one day. She has two ideas so far: One venture that would offer girls from Africa cooking classes that connect them with their culture; the other a goal of running her own clothing store.
Bisangamo previously lived in the Democratic Republic of Congo and Burundi and came to the United States as a refugee a few years ago. She has lived in Aurora for nearly four years. As a junior at Aurora Central High School, she is not only thinking about her own future, but the futures of other members of the local immigrant and refugee community.
Aurora Public Schools negotiating contract with sole superintendent finalist
"I am so proud to be in capstone classes," she said, speaking as one of 70 students in this year's Capstone: Global Issues course. The class has taught her how to start a business, form business plans and manage the finances needed to launch a startup, she said.
The curriculum did not stop with lending high schools some business savvy, though. The class spent months researching what laws already existed to support immigrants and refugees in Colorado, and then sought a way to fill in gaps with new legislation.
Their idea: To pass a state bill creating a tax-supported incubator space where immigrants and refugees can flourish into entrepreneurs and business owners. A portion of revenue the businesses generate would also go back toward operating the initiative.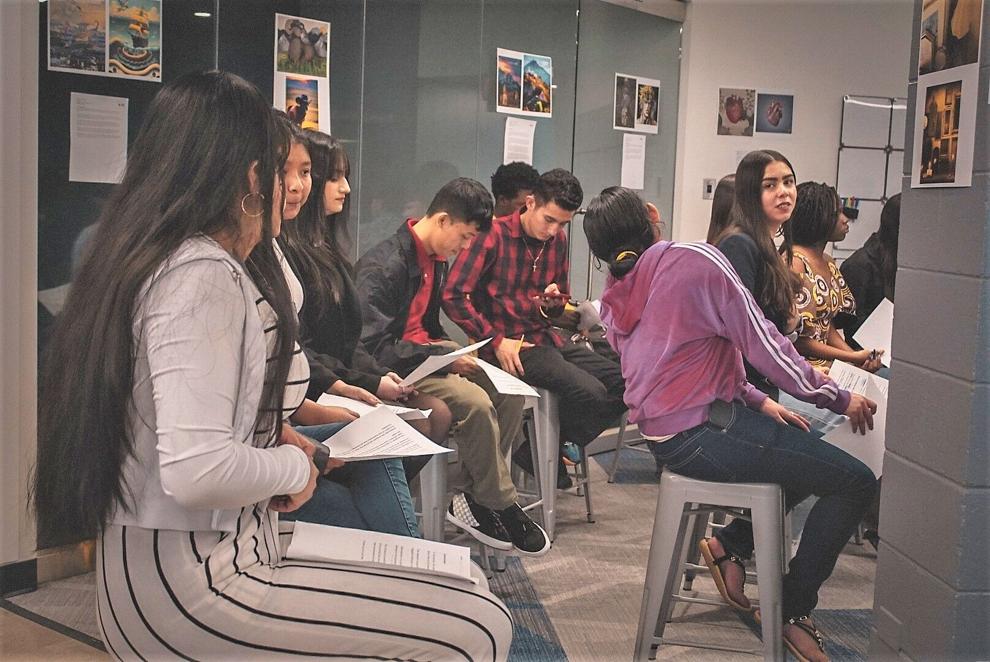 As part of the vision, new business owners would be able to access rent-free space for their startups while also receiving education about how to launch and run a business. They would be eligible for interest-free loans. The class envisioned a parking lot filled with five food or retail trucks, two brick-and-mortar shops, and office space for career training.
They then packaged the plan into a draft bill and on Tuesday, pitched it to state and city lawmakers. The panel included State Representatives Mandy Lindsay, D-Aurora and Naquetta Ricks, D-Aurora, and Aurora Councilmember Angela Lawson.
While Bisangamo was nervous for the presentation — which the experience taught her to overcome, she said — Niryow Melwal was excited, and then happy when the class gave a strong proposal that garnered praise from the lawmakers, she said.
"They said they would do anything to help," the 18-year-old senior said.
Melwal, who was born in North Sudan and lived in Egypt for more than a decade before coming to the U.S. as a refugee in 2021, said the incubator space could one day support her mother, who is considering opening a business of her own.
Two geese, Gracie and George, return to Aurora's city hall each year to nest
This is the first year that Central teacher Nicole Reinstedt has taught the Capstone: Global Issues class, which tasked students with identifying an issue that affects both the local and global community.
"This is definitely the biggest project that we've undertaken, for my time at Central," she said of her three years teaching at the school.
The Capstone class this year chose to address the hurdles immigrant and refugee community members face in launching their own businesses, with a focus on their challenges finding capital.
Reinstedt has long wanted to lead a class where students ultimately formed an idea for new legislation and tried to move it forward, she said. Seeing her students do just that this year has "been really exciting."
The lawmakers suggested students continue researching what role small business councils could play in the project and how much of the initiative should be handled through state legislation versus through local municipal action.
"The feedback that we got from legislators was really validating," Reinstedt said, adding that Lawson invited the class to present their idea at the upcoming city council meeting in May and urged the students to keep pushing for it to become reality.
Lawson could not be immediately reached for comment.
Next year's class will build on this year's progress, Reinstedt said. The goal would be for an incubator space to open within the next few years.
"The idea was to start this in Aurora because there is such a high percentage of immigrants and refugees here," she said, hoping an Aurora-based site could become a model replicated in the metro Denver area.
Aurora highlights successes, hurdles in first year of consent decree