Security officers found 126 guns in passengers' carry-on  bags at Denver International Airport last year -- nearly two and a half times the number of guns seized at the airport six years earlier.
DIA ranked fourth among U.S. airports in 2018 for the number of guns blocked at security checkpoints, the federal Transportation Security Administration said in its annual "year in review" report.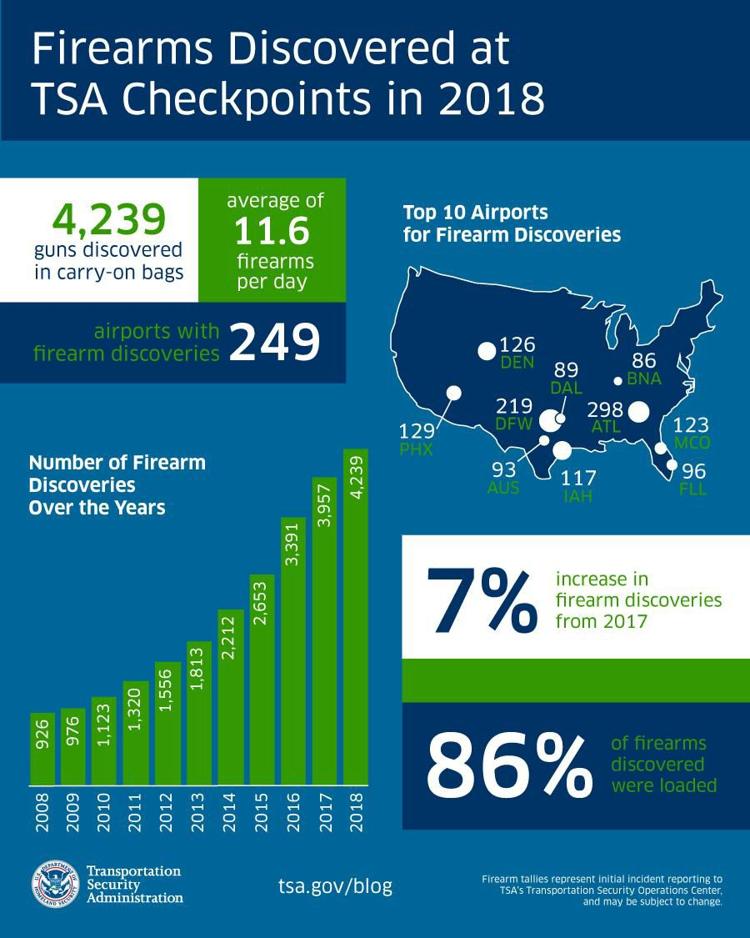 Of the 126 guns that passengers were caught carrying at DIA last year, 95 were loaded, TSA said.
The numbers of guns discovered in carry-on bags has increased each of the last few years and is now at record levels, both in Denver and nationwide, according to the annual reports.
At the Denver airport, 51 guns were discovered in 2013, 70 in 2014, 90 in 2015, 98 in 2016 and 118 in 2017.
Nationwide, a record 4,239 guns were discovered in carry-on bags in 2018, up 7 percent from the previous year, TSA said. Of that total, 86 percent of the guns were loaded, and 34 percent had a round chambered.
Passengers last year also tried to bring on-board smoke grenades in Nashville, fireworks in Orlando and lighter fluid in Seattle.
TSA says that 813.79 passengers and crew members passed through its security checkpoints nationwide last year.
Obviously (or maybe not so obviously, given these stats), you're not allowed to personally carry a gun (loaded or unloaded) aboard a plane, no matter what kind of carry permit you have. Those who try it are subject to a civil fine of up to $13,333 and criminal referral.
There may be additional state or local penalties as well. In Denver, people caught trying to get a gun through airport could face a 3rd-degree felony charge carrying a punishment of two to 10 years in prison, according to Matthew Martin, a Denver criminal defense attorney who specializes in airport gun charges.
But passengers packing heat at a security checkpoint are rarely criminally charged. KDVR-Fox31 reported in 2017 that only a handful of people faced charges each of the previous few years out of the dozens caught with guns at DIA. It quoted Denver District Attorney Beth McCann as saying that charges typically aren't filed if it's determined someone was carrying a weapon by mistake.
In a well publicized case, on Dec. 5, 2017, Colorado state Rep. Lori Saine, R-Firestone, was arrested at DIA when she was found with a loaded 9mm handgun in her purse at a security checkpoint. She spent the night in jail and was released on bond the next day. Prosecutors decided not to charge her, saying the "evidence in this case indicates that Lori Saine forgot the firearm was in her purse."
TSA does say that "passengers may transport unloaded firearms in checked baggage if they are transported in a locked, hard-sided container and declared to the airline before traveling." But there are some conditions. (Read here if you're considering it).