John Hickenlooper is staying coy so far about whether he's running for president, but he's promising New Hampshire Democrats a lot of "fun."
Hickenlooper's leadership political action committee, Giddy Up, bought two ads for the largest annual Democratic fundraising dinner in New Hampshire Friday.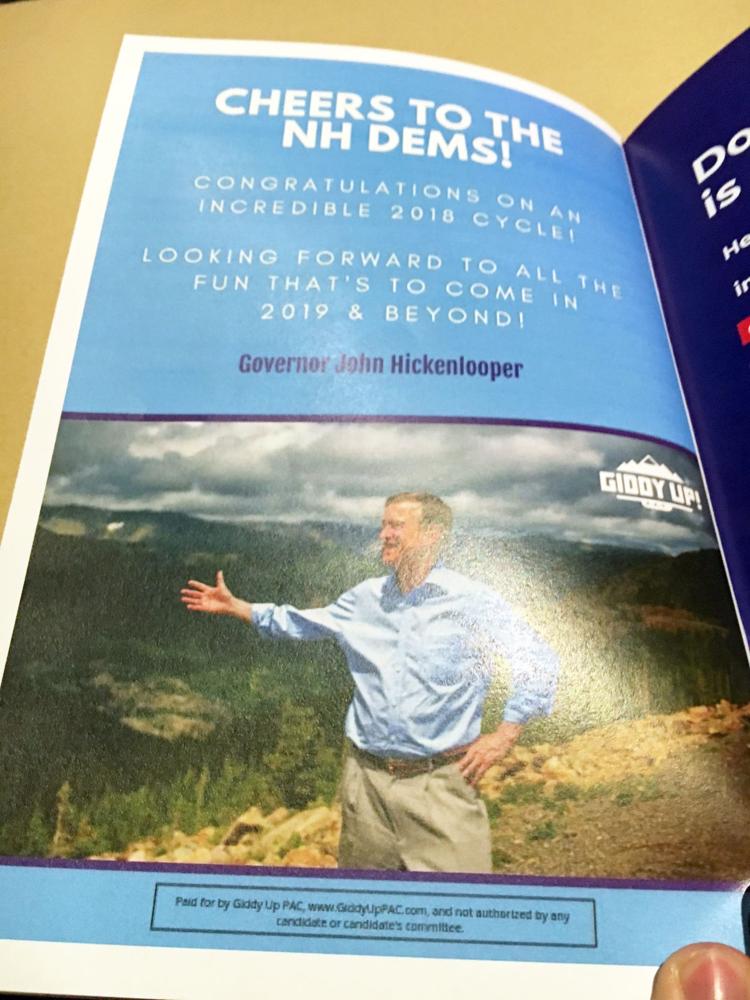 The ads refer to "all the fun to come in 2019 and beyond!"
This year, Democratic presidential candidate Elizabeth Warren, a Massachusetts senator, spoke to more than 900 people attending the dinner, Sarah Guggenheimer, a spokeswoman for the state party, said in a release.
The dinner raised more than $400,000 and Warren proposed universal child care funded through a new tax on millionaires, the Manchester Union Leader reported.
Hickenlooper's ads weren't nearly as specific. Of course, the former governor isn't officially running for president. Instead his message was to congratulate Democrats in New Hampshire on their hard work in 2018 and offered an optimistic message for the future.
Hickenlooper spent the weekend in Iowa meeting voters. He previously visited New Hampshire.
RELATED:
> Soup for 3: Hickenlooper, other Democratic hopefuls mingle with Iowa voters (VIDEO, GALLERY)
> 2020 Senate race: Hickenlooper snubs bid to take on Gardner
> TRAIL MIX | Democratic presidential hopefuls sometimes pole-vault from back in the pack