Newly sworn-in Colorado Gov. Jared Polis delivered his first State of the State address at the Capitol on Thursday. Below you can review coverage from the Colorado Politics team, including Marianne Goodland, Ernest Luning, Conrad Swanson and Erin Prater.
12:02 p.m.
Polis' speech is over, and he's now being escorted to his chambers. The joint session has been resolved. Thanks for sticking with us today. Full coverage to come shortly.
You can view the full text of Polis' address here.
11:58 a.m.
"Broadening the tax base while lowering the rates" is they key to a successful economy and "make everyone in our state better off," Polis said.
"As we address these inequities in our tax code, so, too, must we address the inequities in our criminal justice system," Polis transitioned. "That means tackling discriminatory practices" that make some minorities "more like to face incarceration." People "should be able to live a dignifying and fulfilling life" after they've paid their debt to society," he said.
"Now is the time to unite" in turning ideas "into real results for Colorado families," he said. "Let's get to work. God bless Colorado, God bless you, and thank you."
11:53 a.m.
Oil and gas now. "We will work" to ensure every community "has clean air and clean water," he said. Public transportation options need to be updated, he added.
On high speed internet access: It's "critical infrastructure" that everyone must have access to.
So many issues Coloradans face "boil down to the word opportunity, the word I love," Polis said. "... For Colorado to be a place where these opportunities work for all, not just some." He's now speaking of reducing tax rates for families and small businesses. Ordinary families are forced "to pay too much in taxes," he said. "We need a tax code that reflects today's realities rather than yesterday's distortions," he said.
11:52 a.m.
Here's a view of the crowd, courtesy of The Colorado Channel.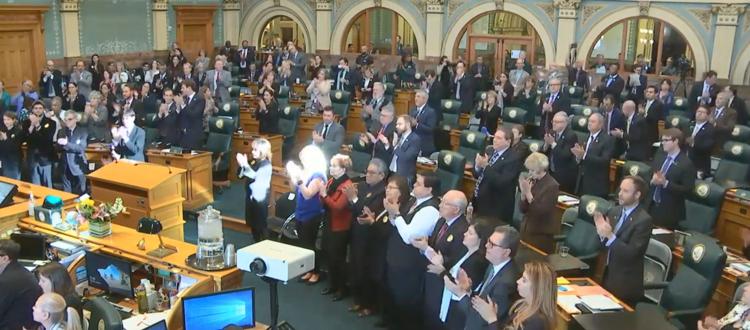 11:45 a.m.
Now on to climate change. It's real, Polis said. There's no pretending otherwise for farmers and ranchers, "and there will be no pretending otherwise in this administration."
"Our commitment to reaching 100 percent renewable energy by 2040 is not just about climate change, it's about saving money for consumers" and ensuring green jobs are created in the state, Polis said.
It's imperative for all Coloradans to address climate change, he added.
"The move toward renewable energy is already taking place, and it will only accelerate," he said. But "we also need to do right by the men and women in today's energy workforce, some of the hardest working people in Colorado." To those, he said, "Your hard work will be needed and rewarded at every step of this transition." The transition can be fair for workers, consumers and communities sustained by the traditional energy industry, he said.
11:41 a.m.
Now on to public lands and ag. "Colorado is the best state in the nation to live," he said, to copious applause and a standing ovation. "Frankly, it isn't even close. It's our job to keep it that way. Here in Colorado we pride ourselves on our unbeatable quality of life."
"We need to make sure today's farmers and ranchers, and tomorrow's, have the tools we need to succeed. Kate Greenberg will be the first woman to hold the position of agriculture commissioner, he said.
"We'll make good on the promise of industrial hemp here in Colorado," he added.
We want to make Colorado the national leader in industrial hemp production, he said, pointing out that the programs from inauguration were printed on hemp paper.
11:34 a.m.
Now speaking to why Primavera is the right person to run The Office of Saving People of Money on Healthcare.
"She's dedicated her life to helping others to getting quality, affordable health care," he said, after speaking about Primavera's past battles with cancer.
"We've all had family and friends affected," he said.
Now to the opioid epidemic. We need to prevent the epidemic from growing our state, he said.
Now on to health care costs in rural and Western Colorado. "There's no reason a family who lives in ...  Gunnison ... should pay twice as much for health care as a family who lives in the Denver metro area," he said.
"And finally, we will address the appalling and increasing cost of prescription drugs," he said. "Canada has the same drugs ... at a half, a third, even a quarter of the cost, and I look forward to working with this Legislature to setting up a way to safely import prescription drugs from Canada," he said.
"Together we can save Coloradans money. ... We can clear away barriers that prevent Coloradans from receiving needed, life-saving health care," he said.
11:29 a.m.
Now on to health care. Despite progress under Hickenlooper, health care costs are rising, he said. "Families in Colorado ... they're all just fed up with getting ripped off on health care costs. You know what? It's time for us to fix that. It's time to be bold, folks. It's time. It's time for us to build a health care system that makes sense ... where no person has to choose between losing their life savings and their home, and losing their life. ... It's time for people experiencing mental illness to get treatment, rather than experiencing more costly jail time."
We want to make Colorado "as family friendly as possible." He's going to be making a formal request to provide parental leave for all state employees, he said. "As a father, I know how important those precious first few weeks of life are to be able to spend with your children." He's calling on legislators to establish a paid family leave program in Colorado.
"If all this we're talking about was easy, it would have been done already," he said. "... But the people of Colorado deserve" nothing less than our hard work to overcome these challenges, "and our work begins now," he said.
"The Office of Saving People of Money on Healthcare" is being created and will be run by Lt. Gov. Dianne Primavera, he said, to laughs and applause.
11:25 a.m.
Now addressing student loan relief for teachers who serve in high-need areas.
"Educators deserve our respect, our gratitude, and, of course, to be compensated as the hard-working professionals that they are," he said.
Now addressing student loan debt. We need to do everything we can "to make sure people aren't held back" by doing what they needed to do to afford college, he said.
Graduation rates also need to be addressed, as well as skills and pathways that "allow you to support yourself with dignity." 
"We need to invest in proven programs that prevent students from falling through the cracks," he said. It's often hard for students to learn if they're hungry, homeless, struggling with trauma, he said, adding that he wants to help the state's most vulnerable students "graduate high school as healthy and productive adults." Another standing ovation.
"... When our students rise, our state rises even more."
11:20 a.m.
Our top priority this session is empowering communities to offer free, full-day Kindergarten in Colorado, Polis said. He also wants to expand free preschool. Our state's strong economic growth enables us to do this right away, he said.
Kindergartner in Colorado is "a picture of inequality," Polis said. Some kids attend free full day. Some kids' families must pay for tuition to receive full-day. Some kids' families can't afford it, so they only attend half-day.
"Oklahoma has figured this out a long time ago, and all respect to our neighbors in the Sooner state, if they can do Kindergarten, we can do Kindergarten here in Colorado," he said.
This is not a mandate to districts or to parents, he said. We want to work with districts who want to offer free full-day K, and with parents who want their children enrolled, he said.
He set a goal of launching free full-day K by fall 2019. "Let's get it done," he said.
11:16 a.m.
"Here in Colorado, we treat each other with respect. We reject efforts to intimate immigrant families or tear children from their parents' arms," he said. "We don't tolerate bigotry or discrimination."
He was interrupted by a standing ovation.
"... We don't accept hostage-taking as a form of government," he added.
Laughs from the crowd now as Polis shares that his young daughter said she's in the "Happy Birthday" political party, not a Democrat, Republican, etc.
The people of Colorado "elected us to deliver, not to grandstand," he said.
11:12 a.m.
"The state of our state is solid, it is strong, it is daring, it is bold," Polis began.
We're going to build an economy that allows all Coloradans to thrive, Polis said. "Our administration will work tirelessly to make our state work better for you, so that you can make a living, keep more and share in our special way of life."
11:10 a.m.
Polis is now thanking Colorado's military members and first responders. A standing ovation for that line as well. He also said he's eager to work with tribes in the years ahead.
He has former Gov. John Hickenlooper's "big shoes to fill," but Polis has his signature blue sneakers on and is ready, he said.
11:08 a.m.
Extended applause after Polis' shout-out to women elected officials. 
"Colorado's barrier-breaking legacy is something" to truly be proud of, he said. "Colorado for all."
11:06 a.m.
A standing ovation for Polis, who is thanking the crowd.
"As we confront historical, social and technological changes throughout our state, throughout our country, I want to start by saying what an honor it is to serve ... at this juncture, at this moment in time," he said.
He has a message to every child in Colorado: In this state, "you can do anything. You can dare, you can dream, you can do."
"We should all be proud of who we are," he said, "because all of our futures are full of opportunity."
11:03 a.m.
And we're live! The governor is being escorted into the House chamber, to applause. Lots of hugging going on as he enters.
I'm over here by a few Republicans representing The Springs and surrounding areas. We'll see if I get kicked to the back of the room or if I can fly under the radar here. pic.twitter.com/cJETsUxqJj

— Conrad Swanson (@Conrad_Swanson) January 10, 2019
10:30 a.m.
Our Conrad Swanson is on the House floor this morning, where Polis will soon give his very first State of the State address. We're about a half hour out at this point. Stay tuned.
Good morning from the floor of Colorado's House where Gov. Polis will soon give his first state of the state address. Shindig kicks off at 11 am. Stay tuned for more. pic.twitter.com/tXqo2E8tdI

— Conrad Swanson (@Conrad_Swanson) January 10, 2019
And here's some good reading ahead of time.