John Hickenlooper has been making the rounds of national interview shows this week, talking mostly about why he's running for president.
But MSNBC's Rachel Maddow had a different question for the former Colorado governor in her Thursday-night interview: Why not run for Senate?
As things stand, Hickenlooper is running well back in the pack among the two dozen Democrats seeking to take on President Donald Trump in 2020.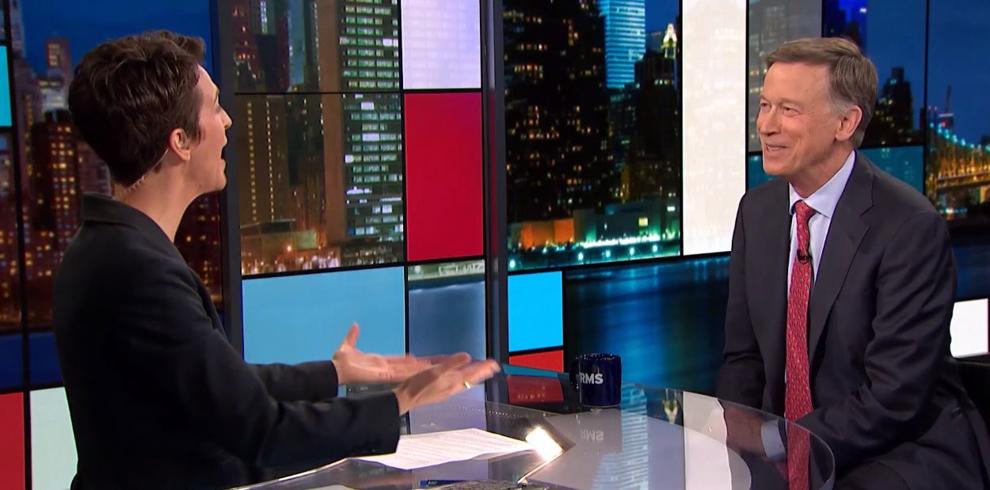 On the other hand, he would be by far the most prominent challenger to Republican U.S. Sen. Cory Gardner of Colorado, considered the most vulnerable senator seeking re-election next year, in a state that just turned over every statewide office to Democrats.
"If you ran for Senate in Colorado, and you are the candidate who could most easily take a Republican U.S. Senate seat in Colorado, you would have a better chance of flipping the Senate to Democratic control," Maddow told Hickenlooper, who chuckled as she laid out the premise.
"I mean pragmatically, I wish you were running for the Senate," the liberal host added.
"No, I understand, and you've obviously been talking to Chuck Schumer," Hickenlooper replied, referring to the Senate Democratic leader who has been trying to line up strong Democratic candidates for Senate races, only to find many of them seeking the White House.
He went on to state his case as a presidential candidate, saying, "I'm that person that can bring people together, and really get done the big, progressive things that people say can't get done."
Watch Maddow's interview with Maddow above. Below, watch another Hick interview on ABC's "The Briefing Room."
=
=
=
=
=