In what may have been a make-or-break appearance in his back-of-the-pack campaign for president, Colorado's Michael Bennet starred in a live CNN Town Hall special Thursday.
And the U.S. senator covered a lot of ground in the national broadcast from Atlanta, hosted by anchor Dana Bash. Highlights:
Impeachment: Bennet said that President Donald Trump has "probably committed impeachable offenses," and that Congress should continue to investigate Trump. But he stopped short of joining John Hickenlooper, the other Coloradan in the 2020 race, in a call for a formal impeachment inquiry to begin now.
"That's what he wants, to be able to say he was railroaded," Bennet said of Trump.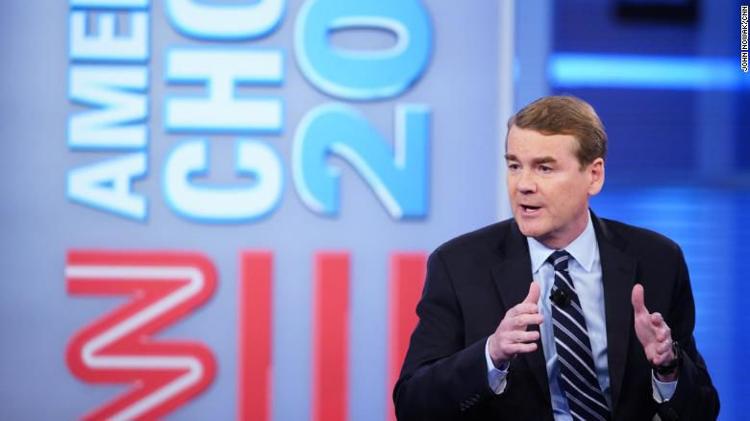 But Bennet said that special counsel Robert Mueller should testify before Congress about his report on Trump, despite Mueller saying this week that his report was his testimony.
Health: Bennet outlined his support for universal health care — a belief he linked to his own recent battle with prostate cancer — saying he favors a public option allowing people to buy into Medicare, but not the "Medicare for all" program excluding private insurance advocated by Vermont Sen. Bernie Sanders.
"Now Bernie is proposing, if you like your insurance, we're going to take it away from you," the Coloradan said.
Tariffs: Bennet blasted Trump's threat to impose a 5% tariff on goods from Mexico if it doesn't boost efforts to halt border crossings. "Commodity prices are already low in this country. People in the Midwest are getting hammered by terrible rains and, in my state, terrible droughts. President Trump is making it worse for them," he said.
Abortion: Bennet said he would appoint only judges who "uphold the precedent of Roe v. Wade, to begin with."
Beating Trump: "We have to build a big coalition of Americans -- Democrats, Republicans and independents -- to overcome the broken politics of Washington, DC," he said.
Bennet's CNN appearance came as the candidate is striving to make the cut to appear in a series of Democratic debates that begin in a few weeks.
> CLICK HERE for CNN's highlights from the Bennet Town Hall broadcast.
=
=
=