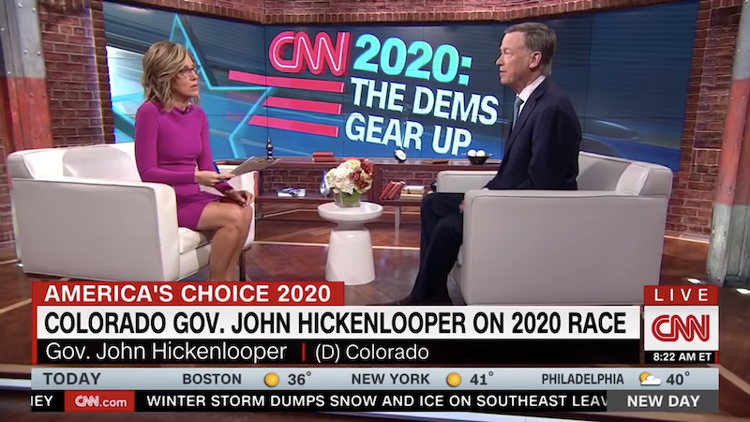 Is Colorado Gov. John Hickenlooper the wrong gender and race to run for president as a Democrat in 2020?
That's the question Alisyn Camerota had for Hick on her CNN show "New Day" Monday, as he ponders jumping in the race to succeed Donald Trump.
"As a white guy, are you trying to calculate whether or not this is the right time for you?" Camerota asked.
> RELATED: Hickenlooper staffs up for possible 2020 bid
"Well, this is the time it's worked out," Hickenlooper replied.
Others, including Colorado Politics, have question whether Hickenlooper is too moderate to survive his party's crowded primary. The same can be said of Colorado's U.S. Sen. Michael Bennet, who's reportedly giving the race some thought.
Former New York City mayor Michael Bloomberg, the wealthy investor and media magnate who used to be Republican, is also hopeful Democrats want a middle-of-the-road candidate instead of a staunch progressive.
> RELATED: Hickenlooper says 'I'm going to run for president,' then waffles
Like Hickenlooper, Bloomberg is still only dropping strong hints about his plan to run.
"I think most Democrats want a middle-of-the-road strategy," Bloomberg said during an appearance Monday on ABC's "The View."  "They want to make progress, but they're not willing to go and to push something that has no chance of ever getting done and wasting all their energy on that."
> RELATED: INSIGHTS | Hick gets the band back together, but is it for president?
Watch Hickenlooper's CNN interview below.
Colorado Gov. John Hickenlooper on President Trump: "We're seeing all kinds of evidence that the Trump presidency isn't succeeding. It's not taking America where it needs to go. It certainly isn't fulfilling his promises to the rural parts of America." pic.twitter.com/g4ibsk67qf

— New Day (@NewDay) December 10, 2018