Headed to Texas: Former Gov. John Hickenlooper, on his first swing through Iowa since declaring himself an official candidate for president, left his last event in Cedar Rapids after 9 p.m. Saturday and was on CBS' Face the Nation barely 12 hours later, from Austin, Texas, where he's attending the SXSW (South by Southwest) music, film and interactive-media festival.
He's not alone. Other presidential candidates (declared or otherwise) are flocking to Austin to connect up with festival-goers. Washington Gov. Jay Inslee, former Starbucks CEO Howard Schultz, Sen. Elizabeth Warren and former U.S. Rep Beto O'Rourke have or are expected to show up in Austin, wooing what the Washington Post calls hipsters and techies.
He's still got the brewpub owner in his veins: Just as Hickenlooper was approaching the makeshift stage at a Friday brewery event in Des Moines, someone nearby dropped a beer glass. You know the sound.
His reaction? To the chagrin of those around him, Hickenlooper bent over and picked up the broken glass. The ex-gov said something to the effect of: "I don't think anyone here has picked up more broken glass than I have."
Media face time: Prior to the Friday brewpub appearance, Hickenlooper was taping a segment for the media website NowThis News. If that site sounds familiar, it should: Last year, state Rep. Janet Buckner became a viral sensation after her Martin Luther King Jr. Day speech described why she never learned to swim.
The autograph seeker: Yuyueyang Qui, who goes by Kevin, is getting autographs from as many presidential candidates as possible, and Hickenlooper happily signed up in Des Moines.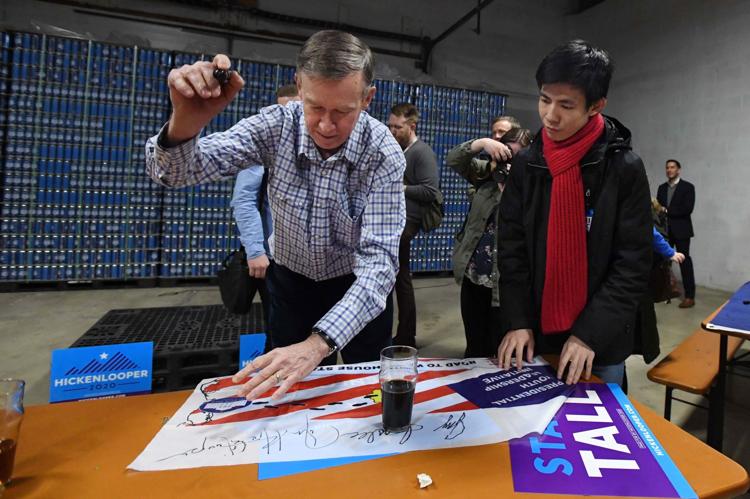 Speaking of Inslee: During Face the Nation, climate change PAC Act Now on Climate aired an ad on Iowa TV stations in support of Inslee, who was in Iowa three days ahead of Hickenlooper.
More media face time: Showtime's TV series The Circus: Inside the Greatest Political Show on Earth taped Hickenlooper's Friday brewpub event.
Along for the ride: Former state Democratic party chair Rick Palacio joined Hickenlooper in Iowa as an advisor to the campaign.