Gov. Jared Polis' first action following his swearing-in Tuesday for a second term as Colorado governor: a selfie.
I just took the oath of office to serve a second term as Governor of Colorado pic.twitter.com/NGXUHCrOas

— Jared Polis (@jaredpolis) January 10, 2023
After that, Colorado's 43rd governor spoke briefly about his vision for the next four years, followed by a 38-gun salute — for Colorado being the 38th state — and a flyover by four jets from the Colorado Air National Guard.
"What I think was good was Polis is looking at all of Colorado. That was evident today. There were people from all walks of life and I think he is really sincere in his effort to make Colorado an example for the rest of the country," said Wilma Webb, a former Denver first lady and former state representative.
What else stood out to Webb? The sun was shining, and despite an occasionally cold wind, it was among the warmest inauguration days, with a high of around 52 degrees. "It's like [the sun] came out for everybody," Webb, who sat next to her husband Wellington Webb, the former Denver mayor who also served in the state House.
Wilma Webb also noted people were receptive to "something new," whether it was women in the legislature or the governor's younger staff. With Tarell Martin and the C2 Mass Choir singing in the background, Webb  said the feeling she got from Tuesday's ceremony was that people want to do good for Colorado. 
The music Tuesday was also a highlight of the ceremony, including a stirring rendition of the Star Spangled Banner from the Denver Gay Men's Chorus and the Out Loud Colorado Springs Men's Chorus, who sang from the west porch on the Capitol's second floor.
They later, under the direction of Raul Dominguez*, sang "Peace Like a River."
Joe Megyesy, a veteran Republican operative, principal for JAM Communication and recently a program officer with the Gill Foundation, said: "Governor Polis showed he wants to be a leader for all Coloradans, and his message is one that appeals to multiple people, different backgrounds, different faiths, different ideologies. People are excited for another four more years of his leadership." 
The most fun for him? The great choirs.
"I love the music, the pomp and circumstance, the cannon salute," Megyesy said.
"What I liked was talking about unison, how we all come together, young, old, rural, metro area, doesn't matter. We're all going to come together and make Colorado great." Jeannette Hensley of Thornton.
"My real claim to fame? I'm Jared Polis' state senator!" Senate President Steve Fenberg, D-Boulder. "You wouldn't believe the emails I get from this constituent!"
Polis' theme of unison was also borne out by those who escorted him to the swearing-in: Democratic Senate Majority Leader Dominick Moreno and Sen. Janet Buckner were joined by Republican Sen. Bob Gardner and House Minority Leader Mike Lynch.
Lt. Gov. Dianne Primavera was escorted by House Majority Leader Monica Duran, Senate Minority Leader Paul Lundeen, newly-elected state Rep. Rose Pugliese, a Republicand and Rep. Brianna Titone, a Democrat.
Also on hand for Tuesday's ceremony: Polis' 2018 GOP opponent and former state Treasurer Walker Stapleton and Denver Mayor Michael Hancock.
And just in case you were wondering, yes, Polis was sworn in wearing his trademark blue sneakers.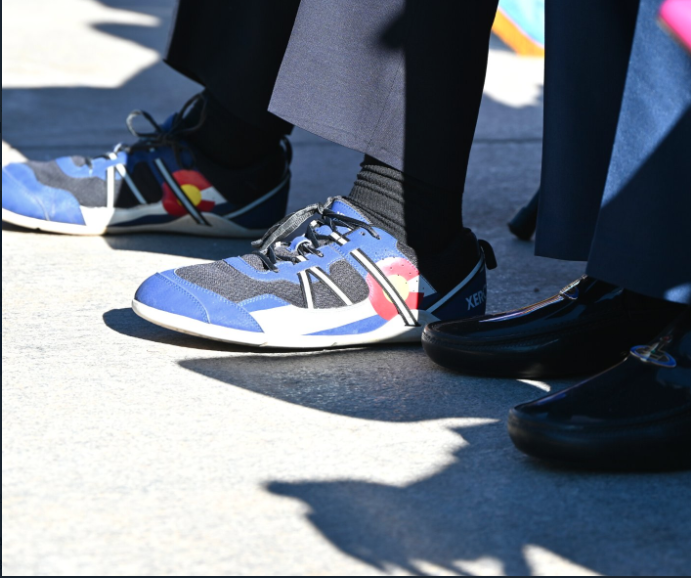 Following the ceremony, Polis hosted a receiving line in the Capitol. 
Editor's note: corrected the name of the conductor of the Denver Gay Men's Chorus