Secretary of the Interior Deb Haaland wrapped up the last day of a three-day jaunt through Colorado with a discussion of outdoor recreation with county commissioners and conservation representatives.
Haaland landed in Denver on Thursday, where she met with Gov. Jared Polis and other water leaders to discuss drought issues. On Friday, she traveled to Grand Junction to tour the Bureau of Land Management's Grand Junction Air Center, which dispatches tankers and firefighters, and to meet with employees at the BLM headquarters, which is under review by the Biden administration on whether to allow that headquarters to remain in Grand Junction or move it back to Washington, D.C.
The decision to move the BLM headquarters out of the nation's capital was made by the Trump administration, led by then-Interior Secretary David Bernhardt.
In a Friday news conference, Haaland noted that many BLM employees faced significant upheaval in the move. Current employees are struggling to implement the bureau's mission, given large numbers of vacancies in the Grand Junction headquarters, Haaland said. Out of 328 positions prior to the move, 287 employees chose to retire or go work somewhere else, and only three actually came to Grand Junction.
Government Executive magazine reported last month that even some of those who accepted relocation to Grand Junction are now looking for jobs that will get them back to Washington, D.C.
The agency has more than 80 vacancies in the Grand Junction office and many cannot be filled until "we chart a balanced course forward," Haaland said. "My first priority is to avoid doing any more harm to the BLM's dedicated employees. We owe them that."
She was joined at the Air Center by Polis, Sens. Michael Bennet, D-Colo. and John Hickenlooper, D-Colo., and U.S. Reps. Joe Neguse, D-Lafayette and Lauren Boebert, R-Silt. All made the push for keeping the BLM headquarters in Grand Junction. 
Friday night, Hickenlooper, Polis, Neguse and Haaland took part in the opening ceremonies for the Palisade Plunge, a recently completed 32-mile singletrack downhill mountain bike trail. The festivities in Palisade also included state Rep. Matt Soper, R-Delta, who brought a Colorado flag flown over the state Capitol.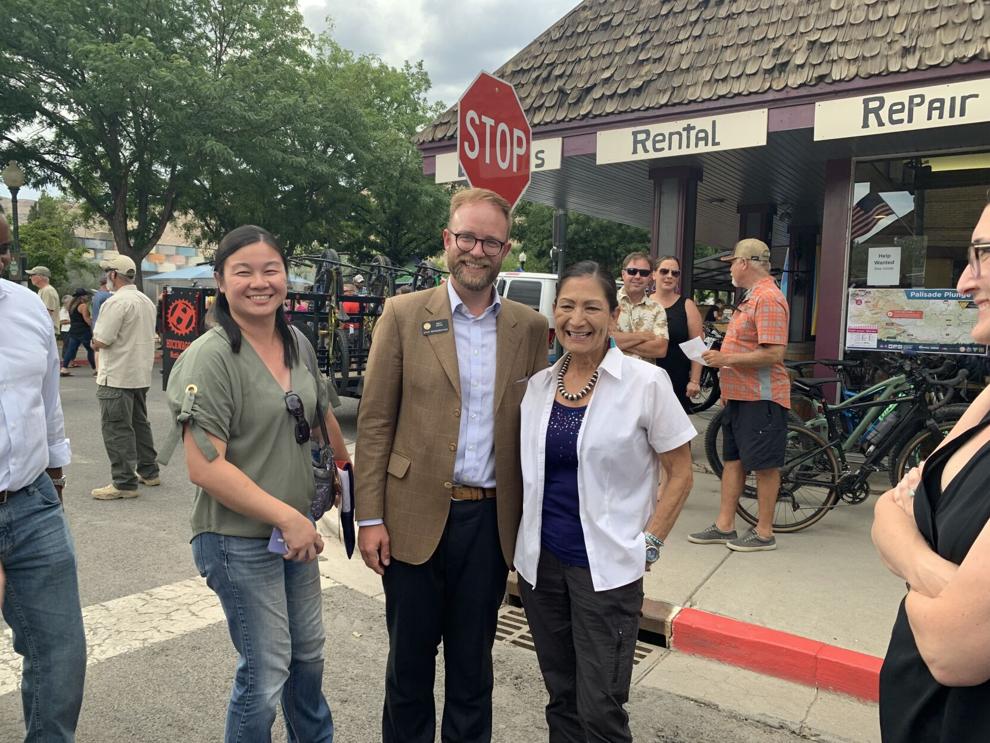 Bennet and Hickenlooper joined Haaland in a Saturday visit to Top of the Pines, west of Ridgway, for a conversation about the Bennet-Neguse Colorado Outdoor Recreation and Economy (CORE) Act, which has already passed the House three times but awaits action from the U.S. Senate.
The bill, a consolidation of four previous measures, would designate 73,000 acres of public lands as wilderness in Colorado and establish the first-of-its-kind National Historic Landscape at Camp Hale in Eagle County. It also would prohibit new oil and gas development in areas important to ranchers and sportsmen. Bennet has been working on the CORE Act for more than a decade, but it never got support from Hickenlooper's predecessor, Sen. Cory Gardner, R-Colo. Hickenlooper, however, is in full support, as is the Biden administration and Haaland.
In a mountain meadow at Top of the Pines, a 175-acre Ouray County-owned campground that sits in the shadows of Mount Sneffels, Bennet, Hickenlooper and Haaland were joined by commissioners from Summit, San Miguel, Ouray and Gunnison counties. Those four counties, and three others (Eagle, Garfield and San Juan), would be affected by the CORE Act. 
This was a bill, written not in Washington, D.C., but at trailheads and mountain streams, Bennet said. "It's critical to our mission at Interior that everyone have access to the outdoors," Haaland said. With the CORE Act, there will be more opportunity for more people to enjoy the outdoors, and outdoor recreation provides good paying jobs as well as preserving lands and water. Efforts are best when locally led and designed, she added. 
The CORE Act could help with the explosion of visitors to Colorado's public lands, up more than 200% in some counties in the past year, and nowhere else is the need greater than in Summit County. Commissioner Elisabeth Lawrence told Haaland the White River National Forest is the most visited one in the nation, and in the past five years has faced major overcrowding. One provision of the CORE Act would create three new wilderness areas in Eagle and Summit counties, adding 21,895 acres.
Other commissioners, however, noted they have all seen major growth in visitors, and pointed to the need for education, since some are not being good stewards of the public lands they visit. 
But for Beatriz Soto, director of Defiende Nuestra Tierra, part of the Wilderness Workshop, the problem for Hispanics is not that they visit too much; it's that they are rarely able to visit at all and hence not getting the benefit of Colorado's public lands.
She told Haaland that the lack of affordable housing means many work multiple jobs. It's not just a problem for rural Colorado; it's also an urban problem, she told Haaland. "The outdoor economy is built on this workforce," Soto said. Her words moved Haaland, who teared up when Soto finished speaking. 
Haaland finished up her visit Saturday with a meeting with tribal leaders.